If you're not a short or petite, and you're looking for a large and tall office chair, this article is for you. Join FittingChairs to take a look at the following top picks for the best computer chair for heavy person.
What to look for in the best computer chairs for heavy people?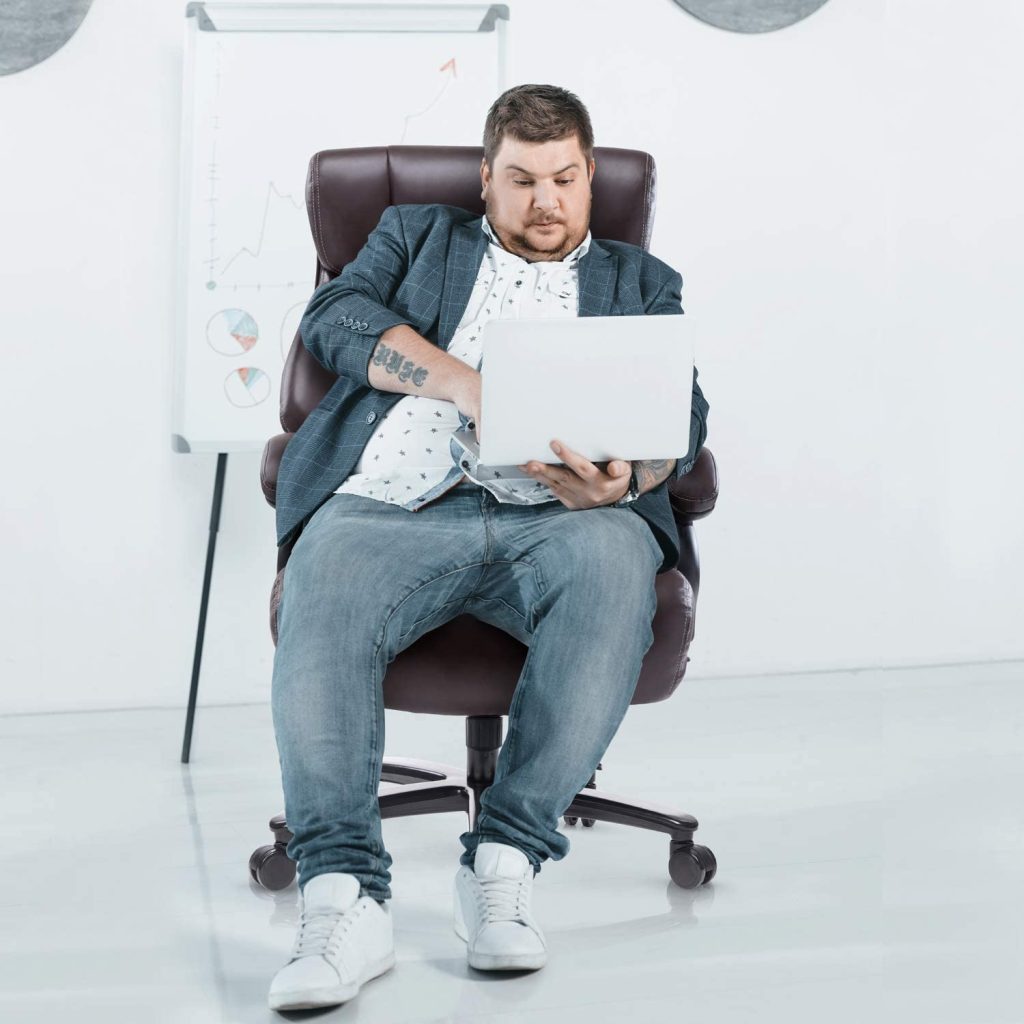 When you are shopping for an office chair for a heavier person, there are some things you need to consider to make sure that it will work for you.
The first and most obvious thing is the weight limit. Office chairs for heavier people are designed to withstand at least 300 pounds.
Most options will allow users who are up to 400 or 500 pounds to sit in.
Another consideration for heavier people is whether it will work for their larger body type.
Check the seat depth and width to make sure that you will be able to sit comfortably in the chair.
You should also check if the chair has proper support for your body. The seat should not be too soft so that it does not sink down.
Make sure to look at chairs that have good lumbar support to avoid back pain.
If you suffer from upper back, shoulder, or neck pain, then you may want to get a chair that has a higher backrest, like an executive chair or ergonomic model.
Now let's find out what are the top picks for the best computer chair for heavy person.
Best computer chair for heavy person
Here are our 8 top picks for the best computer chair for heavy person:
Steelcase Leap Plus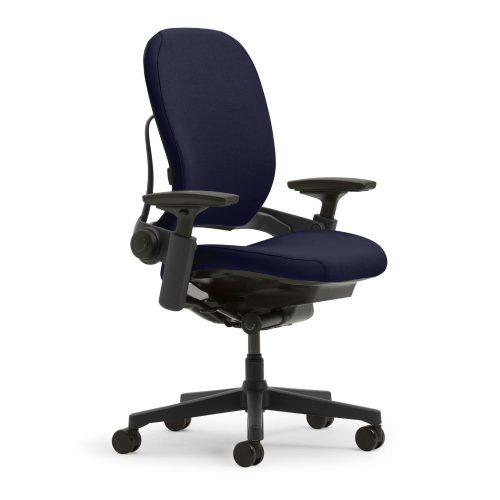 The Steelcase Leap Plus provides a wider seat area and studier build supporting up to 500lbs.
Pros
Supports weight up to 500lbs
4D armrests
Great lumbar support
Bendable seat edge
Available in a variety of colors
The first top pick for the best computer chair for the heavy person is the Steelcase Leap Plus. It offers so many benefits that it's easy to fall in love with it.
The built-in LiveBack technology allows the back of your seat to adapt to the natural shape of your spine.
The back and seat are fitted with slats and foam that make it super breathable.
The seat that moves forward allowing you to sit in different positions while staying within your reach and vision.
The arms have various adjustable functions which further promote comfort.
And it can support up to 500lbs.
BestOffice Big and Tall Office Chair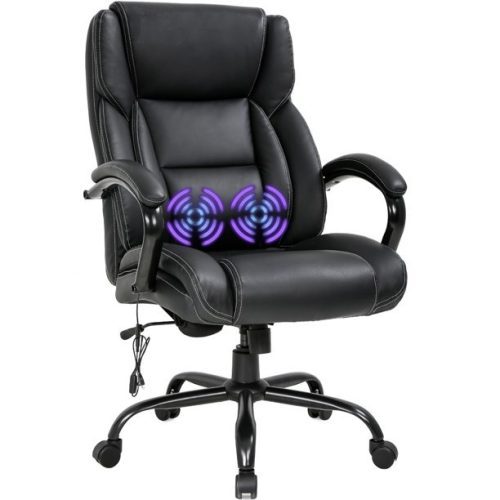 Pros
Supports weight up to 500lbs
Electronic massage lumbar support
Tilt lock and tilt tension adjustment
Cons
Backrest may not high enough for taller users
This computer chair for heavy person has comfortable lumbar cushion with a remote control. This chair has a 500 pound weight limit and an electronic massage lumbar support feature.
If you don't want to use the massage function, you can roll up the data cable and put it in the small bags under the seat. Massage function does not affect the use of the desk chair.
The office chair swivels for multitasking convenience. Its five-legged base with durable casters allows for smooth-rolling mobility from one area to another.
BestMassage Big and Tall Office Chair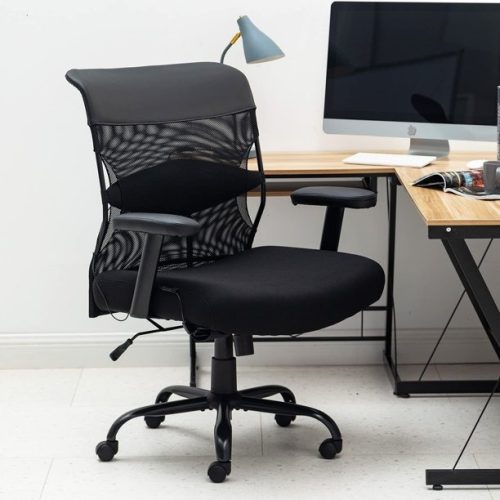 Pros
Supports up to 500lbs
Comfortable seat
Breathable upholstery
Adjustable lumbar support
Cons
May be too big for some users
The next one in our list is the BestMassage Big and Tall Office Chair.
This extra wide chair is easy to assemble and has a breathable design and upholstery.
This computer chair for heavy person has an adjustable lumbar support depending on what you need.
It can support up to 500 pounds and is made out of durable, high-quality materials.
The seat measures 27.4 inches wide and 24.4 inches deep. It is very comfortable and has adjustable arms rests and height.
Flash Furniture Hercules Series Big and Tall Chair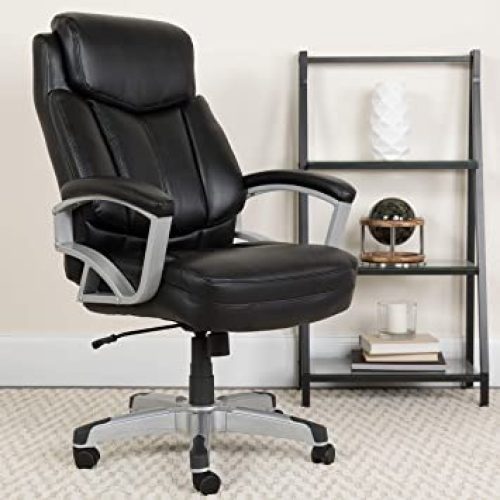 Pros
Supports up to 500lbs
Comfortable seat
High back design
If you spend long hours sitting in the same position, this computer chair for heavy person is going to make your work life much easier.
With a high end look, adjustable features, and an extra wide seat, this chair will be the highlight of your workspace.
The Flash Furniture Herculus Series Big and Tall Chair has a 500lb weight capacity and 22.5" seat.
It's a minimalist contemporary design, all-black PU leather upholstery, and thick padding.
This office chairs have back extending to the upper back for greater support. The high back design also relieves tension in the lower back, preventing long-term strain.
HON Wave Big and Tall Executive Chair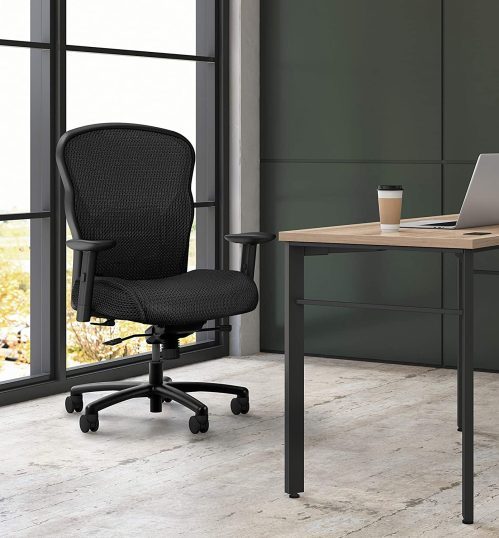 Pros
Breathable mesh material
Hold up to 450lbs weight
Adjustable armrests
Cons
Not much ergonomic adjustments
This one has a thicker back and seat. It's visibly sturdier, plusher, and more comfortable than many mesh chais out there.
The HON Wave has the adjustable armrests. They're not just adjustable for height, but for width too.
It also has an excessive weight capacity of 450lbs thanks to the solid 5 wheel base and durable frame.
The coasters are cheap and you might have to replace them quickly.
Flash Furniture Hercules Series Mesh Chair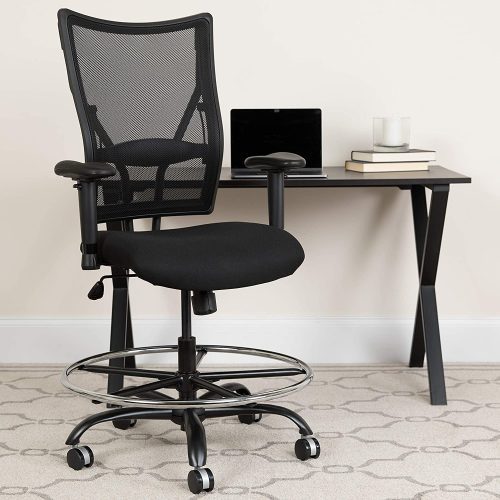 Pros
Supports up to 400lbs
High backrest
Adjustable arms
Comes with footring
Cons
The chair's seat portion could be a little bit wider
Another big and tall chair from the Flash Furniture is a computer chair for heavy people.
The mesh is used in the backrest and seat itself. It's super comfortable. The mesh material used is quite breathable, perfect if you do not have air conditioning in the room.
The chair feels much more resistant than the average mesh chair out there.
However, this chair's back is tall, but the seat is not super wide. It's best to try this chair out in real life before purchasing.
BigRoof Big and Tall Office Chair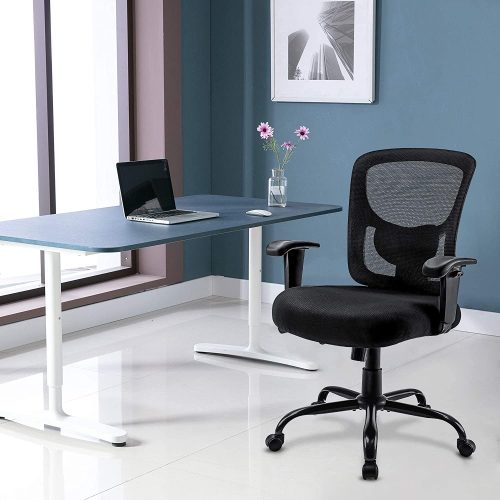 Pros
Supports up to 400lbs
Adjustable USB massage lumbar support
Adjustable armrests
Tilt tension and tilt lock
Cons
Caster wheels may not work on carpet
This computer chair for heavy person can accommodate users up to 400 pounds and has a thick cushioned seat.
This mesh office chair has excellent breathable design, maintain the air flowing naturally in the desk chair seat area keep the sweat and back were not overheating.
It has several adjustable features, including a massaging lumbar support.
The chair also has tilt tension and tilt lock features.
Herman Miller Aeron size C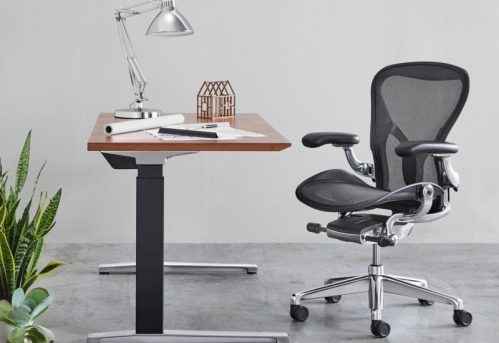 Its innovative design and support for a range of postures, activities, and body types, has made and kept Aeron an icon.
Pros
Supports up to 350lbs
Three reclining postures
PostureFit technology for lumbar support
The breathable mesh material is very resistant
Adjustable arms
The last one in our list of the top picks for the best computer chair for heavy person is the Herman Miller Aeron.
Thanks to the high-quality construction and heavy-duty base, this chair can support up to 350 lbs.
The Aeron size C is suitable for larger people. It has 28.25" of width for more room than you could ever need.
It offers great ergonomic support. The PostureFit SL technology enables you to sit with perfect posture.
The curved back mimics the curvature of the human spine and moves with you to accommodate any sitting position.
The lumbar support pads are fully adjustable so that you can match them to your own body shape and better stabilize your spine.
The breathable back and suspension seat take this chair to the next level.
The breathable mesh material back promotes air circulation across the body to keep you cool.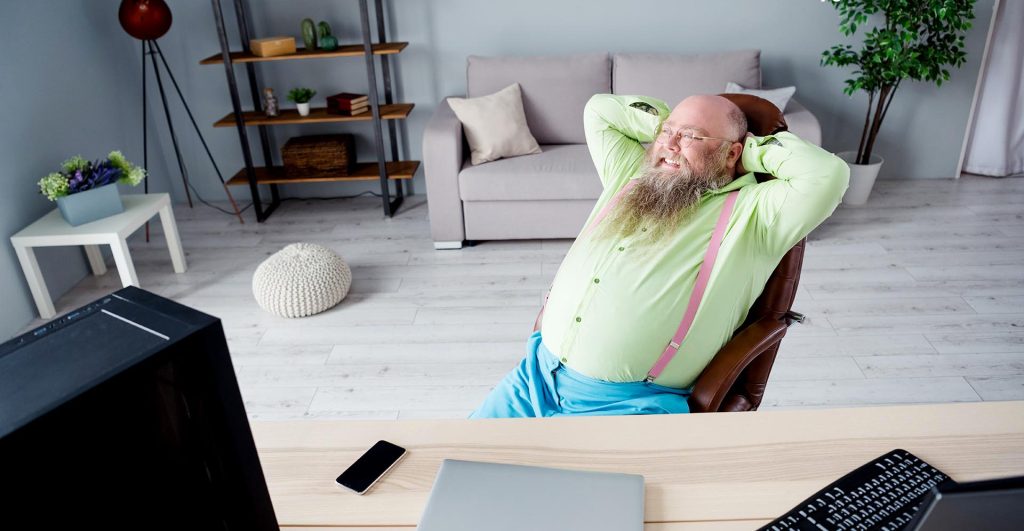 There are office chairs available that have all sorts of great designs and features.
The above chairs all have wide seats and higher than normal weight limits to accommodate heavier people. They use strong materials and come in different styles.
Choosing the right office chair can be difficult, especially because of all the options available.
We would highly suggest trying them out first in a physical store if you have the option to find one that really fits your body type.
And if you can, spending a little more on a quality chair will last will end up saving your money in the long run.
See more:
Hope that you like this article about computer chair for heavy person. Each person is a different individual, so you should consider before buying an office chair for a heavier person. It's best to sit in the chair before buying it. Follow FittingChairs for more updates!