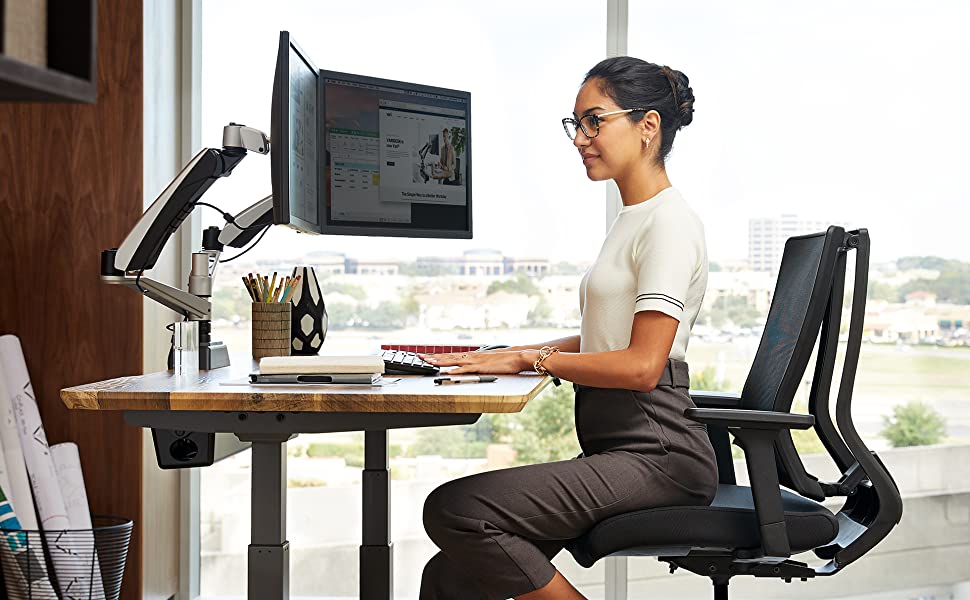 If you are in the process of getting to know about ergonomic and ergonomic chair, don't miss this article. FittingChairs is here to help you learn more about what is an ergonomic chair and related issues.
What is an ergonomic chair?
You must have heard the term "ergonomic" at least once. Ergonomic is a science, also known as human engineering or biotechnology.
It aims to looking at how objects can be designed and arranged to best compliment easy and safe human interaction.
So what is an ergonomic chair meaning? An ergonomic chair is the type of chair that is mostly used in the work environment. It has been designed for the best support the human body, including considerations like good posture, comfort, support and health.
An ergonomic chair is one that not only follows best practices in terms of proven ergonomic design, but is highly adjustable to cater to different people and sitting positions.
Ergonomic itself is not a type of chair, but more of the improved support the chair provides.
The ergonomic chair is full of comfort and adjustable features that allow office workers to maintain the right posture while being productive on the job.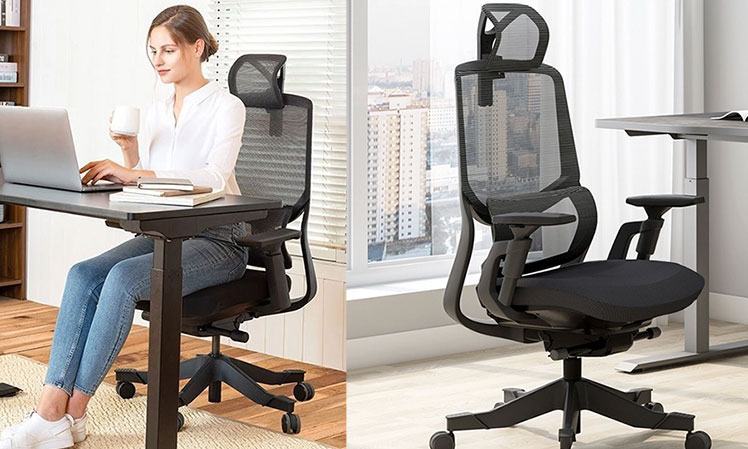 What make a chair ergonomic?
What is an ergonomic chair? How to choose an ergonomic chair?
Typically, office chairs are classified as ergonomic when they have an adjustable seat height, seat depth and lumbar support.
You can be able to adjust the height of the chair so that your legs are perpendicular to the floor and the seat pan allows you to adjust it so that you're able to sit comfortably.
A chair is a good ergonomic chair when it has these minimum requirements:
Seat height adjustment
You can be able to adjust your seat height so that your knees are a little lower than your hips, with your feet flat on the floor.
Seat slider to adjust the seat pan depth
This allows you to adjust the depth of your seat so that you have 1-4 inches between the front edge of your seat and the back of your knee.
Back rest height adjustment
The ability to adjust the height of your chair back allows you to position the contours of the back cushion for optimal back support.
Swivel base
It needs to provide the ability to turn while seated.
Back angle adjustments
The adjustable backrest allows you to fine tune the back for a comfortable position. You should change positions throughout the day or leave the back angle unlocked and rock back and forth.
Back tilt tension adjustment
This tension knob lets you adjust the pressure needed to rock back in your chair.
Arm support adjustment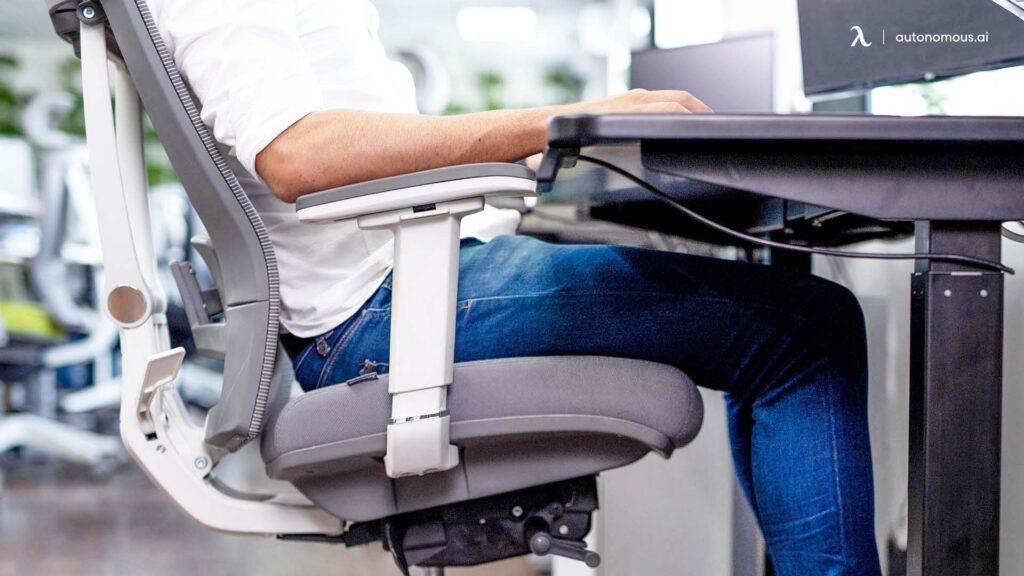 Chair arms should at least be height adjustable. The adjustable armrests are also include width adjustable or offer a pivot so you can place the arm pads where they support you best while typing.
Quality casters
This is an important requirement since your entire body weight is supported by one or two casters when entering and exiting your chair. Cheaper casters break often.
Stable wheel base
It should have at least five-spoke caster base.
Lumbar support
The lumbar support needs to be adjustable to place in the correct position. Ideally, the lumbar is independently height adjustable.
Headrest adjustment
This is not a requirement for an ergonomic chair. However, if you have a headrest, it needs to be adjustable to fit you properly.
Encourages posture changes
It'll be more comfortable over a long workday if you change positions occasionally. Movement helps increase blood circulation and alertness and prevents deep vein thrombosis.
Aside from that, rocking or changing your back angle often can also help.
Are ergonomic chairs necessary?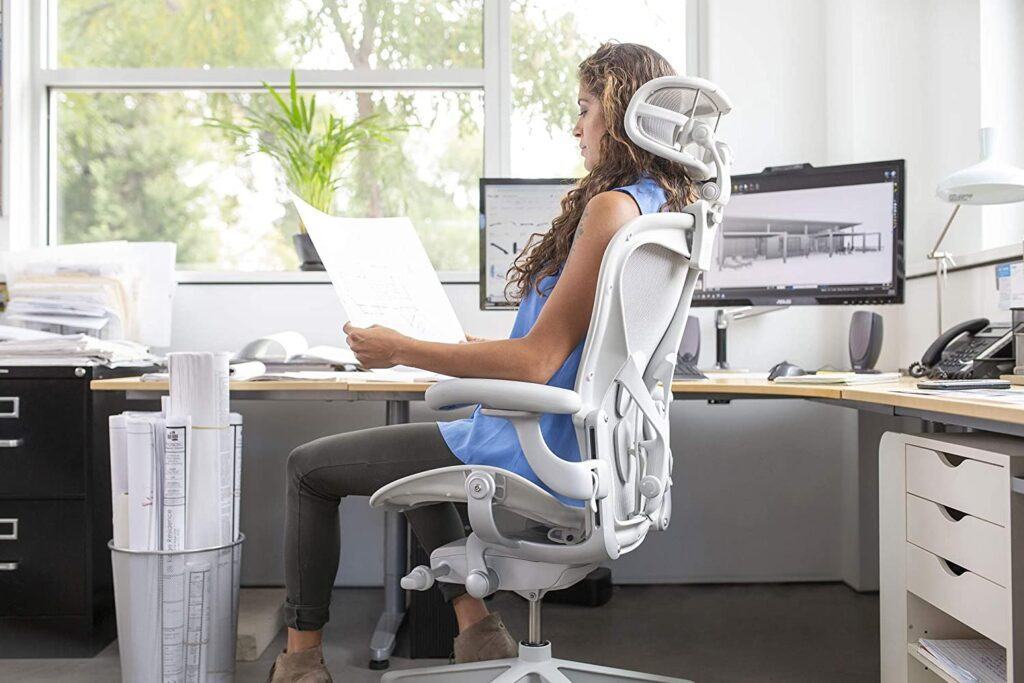 After getting to know what is an ergonomic chair, do you think it is necessary for our life?
Nowadays, more and more people are working with computers. So it's very important to pay attention to the sitting position while working, as this will affect to your health.
Ergonomic office chairs can help you a lot to reduce back pain by promoting a sitting in a good posture that allows proper alignment of the shoulders, hips, and spine.
This reduces abnormal strain on the body and prevents harmful positions such as slouching and forward head.
Ergonomic office chairs can help with a wide range of musculoskeletal conditions, including the neck pain, mid-back, and low back pain.
Are ergonomic chairs worth it? Although ergonomic chairs are typically more expensive than standard office chairs, they can have a huge impact on productivity and job satisfaction during periods of time. It's worth buying.
This is all about what is an ergonomic chair that we want to present to you. Besides, knowing what is ergonomic hazard can help you identify how an ergonomic chair or accessories essential.
Ergonomic chair benefits
It supports your posture, giving you a neck and a backrest, reducing the risks of having a stiff neck and shoulders.
It makes us comfortable. Uneasiness while sitting constrains our bones and exposes them to a lot of pressure.
It reduces neck problems. Support to your neck prevents one from gaining stiff neck and shoulders.
It reduces your back pain. Ergonomic chair gives your backbone a stainless encounter while sitting.
Reduces pressure on your hips. Your hips need to be relaxed while sitting to perform their primary duty of making you sit up straight.
List Of The Best Ergonomic Chairs
Here are some fantastic deals when it comes to the best ergonomic office chairs that you shouldn't miss:
See more:
Above are all about what is an ergonomic chair. Hopefully, this article of FittingChairs can help you have a deeper look at this aspect. You should consider purchasing an ergonomic chair to improve your health while working.