If you are looking for the best fabric gaming chair, this article is for you. FittingChairs will share with you our top picks and things you need to consider before purchasing.
Is a fabric gaming chair good?
A fabric gaming chair is good or not depending on the users' needs and its quality. Here are some pros and cons of a fabric gaming chair that you should know.
Breathability
Since fabric is woven, there are small openings that allow the air to go in and out.
Durability
Fabric isn't that far behind in terms of durability and doesn't chip or flake.
Environment-friendliness
For man-made fabrics like polyester and nylon, they can take hundreds of years to biodegrade.
If you're looking for eco-friendly fabric upholstery, linen is a good option.
Skin-friendliness
Natural fabrics like linen are better for your skin.
However, the fabric chairs can get scratched and ripped. Low-quality fabric may feel scratchy. And it's harder to remove stains from a fabric chair.
Secretlab Titan Softweave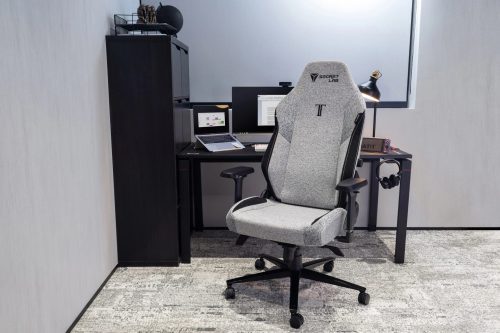 The Secretlab Titan is a premium gaming chair that offers top-notch build quality, adjustability, and comfort.
Pros
High-quality
Attractive color combinations
Knitted fabric provides soft, breathable, and durability
Three size options
L-Adapt lumbar support keep your lower back supported
One of the best fabric gaming chairs is the Secretlab Titan Softweave.
The Titan features a unique Softweave Plus Fabric that is inspired by performance footwear. It's made from interlacing loops of high-strength yarn fibers that offer a soft, yet flexible feeling to it.
This chair offers many ergonomic features that promote users to maintain a healthy posture while still feel comfort.
Its signature L-Adapt integrated lumbar system offers four-way adjustability.
The chair also comes with a 165-degree back recline angle capability, four-dimensional armrests, and adjustable seat height.
It's available in three sizes so that you can choose the size based on your height and weight.
And Secretlab even offers a five-year warranty for their chairs.
Arozzi Vernazza
Pros
Exceptional fabric quality
Multifunction tilt-lock
Large height-adjustable neck pillow and wide lumbar pillow
Supports up to 320 pounds and wide dimensions
Cons
Padding may be too firm
Less armrest adjustment options
The next one in our list of the best fabric gaming chairs is the Arozzi Vernazza. It features an ultra-soft and breathable fabric that feels similar to a sofa recliner.
This breathable fabric was tested with ISO standards for tear resistance and tensile strength, meaning it'll last for a long time.
Furthermore, the Vernazza uses a 100% cold-cured molded foam to help evenly distribute the weight across the chair and dissipate pressure points.
The Arozzi Vernazzi is designed with an ergonomic open seat pan giving you more space to move around freely in your seat.
The ergonomics of this chair are exceptional. It has a 165-degree recline option and a sturdy metal build.
AKRacing Core Series EX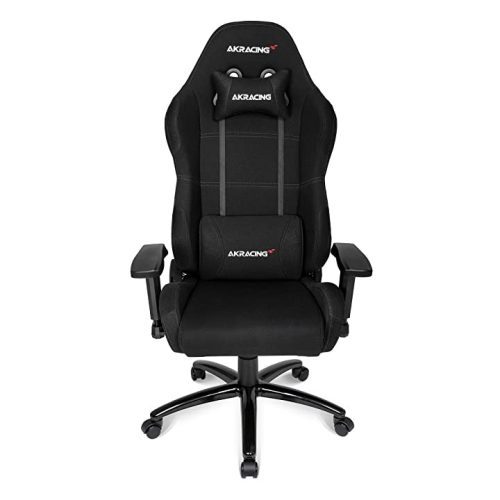 The AKRacing Core Series EX is a spacious fabric gaming chair that is ideal for larger individuals .
Pros
Excellent ergonomics
3D armrests
High-quality fabric that is both soft and breathable
It supports up to 290 pounds and is designed for people between 5'4" to 6'4"
The backrest reclines up to 180 degrees
Cons
The foam is moderately dense, which is less than some other premium gaming chairs
No multifunction tilt-lock
The AKRacing Core Series Ex is one of the best fabric gaming chairs, especially for people between 5'4" to 6'4". It supports up to 290 pounds.
The chair is 100% upholstered with polyester fabric which keeps users cool.
This AKRacing chair features 3D adjustable arms, allowing you to rotate the arms up or down, left or right, and forward or back.
It can recline a full 180 degrees, meaning you can lie completely horizontal.
The chair doesn't look very fancy, just a simple design in multiple color combinations.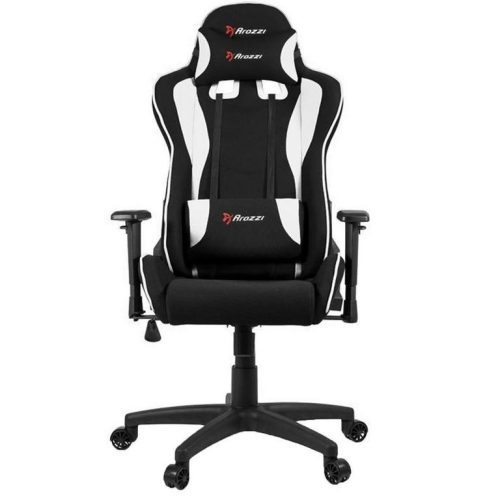 The Arozzi Forte comes with a compact design and smaller dimensions than usual to accommodate smaller individuals.
Pros
The backrest can rock back and forth up to 12 degrees
Ideal for short people
The soft and breathable fabric makes the chair comfortable to sit on
The Forte can recline up to 165 degrees and has four-lockable positions
Cons
Armrests are only height adjustable
For short people, it can be difficult to find the right gaming chair. But don't worry, Arozzi Fort is the best fabric gaming chair for short people.
It also has a wide range of height adjustability. You can set the height very low to ensure your feet remain flat on the floor.
This gaming chair has quite a high-density foam cushion, which is higher than a lot of gaming chairs.
The chair comes with four-lockable positions so that users can choose the exact recline position that fits their preferences.
It can also recline up to 165 degrees, which is great for alleviating back pain and letting your body relax.
GTRACING Ace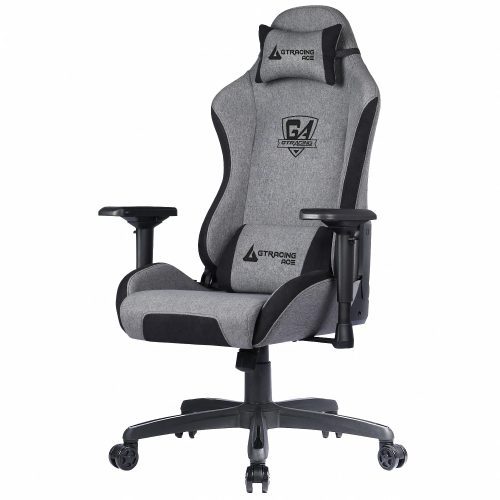 It features a classy design due to the fabric upholstery and ample padding to help keep you comfortable during long and intense gaming sessions.
Pros
Very affordable price
The high-density foam evenly distributes the user's weight for pressure relief
Wide external headrest and lumbar pillow help to ensure good posture
The chair reclines up to 170 degrees
Soft fabric upholstery to offer some breathability
Cons
The armrests are only height adjustable
The GTracing chair is constructed with a heavy-duty base and metal frame that can hold up to 300 pounds.
The fabric is quite soft and cozy that keeps you comfortable for many hours at a time. It's also breathable.
The chair comes with a high-density foam seat cushion that helps distribute the user's weight evenly across the chair.
It has a wide lumbar back support and headrest to keep users in an upright posture.
Plus, the backrest can recline up to 170 degrees, making it easy to relax and even take a nap when you're not gaming.
Anda Seat T PRO 2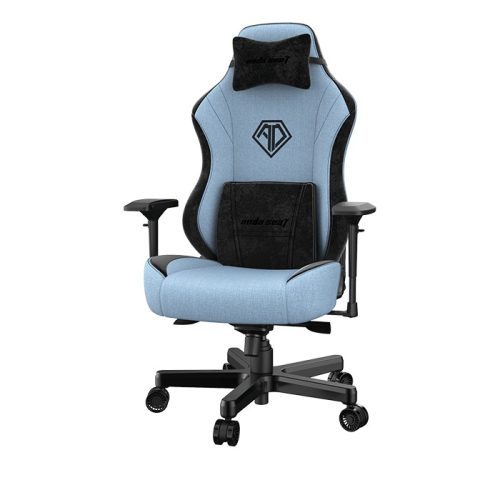 The AndaSeat T-Pro 2 is a high-quality alternative to more expensive chairs for big and tall gamers.
Pros
Spacious
160° recline and tilt with lock
Linen upholstery doesn't get sweaty
Cons
Hard armrests
Not suitable for shorter gamers
The fabric covering breathes a lot better than faux leather, so it didn't get as sweaty after long sessions.
The T-Pro 2 has a very firm feel to its backrest. Also included with the T-Pro 2 are two memory foam cushions covered in soft fabric.
The height of the seat is adjustable, and the backrest can be locked in its upright position at 90 degrees or any reclining angle up to 160 degrees.
According to Anda Seat, the T-Pro 2 can support up to 440 pounds. But if you want to use the chair's rocking feature, note hat the max recommended weight drops to 330.7 pounds.
The T-Pro 2's armrests are also fully adjustable. You can move them up and down, forward and backward, left and right and angled straight or 45 degrees to the left or right.
Corsair T3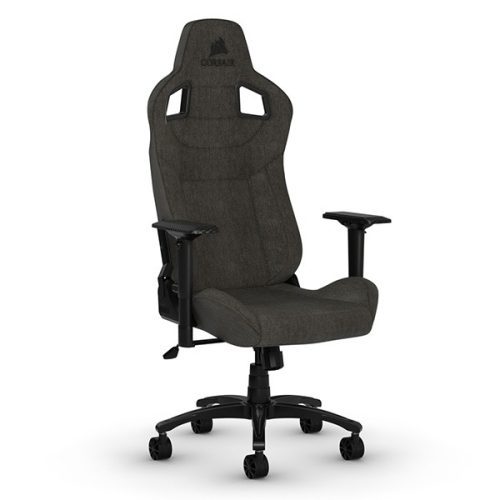 The T3's breathable soft fabric retains minimal heat, providing the contoured comfort and support.
Pros
Dual air vents on the headrest
Microfiber fabric is breathable
Memory foam lumbar pillow contours to the shape of your body
4D armrests
The Corsair T3 is another one in our list of the best fabric gaming chairs.
Unlike standard fabric chairs, the T3 features a higher quality and lighter microfiber fabric.
The Corsair T3 Rush features a very soft and comfy memory lumbar pillow.
You get 4D armrests, allowing you to raise and lower them, adjust their angle, width, and even their depth.
The 180-degree recline is better than many of the competitors. The deep reclining backrest is very useful because leaning back helps you unload pressure off of your lower back, preventing back pain.
The highlight of this chair is the dual air vents on the headrest which are placed to keep you cool during long hours of gaming.
However, this is a rather compact chair and wouldn't be comfortable for wider people.
Herman Miller X Logitech G Embody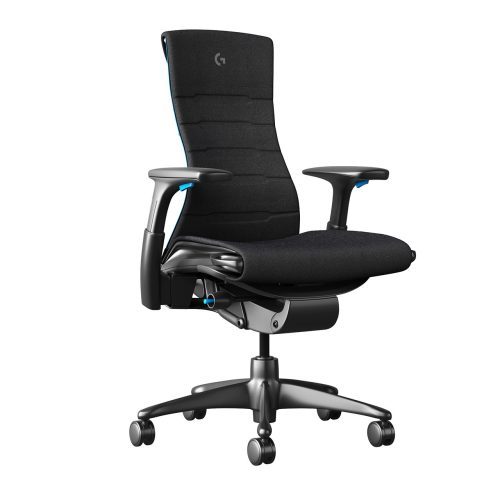 Herman Miller X Logitech G Embody
The Embody Gaming Chair is engineered to encourage movement, support a range of postures, eliminate pressure buildup, and keep you cool.
Pros
12-year warranty, and the chair comes fully assembled
The backrest has built-in ribs that flex and contract as you move
Armrests are well-padded and have a wide range of adjustments
The seat cushion uses four breathable layers of fabric for breathability, comfort, and flexibility
Very smooth and balanced recline system
And the last one in our list of the best fabric gaming chairs is the Herman Miller X Logitech G Embody.
For those looking to maximize their comfort, improve their focus and minimize the risks of back pain, the Herman Miller Embody is a great option.
The Embody features a unique Pixelated support, which automatically flexes and contracts based on your unique body shape and movement.
Certain areas are more flexible, like the top of the backrest and the seat edge, which help to promote circulation in your body.
There is a lot of adjustability in the chair. It has a wide range of seat height, seat depth, armrest, and back recline adjustment.
The Embody also has a synchro-tilt feature. This lets your thighs stay horizontal, keeping the pelvis stabilized and keeping you within reach of your desk while in a reclining position.
How to choose the best fabric gaming chair?
A good gaming chair can make all the difference in how often you play and how well you play.
Here are things you should consider before buying a fabric gaming chair:
Material quality
The material used should be sturdy and more durable for usage over extended periods.
A popular upholstery option is fabric. The fabric gaming chairs have more breathability compared to the others.
Fabric generates less sweat on you and gives better grip too. However, it is prone to be infested by allergies or becoming wet if you become sweaty.
So, consider your gaming atmosphere and then decide the type of fabric gaming chair you want to go for.
Adjustability
You must ensure your fabric chair is able to cover all your adjustment needs.
Choose a chair that combines durability and adjustability.
Adjusting the armrests, headrests, and tilt can make a big difference in how comfortable your gaming sessions end up being.
Size
It is not just the size of the chair, but the size of the room too. The chair shouldn't take up too much space.
Make sure to check the chair and package dimensions before making the purchase.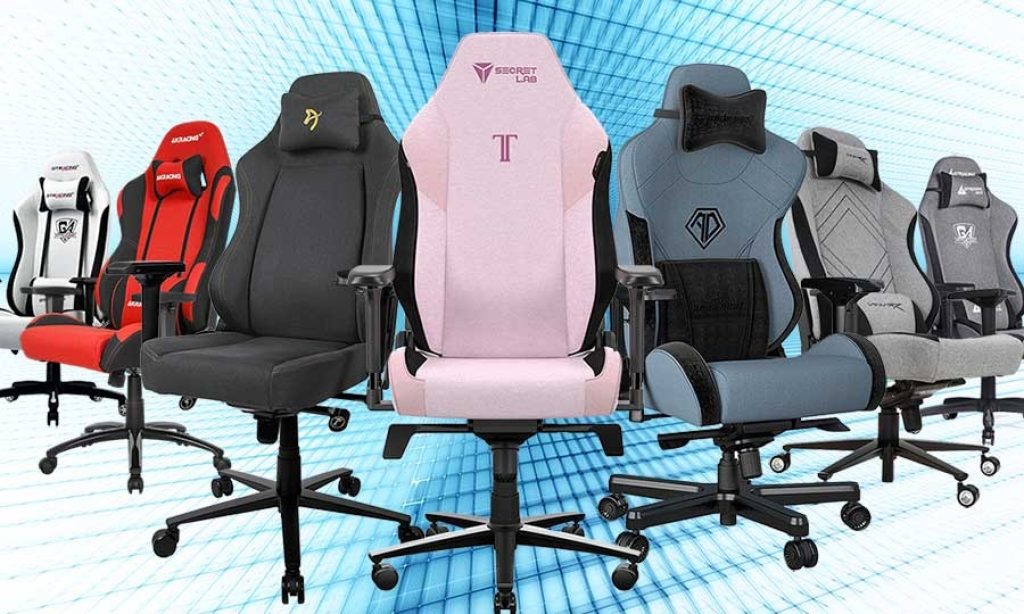 Best fabric gaming chair bottom line
If you spend over eight hours per day seated, you should invest in a high-quality ergonomic gaming chair.
For those who hate the sticky leather feeling or the squeaky sounds of leather, the fabric upholstery is the perfect choice for you.
The chair you will pick to be your ideal soft fabric gaming chair will depend on many factors, such as the build quality, cost, comfort, adjustability and so on.
So make sure to double check it before purchasing.
See more:
Hopefully, you can choose the best fabric gaming chair for yourself. Follow FittingChairs for more helpful information.