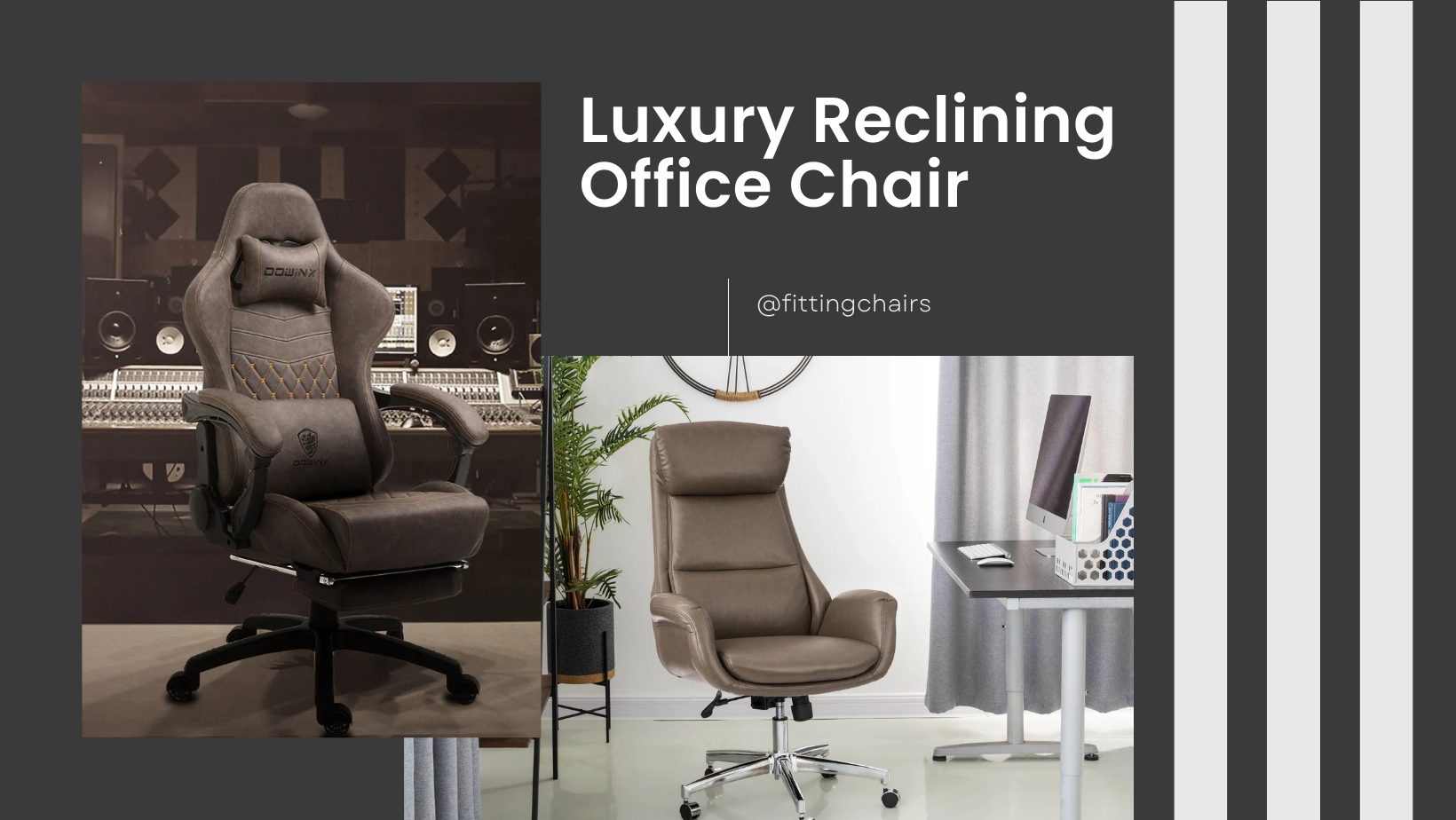 Here are top 5 ideal choices in terms of premium reclining office chair you may need to get. Read on and find your best with FittingChairs now!
Dowinx Gaming Chair Office Chair PC Chair with Vintage Style
The Dowinx gaming and office chair is a reclining office chair with a retro design for people who sit for lengthy periods of time.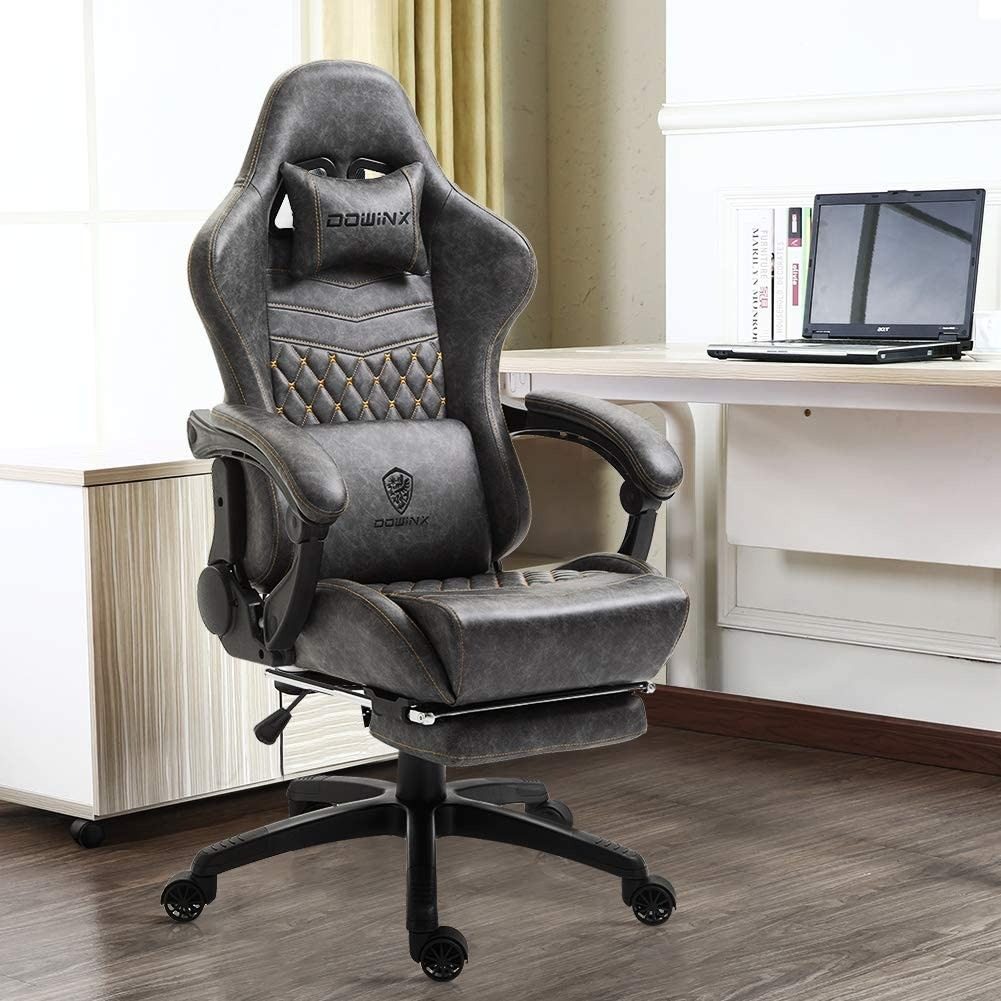 Dowinx Gaming Chair Office Chair
The chair makes several points of touch with your body, removing all pressure from your spine.
Positive
Eco-friendly material thus safe for use
Sturdy construction thus durable
Multi-functional hence versatile
Negatives
Squeaky faux leather thus a little annoying
For ultimate comfort, it has an ergonomic support and a lumber massage. You can count on comfortable all-day gaming or workplace support.
Furthermore, the chair is simple to install and leaves users feeling relaxed after long periods of sitting. As a result, you will be able to work for longer periods of time and boost your productivity.
Massage lumbar support: The chair has a massage lumbar support that gives consumers a massage. To power the massage, there is a USB connection that connects to a USB port.
It's a multi-functional chair with 360-degree smooth-rolling swivels. Users can move around easily while seated as a result of this.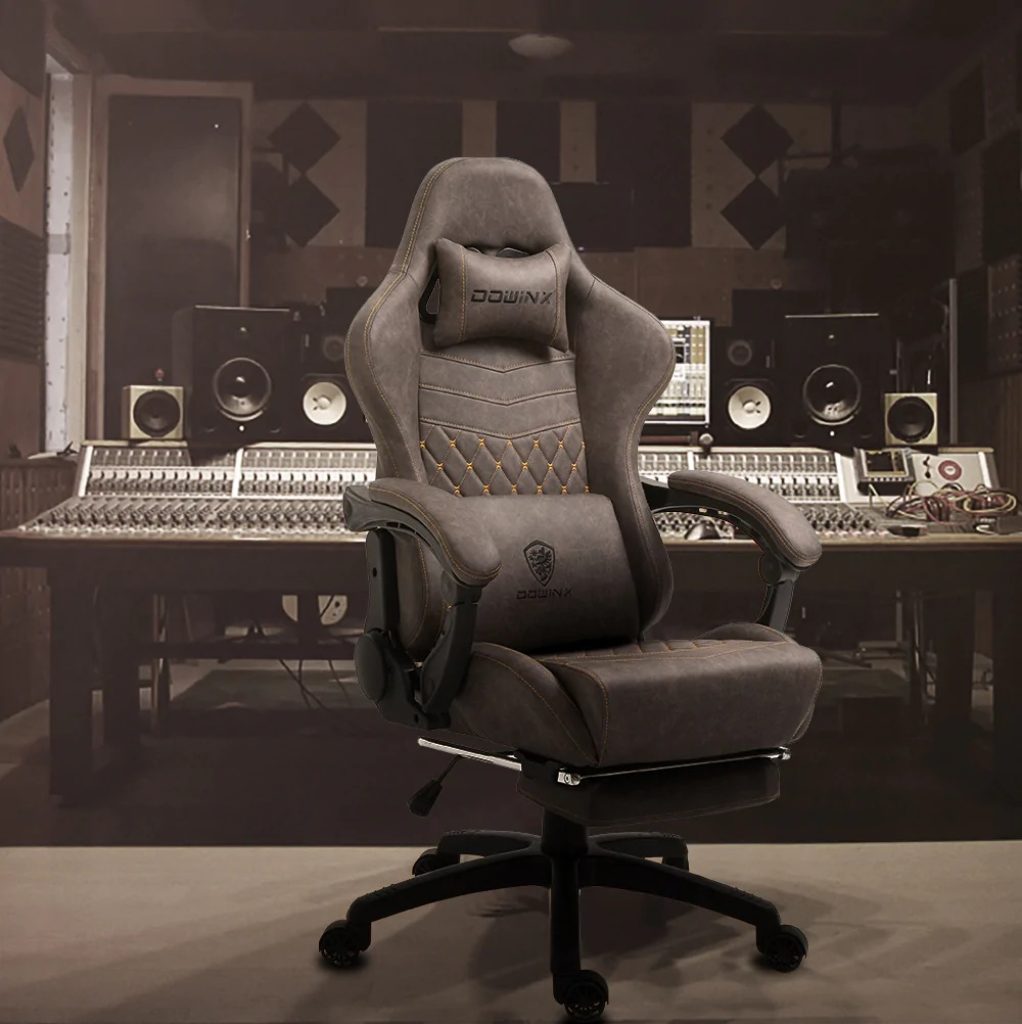 Plus, there's more. For napping, reading, and gaming, the chair has 90-180-degree reclining options.
Extreme comfort: The winged back of the chair provides multi-point body contact, alleviating pressure on the spine. You can easily lean your legs without straining. The slender side frame is filled with soft fillings for added comfort.
However, it is a great choice when you need extra support and comfort for extended hours. It's a great chair to buy right now because it's both comfortable and attractive.
OFM Essentials Collection Racing Style Executive Leather Office Chair
A luxurious executive chair featuring a diamond embossed pattern on the backrest and seat, as well as a wide height adjustment range of 44.7 to 49.5 inches.
OFM Essentials Collection Racing Style
You can't go wrong with this executive office chair from OFM if you want your workplace furniture to make a statement.
Positive
Gorgeous quilted embossed design
Seat height adjusts from 44.7 to 49.5"
Negatives
Not made from genuine leather
Fixed armrests
The dramatic style more than makes up for the fact that it's another derivation of bonded leather — marketed as "SofThread leather" with this option.
You'll appreciate the chair's embossed diamond quilted pattern, which gives it a more premium appeal. It's available in three colors.
Besides, the ergonomic appointments for this chair include a high back that is fully padded with lumbar support and padded armrests. The height of the chair can be changed between 44.7 and 49.5 inches.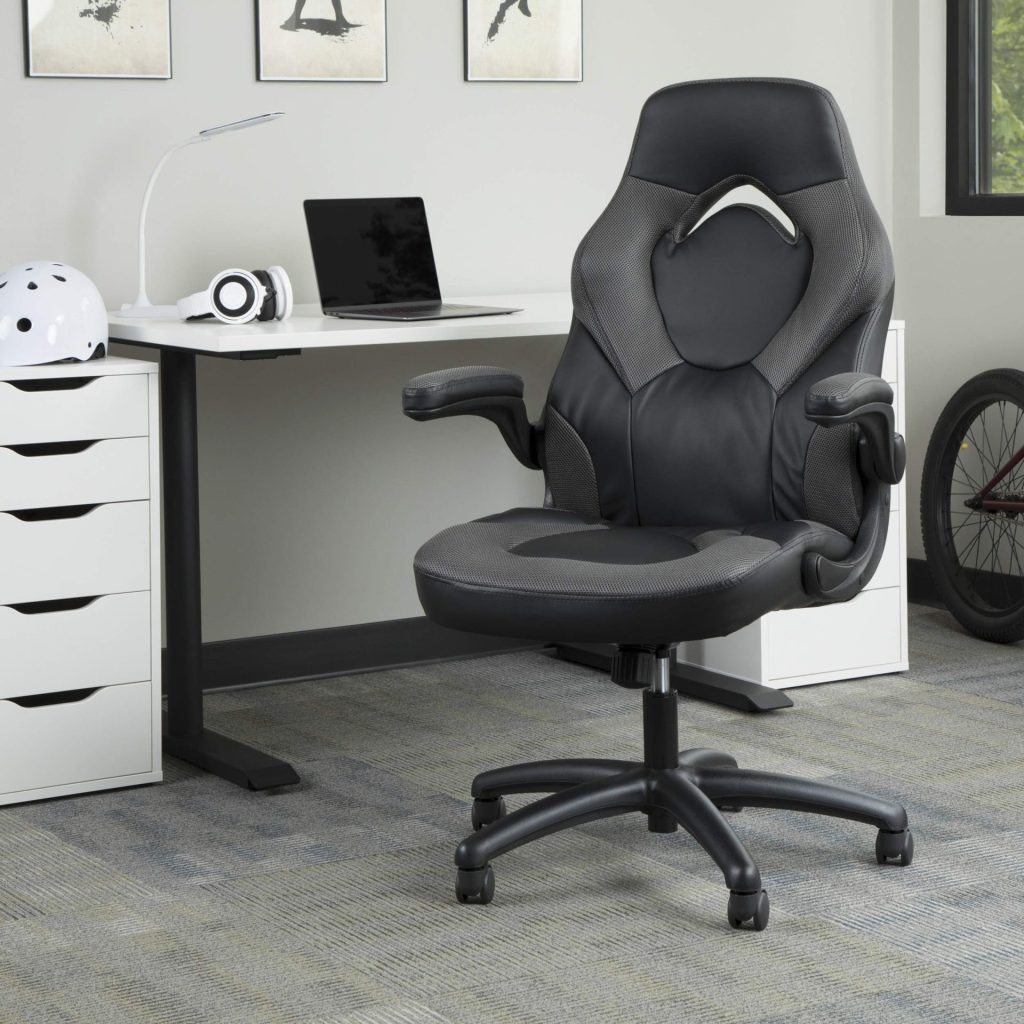 However, a center-tilt mechanism guarantees that you softly recline backward. The best office chair without wheels, on the other hand, has the best recline functionality.
While the weight capacity of this OFM chair isn't the most spectacular from our research, it is rated for up to 250 pounds. This is also one of the most comfortable office chairs available.
Glitzhome PU Executive Leather Office Chair
A comfortable executive leather chair with a rounded design, padded headrest, 30-degree rocking capability, and approximately four inches of seat height adjustability.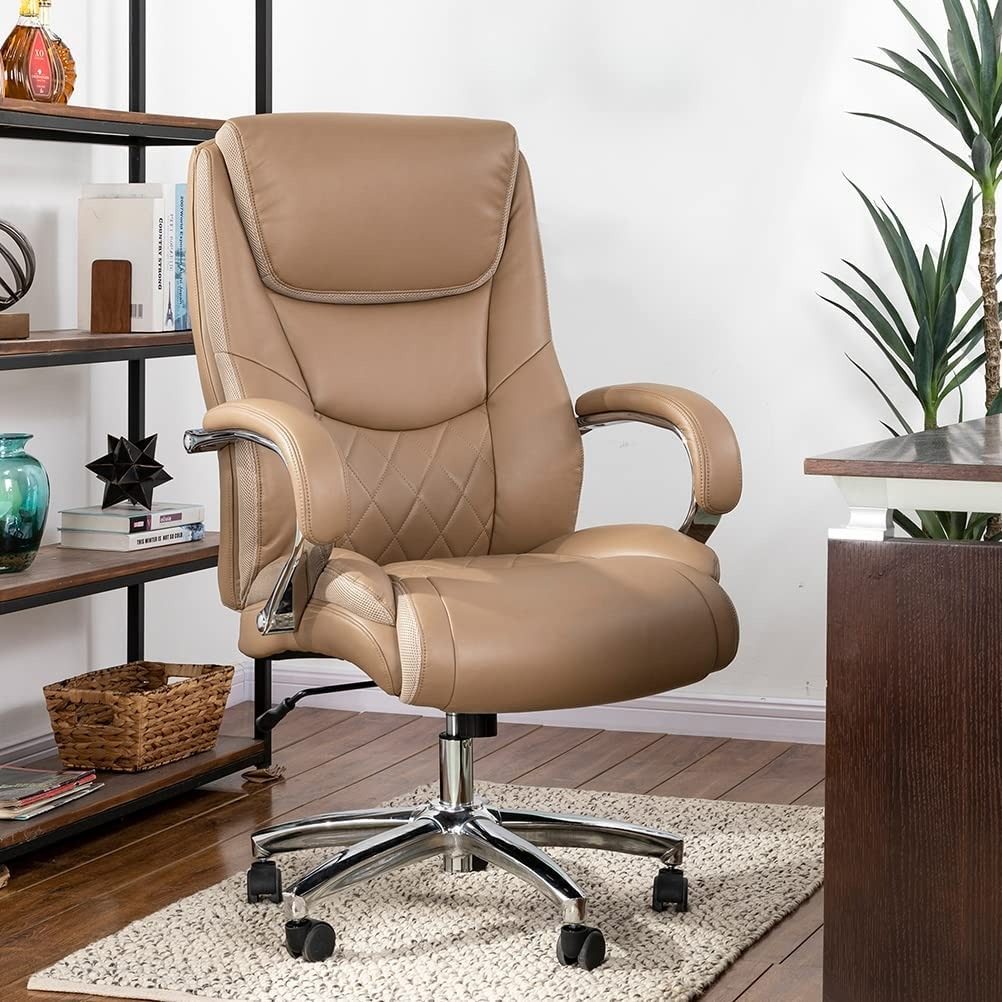 Glitzhome Executive Chair
A traditional executive office chair is not for everyone. In that scenario, Glitzhome's modernized version is a fantastic alternative. Get it!
Positive
Lux modern design with built-in headrest
Adjustable seat height from 19.69 to 23.62"
Rocking function with adjustable angle from 90 – 120 degrees
Negatives
Fixed armrests PU leather instead of genuine leather
While it's still an executive leather chair, its rounded mid-century style and adjustable seat cushion angle set it apart from the competition.
It's the best reclining office chair that lets you change the seat angle. You'll also appreciate that the seat cushion is composed of sturdy foam, which keeps its shape and gives continuous support every time you sit down.
Aside from the cushion and design, the backrest has a built-in padded headrest.
This leather chair also has a rocking feature that can be adjusted from 90 to 120 degrees. The seat height can also be modified by four inches between 19.69 and 23.62 inches.
Ticova Executive Leather Office Chair
Ticova executive high back office chair is one of the most fashionable executive office chairs available today.
The chair's sophisticated appearance may give the idea that it is difficult to assemble, but this is far from the case. When you're doing it by yourself, setting up the Ticova executive leather office chair shouldn't take more than an hour. Isn't it intriguing?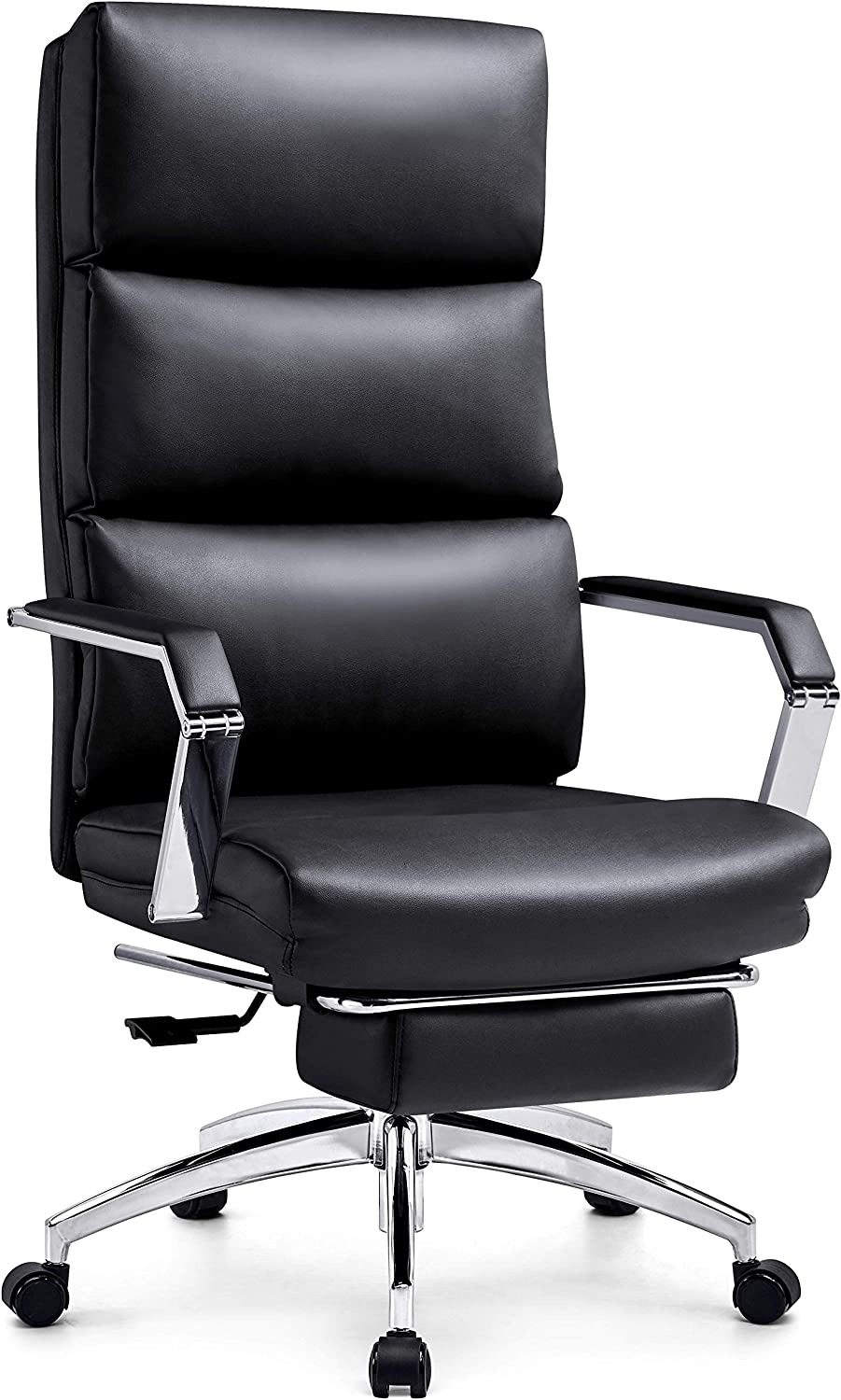 Ticova Executive Chair
The substantial cushioning, high-quality PU leather, and ergonomic segmented back are characteristics you won't find on most high-back leather office chairs, which is why we think it deserves to be on our top luxury reclining office chair list.
Positive
Adjustability range from 90 to 140 degrees
Sleek modern design with padded backrest
Includes a retractable footrest
Negatives
Padding on fixed armrests is thin
PVC material instead of real leather
If you're looking for a more versatile executive office chair, the Ticova leather chair should be at the top of your list. It boasts a wide range of features that make it a serious challenger, which we appreciate.
This executive chair is the only one in our review that has a footrest. The 13.8-inch-wide retractable footrest is located right beneath the seat.
You'll want to use it in conjunction with the large reclining feature. With a 50-degree range from 90 to 140 degrees, the Ticova executive chair has the most reclining range in our recommendations.
The seat height may be changed from 14.2 to 18.1 inches, making it a good choice for persons who are shorter.
For improved lumbar support, the padded backrest is made of high-density foam. This option, on the other hand, is constructed of PVC faux leather.
While the armrests are padded, they are fixed, and the cushioning isn't particularly substantial.
Serta Big & Tall Executive Leather Office Chair
One of the best office chairs, with a backrest and seat constructed of pillowy cushions and an adjustable lumbar support panel, this chair prioritizes comfort.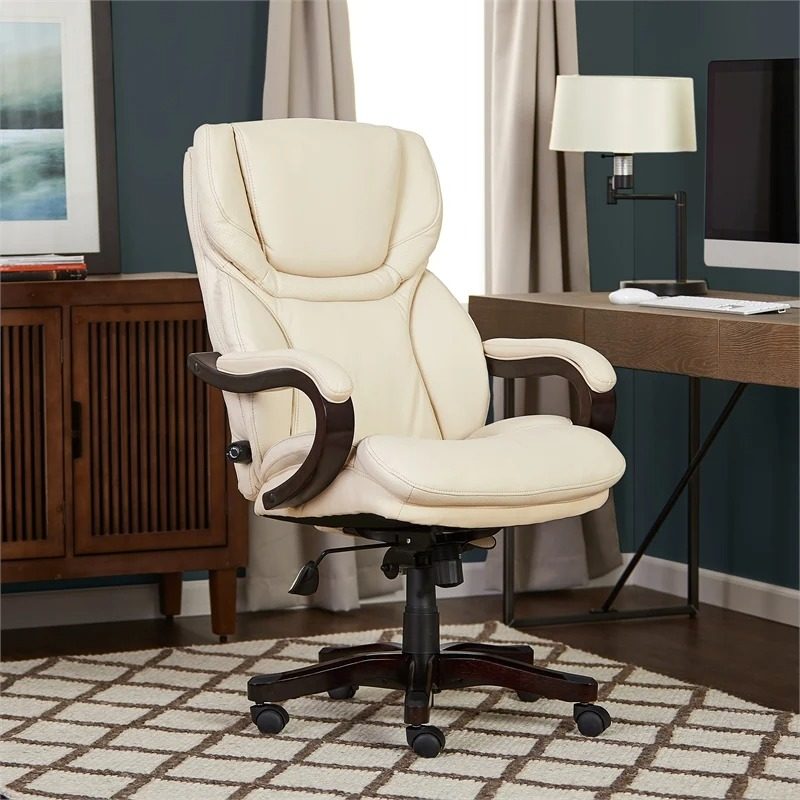 Serta Big & Tall Executive Leather Chair
If you prefer the look of a more traditional executive office chair, Serta's modern take on a classic will appeal to you.
Positive
Available in four rich hues
An adjustable lumbar support panel
Aadjustable seat height and armrests
Negatives
Weight capacity is not specified
Their Big & Tall chair, which focuses lumbar support with thick pillowy cushions and cushioning throughout the backrest and seat, is one of the greatest office chairs and our best quality recommendation.
This is to be expected, given that Serta is a world-class company well renowned for its mattresses.
We like how the rounded edges, padded armrests, and mahogany wood base find the appropriate balance between a classic real leather office chair and something more modern.
You'll found it particularly interesting that you may pick from four different hues, including white.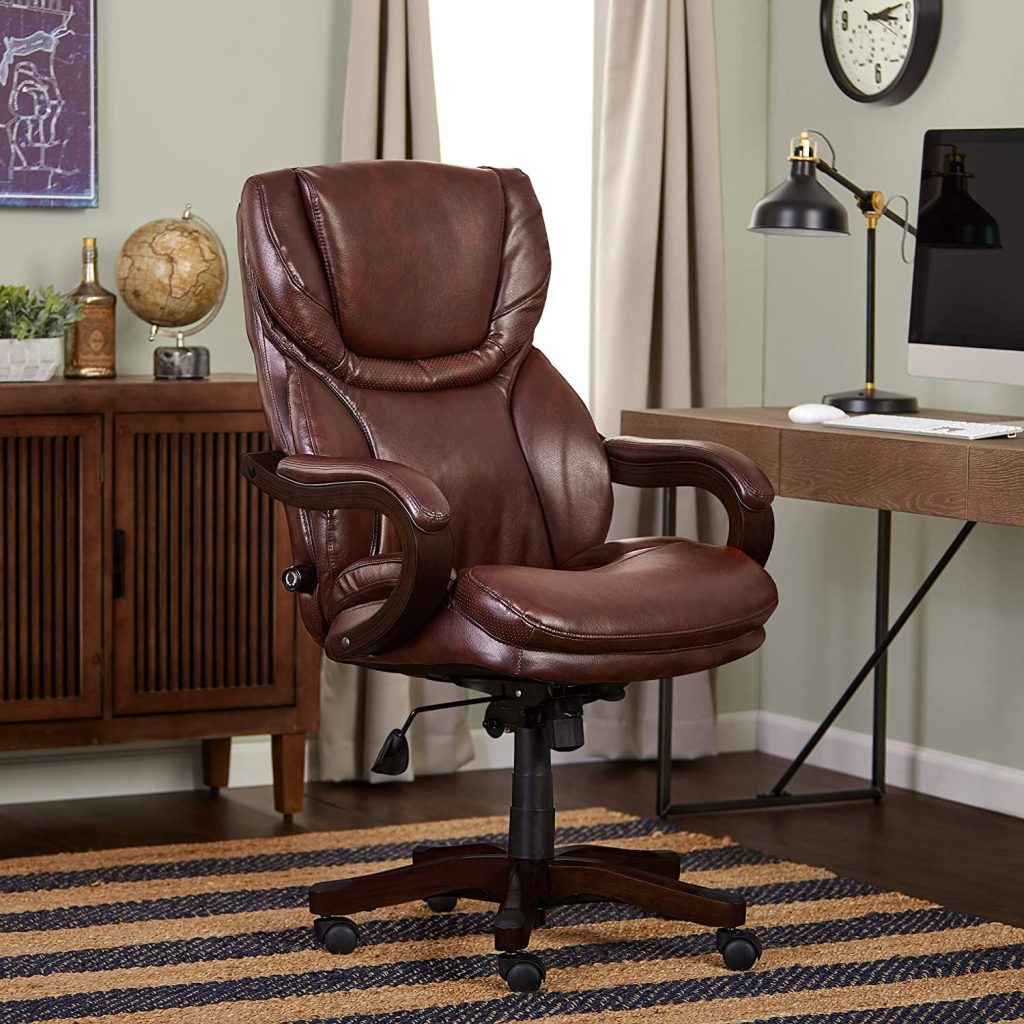 You receive 3.5 inches of height adjustment, allowing you to modify your chair from 18.75 to 22.25 inches. Good height adjustment and lumbar support are additional features of the best standing desk chairs.
A large height range, non-slip vinyl, and a high weight capability are all features of the best office stability chair.
While the weight capacity of this Serta chair is not specified, the product name suggests that it is suited for those with broader frames. Look for the best ergonomic kneeling chair to transfer weight equally throughout your lower back and legs.
See more:
Above are top 5 prominent options you may consider on buying the luxury reclining office chair. Visit FittingChairs to find out more options to stay productive!