Steelcase Leap V2 and Steelcase Gesture which are the best seller-items of Steelcase are also the two top-ranked ergonomic chairs in the market. However, choosing one of these two chairs tends to be very difficult for most people. Check out the following article of FittingChairs to find you the major different points between Steelcase Leap V2 vs Gesture, then choose the best one for yourself.
Steelcase Leap V2 Vs Gesture. What's The Same?
Steelcase Leap v2
Being designed to enhance your sitting posture when working for a long time, this high-end chair will offer you a range of ergonomic solutions.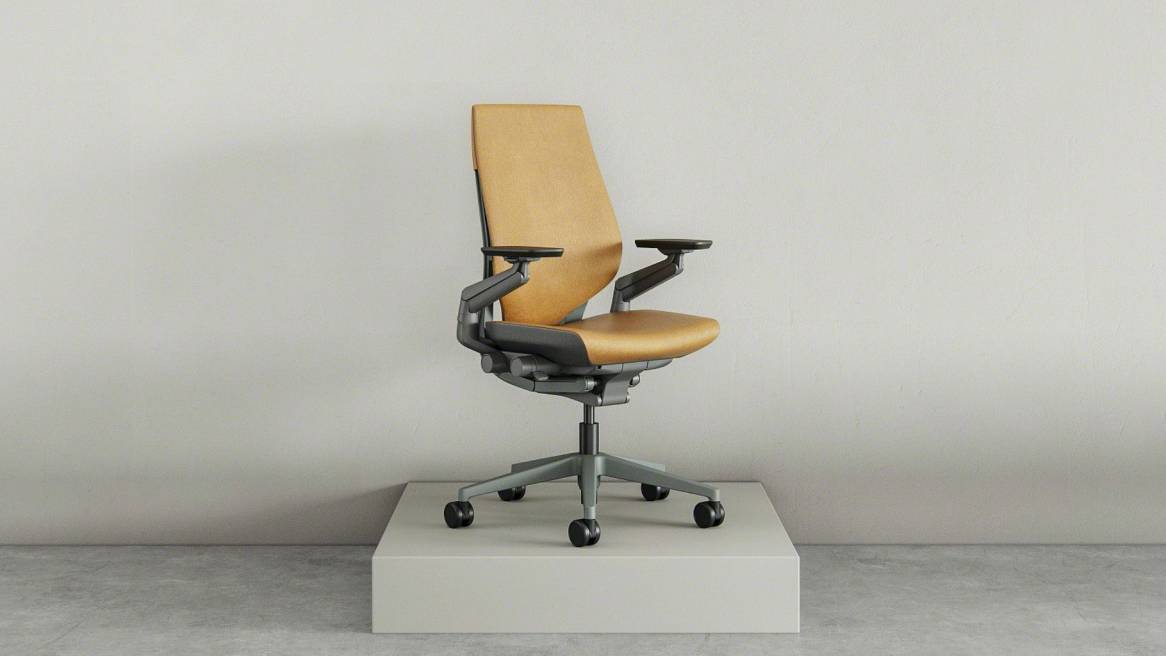 Steelcase Gesture
This Steelcase Gesture is born to ensure long-term support to improve your concentration for work.
So what are the same points between the two top-ranked ergonomic chairs that make most people find it really difficult to choose one of both.
Both Steelcase Leap v2 and Gesture are designed in just one size. That means both chairs can suit most users.
Moreover, with max weight capacity up to 400lbs, the Steelcase Leap v2 chair and Steelcase Gesture can totally deal with the issues of most heavy-weight people.
Ergonomic adjustable features
The Steelcase Leap v2 and Steelcase Gesture have various adjustable features that can provide you with ergonomic solutions. To be more specific, these ergonomic functions include headrest, armrest, backrest, seat depth, lumbar support, and seat height adjustability.
The most outstanding adjustable feature of these two chairs is the seat pan depth is can be adjusted by pulling on a lever, elevating the seat's weight, and moving your hips forward or backward.
Besides, in terms of ergonomic features, you also find out more about difference between Herman Miller vs Steelcase to get the right one!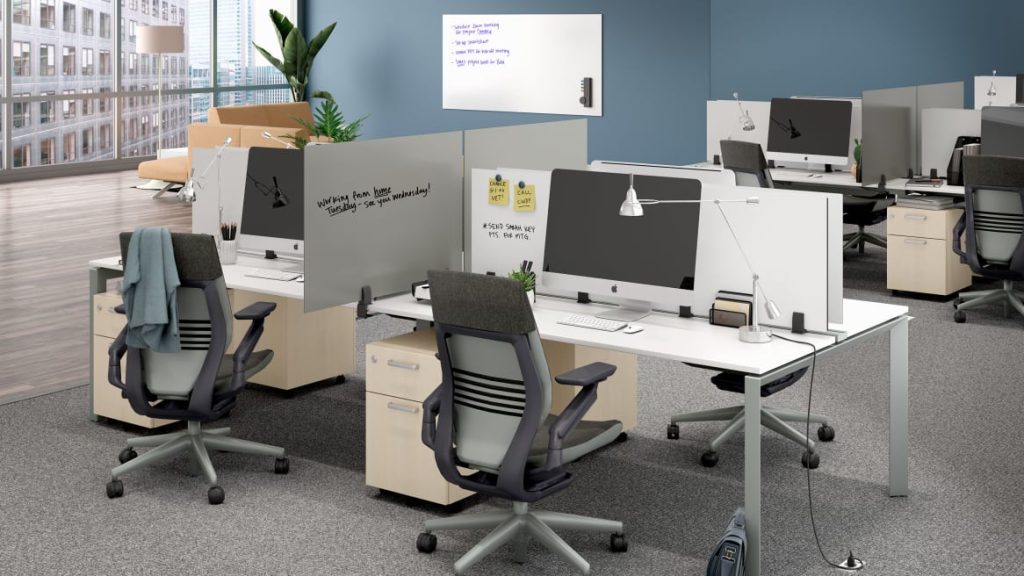 Both the Steelcase Leap v2 and the Steelcase Gesture have an aluminum leg frame. Moreover, the chairbacks of these two chairs are also made from high-quality plastic.
Being made from a padding cushion, the seat, and the back of these two chairs will provide you a comfortable feeling during long hours sitting.
The fabric of the two chairs is 3D knit fabric – which is one of the most durable and high-quality in the market.
The Steelcase Leap v2 and Steelcase Gesture have the same time warranty of 12 years.
The two chairs provide you with various color options up to 16 colors.
What's more, Steelcase also allows you to choose various upholstery options. You can totally opt for Buzz2, Cogent, Remix, or the Billiard, and Bo Peep depending on your demands.
Steelcase Leap v2 Vs Gesture. What's The Difference?
Here are major different points between the Steelcase Leap v2 vs Gesture. These elements will help you find out the most suitable one for yourself.
Generally, about the design, the Steelcase Leap V2 and the Steelcase Gesture give us the same feeling of comfort thanks to their padding cushion seats.
However, regarding chair height, the Steelcase Gesture is higher than the Steelcase Leap v2.
The back of the Steelcase Leap v2 will be more curved than that of the Steelcase Gesture.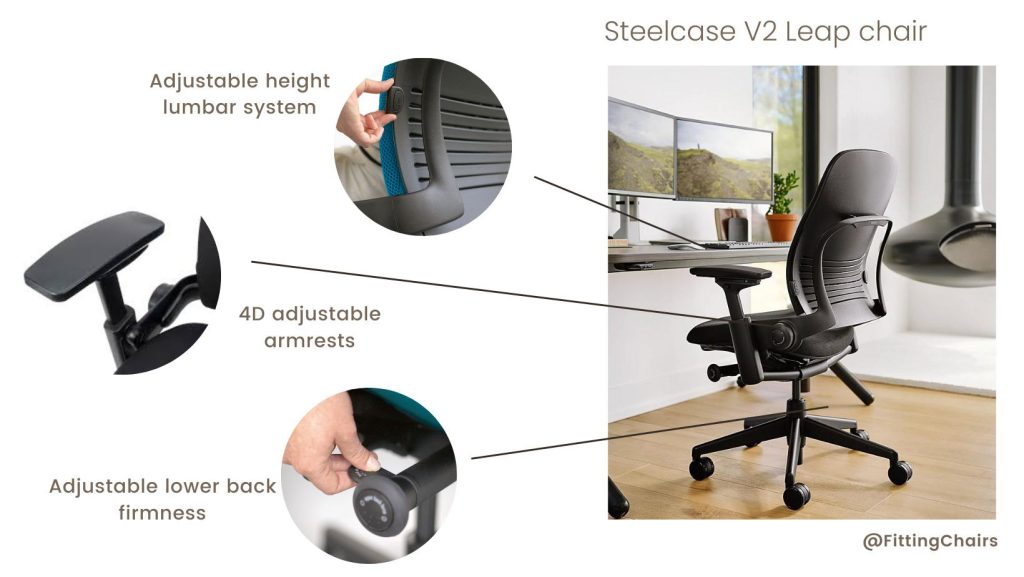 Armrests
The most specific different feature of these two chairs is their armrests system. While the Steelcase Leap v2 has the design of straight-up armrests and can be adjusted in 4 different ways, the armrests of the Steelcase Gesture provides you with 360 degree rotating arms, which allows you to control any way you want and of course, it will follow you in every action.
Tilt lock
Besides, in terms of tilt lock, the Steelcase Leap v2 gives you 5 tilt lock positions, while the Steelcase Gesture provides you with just 3 tilt lock positions. So, with Steelcase Leap v2, you can control more widely your sitting postures, even in up right or reclining positions.
Lumbar support
The lower lumbar tension adjustment had a significant impact on the amount of lumbar support you got throughout the Steelcase Leap v2. You were able to fine-tune where you obtained most of the lower support by shifting the height-adjustable lumbar bar.
While the Gesture chair didn't quite perform than the Steelcase Leap v2 in terms of comfort with lumbar support. Although it is not as visible as the Leap, it still provides adequate assistance.
So that, when it comes to lumbar support, the Steelcase Leap v2 chair will provides you with more adjustability rather than the Steelcase Gesture chair.
Let's see how customers feedback these chairs on Amazon.
Steelcase Leap V2 vs Gesture Comparison – Steelcase Leap v2 Review
Here are both positive and negative feedbacks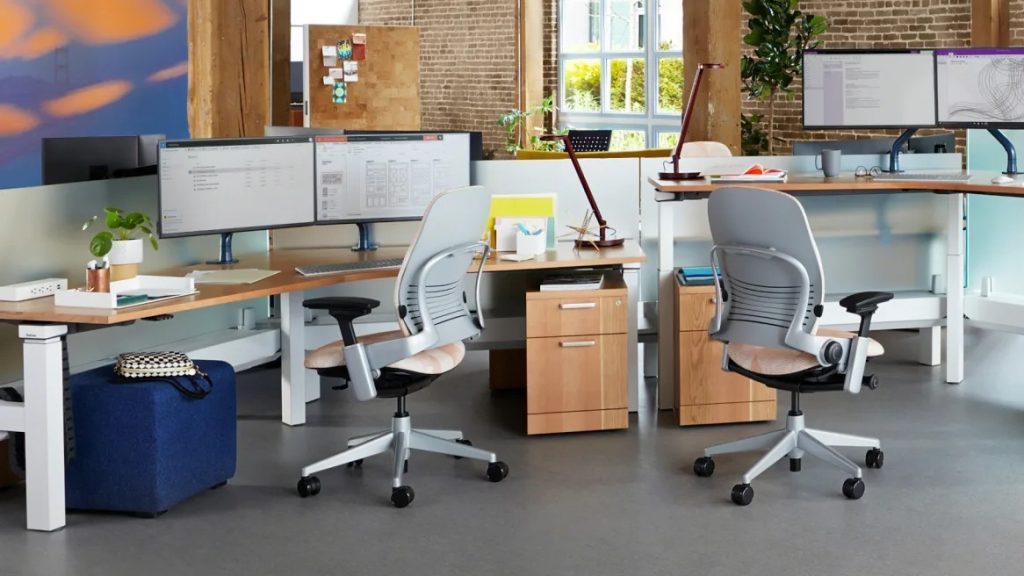 Parry: "Great chair for a great price – don't let the refurb scare you!"
It's a great chair – but you knew that already. My review is for the refurbished one sold by Madison Seating. After spending 1000$+ on a new Aeron I wanted to get one for my wife who has to sit long hours for her job. This time around we decided to see if there were open box / refurbs available cheaper and that's how I found this one sold by Madison Seating.
It was quite a bit cheaper than a new one so we decided to take a chance. I am glad to let you know it has worked out well. The chair was clean, well packed and almost new. It was also fully assembled for a bonus.
All the functions work as expected and the chair is quite comfortable for my 5'6″ wife after adjusting for height, lumbar support and arms. I will update this review if I find anything worthwhile to report on, but for now I am happy to have saved money and given the wife something comfortable and ergonomic to sit on!
Show more +
Rochelle R.: "Seemed like new to me!"
I used to use the Steelcase Leap chair at my office job. Even though I worked 60 hours a week, my chair NEVER gave me pain. I never really thought anything about my chair until I started working from home. The Costco chair I bought seemed fine for the first few hours of the day. But by the end of the day, my neck, back and bum were so fatigued and sore. I investigated the chair at my office and found it on line for about $1,000. Sticker shocked, I could not believe the price. I suffered with the Costco chair for several years. I finally decided to see if the Leap chair was on Amazon, crossing my fingers the price would be better than I remember. I discovered this used LEAP chair from seller TE Seating for $499, shipping included. I debated for a few more weeks before pulling the trigger and treating myself. It took about a week to receive the chair. The shipping box was in shambles but to my delight, the chair was protected by loads and loads of air bubble packing stuff. The chair was also wrapped in protective plastic, wrap, the rollers casters were plastic wrapped in position to protect them, and the chair was in one piece. When I unwrapped all the protective stuff, my chair looked like brand spanking new! Truly! It had been steam sanitized too. Not a blemish to be found anywhere. I also found a hand written thank you note card from the seller taped to the chair. Wow! Now that I have been using the chair for nearly a week, I never think about my bum, back, or neck. I never think about my chair. I just think about my work. If anyone asked me if I would recommend this chair and this seller, I would say whole heartedly to GO FOR IT. You deserve to work in a comfortable, ergonomic chair! I also whole heartedly recommend the seller TE Seating. I would definitely buy from them again.
Show more +
KSega: "Feeling a bit misled"
I am rating this product a 2 to try to attempt to balance the review rating because I feel a bit misled by other reviews. I'll explain why!
I read stellar reviews on here about the comfort and design of this chair. I'm not sure if I just got a bad one, but from the first second I sat in it the chair felt cheaply made and like I was sitting on a hard flat surface. For the price of the chair, I expected the seat to be comfortable, but the lack of cushioning caused the chair to "bottom out" even though I am well under the max suggested weight limit. It felt very flat and hard to sit on. The seat pan also wobbles, and leads to it feeling cheaply made or unstable. I believe this to be a defect in the chair and was the main reason for my return as well as the lack of comfort.
The rest of the chairs features were great, I liked the amount of customization you could do, the fact that the chair moves with you as you recline and the arms can move slightly helped a lot, but every 10 mins or so I would think "it feels like I'm sitting on a hard bench" and it wasn't worth the price to me. If anyone has any suggestions of an office chair that provides supportive yet soft cushion and adjustable ergonomic features please let me know!
Show more +
Hmongkeysauce: "Comfortable chair, but it smells!"
Overall, the chair is very comfortable. This chair is replacing a Herman Miller Aeron classic chair and the Leap V2 is almost as comfortable as the Aeron. I also tried the Gesture chair but I felt like that chair was forcing me to readjust my posture while sitting. The recline option is great; the back reclines without the seat moving. The limited arm pad adjustment (compared to Gesture) was not an issue for me. The seat wobbles but that is expected (as explained by BTOD.com).
The reason why this doesn't get a higher rating is because the chair smells on and after delivery. I bought this chair "Used – Like New" ship and sold from Amazon. The chair arrived in great condition (as advertised) but it had a strong chemical smell like some reviewers mentioned. The smell is similar to a hairspray product. It's a pretty strong smell and was still present even after letting the chair sit in the garage for 7 days. I tried a few different methods (as mentioned on Steelcase's website) to clean the chair and hopefully remove the smell but to no avail. I eventually gave up and started to just use the chair and hope that the smell would go away. 22 days after it was delivered, the smell is still there but not as strong as before.
Show more +
Steelcase Leap V2 vs Gesture Comparison – Gesture Review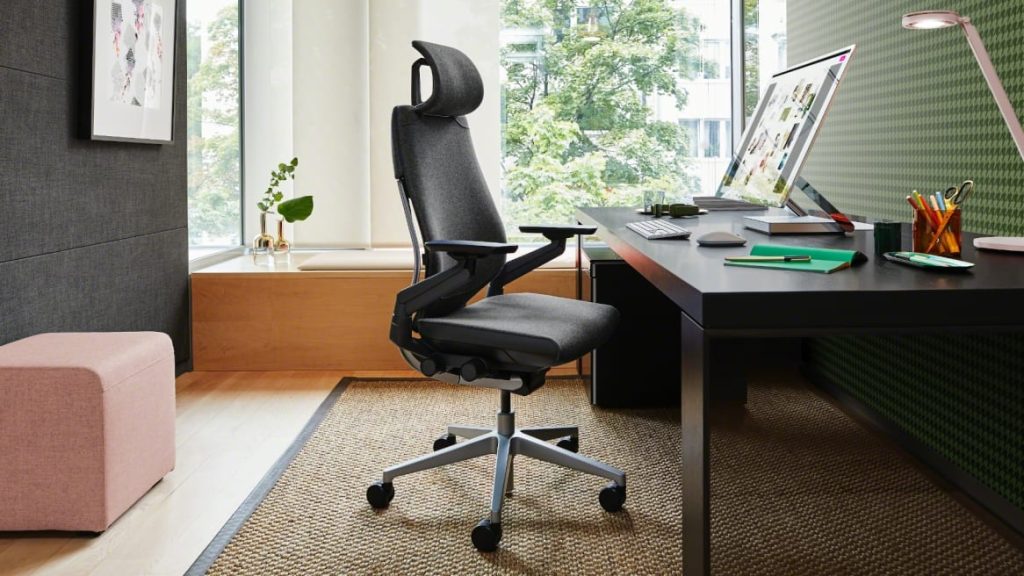 Here are both positive and negative feedbacks
Senlo: "Comes fully Assembled just like the official site. Brand new no issues! Very Comfortable!"
I used to have a DX racer office boss series big and tall chair and after 5 years the seat cushion on it was destroyed so I wanted something that was better for my back and bottom. This chair fit the bill. I was very pleased to see it delivered fully assembled saving me so much time and effort. This chair compared to Embody chair is very similar. If you are 6'2″ or higher this will prolly be fine for u but not embody. My shoulders would poke the top corners of it at times where as here not. I ordered an aftermarket headrest and will update once I have tried it out here and will update this as well if any questionable issues occur but for now I love this chair and so does my body.
Show more +
Sam H: "4.0 out of 5 stars Great task chair- immeasurable upgrade in comfort and support."
This is a great task chair. Spent hours reading reviews and it came down to this chair and the Herman Miller Aeron. Ultimately the decision was made to go with this because it appeared to be more versatile with the adjustments on the arms and because it was less ostentatious. Comfort and support are miles ahead of my previous chair. Only regret and reason for the 1 less star is that the arms, which are very adjustable, have no way to lock in the adjustment and end up moving frequently on their own when pressure is applied necessitating readjustment. Otherwise a very comfy chair for long bouts at the computer…
Show more +
Scottbridges: "Have both Leap v2 and Gesture"
First off both are great chairs.
I'm 6'3″ 210lbs and have had the Leap for over a year. The Gesture is new and hasn't been used much yet.
First impressions when I got the Leap was wow what a great chair. I have the same impression with the Gesture. They both have adjustments mostly on one side which is great. The Leap has the seat forward/back on the left. I'd say the biggest differences to me are the Leap v2 is better for a fixed position. The Gesture feels like it flexes better if you like to have dynamic reclining without swapping the adjustment knobs.
The arm rests on the Gesture move more freely vs the Leap. I prefer the Gesture on this point. The Leap arm rests are not a positive. They tried to make it overly fancy and missed the mark.
Back support is relative and they're very similar.
Seat cushioning on the Gesture is a tad thicker.
The up / down lever which I don't use much at all, but prefer the Leap control.
The forward / backward seat for most is set it and forget it. No preference between the two.
I'll throw in the other vendor model Embody. I think it's a well built chair and the back flex is interesting. I put that chair below these two for comfort and price points. Again personal preference.
Just make sure you don't get a refurb when expecting "new". Good sign is when the chair comes fully assembled and doesn't have "Seating Mind" or some other label on it. Thankfully this did not happen on this order. Good seller and arrived ahead of schedule.
Show more +
Allison: "Defective seat"
The chair looks great, but when I sat on it, there is a palpable bump/ crease under my left thigh. No amount of adjusting would make it go away, and there's no way to get into the seat to try to straighten it out. I requested a new chair but was told it couldn't be done. I then tried to return it, but shipping alone was $350 out of my pocket. So now I have a $1000+ defective chair I can't use but can't send back.
Show more +
Bigmac: "Good start, bad ending"
I really enjoyed this chair when I first received it. Unfortunately, after a few months use, I noticed it was not moving as easily on the floor. I discovered that the center cylinder on the chair had lowered or something else in the base structure of the chair allowed it to lower. This now drags on the carpet and I am sure if I move it to a wood floor, it would be damaging the floor every time I sit down. I reached out to Steelcase customer support with little response. I didn't ask for a refund or return, just how can I fix it? …. nothing.
For the amount of money I spent on this chair, I would expect a better quality product. I would not recommend buying this chair until they fix this issue.
Show more +
Steelcase Leap v2 vs Gesture. What Are The Pros And Cons?

Steelcase Leap v2
Check Prices
Pros
Various ergonomic features
5-position reclination
Comes pre-assembled
LiveBack technology backrest

Gesture
Check Prices
Pros
Adjustable ergonomic features
Designed with the human body in mind
Comes pre-assembled
Cons
High price
Limited adjustable lumbar support
In conclusion, these two ergonomic chairs have enough adjustable features which can protect your investment. While the Steelcase Gesture provides you with more adjustable dimensions for the armrest, the Steelcase Leap v2 offers you a more comfortable straight sitting posture.
When it comes to the price, the two leading ergonomic chairs have nearly the same price range. So, price is not a significant point to consider when you intend to buy an ergonomic chair.
See more: Steelcase Series 1 vs Leap
Hope that this Steelcase Leap V2 vs Gesture helped you in picking out the best one. Follow FittingChairs for more reviews.