Are you looking for an office chair but don't know which brand is good? You've almost certainly come across two brand names many times: Herman Miller Vs Steelcase.
In this article, FittingChairs will go through what distinguishes these brands from one another so that you can grab the best product for your home and office.
Herman Miller Vs Steelcase – The story behind
Herman Miller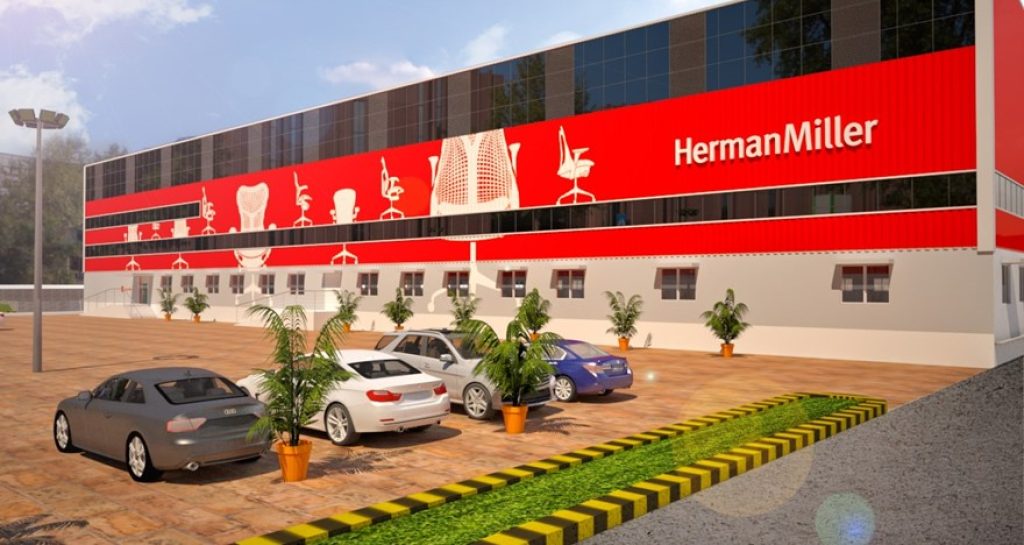 Herman Miller Inc. is an American manufacturing firm that specializes in developing office and home furniture equipment.
Their headquarter are based in Zeeland, Michigan, with manufacturing companies in the United States, China, Italy, and the United Kingdom, as well as sales offices, dealers, licensees, and customers in over 100 countries.
Moreover, Herman Miller is a company with over a century of experience that values design, the environment, community service, and the health and well-being of its customers and employees.
This company began its adventure in 1905, much before Steelcase. It was formerly known as Star Furniture Co., and it began by producing furniture for bedroom suites in a historic revival style.
They are known for their one-of-a-kind designs, which combine years of expertise and customers feedback to produce wonderful office chairs that allow you to move freely while remaining supported throughout the day.
Overall, their products not only look wonderful but also enhances our daily health and posture.
At Herman Miller, we want you to do great things. That's why we make problem-solving designs that are as beautiful as they are useful.
Steelcase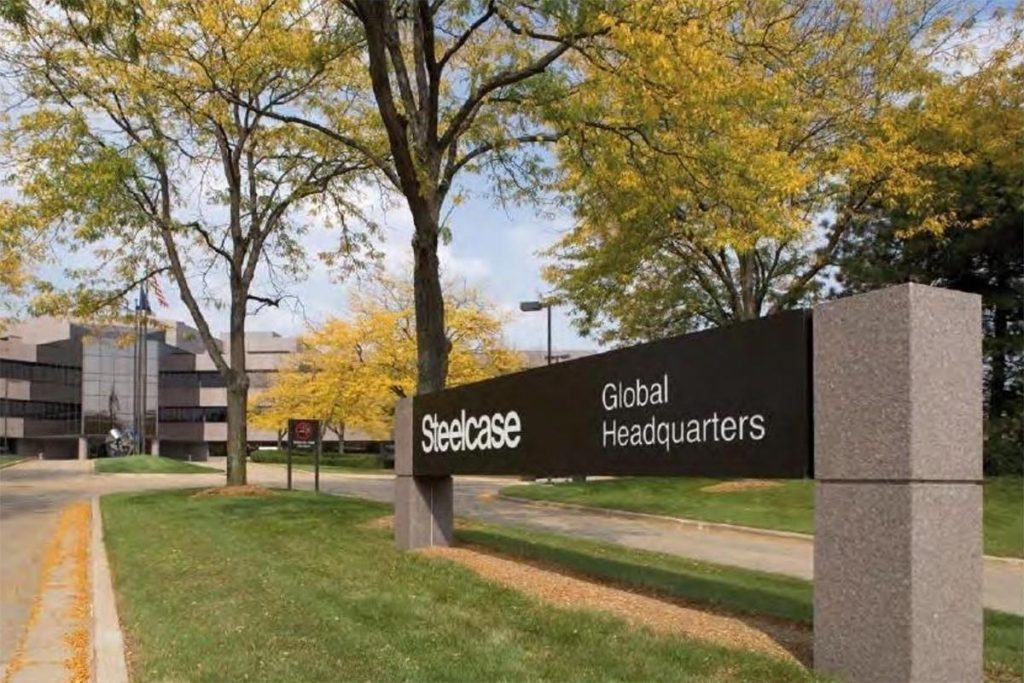 Steelcase is a furniture company located in the United States that was founded in 1912 in Grand Rapids, Michigan by Peter M. Wege. He built the company's first products with his decades of experience in the sheet metal and fireproofing industries.
This company creates architectural and technological products not only for office spaces, but also for the education, retail, and healthcare industries.
Steelcase is a pioneer in the creation of amazing experiences, delivering a wide range of architecture, furniture, and technology products and services meant to help people reach their full potential.
Overall, Steelcase products are designed to be as comfortable as possible while also lasting a long period.
Steelcase leads the way in creating great experiences by offering a range of architecture, furniture and technology products and services designed to help people reach their full potential. Together with our partners, we design spaces to help people work, learn and heal.
Herman Miller Vs Steelcase – What's The Same?
Features
Steelcase manufactures the items with high-quality materials, and they have a sustainable design foundation. Their chairs feature adjustable backrests, upper and lower back controls, and dynamic seating.
Steelcase office chairs would be ideal for someone looking for an office chair with a wide range of adjustments. Their chairs can accommodate a wide range of body shapes and sizes.
Herman Miller chairs are also ergonomically built, allowing users to maintain proper posture. These chairs feature a broad natural curve and lumbar support. The backrest of these chairs is made to fit your entire back against it.
Accessories
Herman Miller offers a variety of accessories to help you design your home or business. This business provides computer accessories, storage choices, and other items that can help you arrange your workplace.
Steelcase also sells accessories for modern office desks and workplaces. These might assist you in updating your workplace with the use of new technologies.
Warranty
Herman Miller is well-known for offering lengthy product warranties. For example, the Herman Miller Aeron has a 12-year warranty. One of the things that set Herman Miller apart is their fabric choices, which are warrantied for 12 years under 24/7 use.
The warranty of Steelcase is pretty similar to Herman Miller's. They also provide large options of fabric selections with the same 12-year warranty.
Moreover, they are willing to refund the consumer if it is discovered that a repair or replacement is not commercially practical.
Herman Miller Vs Steelcase – What's the Difference?
Design
Steelcase places a high value on innovation. This company thinks that humans are naturally drawn to beauty, which is why it concentrates on offering consumers individualized experiences.
Herman Miller has been known for its creative and functional designs for many decades. Take its office chair as an example, Herman Miller's office chair models have been designated as museum-worthy due to their exquisite designs.
Price
Herman Miller and Steelcase are both premium brands, thus their products are also considered high-end. And the cost of these things reflects this.
In terms of the office chair, Steelcase office chair models are generally more expensive than Herman Miller similar versions.
High-end office chairs from these two companies are Herman Miller Aeron and Steelcase Gesture. In terms of pricing, comfort, and durability, both of these chairs provide excellent value. You can find out the difference between Steelcase Gesture vs Herman Miller Aeron to choose the best one.
You can refer to the prices of popular chairs below:
Herman Miller Vs Steelcase – Overview
Herman Miller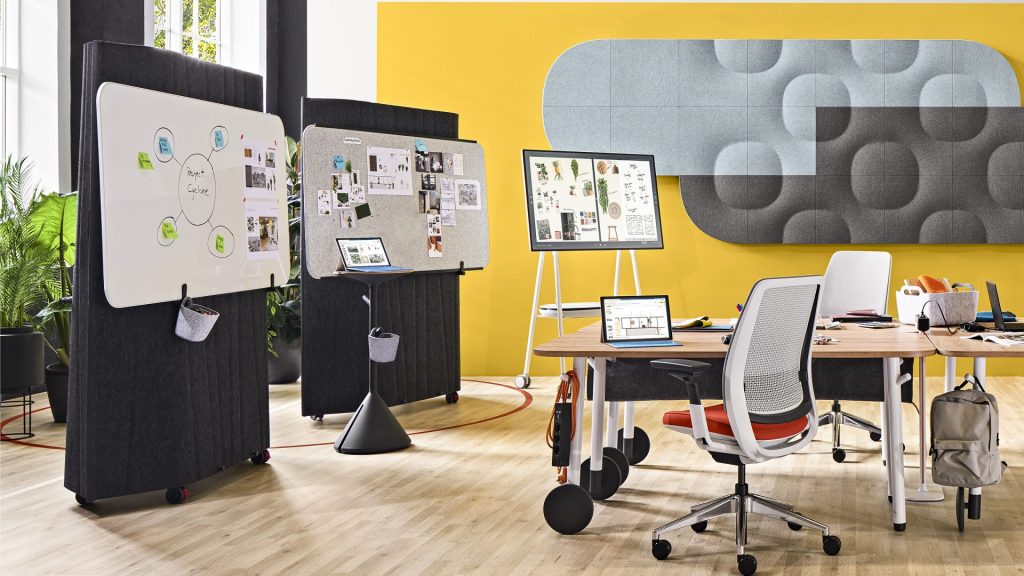 Herman Miller is known for their innovative designs, use of technologies, and related services that improve people's lives whether they're working, studying, healing, or simply living.
Herman Miller furniture can change your house or business into something unique and beautiful in no time. Their office furniture is well-made overall, and these items are suitable for companies that are highly competitive and high-performance.
This brand conducts extensive internal research and employs their extensive design experience to develop stylish and functional educational items.
And, of course, they are now concentrating their efforts on developing good solutions for the home environment so that those who work from home can enjoy a premium experience.
In 2017, The Michigan Minority Supplier Development Council recognized Herman Miller as "Corporation of the Year" in the consumer products sector.
Steelcase
Steelcase takes pride in being a company that offers a diverse selection of furniture, architecture, and technology items that help people have amazing experiences. Their primary objective is to assist their customers in realizing their maximum potential.
Moreover, Steelcase is committed to environmental protection by including social, environmental, and economic considerations in its decision-making process.
Steelcase is recognized for its commitments to people, the earth, and our communities by its peers and third-party groups all over the world. The organization is well-known for being a great place to work. ​
From 2018 to 2020, Steelcase was voted the World's Most Admired Company by Fortune magazine for its unrivaled innovation in the home equipment and furnishings industry.
Herman Miller Vs Steelcase – Top-rated Picks
Top Picks Of Herman Miller
Herman Miller Aeron Ergonomic Chair
The Herman Miller Aeron is one of the most comfortable ergonomic office chairs ever built. Its superior build quality, adaptability, and comfort make it an ideal solution for any home office or gaming setup.
Positive
Environmentally friendly
Durable and long-lasting chair
Up to 350 lb weight capacity
Mesh material keeps cool
Wide range of sizes
Negatives
Exceptionally expensive
No seat depth adjustment
No back height adjustment
Herman Miller Mirra 2
Herman Miller Mirra is a well-known high-end chair. This chair's unique features make it a desired product, and it adheres to their idea of developing high-performance chairs that support users in a powerful state of motion.
Positive
High-end build
Easily adjustable
Armrests that offer comfort
Environmentally friendly
Negatives
The armrests are wide
Triflex can be hard on the back.
Herman Miller Cosm
The Cosm is a worthwhile purchase because of the chair's appearance and general quality. It's an excellent choice for moral support for your lower and upper back.
Positive
Gorgeous design
Very good back support
Nice looking and stylish
When your posture changes, the backrest automatically moves
Airia Desk by Herman Miller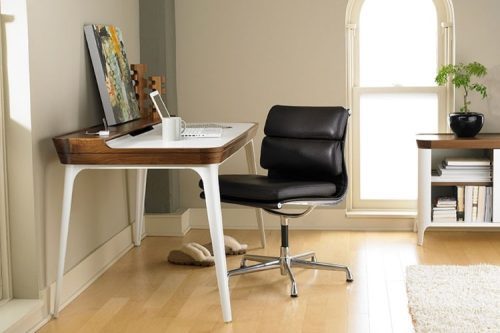 The Airia office desk combines design and function in an attractive combination of wood and aluminum, inspired by the need for a serious work desk that blends in elegantly in the house.
Positive
Beautiful and stylish
Well-designed for work and study
Contains multiple electronic devices
Multi-functional tabletop compartments
Eames Lounge Chair and Ottoman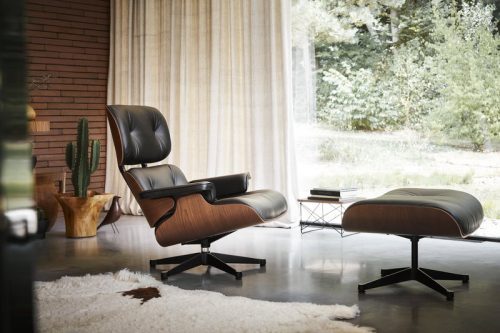 Eames Lounge Chair and Ottoman
The Eames Lounge Chair and Ottoman, famously defined as "a special refuge from the strains of modern living" is one of the 20 century's most influential designs.
Positive
A beautiful classic piece of furniture
Suitable for particular decor styles
Very high quality construction and very comfortable
Excellent back support
Top Picks Of Steelcase
Steelcase Gesture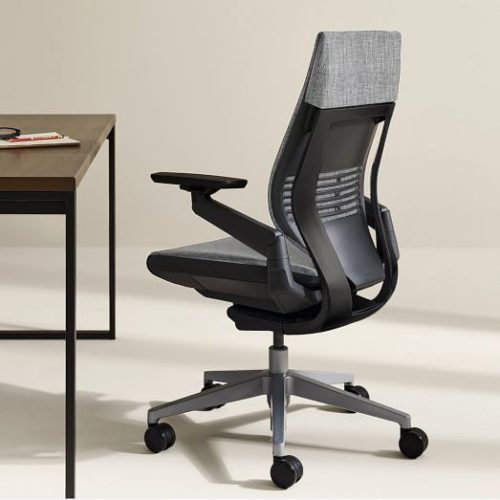 It's one of the greatest office chairs to consider buying because of its excellent performance and design. The Steelcase Gesture chair will provide you with the best comfort for long periods of sitting.
Positive
Excellent build quality
400lbs weight capacity
Great back support
Supportive 3D LiveBack
Negatives
Lack of back-height adjustment
Steelcase Leap V2
The Steelcase Leap V2 is the successor to the best-selling Leap V1 that is a stylish office chair with a plastic exterior shell, a variety of color, fabric, and configuration features.
Positive
High build quality
Ergonomic adjustments
Very good seat comfort
400lbs weight capacity
A wide range of different colors
Negatives
No rocking mechanism
Expensive
Steelcase Series 2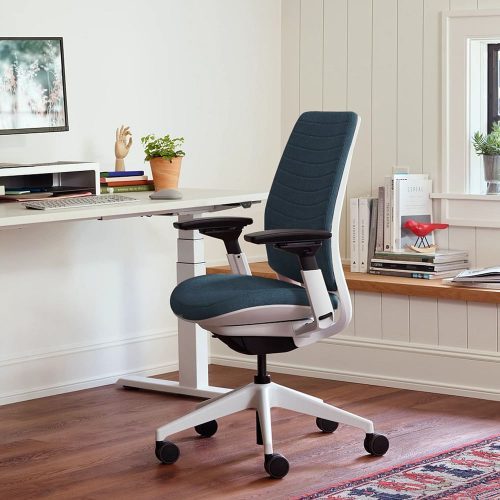 Steelcase Series 2 is a high-performing mid-market choice that combines comfort and ergonomic support without breaking the budget.
Positive
Nice build quality
Good back comfort
Ergonomic adjustments
400 lbs. weight capacity
Great warranty
Negatives
No back height adjustment
Limited tension options
Steelcase Series 1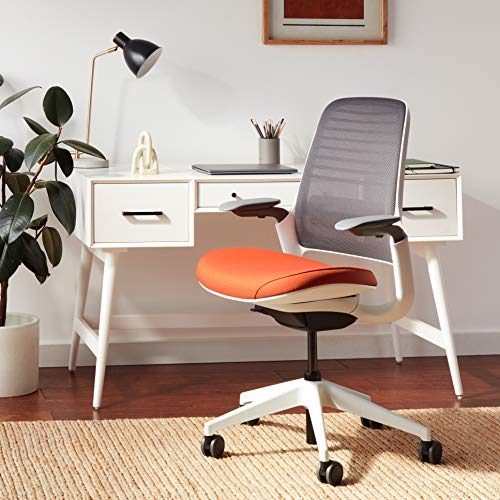 Steelcase Series 1 office chair provides much more comfort than you're likely to find in an office chair. On every level, you can enjoy customized seating that is comfy. Grab it right now!
Positive
Ergonomically excellent
4D adjustable arms
A wide range of upholstery colors
LiveBack technology conforms to your movement
Negatives
No adjustable backrest tension
The armrest seems unstable
Steelcase Turnstone Buoy
Steelcase Turnstone Buoy is an excellent alternative to traditional office seating. It is recommended for everyone who is ready to say goodbye to their conventional workplace chair.
Positive
Durable and great for reducing back pain
Height adjustable and promotes good posture
Stylish and well-designed
Works great for even short size
Negatives
The fabric coating on top isn't breathable
The padding is quite small
Herman Miller Vs Steelcase – What's the customer say
Let's see what customers think about the products of these two brands.
Herman Miller reviews
Positive Review
Katie on Amazon: "Excellent chair and service"
The chair is super comfortable, I can already feel my back thanking me. Plus it is the only nice-looking office chair I was able to find that fits with a Scandinavian office vibe. The delivery man was really lovely and helpful, even taking away all the packaging which saves an annoying job! The best delivery service of any product I've ordered.
Show more +
Negative Review
Colin Goodale on Amazon: "Herman Miller is the worst customer…"
Herman Miller is the worst customer service I've ever experienced. They're dismissive and rude. When trying to get a repair from a purchase on the online store they told me to find a dealer and dismissed warranty claims within warranty.
Show more +
Steelcase reviews
Positive Review
A reviewer from Google: "It is beyond comfortable."
It is beyond comfortable. I have tested many of the top-rated chairs from office chairs to gaming chairs and the Steelcase Gesture chair is not only one of the top ergonomic chairs, but it is one of the most comfortable chairs on the market.
Show more +
Negative Review
Amazon Customer: "Chair is flawed"
I purchased this chair based on all the wonderful reviews. I received it and it is flawed. It does not allow me to adjust at all. The up and down level does not work nor does the handle to adjust the seat depth. The dial to adjust the back tension and the back angle does not work either. I contacted customer service and when they finally got back to me, they emailed me a copy of the pamphlet which I already have. They clearly did not read my email which stated that the levels and dials do not work. I will never buy office furniture online again.
Show more +
Herman Miller Vs Steelcase – Final Thought
We all know that opting to purchase new office furniture is simple, but deciding which chair to purchase is a difficult task. This is especially true when deciding between Herman Miller and Steelcase.
After looking through our comparison, you should have a clear comprehension of the strengths and weaknesses of these two brands.
So, which brand you choose is determined by your priorities. Both companies produce high-quality office chairs, and you will never be regret if you purchase a Herman Miller or Steelcase product.
See more:
Above is a comparison of the Herman Miller Vs Steelcase of FittingChairs. Don't forget to share with your friends if you find this article interesting and helpful. If you require any additional information, please leave a comment below.