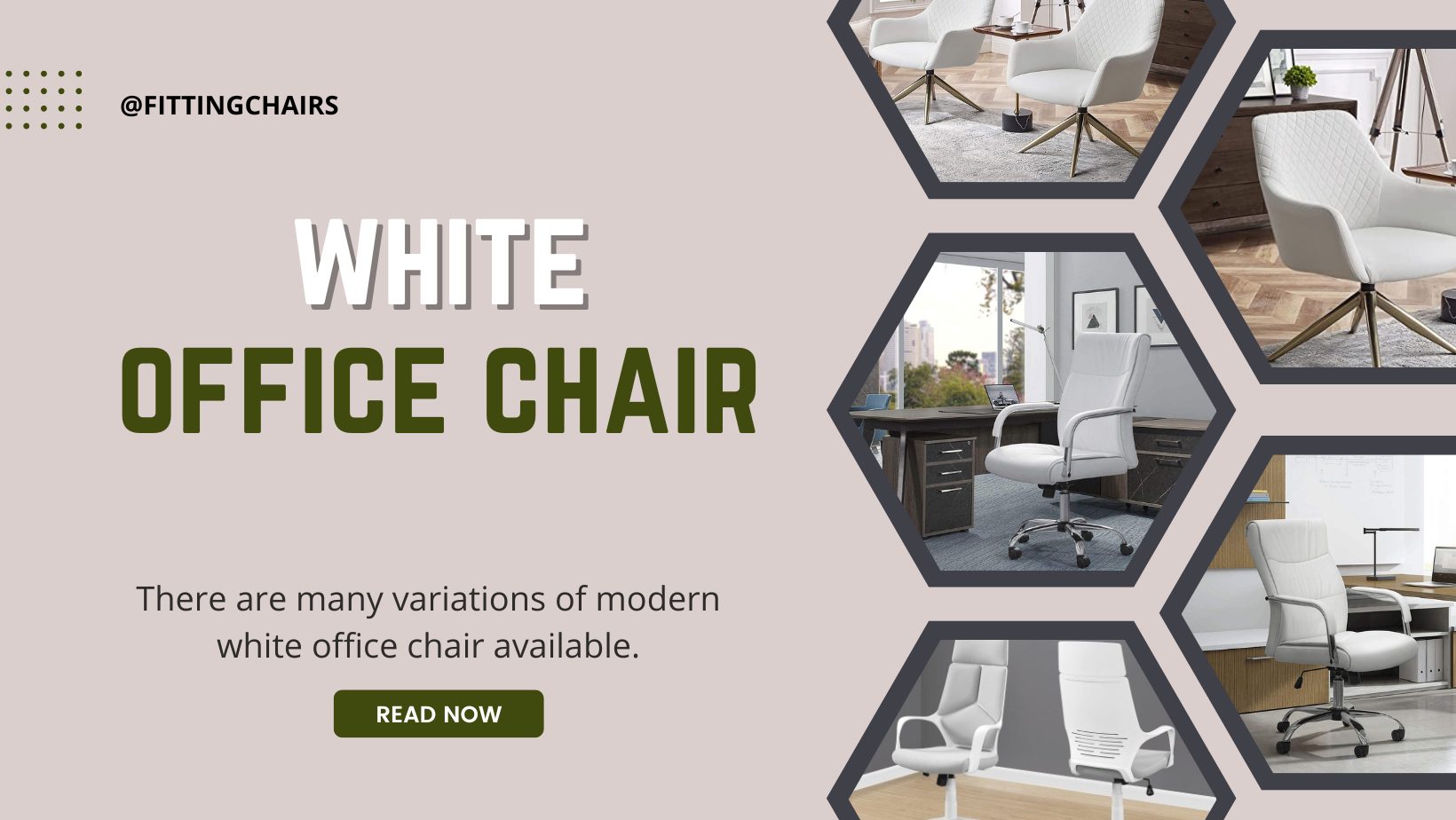 Are you looking for a white office chair for desk for your home office space? Find out your best options with this article of FittingChairs eight now!
Best White Ergonomics Office Chair: Eurotech Seating iOO
This wonderful white chair for desk from Eurotech – one of lesser-known manufacturers. Buy now to get the ergonomic features of the Eurotech iOO Office Chair, which make it a one-of-a-kind seating solution.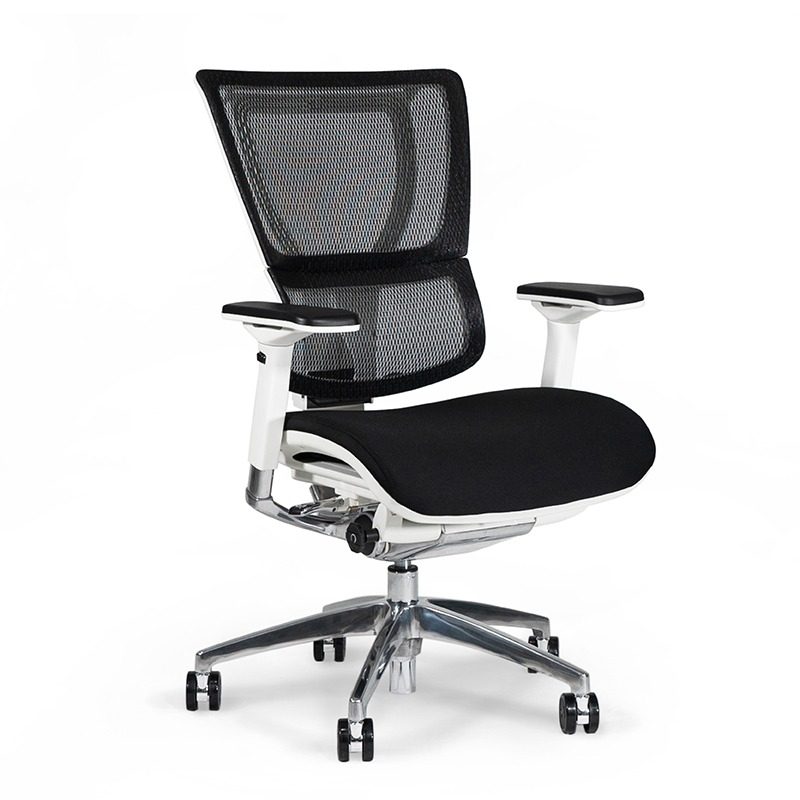 Eurotech Seating iOO
The Eurotech iOO is a programmable white chair for desk for all ages, with an adjustable headrest, tilt lock, and adaptable armrests.
This Eurotech iOO white chair for desk also features a ventilated mesh back and a strong frame in white.
It has a one-of-a-kind mesh backrest that is divided into two pieces.
Specifically, a lumbar segment is separated from the top portion of the back so that the lumbar support it provides can work independently.
This lumbar support is sturdy and comfy, with a natural curve and a height-adjustable backrest that allows you to position it perfectly in your back curve.
About other parts, the Eurotech iOO Office Chair has a mesh seat that allows air to circulate throughout the chair. Thanks to a waterfall edge on the chair seat which eases the pressure, the back of your knees will feel more comfortable.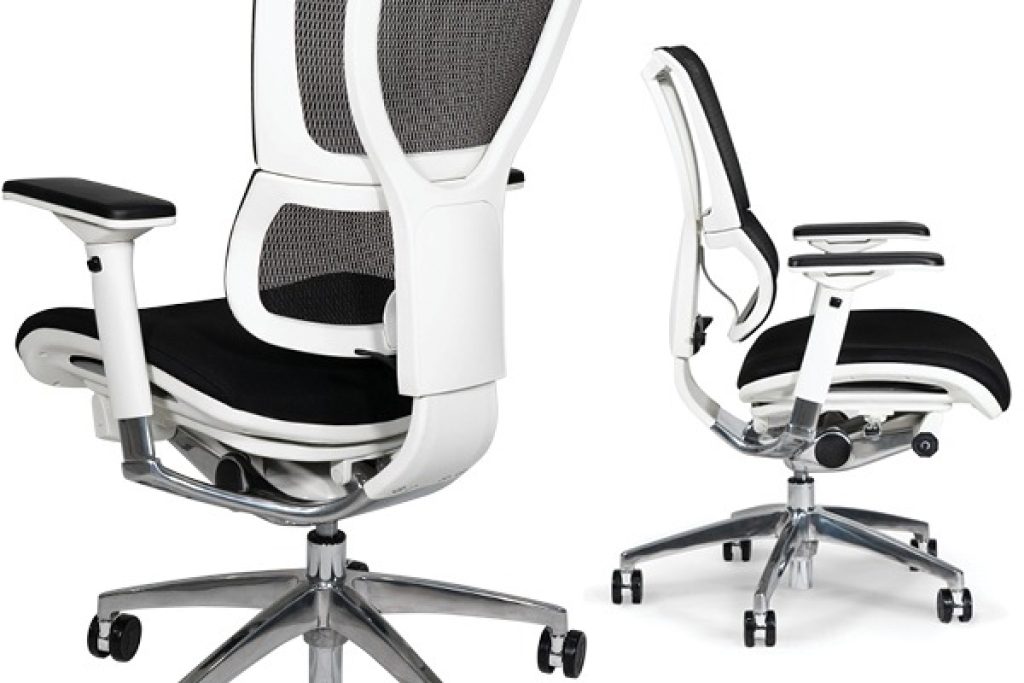 This wonderful office chair will match your office design style.
A con of this ergonomic white swivel desk chair is that the backrest does not fully extend, also meaning that you will constantly be slightly leaning back.
Although it's not proper for those who want to work in a straight up and down position, it's still worth buying.
Best White Leather Office Chair: Office Star 7270
The second option in our top pick for the best white chair for desk is the Office Star 7270.
Because of its appealing price range and modern appearance, this is a good choice for most individuals.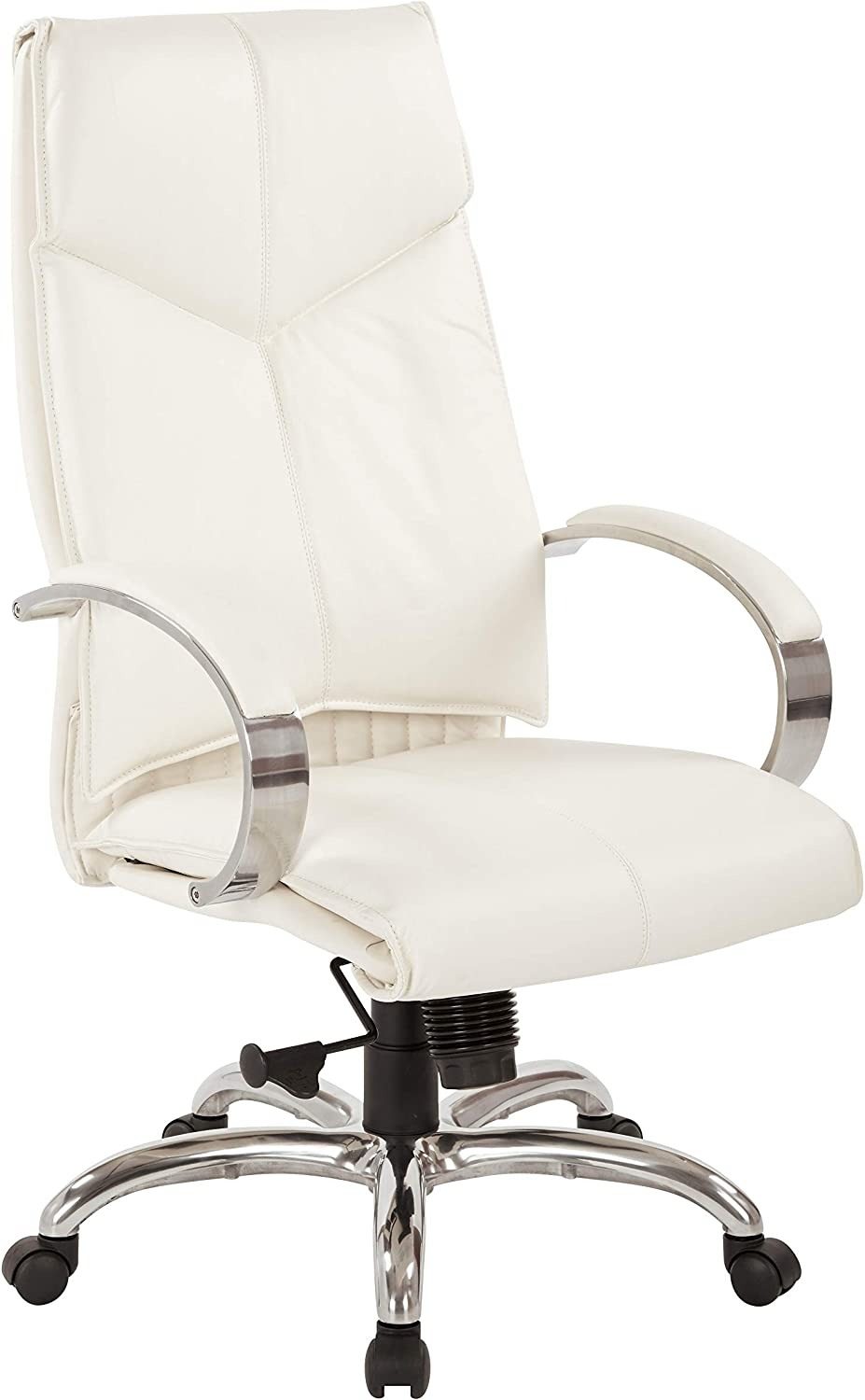 Office Star 7270 Office Chair
This chair uses genuine top grain leather, which is uncommon for a chair at this pricing point. It isn't used vinyl like most models with a similar style and price point to lower cost.
With a 7207 chair, you also get polished metal arms. It has a more premium appearance than rival models that have plastic or wood frames.
The padded loop arms are upholstered in the same leather materials. Although the arms aren't adjustable, the padded leather provides comfort.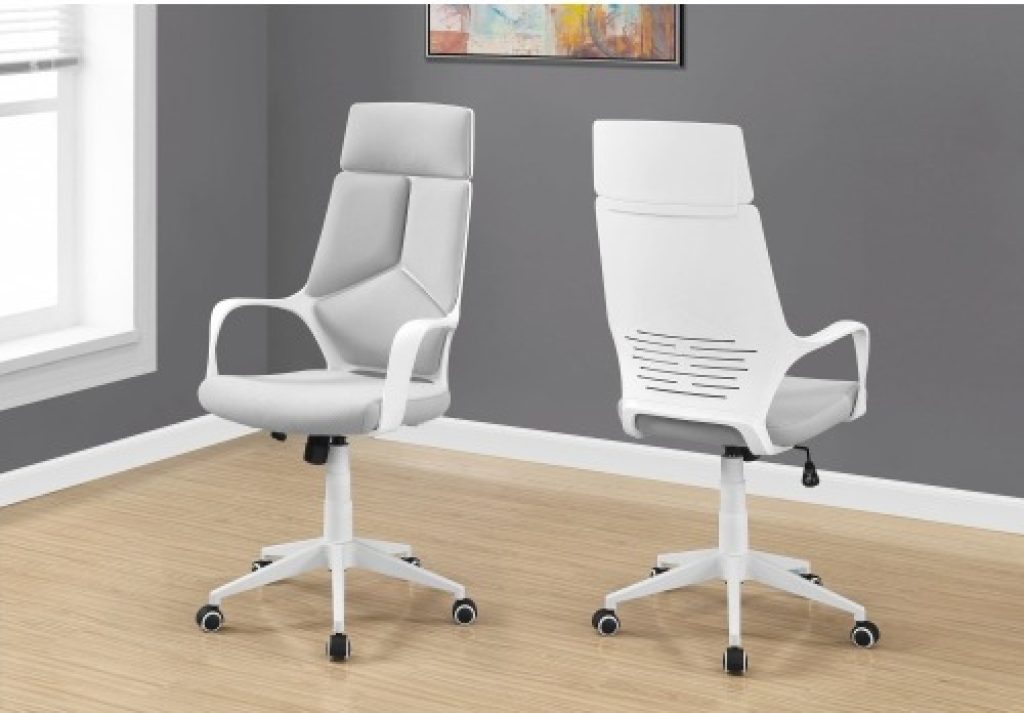 Not only that, this white chair for desk has a high back with a built-in lumbar curve to keep you comfortable while you're using it.
It includes a knee tilt mechanism with pneumatic seat height adjustment, adjustable tilt tension, and upright tilt lock as standard.
Overall, this will be a good choice for those of you looking for a low-cost white leather office chair to utilize in a home office, executive suite, or conference room.
Best Ergonomic White Office Chair: Furmax White Ergonomic Office Chair
This ultramodern white executive office chair features an ergonomic design that will look great in any home office.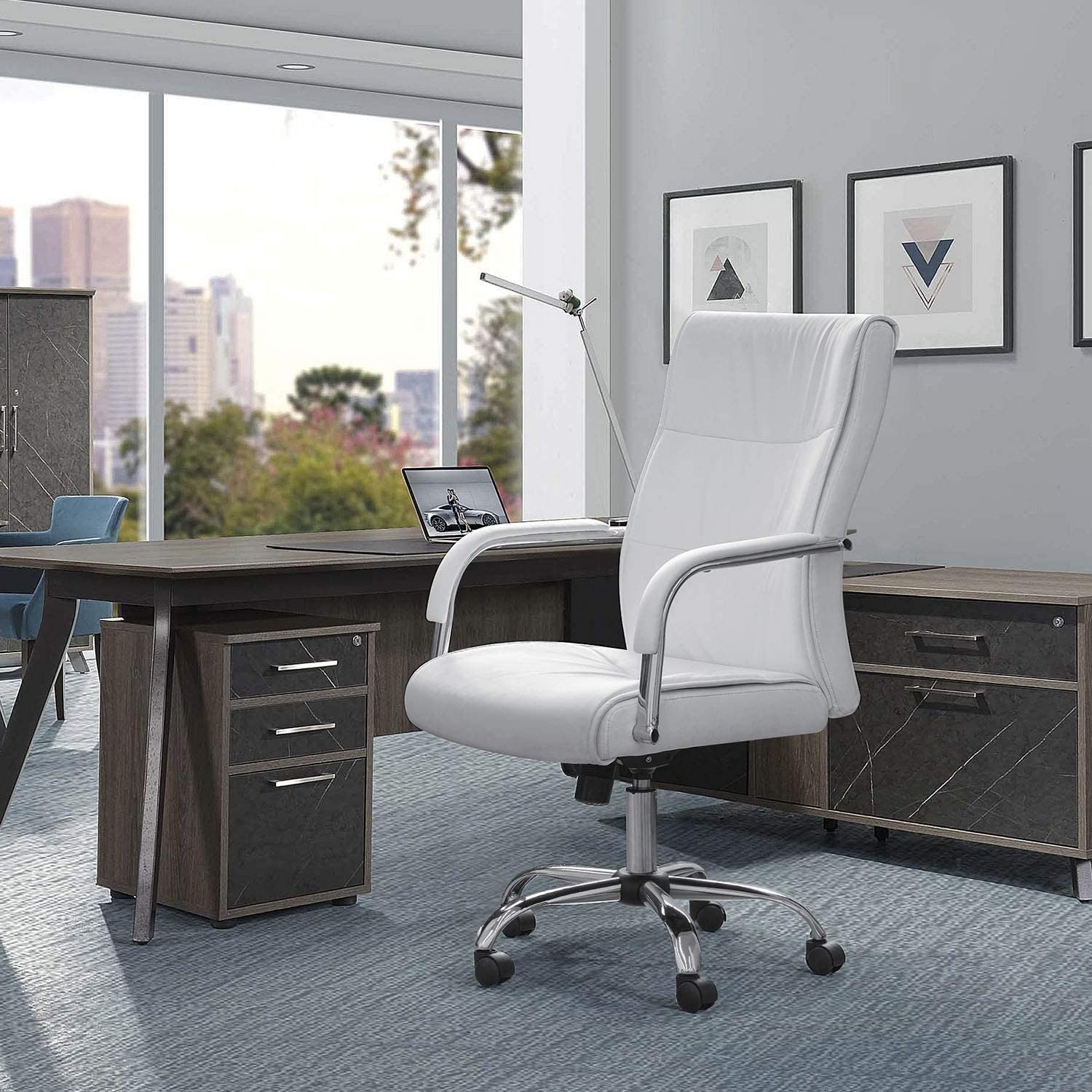 Furmax White Ergonomic Office Chair
It's quite comfortable and won't let you down even if you sit for longer amounts of time.
Indeed, it's ideal for working as well as other activities such as gaming, and the thick cushion will provide all of the support you require.
Steel armrests and legs is one of the best features of this chair relating to its longevity. It's simple to put together and comes with a one-year limited warranty.
Because of its great workmanship, ergonomic design, and high quality PU leather, this Furmax high back bonded leather office chair is a low-cost option that will go in nicely with the rest of your workplace furnishings.
The chair has high-quality stitching to give it an executive office look, but that doesn't rule it out as a good choice for your home office.
This white chair for desk can help with back support because of its support mechanisms and adjustable height, but is it the best office chair for tailbone pain?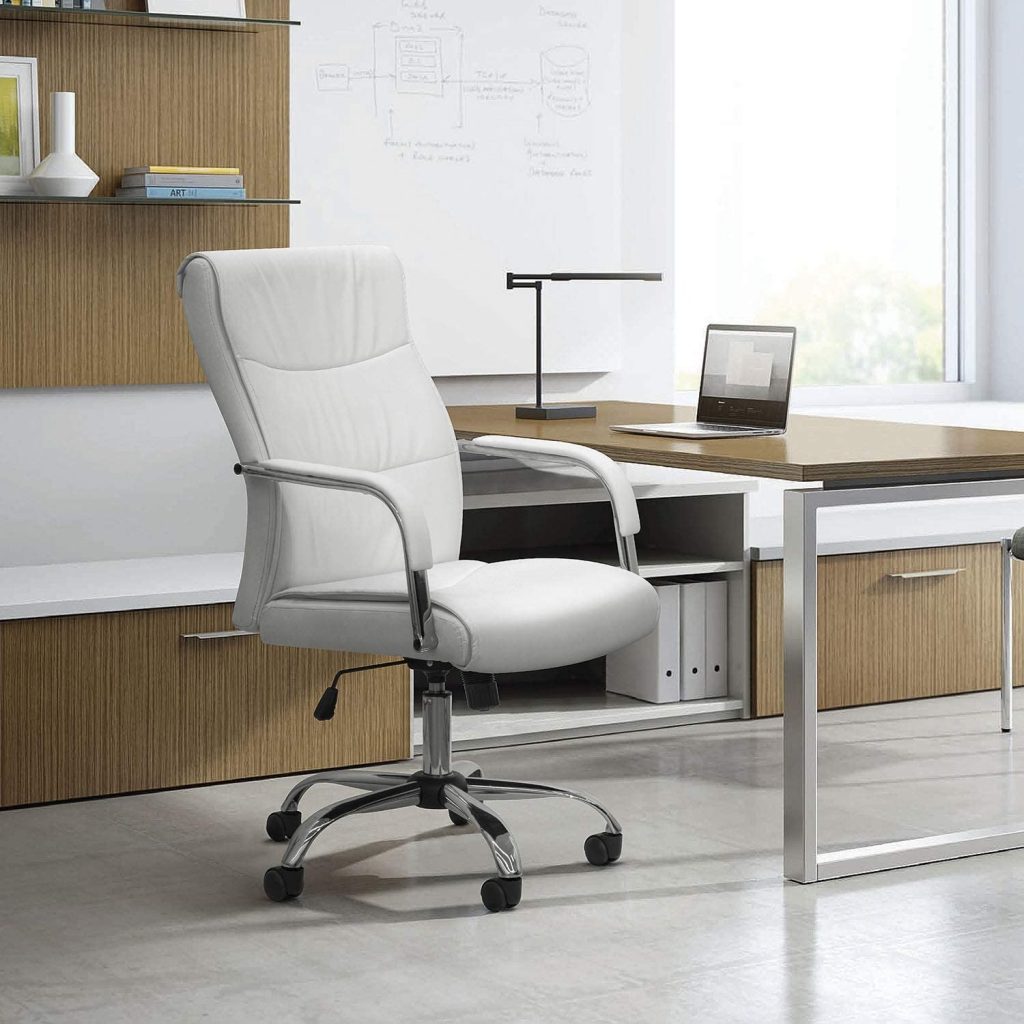 This Furmax leather chair is undoubtedly one of the most cheap office chairs available, and it has some lumbar support.
The cushioning that surrounds the mid-back region of your back helps keep your spine in check in the task chair, but that kind of back support isn't customizable.
You'll need at least a high back office chair as part of your office furniture if you're the type of person who sits at their desk for long periods of time.
If you're the type of person who sits at their desk for lengthy periods of time, you'll need at least a high back office chair as part of your office furniture so that you may lean back whenever you want to rest.
The Furmax high back office chair provides this level of comfort, and because to its racing-style design, it nearly feels like it's hugging you.
If you like to sit on a soft substance rather than a mesh fabric, the Furmax computer desk chair is the way to go.
Best White Desk Chair for Lumbar Support: NEUHAUS +Posture Ergonomic PU Leather Office Chair
The NEUHAUS +Posture Ergonomic PU Leather Office Chair is great for anyone looking for comfort and wellness. It was created specifically to assist you in maintaining a healthy posture while working on a computer.
NEUHAUS +Posture Ergonomic Office Chair
The one-of-a-kind anti-fatigue approach improves blood circulation, reducing stress, bodily aches, and muscular stiffness.
This chair is composed of excellent PU leather and has a hydraulic gas lift seat height adjustment, 360° swivel, tilt tension control, and an adjustable seat height. The robust steel base of the NEUHAUS +Posture Ergonomic PU Leather office chair features five legs and a built-in footrest.
The sturdy padded back gives additional spine support, while the headrest relieves neck strain.
By pressing a lever under the seat, the hydraulic gas lift seat height adjustment allows you to simply alter the chair height.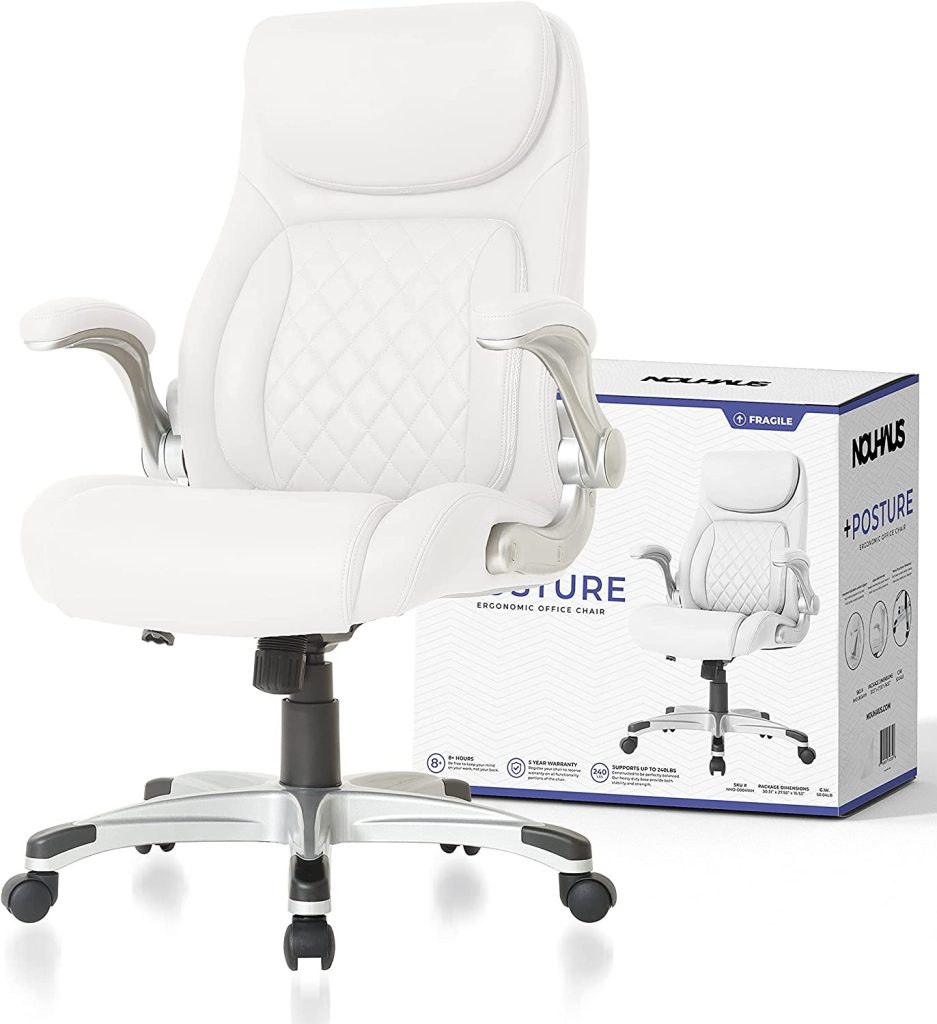 Additionally, the 360° swivel allows you to turn in any direction without having to stand up from your desk. The nylon slide wheels make it simple to push away from your desk when you're ready for a break.
Plastic floor glides are included with the NEUHAUS +Posture Ergonomic PU Leather Office Chair to protect your hardwood or carpeted floors from scratching.
Best White Chair With No Wheels: Art Leon Mid Century Modern Swivel Accent Chair
The upholstery is of good quality. The suede is firmly wrapped around the seat, so there are no creases. The tailored fit gives the upholstered chair a high-end appearance.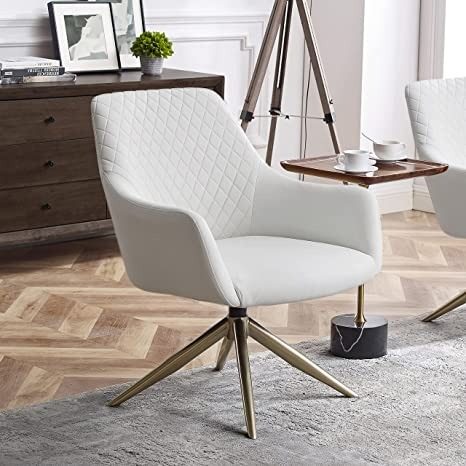 Art Leon Mid Century Modern Swivel Accent Chair
This upholstered chair is available in a variety of colors. Anyone can pick a hue that complements their personality and interiors from the many options available.
Cushions cover the entire chair except for the legs. They are solid, especially in the beginning.
This keeps the upholstered chair looking good for longer. This is a supportive swivel chair thanks to the firmness of the cushions.
The seat has piping around the edges. The piping highlights the attention to detail that went into the creation of this swivel chair. It also increases the upholstery's durability.
It draws attention to the chair's lovely contours. On the back and sides, the quilting is even. Quilting is a great way to add subtle features to your furniture.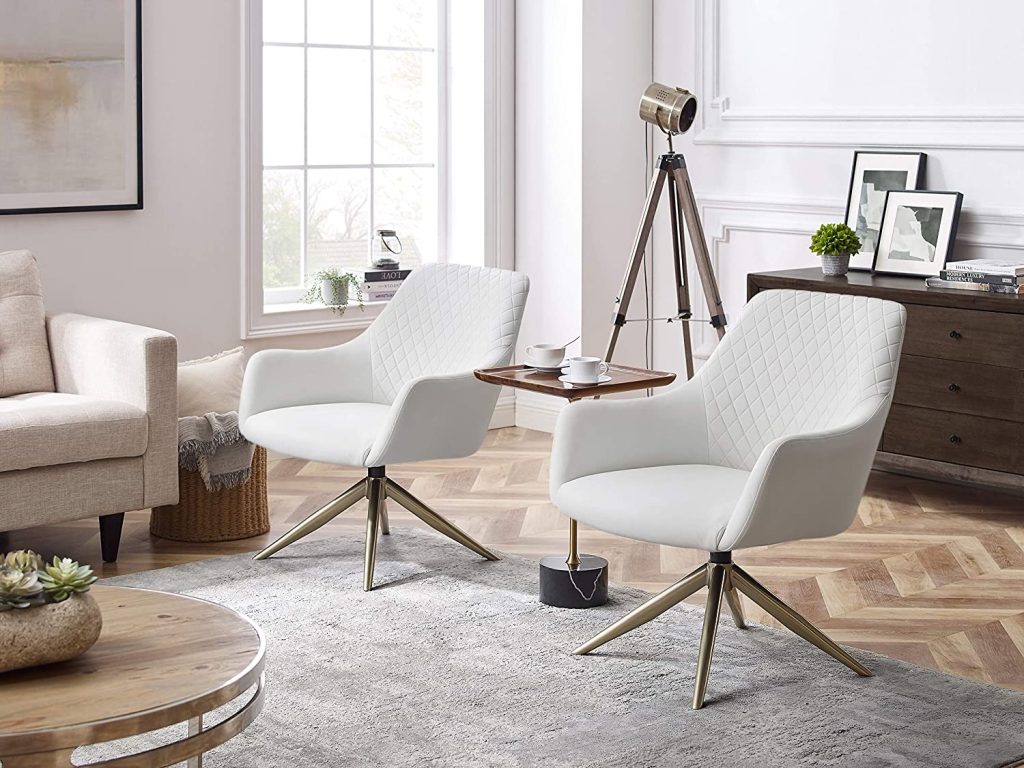 The cushioned chair swivels completely around. It looks like a standard office chair, but without the wheels.
Swiveling chairs are convenient because you don't have to push them beneath the table after each use and draw them out again when you need them. To get into and out of the chair, simply swivel to the side. It spins quietly and smoothly.
The legs are quite lengthy and lovely. This is the chair for you if you prefer to raise your seat while you sit. It's worth noting that the chair isn't adjustable. You wouldn't be able to move it up or down. Its height will appeal to those with lengthy legs. It's an excellent chair for persons who are tall.
See more:
FittingChairs has put together a list of 5 white office chair for desk. Hope you get a right chair for your own demand. Comment your pick below to share with us!