Steelcase chairs are one of the best chairs that you will find in the market. Choosing between two Steelcase chairs can be a challenging task. In this article, FittingChairs would like to share with you our Steelcase Series 1 vs Leap comparison.
Steelcase Series 1 vs Leap: What's the same?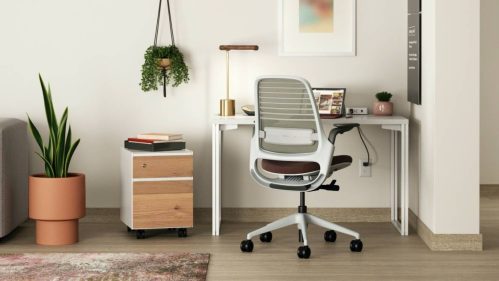 This chair is really comfortable and ergonomic to sit with plenty of adjustable features for your personal preferences.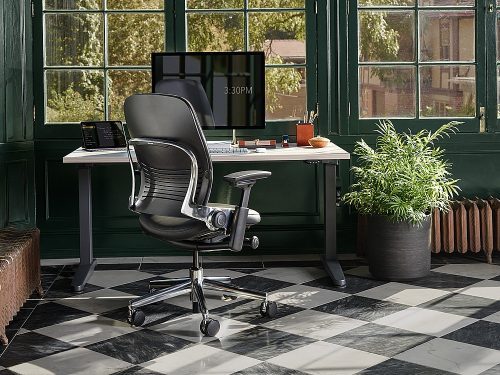 Leap office chair delivers full support for various body shapes and sizes. It is a perfect fit with an exceptional range of adjustments.
Both chairs are manufactured by the Steelcase brand, which is one of the best brand in the market.
The Steelcase Series 1 and Steelcase Leap are designed to bring the most comfort feeling for users, especially those who have to sit for hours per day.
They offer ergonomic features to provide the best support to your posture, helping reduce the risk of back pain.
They are also available in different colors, giving you the choice to pick out the most suitable one for your workspace.
Both Steelcase Series 1 and Steelcase Leap can support up to 400lbs, which are suitable for heavier users as well.
Now keep reading this comparison of the Steelcase Series 1 vs Leap to find out the differences between these two.
Steelcase Series 1 vs Leap: What's the difference?
The main differences between Steelcase Leap vs Series 1 are in the design, ergonomic adjustments, and pricing.
Design and comfort
The first difference between the Steelcase Series 1 vs Leap is their design.
Both of the chairs have different types of design. The Steelcase Leap has more premium well engineered design that offers you an elegant environment.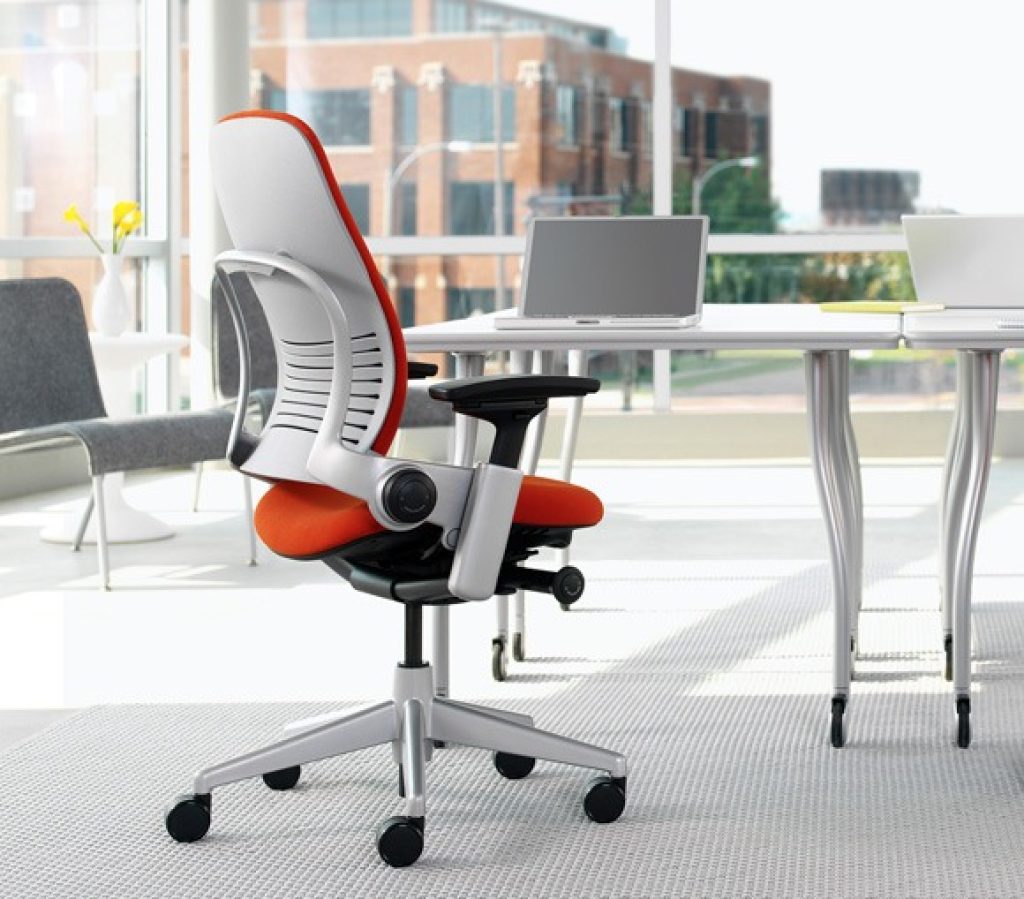 Steelcase chairs all are extremely comfortable, but while comparing Steelcase Series 1 vs Leap, the Leap will always be the top priority when it comes to comfort. It is also way far ahead than most other premium quality office chairs in the market.
The Steelcase Series 1 chair has a breathable mesh backrest, which is really handy during hot weather.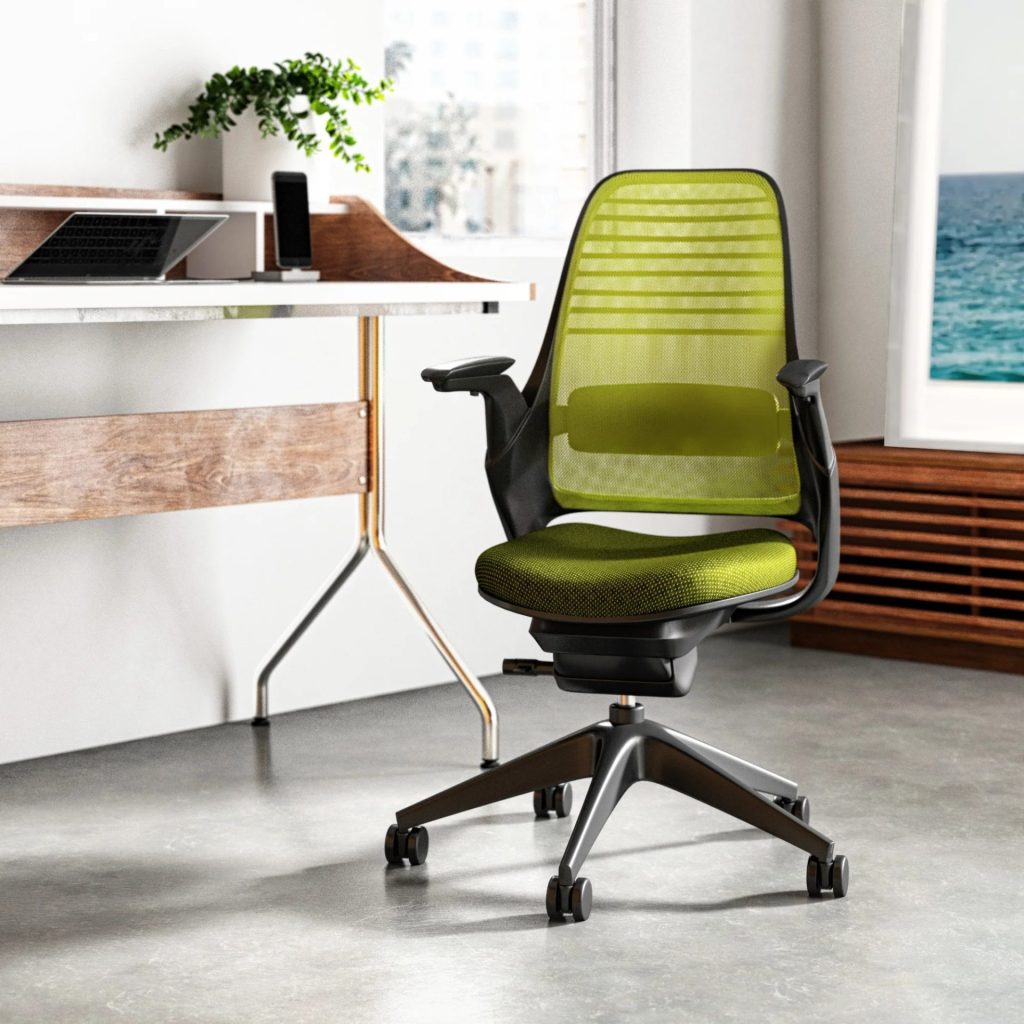 The Steelcase Leap chair offers more padding and is broader in size, giving you the privilege to enjoy more comfort.
As the Leap has better lower back support and armrest padding, you will feel much more comfortable in Leap than the Series 1.
Build quality
The next one to compare in the Steelcase Series 1 vs Leap comparison is the build quality.
Steelcase offers premium quality material on all of their chairs, even in the Series 1, one of the cheapest chair in their products.
However, the Steelcase Leap has better quality material that will last for years.
The Leap chair also has a better resale value than the Series 1.
When a chair lasts for ten years and you can still resale it, which says a lot about quality and durability.
As both of these Steelcase chairs have 12-years of warranty, if anything goes wrong down the road, you can just talk to them and fix the issue.
Ergonomic features and adjustability
While comparing the Steelcase Series 1 vs Leap, you should focus on their ergonomic features.
Let us compare the ergonomic features of Steelcase Series 1 vs Leap chair.
Back support
In order to compare the ergonomic features of Steelcase Series 1 vs Leap, first, let us start with the backrest.
The LiveBack Technology in Steelcase Series 1 and Steelcase Leap ensures the backrest perfectly contours your back to ensure good posture while you sit.
The chairs will move along with you whenever you move to hold the posture.
The Steelcase Leap offers better upper and lower back support due to it's intuitive back design that contours the whole back while you sit on it.
Plus, Leap has well pronounced lower back support, which is missing on the Series 1.
So, if you want a good overall support to your back, you should consider the Steelcase Leap instead of the Series 1.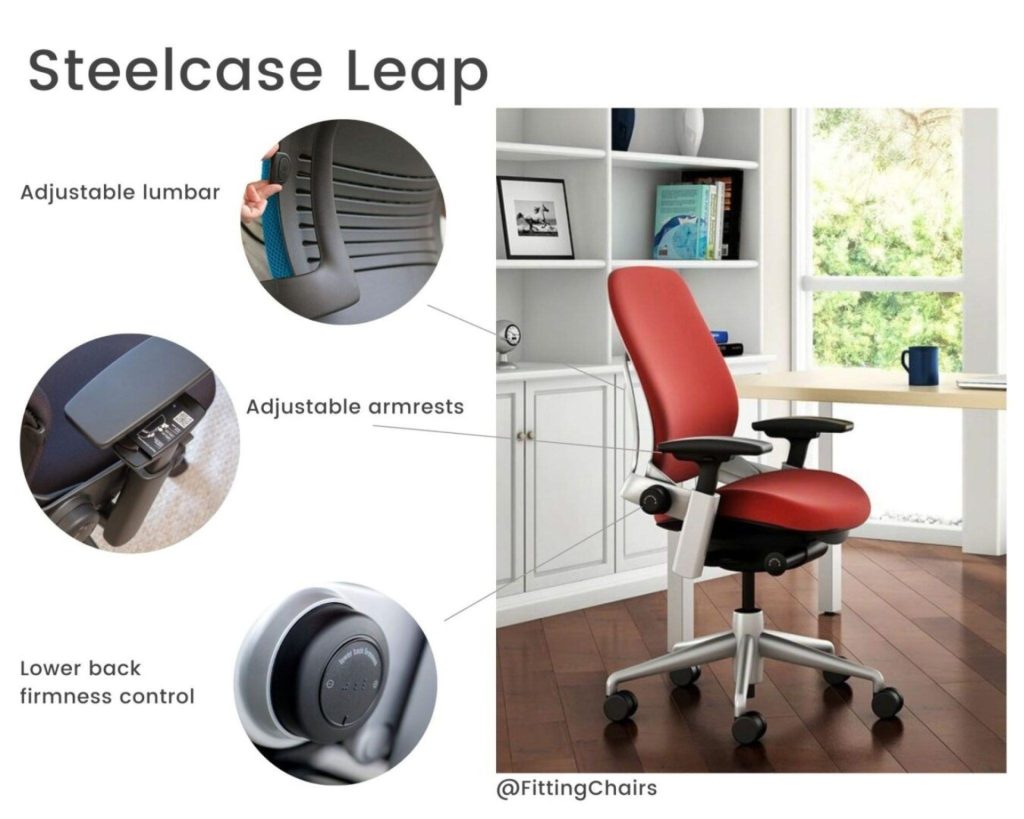 Recline and lumbar support
The next difference between the Steelcase Series 1 vs Leap is the lumbar support and the recline range.
The Steelcase Leap comes with a Natural Glide mechanism while the Series 1 offers Weight Activated mechanism. Both offer different tilt-mechanism, but you will be comfortable on both chairs in recline.
However, the Steelcase Series 1 chair comes only with three tilt locking positions, while the Steelcase Leap chair comes with five.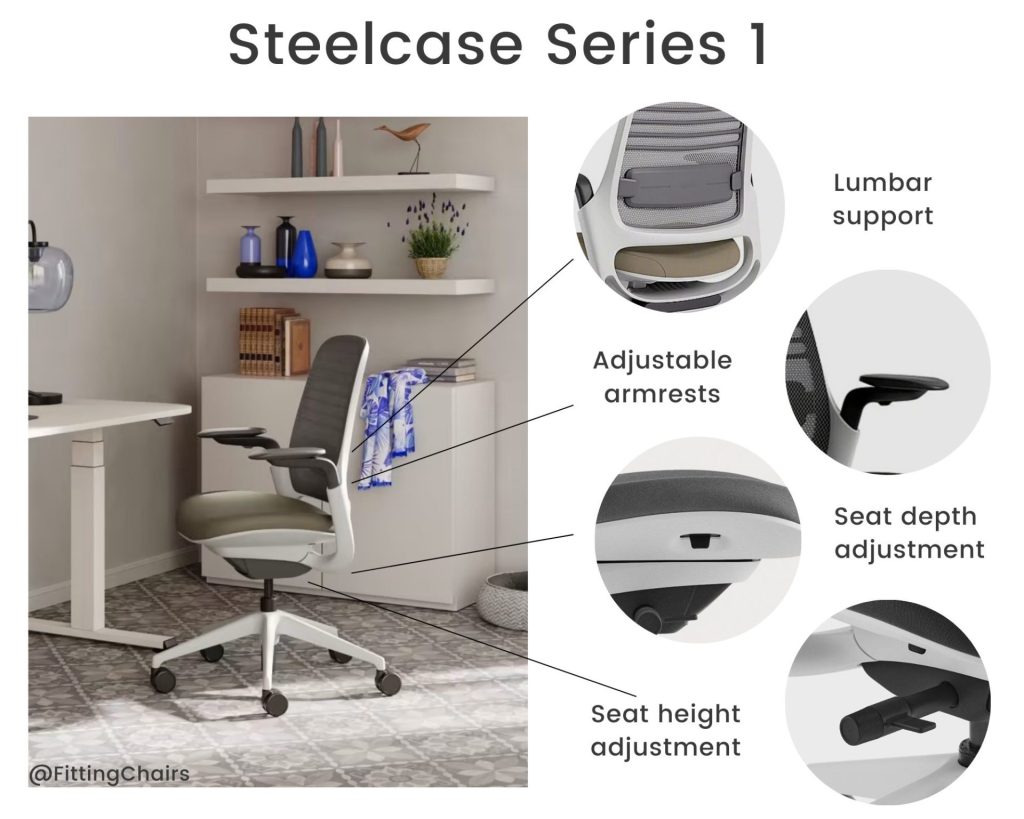 The Steelcase Series 1 has only one valve to handle both the recline and tilt locks, but in the Steelcase Leap, you will find two separate valves to complete the action.
Lumbar support is incredible on the Steelcase Leap chair, which is missing on Series 1. You can adjust the lumbar support by using the tabs on the side of the chair and sliding up or down.
Armrests
Both the Steelcase chairs come with 4D armrests, which can be adjusted by moving up and down, front and back, side by side. The armrests can also be pivoted up to a certain level.
However, the armrests in the Steelcase Series 1 Chair come with less padding and can be easily moved and distracting sometimes.
The Steelcase Series 1 has cheap quality armrests whereas the Steelcase Leap has premium quality armrests and offer you better comfort when you rest your arms.
Steelcase Series 1 vs Leap: What's customers say?
Now let's see what the customers talk about the Steelcase Series 1 and the Steelcase Leap chair.
Steelcase Series 1 reviews
You can see more Steelcase Series 1 reviews here.
Positive reviews
A comment from Parchelle Connally: "Good low back support & comfortable chair."
I have low back and sciatica problems and can't sit in any chair too long; one hour max. My back was quite comfortable and well supported sitting in this chair. I've unintentionally sat for 3.5 hours straight in this chair while engrosed with work. My back and leg weren't killing me when I stood up. The seating cushion design, lumbar support and adjustable height are perfect for me; I'm a 5'5″ woman. No, it's not the X-Chair but, the quality is good and for significantly less money; I would definitely recommend this chair. It also comes in more colors than the X-Chair, coordinates with my decor and, looks good in my home office! I love it!
Show more +
Charles MW:"Light Weight, Good Support, Well Designed."
Very good design and looks, easily adjustable. I haven't had it long so can only say comfortable for 3-4 hour stretches…The hard floor wheels from SteelCase seemed expensive so I replaced the carpet wheels with- The Office Oasis Original Rollerblade Chair Wheels, Set of 5, Universal Fit…. they did fit with a firm blow from a hard rubber Deadblow Hammer to seat them properly. Now the chair moves around very light, quick, and quiet on the wood floors.
Show more +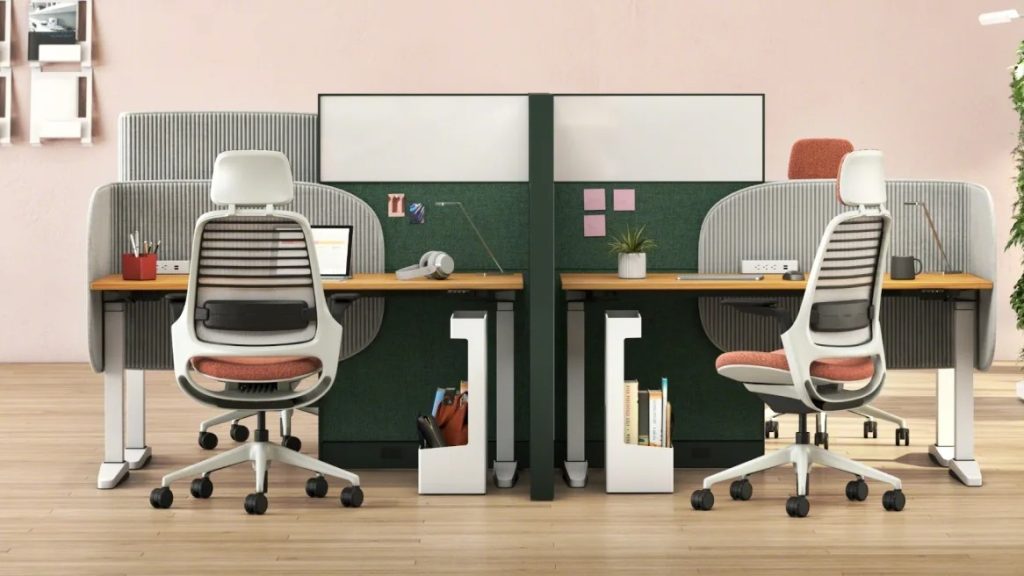 Negative reviews
Kristi: "Good back support, bad arm support."
It's better for my back than my last one: However the armrests are flimsy and move around as you move. The arm pads aren't able to be a steady brace while you adjust or even move due to that armpad flimsy-flaw.
Show more +
Brian kunz: "Well made but at a price."
Recived the chair and overall it looks sleek and well made except for the cheap plastic wheels. One of them was broken upon opening the box containg the fully assembed chair. I did get a chance to look at the chair before sending it back and I will be requesting a refund rather than a replacement.
Overall the chair seemed small, not very comfortable particulary with the lack of back padding. It is not something i can see myself sitting in for 8 hours a day. For $400 i would look elsewhere.
Show more +
Steelcase Leap reviews
See more Steelcase Leap reviews here.
Positive reviews
Riotta M. Scott: "The best desk chair I've ever used."
My boss bought this model for my team five years ago, and it still looks/feels as good as new; nothing rattles around or feels like it needs to be tightened, and that has never been the case for me in all my years being chained to a desk 40 hours a week.
When I began to work half the day from home, I noticed that I always had body aches by the end of the day. I decided to invest in the Leap chair for my home office, and I don't regret it a bit. My body feels so much better at the end of the day now!
I bought the Amazon Prime model, which only comes in black (unfortunately) but with Prime I could pay in installments. That made it a little easier to spend a thousand dollars on a desk chair. I was super pleased when it arrived in an enormous box, and was already fully assembled.
Show more +
Leslie H. Brown: "Excellent Quality Desk Chair."
I work on a computer that sits on a desk, and I finally decided to spend the money for a quality desk chair. I read many online reviews and visited various company websites to compare my options, and finally settled on the Steelcase Leap; so I ordered this one from Amazon. The chair arrived brand new, sealed in a Steelcase box with instructions on how to open the box to allow the chair to be pulled out more easily. Original protective material was easy to remove, and the Steelcase hang-tag explained how to use the various settings to achieve the greatest comfort and ergonomic support. Plus: No construction required! It was a relief to not have to put the chair together, and you can see why it ships pre-assembled: The chair is quality crafted and solidly built, with strong components that would not be easy to assemble at home. And, plus, it's just easier. I would not hesitate to buy this chair again, but I don't expect I'll need to any time soon!
Show more +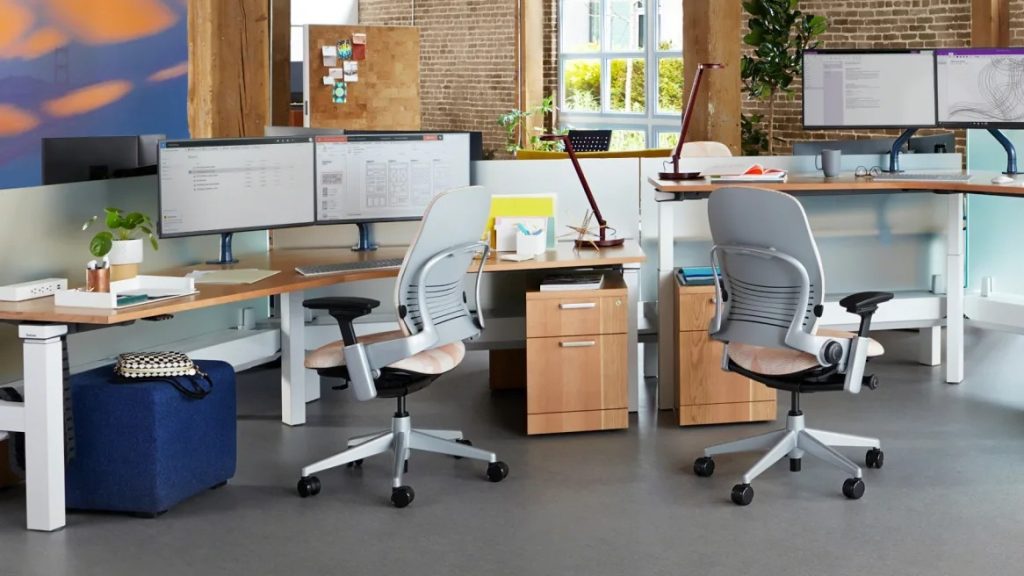 Negative reviews
Chuck: "Seat Bottom Too Firm."
The seat bottom was too firm for me and the back section tilted forward too much as well. I bought the chair because I used a Steelcase Leap chair for years at work and it was great! On the that older chair you could adjust the forward/backward tilt (I do not mean the backward tilt pressure). But that chair was produced around 2003 and the current Leaps are not the same. I suspect the company may have tried to save cost. I did not buy the Leap chair to save money, on the contrary I wanted an absolute high quality, COMFORTABLE chair and was willing to pay for it – disappointing purchase. I gave my chair to charity (no pun intended).
Show more +
J. Bailey: "It's an OK chair. Too expensive for what you get – and there are better options."
I purchased this chair and ended up sending it back after a week. It's not a bad chair, but it's very overpriced for the comfort and quality that you get. Especially the comfort. At over $1,000, there are much better, more comfortable options. I found the seat to be uncomfortable after about an hour of sitting in it and I was disappointed after all the hype about how good this chair was. I would rate it good if it was priced at maybe $350, but at $1,000+ it's a disappointment. I ended up going with a SitOnIt Focus for about the same price, and that is a much more comfortable chair. I think Steelcase is getting by on their prior reputation.
Show more +
Steelcase Series 1 vs Leap: Pros and Cons

Steelcase Series 1
Check Price on Amazon
Pros
Affordable
LiveBack technology conforms to your movements
4D adjustable arms prevent shoulder and neck strain
400lbs weight capacity
Available in different colors
Cons
Armrests seem flimsy
No adjustable backrest tension

Steelcase Leap
Check Price on Amazon
Pros
Excellent build quality
Wide range of ergonomic adjustments
Very good seat comfort
Highly adjustable arms
400lbs weight capacity
Available in different colors
Cons
Headrest is an optional paid add-on
Higher price tag
Steelcase Series 1 vs Leap: Final thought
Overview, in this Steelcase Series 1 vs Leap comparison, the Steelcase Leap chair is far outstanding.
The Leap has more ergonomic adjustments and is bigger in size.
Starting from the backrest to the effective tilt lock and armrests, the Leap offers the better features than the Series 1.
So when it comes to design, comfort, sitting experience, the Steelcase Leap chair is the clear winner.
This is understandable, as the Steelcase Leap is more expensive than the Series 1.
Therefore, if you want the best office chair and there remain no budget constraints, the Steelcase Leap will be the best choice.
On the other hand, if your budget is tight and you are willing to compromise with the ergonomic adjustments, go for the Steelcase Series 1.
See more:
Hope that this Steelcase Series 1 vs Leap helped you in picking out the best one. Follow FittingChairs for more reviews.