Long days at the office and excruciating body pain have become the norm for everyone. You should now think about purchasing an ergonomic chair.
In this article, FittingChairs will share with you the Ticova Ergonomic Office Chair review.
Ticova Ergonomic Office Chair review snapshot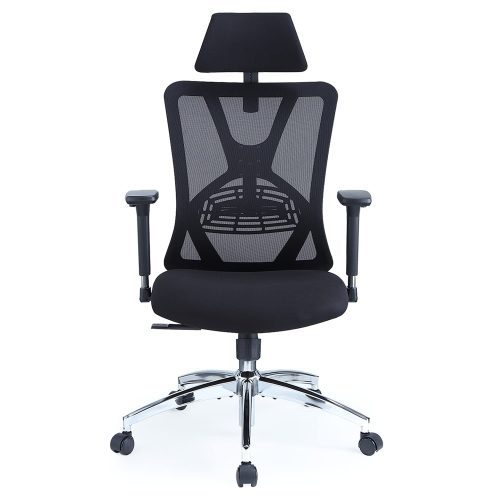 The Ticova Ergonomic Office Chair is designed to provide excellent levels of comfort for a variety of body shapes. This chair is equipped with a padded seat for increased comfort and pain relief, as well as the level of flexibility for such a low-cost option.
Awesome
The Ticova Ergonomic Office Chair is a fully adjustable chair that comes with a lumbar support high back seat, a thick and comfortable seat cushion, an adjustable headrest and armrest, and a weight limit of 280 pounds.
Pros
Great overall performance.
A wide range of adjustable options.
The weight limit of 280 pounds.
Comfortable foam seat and breathable mesh.
Money back guarantee of 90 days.
Cons
No back massage function.
Lengthy assembly process.
Let's move on the next part of Ticova Ergonomic Office Chair review!
Ticova Ergonomic Office Chair review: What's special about its design?
Ticova is a well-known brand that has developed to a high level of popularity in the production of high-quality office chairs for both commercial and home usage.
Different types of ergonomic chairs are available, each with a classic style and innovative functions to provide your body with the comfort it requires even after sitting for long periods of time.
So what is special about the Ticova Ergonomic Office Chair design? Read on our Ticova Ergonomic Office Chair review to find out!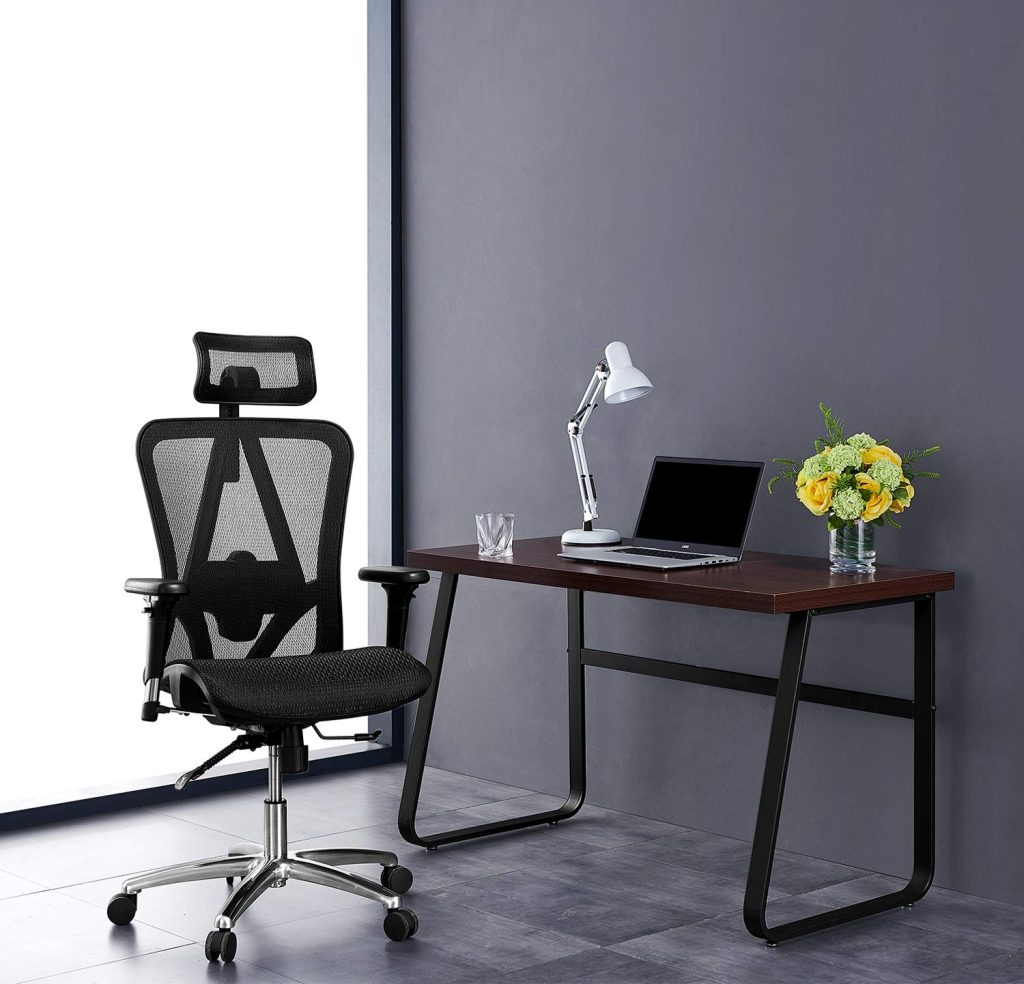 Materials
Ticova Ergonomic Office Chair is made of mesh fabric, which helps you enhance air circulation and comfort. The chair's back is likewise fashioned in the L-shaped form to give suitable lower back support.
Moreover, this chair has synthetic leather that protects against stains and tears while giving your workstation an executive appeal.
Seat
When it comes to this chair's seat adjustability, it has 16.5 to 20.5 inches height off the floor with its 3 inches contoured high-density cushion. This helps your sitting experience be more comfortable.
Ticova Ergonomic Office Chairs often include a breathable mesh back that keeps you cool and allows you to sit for extended periods of time while maintaining your posture.
Recline
The rocking motion and reclining tension are two of Ticova Ergonomic Office Chairs' most popular features.
When you get the maximum reclining at a 130-degree angle or back to a 90-degree angle, you will hear a click sound.
Ticova Ergonomic Office Chairs have an amazing swivel tilt function when compared to other ergonomic features. Therefore, sitting on this chair allows you to work more efficiently.
Headrest
The most appealing feature of this chair is its headrest, which is a highly useful function.
While most headrests only allow for height adjustment, the one on this chair can also be expanded in breadth.
The reason for this is that some individuals want their headrest to be narrow and upright in order to keep their head and neck steady in one position.
However, that may get rather painful and tedious after a time, thus expanding it can relax our neck muscles and provide some more room for head motion.
Ticova Ergonomic Office Chair review: How can it help you improve your health?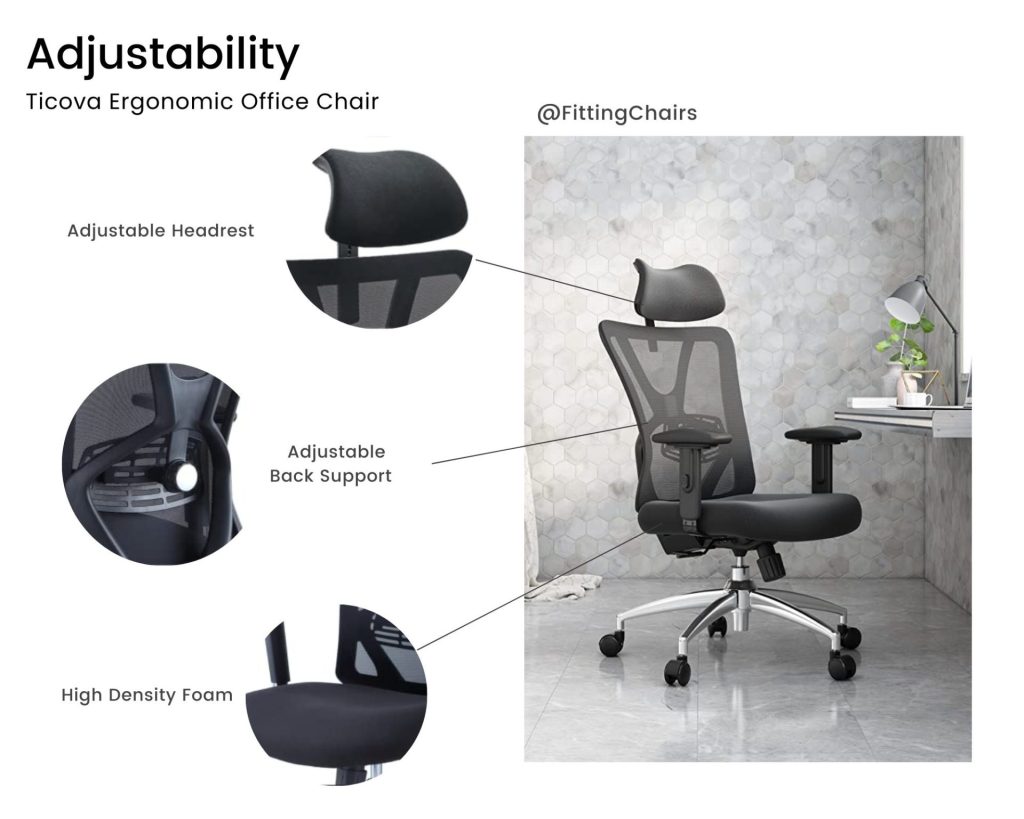 Support
If you're looking for maximum comfort and support from your office chair, the Ticova Ergonomic Office Chair is the ideal choice for you. This chair also supports for people who have persistent back problems.
While sitting in a neutral posture, this chair may be adjusted to relieve strain on your spine, hips, and buttocks.
It does come with an ergonomic adjustable lumbar pad meant to press your mid-back forward, which is great for your posture since it causes your spine to bend in an S shape while you use it.
Comfort
In terms of comfort, Ticova Ergonomic Office Chair has a wide range of beneficial factors to offer, even with its thick seat and adjustable headrest armrest.
The chair has an ergonomic design that relieves pressure spots on your back and shoulders while also supporting your head and neck.
This chair has a 3-inch thick high-density shaping foam that is extremely pleasant to sit on for extended periods of time.
Ticova's ergonomic office chairs are not suitable for those who prefer to sit close to the chair's front edge. The headrest's dial allows you to adjust it to your height and workspace.
Adjustability
Ticova Ergonomic Office Chair is particularly designed to alleviate neck, back, and leg pain when sitting at a desk chair.
This office chair can be easily customized to fit your needs. They are adjustable for different desk heights, can go up or down for height modifications, and offer a reclining capability for when you need to take a break from working.
This model also includes lumbar support that can be adjusted up and down, as well as pushed in or pulled out to suit the curve of your spine and give powerful lower back support as you work.
Simply change the seat's height and tilt angle, which ranges from 90 to 120 degrees, the ergonomic office chair will keep you comfortable as you work.
Breathability
When it comes to breathability, this Ticova ergonomic desk chair is one of the most breathable office chairs available because of its mesh back.
A high back seat should give enough back support, and the mesh material allows air to circulate freely.
Ticova Ergonomic Office Chair review: Customer reviews
After we've gone through the Ticova Ergonomic Office Chair review, let's have a look at the ErgoStool reviews on Amazon.
Positive Ticova Ergonomic Office Chair Review
Dave: "Great chair!"
So I purchased a chair that looked suspiciously like this one a few years ago, 4 months into WFH with Covid I bought a cushy bonded leather "Executive" chair. The issue I had was during Zoom meetings I always looked like I was slouching, neither chair would allow me to sit upright comfortably.
After the arm from my $159 "Executive" chair snapped the other night, I went looking for another. I found this chair for $200 on Amazon but was skeptical as to how much it looked like the chair I didn't much care for.
There's a world of difference. The seat is a firm cushion, the back is adjustable nine ways from Sunday and even locks in at each possible position. The adjustable arms are spot on, excellent chair!
It took me about 45 minutes to assemble using the Allen wrench that was included. Another posted mentioned how hard the casters were to snap in, this is correct.
Overall I would recommend this chair highly, very happy.
Show more +
Show less –
Amazon Customer: "Sturdy and Comfy"
Construction:
Construction is primarily metal with a few plastic bits (wheels, arms, back supports, headrest).
Assembly was perfectly simple (2 sets of screws labeled (A [18mm] and B [20mm]) + 1 hex wrench) Screws are very solid and slot in nicely. The holes punched were given a fair bit of leeway as well so lined up nicely.
Features:
leans back (adjustable tension), elevation adjustable, back lumbar support adjustable.
Mesh fabric structure was similar to my last chair, It works for me and breathes nicely while I sit for 8 hours.
Additional Notes:
For 200$ price, this chair is solid. It's a fair price for what you get, but I expected nothing less for the price. If you have the money to spend it will serve its function well, but doesn't have any bells or whistles to upsell itself. It values function over form but still is aesthetically pleasant.
Show more +
Show less –
Negative Ticova Ergonomic Office Chair Review
J. Schiller: "Not Ergonomic for Me."
The first thing I noticed when assembling this chair is that the materials seemed very cheap and flimsy. It was easy to put together, however, that is the only positive thing I have to say. The seat depth is shallow. I had been sitting on it for about 45 min when my left hip started to hurt and my leg started to go numb. I readjusted how I was sitting and my posture, but no difference. I am returning this chair. Definitely not worth the price tag.
Show more +
Show less –
Sara Horsman: "Headrest Broke After One Month of Use."
Honestly this is a good chair overall. it is comfortable and supportive in equal measure, with controls that aren't too complicated to be usable. Unfortunately this does not extend to the headrest, which is difficult to adjust, ill supported, and fragile. After just one month of use the headrest snapped from the support that connects it to the chair, breaking at a joint and becoming unusable. The headrest is one of the most important parts of a chair in my opinion, and this one being so lackluster and fragile has significantly lowered my rating on this chair.
Show more +
Show less –
Should you buy Ticova Ergonomic Office Chair?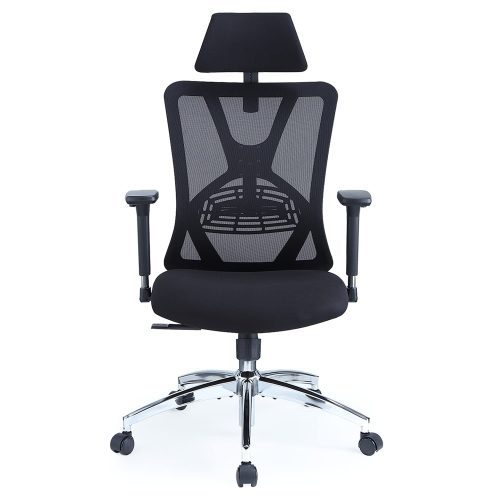 The Ticova Ergonomic Office Chair is an excellent choice for individuals who struggle to find a comfy chair.
The Ticova Ergonomic Office Chair is an outstanding supplement to your home office workstation that comes with a wide range of amazing features.
This ergonomic office chair has height-adjustable headrests, seats, and armrests, making it ideal for people who do a lot of work in one sitting.
The Ticova Ergonomic Office Chair's drawbacks include lengthy assembly time and several customer reviews that have questioned the build quality. However, if you're ready to accept these things in exchange for a reduced price, the Ticova will suit you well.
Despite the fact that the manufacturer only provides a one-year warranty, the chairs are nonetheless popular among consumers owing to its long-lasting materials.
This is all about the Ticova Ergonomic Office Chair review that we want to share with you
See more:
Are you interest in Ticova Ergonomic Office Chair review of FittingChairs? Hopefully, you find this review helpful and don't forget to share it with your friends.
If you have any questions for FittingChairs, please leave your comment below. We will be back as soon as possible.