Are you looking for the best desk chair for teenager? A comfy chair to go with the study desk is one of the essentials for a comfortable studying environment.
In this post, FittingChairs will recommend a list of the best desk chairs for teenager on the market.
Benefits Of A Desk Chair For Teenager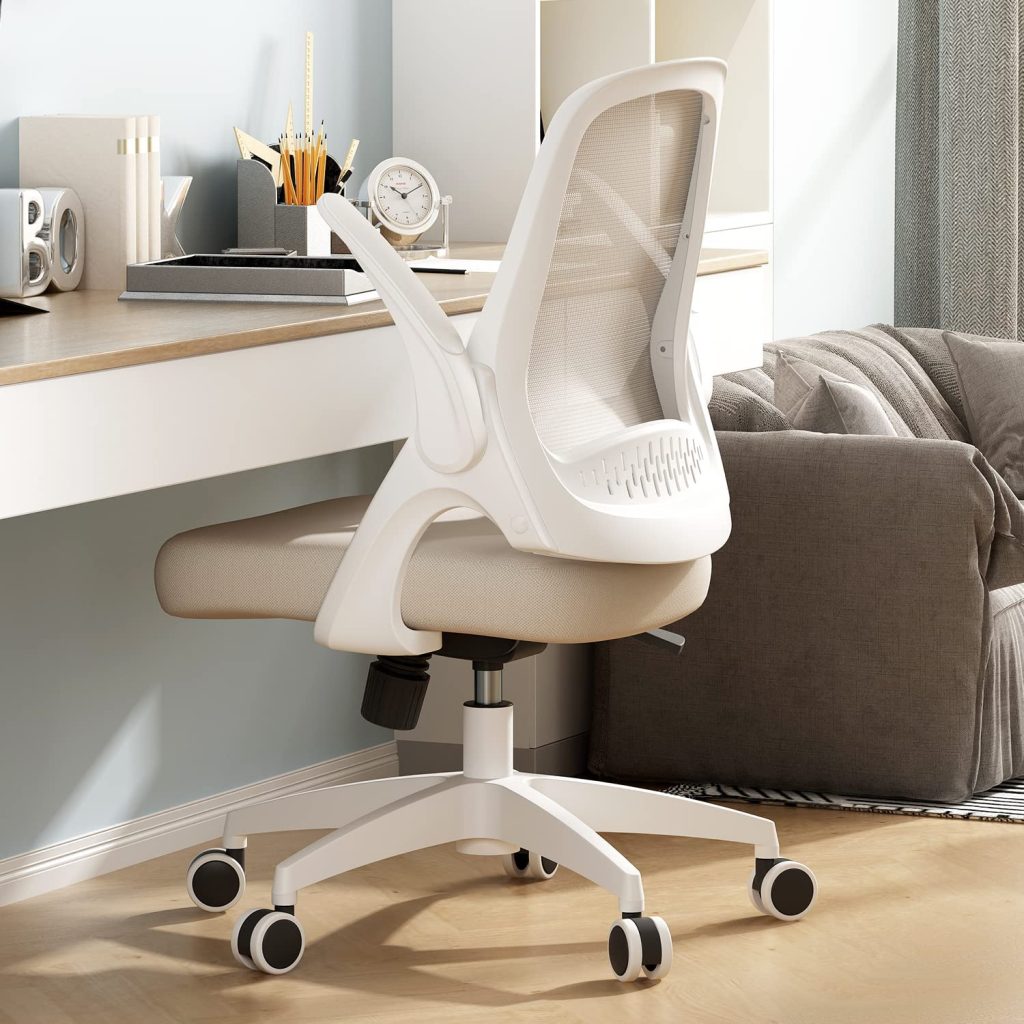 Before you find the best desk chair for teenager, you should take a look at some of its benefits.
When you're a teenager, you go through a lot of changes. You must discover your identity and what you want to do with your life.
The best desk chair for teenager can provide a specific space for everything a teen requires. They can use it to complete their homework or master a new skill. It's a fantastic addition to their room.
A desk chair for teenager can assist them in maintaining their health. It ensures that they sit in the correct position every time.
It's also a fantastic item to have in their room because they can use it to do homework, listen to music, and so on. A teen desk chair can be used for a variety of tasks.
Best Desk Chair For Teenager
Let's go through the best desk chair for teenager on Amazon!
Hbada Office Task Chair
Hbada is a very popular office-style task chair that is also a fantastic choice for teenagers.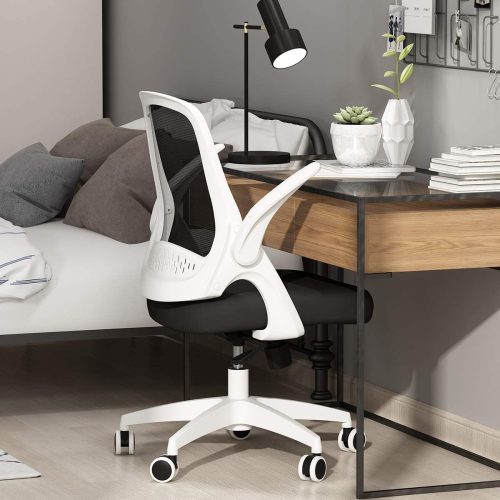 Positive
Morden and sleek looks
Adjustable height
Breathable mesh back
Small space-saving design
Reasonably priced
Negatives
The armrests are not padded
With extended use, the cushion loses its shape
One of the reasons you should get this chair for your teens is because it is designed to be comfortable. Its sturdy and supple seat cushioning will keep you comfortable for hours.
The seat height is simply adjustable from 17.7 to 21.2 inches, allowing your child to find their optimal sitting position.
This chair's flip-up armrests are another reason it's so popular. This design is useful when you want to move the arms out of the way and tuck the char right beneath your writing desk to conserve room.
Its wheelbase is extremely strong and stable, and it can support teens weighing up to 250 pounds, making it long-lasting study furniture beside your sturdy desk.
Sidiz T50 Forward Tilting Office Chair
Sidiz T50 Forward Tilting Office Chair is one of the highly-recommended teenage desk chairs for bedrooms that you should not overlook.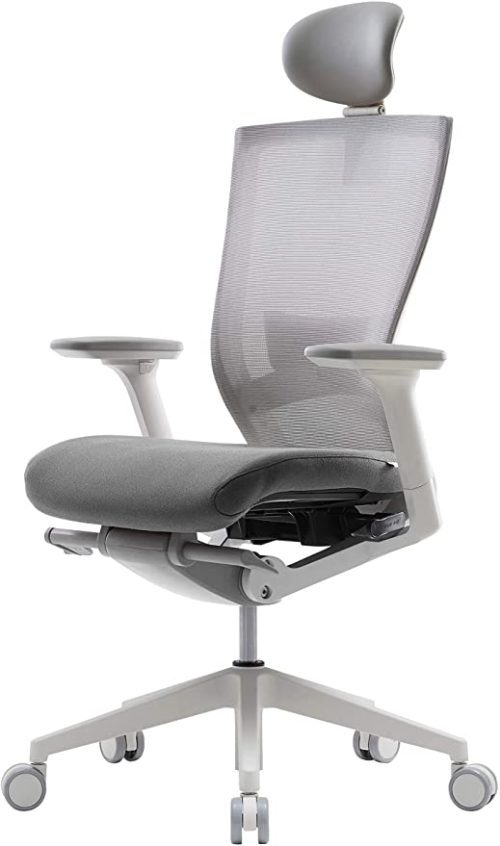 SIDIZ Highly Adjustable Ergonomic
The T50 is a fantastic all-day chair with extras like a headrest and adjustable lumbar support that make it into a full-fledged ergonomic throne.
Positive
Eco friendly materials
Suitable seat height for even short people
Comfortable and supportive fabric upholstered seat
Removable and washable fabric seat cushion
Negatives
Seat padding on the thin side
Headrest is not that stiff
Quite higher price
The SIDIZ has a really beautiful mix of fabric and materials, each of which contributes to the overall comfort of this chair.
With S-curve ergonomic design, it adequately supports your spine, is not only modern and stylish, but it also helps you maintain a good sitting habit.
The T50 has a manually adjustable seat slope. This allows you to lower the seat to better support forward-leaning postures.
Overall, the SIDIZ T50 is a highly-rated item in terms of adaptability. You'll be able to find many ergonomic seating positions with all of these settings. And after a few days of using the controls, they become intuitive and simple.
Home Office Chair Ergonomic Desk Chair
This ergonomic mesh chair is the top choice for the best desk chair for teenager that we want to recommend for you.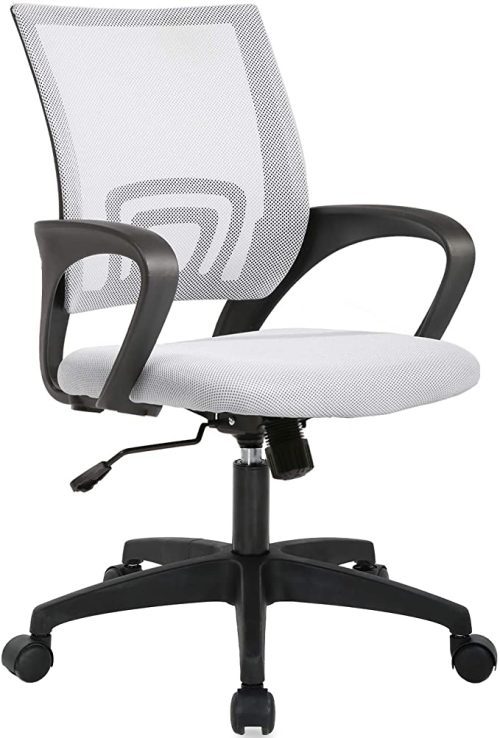 Positive
Lots of various colors
Ergonomic lumbar support
Easily height adjustable
Supports up to 300lbs
Smooth-rolling wheels
Negatives
Seat cushion could be improved
When it comes to material, its seat is built of a soft and deep cushion, making it quite comfy. Moreover, this desk chair is strong enough to accommodate teens weighing up to 300 pounds.
The black chair is intended to provide young people with long hours of relaxation while allowing them to concentrate on their academics.
You may easily adjust the seat height from 17′′ to 20.5′′ for a more comfortable fit. The seat includes a rocking motion to assist you to rest in the middle of your study.
A 360-degree swivel base provides high movement and allows you to quickly access anything in your study area or workstation without having to get out of the chair.
GreenForest Office Task Chair
In the corner study space or small bedroom, this chair provides your teens with the comfort they require to study for long periods of time without losing focus.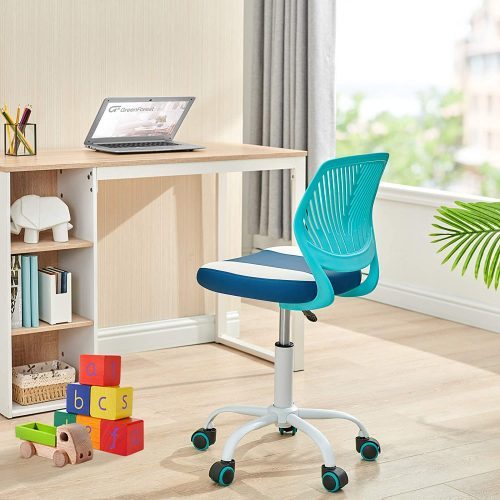 Positive
Cute design with bright color
Adjustable seat height
Breathable mesh back
Easy and quick assembly
Sturdy frame construction
Negatives
Insufficient seat cushioning
It is difficult to snap the wheels into position
GreenForest Office Task Chair is a well-made chair that can comfortably handle teenagers weighing up to 200 pounds, making it acceptable for the majority of users.
A special characteristic of this chair is the turquoise color which makes it appealing and will provide a splash of color to your young learner's study space.
A breathable mesh back allows for good airflow and keeps your child cool. The seat cushion is thick and plush, providing a comfortable sitting experience even after prolonged use.
This chair has a 360-degree swivel base that allows for movement in all directions. It also has 5 rubber wheels that run smoothly on the floor and carpet.
NEO CHAIR Office Chair Ergonomic
This item is one of the highly recommendable desk chairs for office and home that help you focus on your work or study.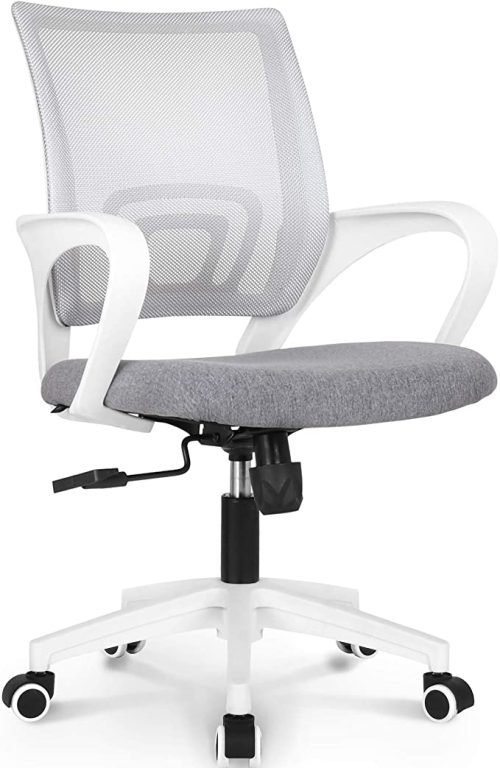 Positive
Sleek design
Premium breathable mesh
Ergonomic lumbar support
4 colored options
This cute desk chair with a 2-inch wider base provides stability and durability. Anti-shocking protection is provided by upgraded nylon and PU chair casters.
Long periods of sitting are reduced by using a ventilated office chair seat cushion because the padded thick office seat cushion that is both breathable and robust. While reclining, air circulation will keep you cool.
In addition, this chair has a metal base with a maximum capacity of 250 lbs, along with caster wheels for office chairs desks and chair wheels with dual-wheel casters.
This trendy desk chair is ideal for use as a sewing chair, a student chair, a comfy bedroom chair, workplace requirements, or a children's desk chair!
BOSSIN Desk Chair for Teens
If all you want is a chair that supports you ergonomically and is pleasant to sit in for long periods of time, this is the chair for you.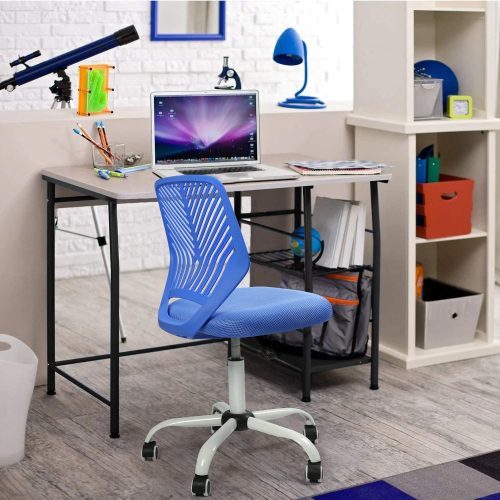 Positive
Ergonomic curved-back design
Heavy-duty metal base
Mesh high-density seat
Supports up to 250 pounds
Negatives
When you recline in your chair, it reclines as well
The BOSSIN desk chair for teenagers ensures your child's safety and comfort when attending online school or completing homework.
This cute mesh chair has a curved backrest that properly aligns with a child's body line and supports the natural curve of their spine. A high-density sponge cushion will also keep your child comfortable and promote proper posture.
Furthermore, this stable chair has a highly permeable back to keep your child's back comfy and reduce body heat.
It also comes in four different colors and is reasonably priced.
Amazon Basics Low-Back Office Desk Chair
The Amazon Basics low-back office chair is the must-have choice if you're searching for an excellent desk chair for kids that is both comfy and ergonomic without breaking the bank.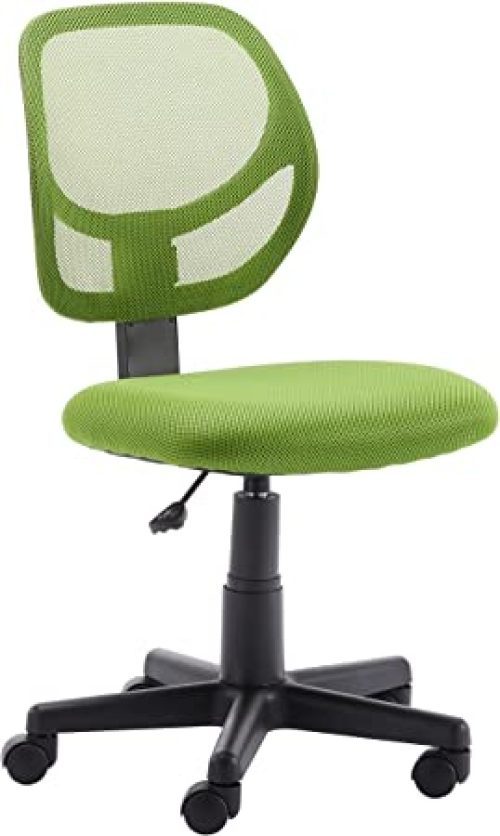 Positive
Contoured breathable mesh back
Pneumatic seat-height adjustment
Supports up to 275 pounds
Easy to assemble
This mesh-back chair with a 2-inch thick padded seat for increased comfort will greatly improve your child's sitting experience.
Your child will be able to raise or lower their seat and promote a proper sat position while doing homework thanks to easy pneumatic controls.
Moreover, the gently curved back of the chair provides mesh-only sections for enhanced breathability and comfort.
While this chair is an excellent value for money, note that it doesn't recline and has no armrests.
Urban Shop Swivel Mesh Desk Chair
If you're not quite ready to invest in a more expensive desk chair for your teens, the Urban Shop provides a great solution for you.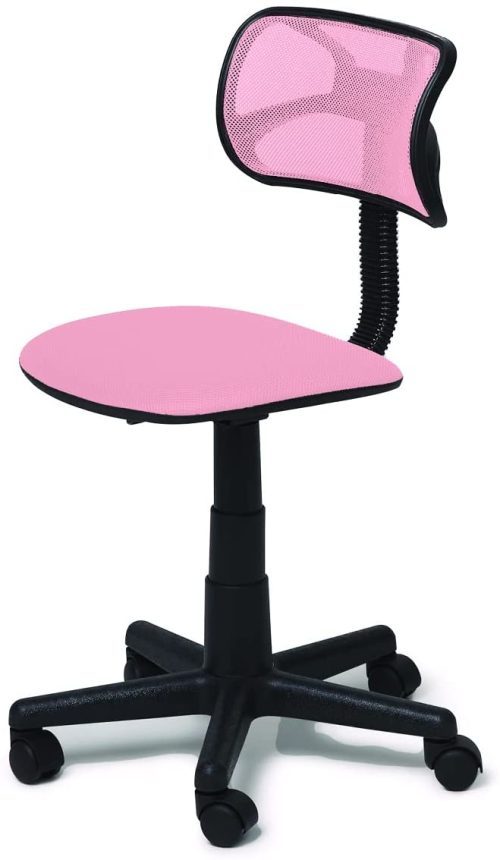 Urban Shop Swivel Mesh Chair offers the user support and comfort when working, studying, or watching movies.
Positive
Simple design
A wide range of colored option
Straightforward assembly
360-degree swivel base
Supports up to 225 pounds
Negatives
The seat is not really attached to the wheel assembly
In terms of its design, you can place this desk chair in a smaller space while yet giving your child with a comfortable sitting experience because of its unique design.
This chair for teenager room is well-cushioned to give all-day support and to safeguard your child's posture when studying, doing homework, or crafting.
Furthermore, the chair is quite easy to clean if your child spills anything or leaves dirty handprints on it, owing to the high-quality cushioned mesh upholstery.
Another amazing benefit is that this chair model is available in 21 different colors, allowing them to make their own selection.
Buying Guide Of Choose The Best Desk Chair For Teenager
There are several factors to consider when deciding on the best desk chair for teenager. We're here to help you with that, so you don't make the wrong choice and end up with a desk chair that doesn't suit you properly or isn't long-lasting enough.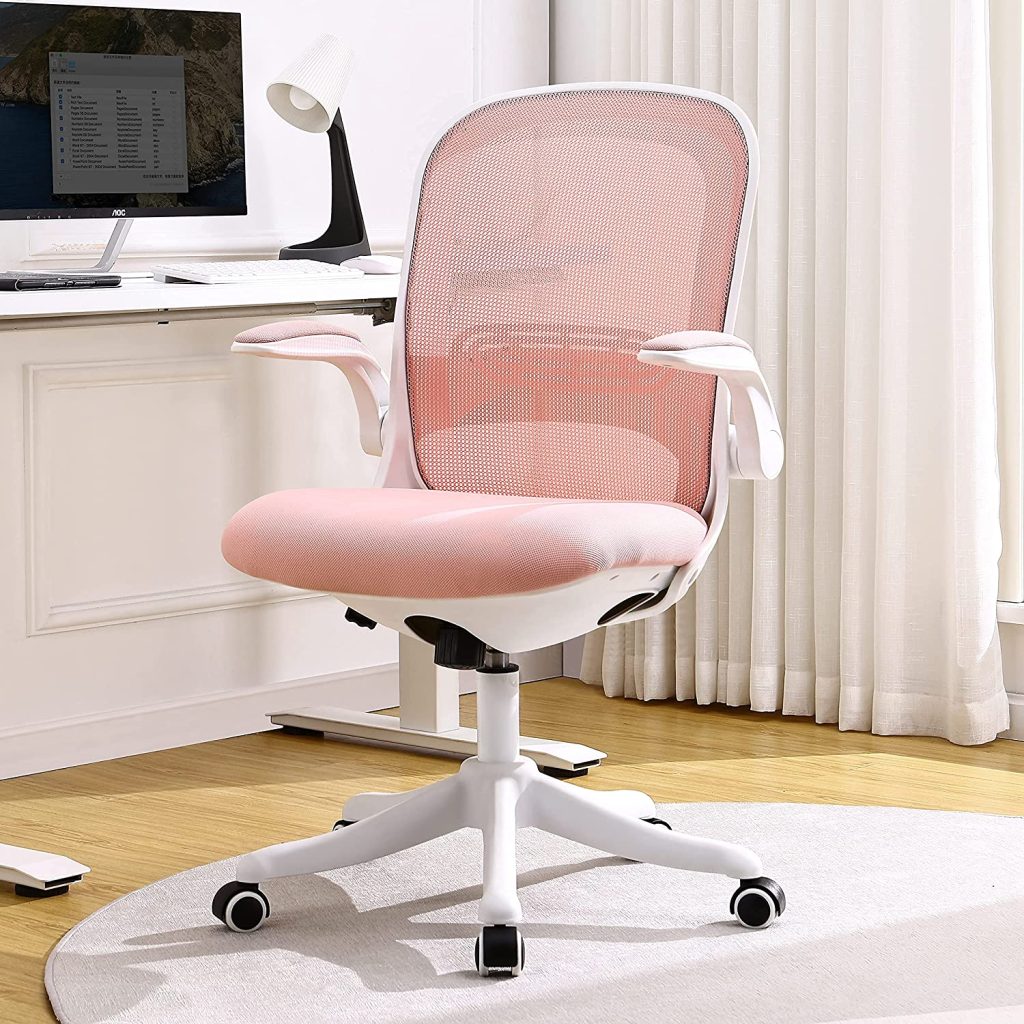 Teenagers can be picky when it comes to the appearance of a chair, so keep that in mind while looking for a new one.
Brightly colored seats are ideal for teenagers who have a dedicated workspace, such as a bedroom or home office.
Older children will benefit from office-style chairs as well, as they offer a more mature and professional learning environment.
The ergonomics of a chair are obviously the first thing you should consider. If your son or daughter are going to spend a lot of time studying in a chair, it should be ergonomic, support your back, and force you to sit in a proper posture.
They may avoid sitting incorrectly and continue to establish appropriate sitting habits. They will also avoid back pain, which is common among those who do not sit on an ergonomic chair and maintain poor posture.
The size of a desk chair for a teenager is the first item to consider. You should look for a chair that allows your child sit with their feet firmly planted on the ground and their knees bent at 90 degrees.
If your teens will be using a laptop, ensure that the chair is high enough for them to type with their hands parallel to the keyboard.
Also, make sure the seat depth and width are correct. The ideal chair should be large enough for your teen, but not so wide or deep that they are unable to keep appropriate posture while sitting.
It's pointless to buy a chair that won't last more than a year. You should consider the quality of the materials used to create the chair before making a decision.
A good chair should have metal or high-quality plastic parts, a firm base, and if it has a mesh back, it should be durable enough to last you for many years.
A good desk chair for teenager should offer numerous adjustability choices. Therefore, a quality study chair should feature adjustable arms, depth, adjustable lumbar support, seat height and, if desired, seat tilting.
The comfort level of student desk chairs is determined by the design and materials used. A good chair should have plenty of padding where you need it, as well as a supportive back and seat. If you require greater comfort in that area, a chair with a headrest is an excellent choice.
Before deciding on which a desk chair to purchase, the price is clearly a significant issue to consider.
Higher-end chairs will cost you a lot of money, but they have the highest build quality, materials, and warranties. They're also the greatest choice if you need a chair to study for long periods of time.
On the other hand, there are chairs that are in the middle of the price range and those that are on a limited budget. Mid-range chairs are less expensive than high-end chairs but yet provide excellent build quality and comfort.
So, did you choose the best desk chair for teenager after reading our above listing?
FAQs
How do I make my study chair comfortable?
Here are some ways to make your study chair more comfortable:
Your lower back should be supported.
Adjust the lighting in your room.
Keep reference materials at eye level.
Make certain your feet aren't dangling.
Raise your monitor so that it is at eye level.
Add a seat cushion if you want to be more comfortable.
Add some greenery.
How should I sit on a study table for long hours?
Here are some tips to sit on a study table for long periods of time:
Choose the best chair for teenager room
Choose the best screen position
Set a timer to fulfill a task
Take rest periods
Enhance your lighting
Drink a lot of water
Place your feet on the ground
Spend at least 15 minutes meditating
Concentrate on one task before moving on to the next.

Is it harmful to spend all day sitting in a desk chair?
Yes, of course. Below are the serious health effects of sitting all day:
Depression and anxiety
Back and neck pain
Obesity, diabetes, and heart trouble
Weak bones
Blood clots
Cancer

Which chair is best for studying long hours?
The finest chair for long-term study should be ergonomically sound. For optimal lower back support, the lumbar support should be S-shaped to fit to the curve of your spine.
A chair with thick and soft cushioning on the seat is also comfortable to sit in for lengthy periods of time. The chair should also be adjusted to accommodate the user's unique body type.
That's all about the 10 best desk chair for teenager that we want to recommend for you.
See more:
Above are top picks of the best desk chair for teenager by FittingChairs. We hope you find this post helpful and share it with your friends.