Most expensive office chairs have the perfect quality that can provide you with full ergonomic solutions. Check out our top pick for expensive office chairs. FittingChairs will offer the greatest office chair in the market for you!
Expensive Office Chair Brands
Here are leader-market brands in the ergonomic chair sector now. check out to find the reasons why the products of these brands are expensive.
Herman Miller
Herman Miller is one of the brands which is famous for ergonomic chairs in the market. Their products focus on human and the environment which can not only provide you with ergonomic solutions but also contribute to environmental protection.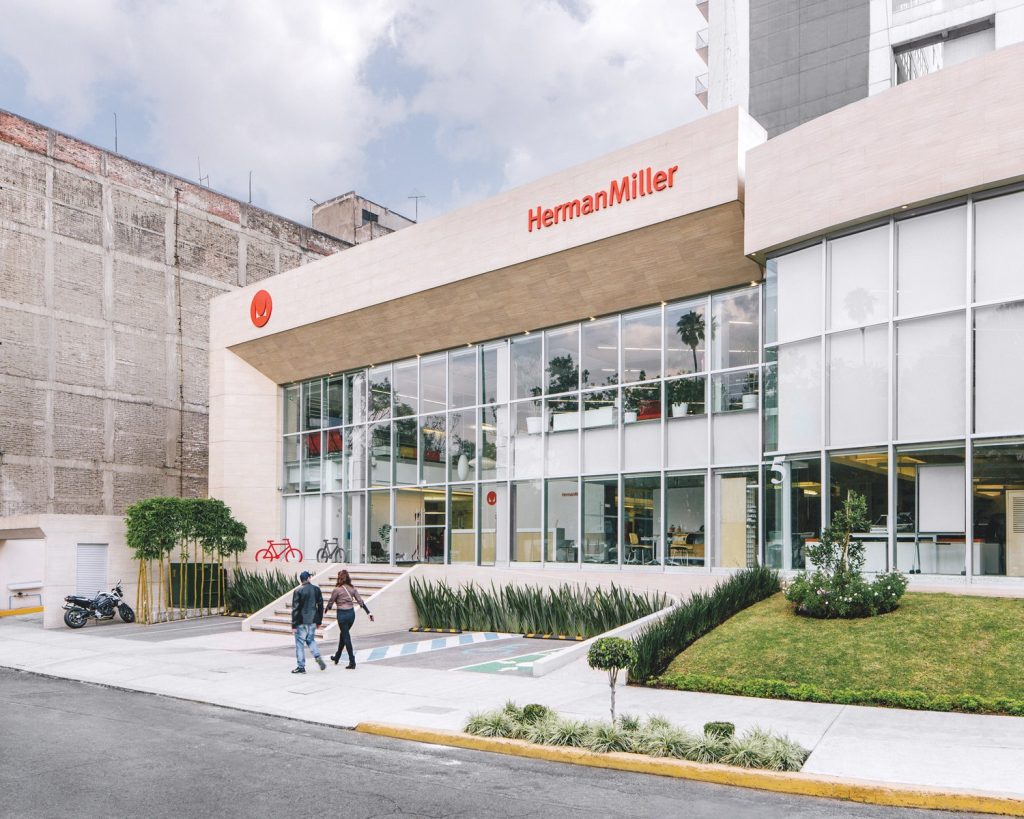 Herman Miller is a 100-year-old-plus company that places great importance on design, the environment, community service, and the health and well-being of our customers and our employees. Innovative ways to improve the performance of our customers' organizations have become our hallmark.
The headquarter of Herman Miller is located in Zeeland, Michigan and their manufacturing facilities are in the United States, China, Italy, and the United Kingdom. Moreover, they also have sales offices, dealers, licensees, and customers in over 100 countries.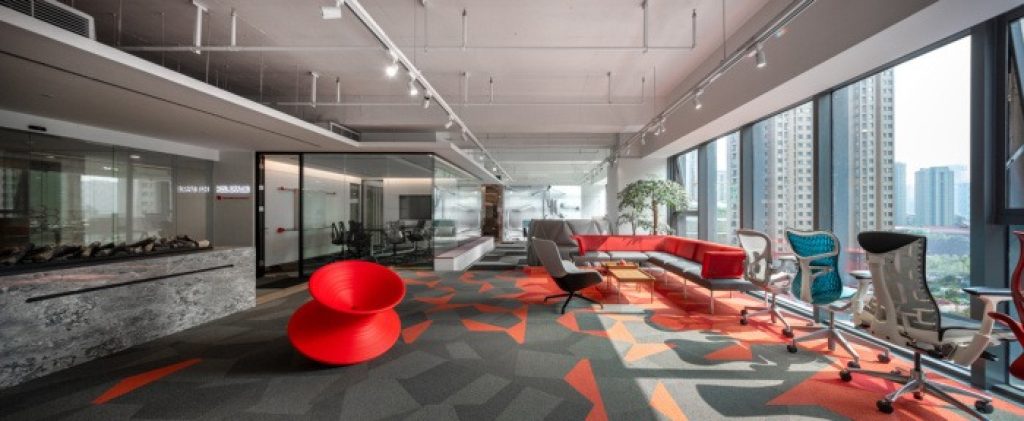 Ergonomic office chairs from Herman Miller have been gaining in popularity thanks to the perfect build quality and design. The top 3 well-known chairs from Herman Miller are Herman Miller Embody, Herman Miller Aeron, and Herman Miller Mirra 2.
Steelcase
With 100 years of operation, Steelcase has always aimed to create sustainable value for human beings. All of their products tend to create the dynamic, high-performing moods to enhance the ability of concentration for everyone.
The product ranges of Steelcase include various categories such as ergonomic office chairs, desks and tables, storage, technology, architecture, and space division.

Steelcase leads the way in creating great experiences by offering a range of architecture, furniture and technology products and services designed to help people reach their full potential. Together with our partners, we design spaces to help people work, learn and heal.

Steelcase
Humanscale
Humanscale is the global leader in beautifully designed ergonomic furniture. Their major product range is ergonomic office tools including task chairs to LED lighting, which aim to create comfortable and healthy working spaces for people.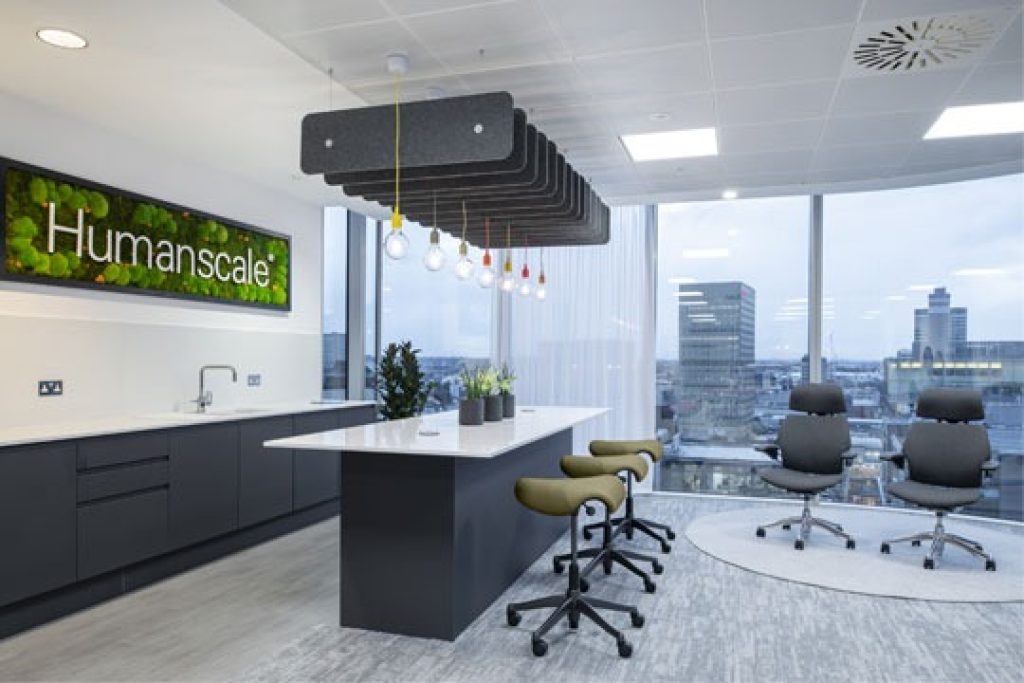 Our award-winning office solutions, including self-adjusting seating, sit/stand desks, monitor arms and task lighting, inspire movement and support the user in every posture.

Humanscale
Vitra
Vitra is Swiss family-owned furniture company with headquarters in Birsfelden, Switzerland. Their products aim to promote healthy and sustainable working conditions for all people.
The main products of Virta are home furniture, especially various kinds of chairs. Besides, Virta is also developing accessories for the kitchen and home decoration.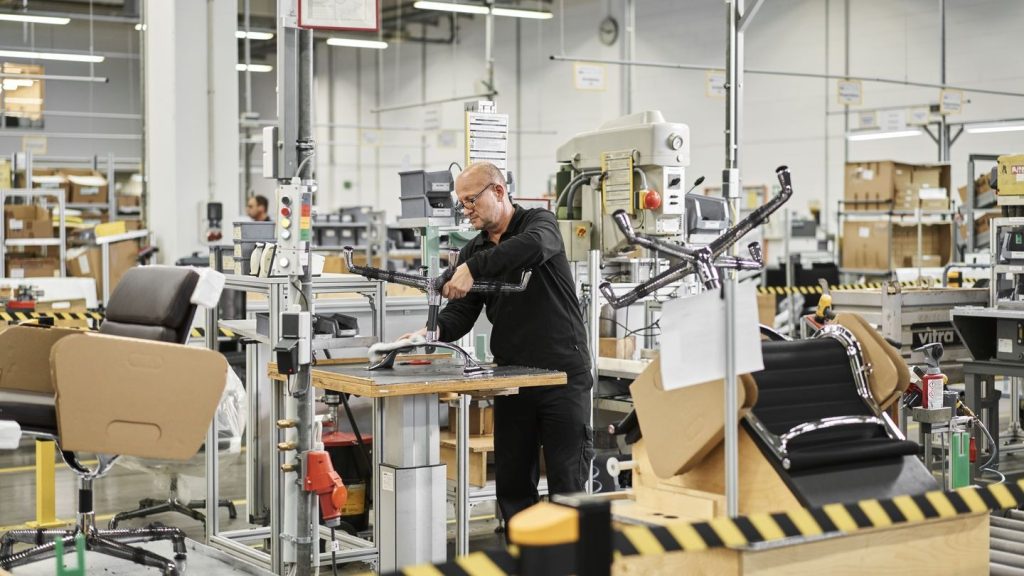 Vitra's greatest contribution to sustainability is the creation of products that omit non-essential elements and last a long time. Our roots in modern design would allow nothing else.

Nora Fehlbaum, Vitra CEO
Top 7 Expensive Office Chairs worth Your Investment
Here is our top pick for expensive office chairs with high quality and perfect ergonomic design to encourage healthy postures for you.
Herman Miller Embody
Herman Miller Embody chair is one of the top-ranking ergonomic chairs in the market. Being designed with a central spine and flexible ribs can encourage healthy postures for you as well as decrease the risk of getting some spinal diseases.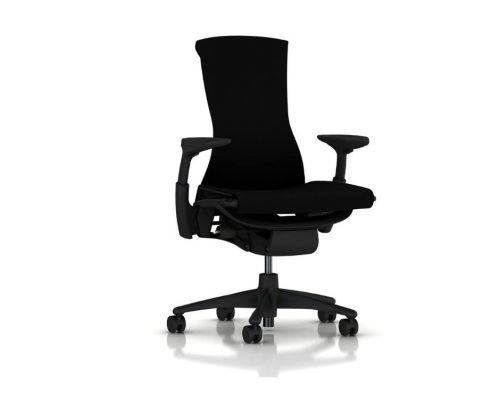 Perfect build-quality with spinal central design, the Herman Miller Embody is born to pamper your spine. What's more, this chair is an eco-friendly chair that is made from 42% recycled materials. Herman Millar Embody is an ideal chair for those who are seeking a good-quality and modern design office chair.
Pros
Full ergonomic adjustable features
Full padding breathable back and seat
Great design for your spine
Various color options
Sleek looking
Cons
Don't have the separate lumbar support system
With Herman Miller Embody, nothing is impossible. You can totally use this chair for various different purposes such as working, gaming, or watching TV.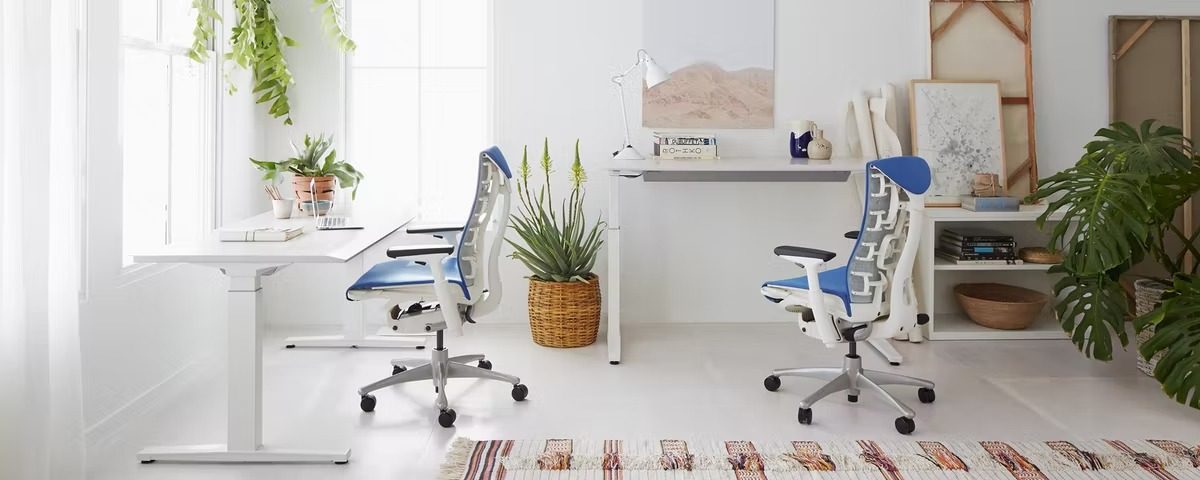 The full ergonomic features allow you to control and adjust this chair to move with you. More especially, the unique kicker feature will give you a deeper reclining position whenever you want to take a relaxing posture.
The four breathable layers in the seat for cushioned comfort and enhanced airflow so you don't need to worry about the discomfort when sitting on a fully padding seat in hot weather.
Herman Miller Aeron
Aeron is the other expensive office chair Herman Miller. Featuring 8Z pellicle soft mesh and dynamic lumbar support, the Aeron chair will pamper your back as the way your mattress does.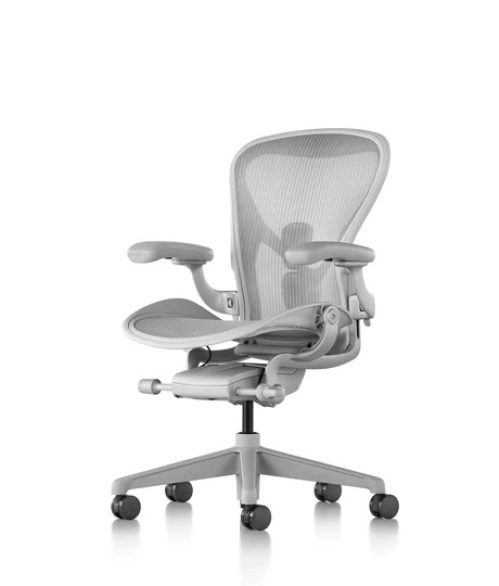 Being one of the best-seller items from Herman Miller, the Aeron provides you with perfect ergonomic solutions. There's no room for poor postures from now. With the Aeron chair, everything is possible.
Pros
Full ergonomic adjustments
Perfect build-quality
Breathable material
Dynamic lumbar support
Three size options
Three levels of reclining functions
Cons
Limited unadjustable armrests
With sleek design, the Aeron chair will be suitable for most spaces, even for gaming room set up.
Moreover, the Aeron allows you to choose the chair size that fits your body.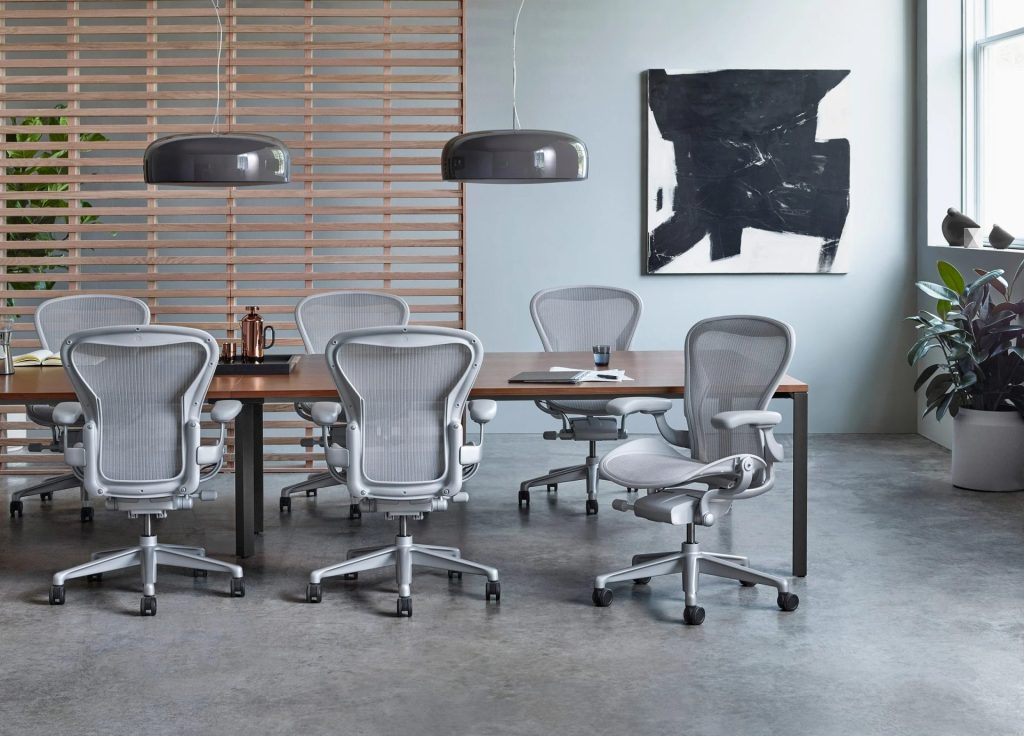 Strong ergonomic features will decrease significantly the risk of getting spinal issues. The Aeron chair is also rated as one of the most eco-friendly office chairs because it is made from a percentage of recycled material.
Steelcase Gesture
Also featuring fully ergonomic adjustments, especially adjustable seat depth, the Steelcase Gesture will allow the chair until you find the most comfortable sitting posture. This is the remarkable plus point of an office chair that just has one size.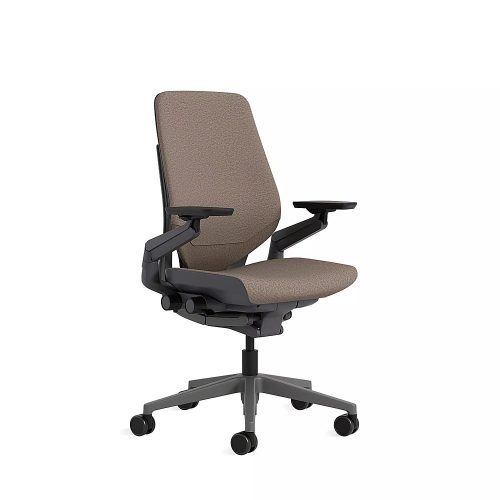 The S-shape will support your back well and help to decrease the risk of getting popular spinal issues for people who sit too long. With the dynamic adjustable armrests, you can be totally assured to do multiple tasks without worrying bout the poor posture caused by the lack of armrests.
Pros
100% polyester fabric
Fully ergonomic adjustments
Geat adjustable armrests
3D LiveBack technology
Three positions tilt lock
Cons
Don't have dynamic lumbar support
Steelcase Gesture is one of the ideal expensive office chairs due to its great features and perfect ergonomic design.
This expensive office chair will also move with you thanks to the flexible backrest which can move naturally following your sitting postures.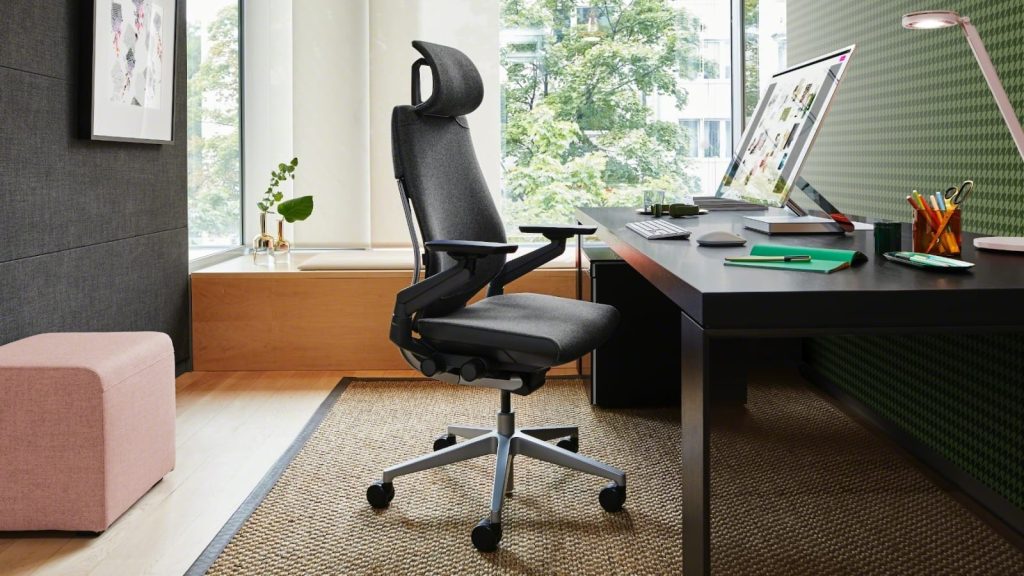 Inspired by the movement of the human body, Gesture is the first office chair designed to support our interactions with today's technologies. Gesture is created for the way we work today.

-Steelcase-
Humanscale Freedom Task Chair
The Humanscale Freedom Task chair is born to serve your demand of changing and moving sitting postures frequently.
With an innovative reclining feature, this chair will immediately support and a pivoting backrest that automatically adjusts to your postures.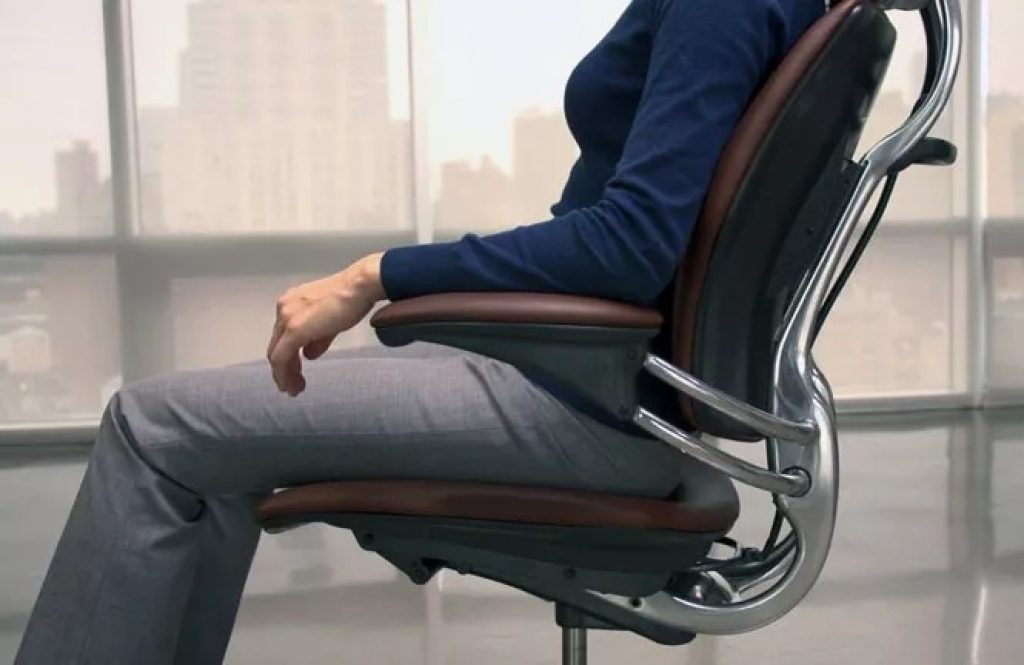 The gold standard in office seating

-The New York Times-
The most outstanding point of this chair is its wide range of motion on the backrest and headrest. So, this chair allows you to control the backrest and headrest separately depending on your height.
Pros
Modern and simple looking
49 fabric upholstery options and 7 leather options
Great adjustable backrest
Ergonomic solutions
Cons
Lumbar support can be not dynamic for people having lower back pain
With the human-oriented aim, this chair will move with you, whatever your sitting posture is. What's more, the Humanscale Freedom Task Chair provides you with various opinions for upholstery, cylinder and wheel casters making it become suitable for all kinds of room decorations.
This chair can give you concentrating mood even when you are in reclining posture thanks to the ability to keep your head straight in the backrest position.
Pininfarina Xten Sport Office Chair
Being the most outstanding ergonomic chair of Pininfarina, the Xten features perfect build quality and has a luxury design with breathable mesh material.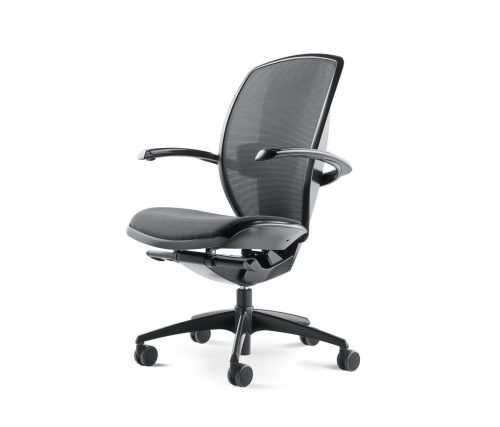 Pininfarina Xten Sport Office Chair
Breathable mesh material with dynamic lumbar support will encourage healthy postures and during a long time sitting for working or gaming. This chair also provides you with ergonomic solutions such as seat depth adjustment or reclining function.
Pros
Luxury design
Breathable mesh material
Ergonomic solutions
Ergonomic solutions
Three color options
Xten Sport Office Chair by Pininfarina is actually the ideal chair for people who are seeking a luxury office chair with the perfect build quality.
The only disadvantage of this chair is the lack of adjustable armrests. You may find it uncomfortable if you deserve the armrests support of an office chair.
WYKDL Executive Office Chair
When it comes to top expensive office chairs, we cannot help mentioning the top-rating executive office chair WYKDL.
With the luxury and very sleek looking, this executive chair will brighten your working corner, especially with a stunning wooden concept.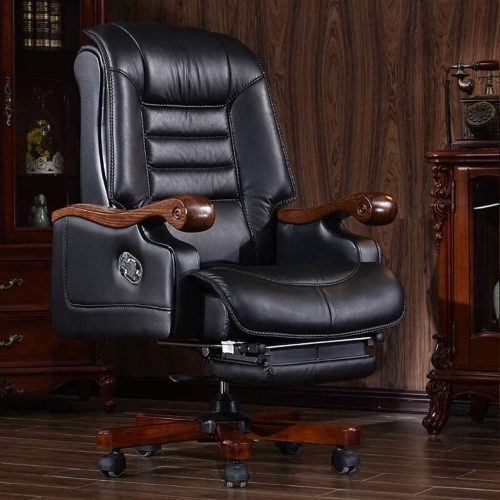 With the high-elastic design backrest with full padding back and seat, the WYKDL Executive Office Chair will take care of your whole body well. This chair has a large and thick padding cushion seat, so it is also highly suitable for big and tall people with weight capacity of 330lbs.
Pros
Thick padding cushion seat and back
Wooden armrests make it become luxury
Easy to clean with full leather upholstery
Ideal seat height provides perfect neck and head support
WYKDL Executive Office Chair is the most luxury executive office chair in our top pick. Besides the great build quality, this chair has vintage and royal design as well as some ergonomic solutions.
Sitting on this chair, you don't need to worry about the uncomfortable feeling caused by the poor postures as well as the firm material. The right chair is the one that makes you put attention to your tasks.
Ekornes Stressless Magic Office Chair
The final chair in our top pick of expensive office chairs is the magical and luxury executive office chair. If the WYKDL Executive Office Chair is a retro-style product, this Ekornes Stressless Magic Office Chair tends to bring the modern breath.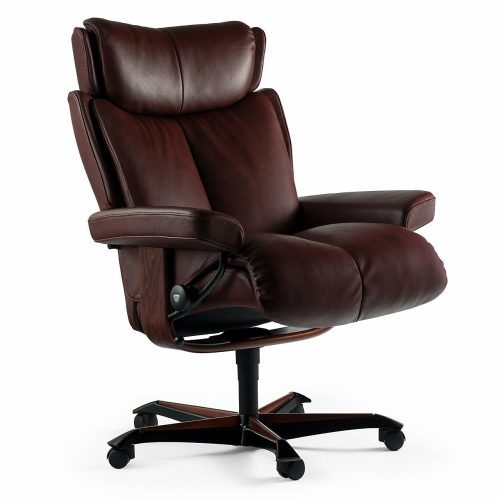 Ekornes Stressless Magic Office Chair
The softest chair in our top pick with perforated foam molded directly over the frame and leather upholstery will provide you with the perfect sitting experience. The high-quality steel and wood base swivels with 290lbs weight capacity, this chair can be an ideal chair for people who are quite overweight.
Pros
Ergonomic solutions
Super-soft polyester fiber cushions
Great reclining function
Supportive headrest
Various color options
Adjustable angle of the headrest
Cons
Too thick padding seat can make light people feel uncomfortable when sitting
Unadjustable armrests
With the sleek and modern looking, this chair can fit any kind of decorative conception. If you are seeking an ideal executive office chair with high-quality material and basic ergonomic solutions, this chair will be the best choice for you.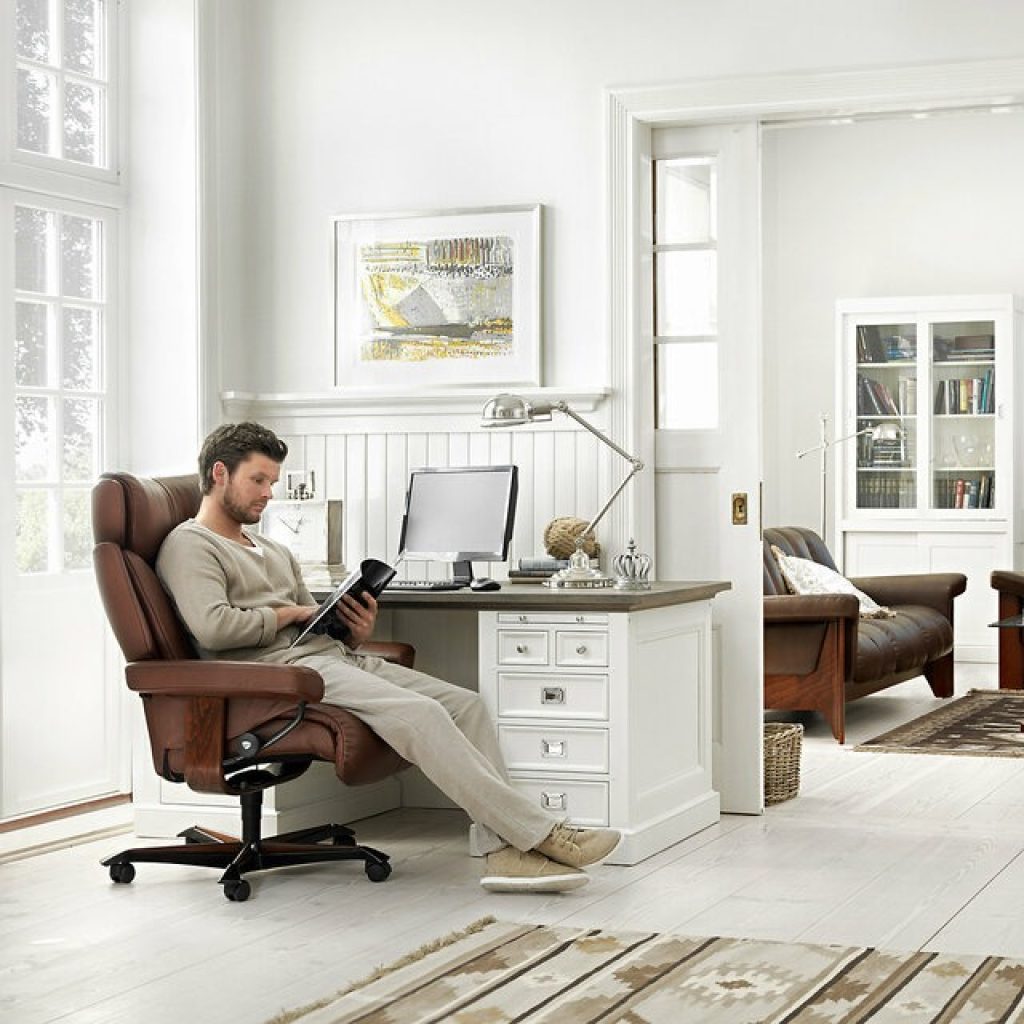 See more: Luxury leather office chair
Hopefully, the above top pick for expensive office chairs of FittingChairs can help you make your best purchase.