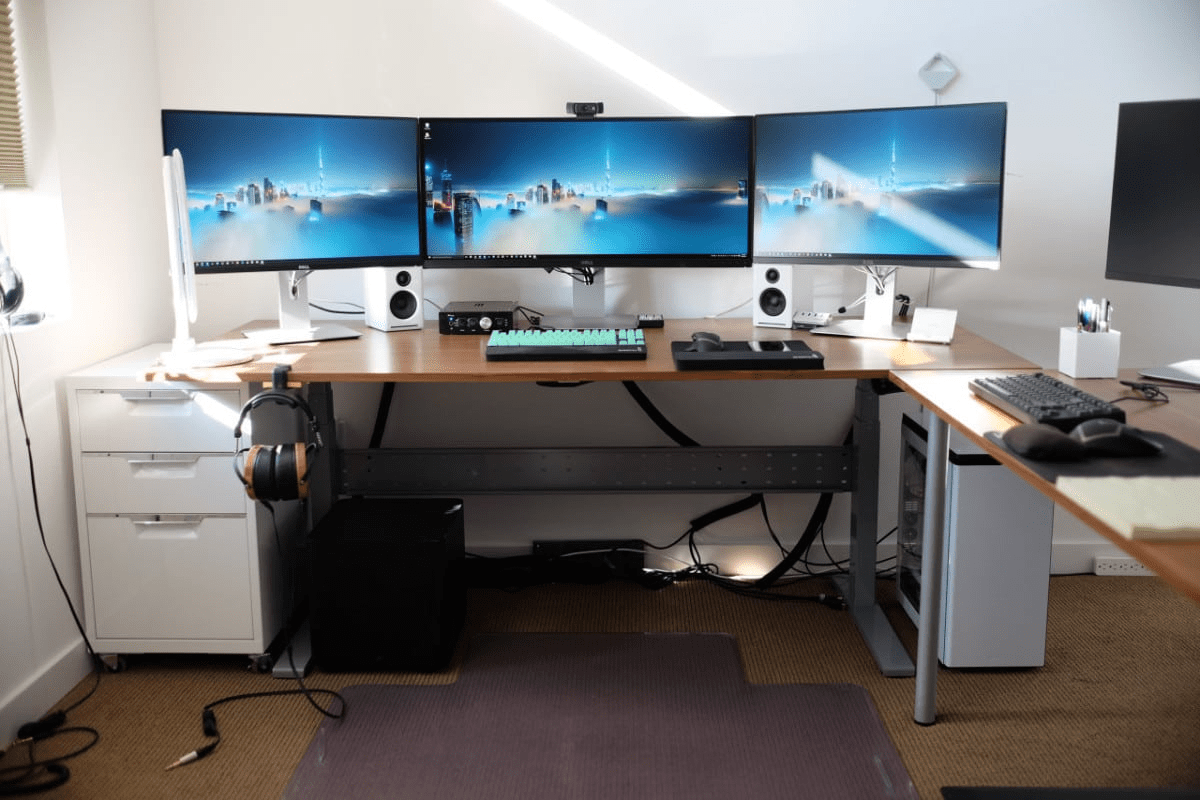 If you are looking for a gaming desk to put in your living space and use on a daily basis, keep scrolling on this article of FittingChairs can come in handy. We will include some of the criteria as well as guides to help you in choosing gaming desks.
How to Decide on a Desk Type and Select the Best Gaming Desk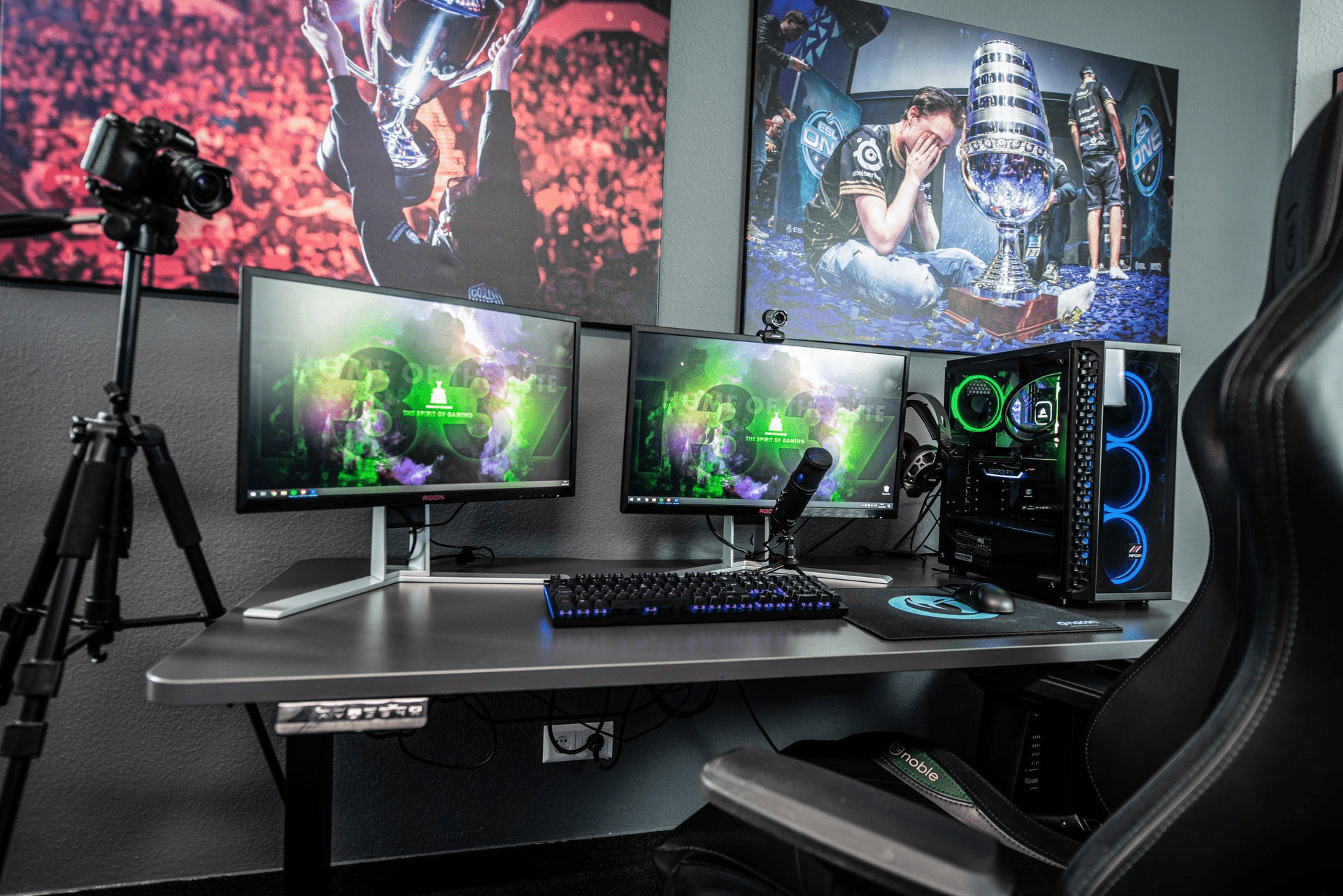 There are two types of gaming desk: standing and sitting. As their names tell, you can stand to use your computer with a standing desk and sit while enjoying playing games with a sitting one. Consider which one you prefer and opt for it.
Second, you need to think of a place you are going to put your new gaming desk. See if there is any space in your room left to put it. You also need to consider its shape, its size and its color to make sure it will match your room's interior design.
After deciding the place and how to rearrange your room's furniture, you should think of what do you expect on your gaming desk.
Someone want their gaming desk to have a hook so they can hang their headphones on, or a cupholder, extra storage, LED lighting for the desk. Some even want their desk to have more USB ports and charging capabilities. About the shape of desk, someone want to have a corner desk, I-shaped or a regular one.
You can consider those features. Most of gaming desks are not too pricey especially when compared to other types of desks. However, keep in mind that the more features the higher the price is.
Now when you have got the answers for those questions related to choosing a gaming desk, we will turn to some recommendation of desks by the shape and size with the aim of assisting you in finding what you are searching for quicker.
Guides on Choosing the Best Gaming Desk to Put in Your Room
Gaming desks have various shapes and sizes and they come with a lot of different features and options for you to choose. You can have your gaming desk customized based on your interest.
Since there are so many choices of gaming desks and you might get overwhelmed when looking for one, we have made an overview of what to consider as well as how to choose the best gaming desk so you can make your own decision easier.
Best Features of A Gaming Desk
Gaming desks are known for having various useful features which are a keyboard tray, cup holders, headphone hooks and built-in cable management box.
Keyboard trays help you save more space. Some of them are designed to be able to stay put while being in use so you don't need to worry they would move around.
Electrical outlets and USB ports which are built in are also helpful features on a gaming desk. With these features, you won't need to worry about power running out or finding ways to connect cables and having them all over your desktop or sitting area.
Beside cupholders and hooks for headphones, you can also consider to have a full-sized mouse pad which covers the whole surface. With all of those, you can save really much space.
If you hope to find a gaming desk with visual appeal apart from solid functionality, there are some models designed with RGB LED lighting effects and the Eureka Call of Duty L-Shaped Electric Standing Desk is one of those. Some gaming desk models are even provided with LED light systems which are programmable and able to sync up with your gaming console. Those can also be connected to your gaming PC so you can control them directly.
You should also consider storage spaces which are available on the model you are going to choose. You will need storage space one way or another and need a place to stow your controllers and peripherals, so it is essential to know how much space you have to work with.
Some gaming desks come with much storage space, but not all of them are designed equal.
What is The Best Desk Size for Gaming?
A suitable gaming desk is the one big enough to fit your monitor, mouse, keyboard, speakers and other peripherals you are going to use.
About the size, it depends on a single or dual monitor setup you will use and how much leftover space you have if you are intending to turn your bedroom into a gaming room.
Best Gaming Desk Width
The size of a computer monitor on average is approximately 25 to 28 inches wide horizontally. You will need at least 50 inches of width for your gaming desk if you want to have two of them placed side by side.
If you use a single ultrawide monitor whose width can range from 34 to 49 inches, you need to have adequate desktop space to make sure such a large monitor like that fit in.
The Vitesse 63 inch ergonomic gaming desk can offer much space for a multi-monitor or ultrawide monitor setup.
Also make sure your desk is wide enough for other equipment like the oversized mouse pad, mechanical keyboard and your PC tower.
Best Gaming Desk Depth
Almost every computer monitors which are currently on the market are low-profile and shallow in depth. But that doesn't mean you need to have one like that.
Gaming desk depth is really important. Desktop space is not only where to put your monitors. If you choose a too slim desk, you will feel like you are sitting on top of the monitors and you have too little space to move, which can lead to unpleasant experience while playing games.
Your mechanical keyboard, your mouse and your wrists also need a place to put and rest while you play games.
For intense gaming situations and full involvement in the games you love, a gaming desk with shallower depth would make a good choice.
In case you want to sit closer to your monitor, opt for a gaming desk which is 30 inches or less than that. Our recommendation is the Seven Warrior 40 inch gaming desk. With depth of only 23.6 inches, it is a wonderful option for those who don't like too deep desks.
On the contrary, if you want to sit a little bit far from your monitor, select one with depth of 30 inches or over. As far as we have known, some of best gaming desks are 24 inches in depth.
Best Gaming Desk Shapes
When choosing shape of gaming desks, you should consider the place of it in your room and your own preference.
Usually, desk in rectangular shape is the easiest to use. Rectangular desks are commonly used in the tournament play since they can help widen your viewing area to the maximum and get close to your monitor when needed. If you want to have intense focus while playing games, rectangular desks are really useful assistants.
If you need a multi-functional space and want more than just a dedicated gaming desk, L-shaped desks will be the right ones for you. Desks in L shapes are suitable and convenient if you have a small room and want to put your gaming desk into a corner of the room. We recommend the Mr. Ironstone L-shaped corner desk. It has an included monitor stand and ample workspace.
Best Storage for Gaming Desk
When it comes to storage for gaming desk, building the compartments into the underside is one of the useful methods. By doing that, you can have access to your gaming accessories but don't need to put them all on the desk's surface.
Some gaming desks are even designed with built-in shelves and monitor risers. These things are really excellent for stowing collectibles and holding your PC tower off the ground.
We recommend the Earthsign L-shaped gaming desk for the best option of gaming desk with storage. It has a lot of desktop space, including shelving and a stand for your PC tower.
In case your favorite choice has limited storage options, keep reading since we will share with you how to manage your gaming space when there isn't much room.
What are Good Materials For Gaming Desk
Mainly, medium-density fiberboard or MDF wood is the material used to make gaming desks.
MDF looks really like real wood and costs less than them. It can also be covered with carbon fiber material, laminate or other things to provide a high-quality finished look. That's why it is of the choice of many manufacturers.
With gaming desk made of MDF wood, you can have the surface covered with anything you like and you also don't need to worry about the cosmetic problems on the surface. Additionally, you will receive some benefits like when using the real wood without having to pay higher price. Just make sure you stabilize it well to avoid bowing.
Of course real wood is also the popular material to produce gaming desks, just not so regularly. Real wood looks beautiful and has high durability. Because of that, its price is higher than the MDF one.
Some desktops are made of glass but these ones are not so good as desks for gaming since they can easily break.
For the desk's base part, it is usually made of steel framework. This kind of material can ensure the durability and longevity.
After all, all of these surfaces are okay. Just take your preference and budget into consideration to decide which one to choose.
Ergonomic Gaming Desk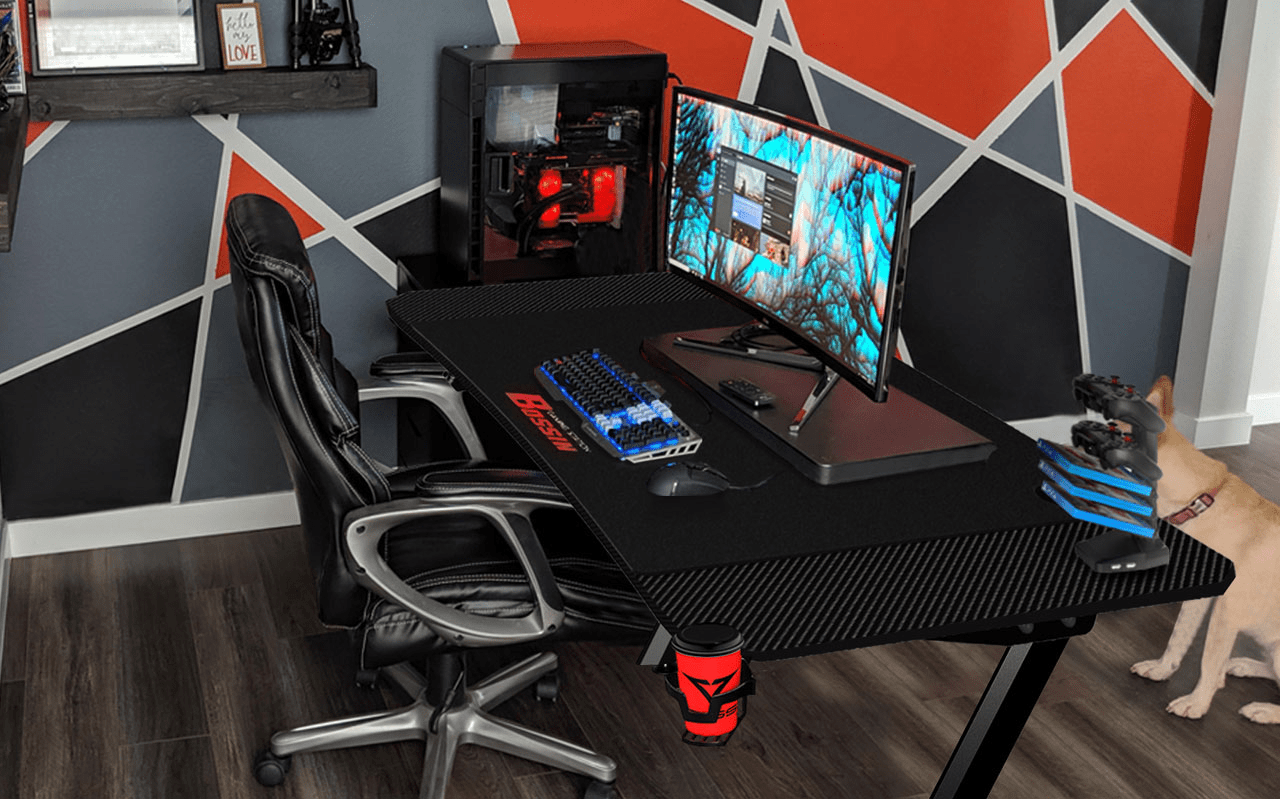 When playing games, you will sit in a position for a pretty long time, ergonomic gaming desk is important due to this reason. It can help to reduce body strain and prevent repetitive stress injuries and pain.
An ergonomic gaming desk needs to provide enough room for your legs to comfortably move and for the ergonomic gaming chair to be placed at the suitable distance from your monitor.
Ergonomic gaming desks allow you to modify the height and they are designed with contour lines to reduce stress on your arms and wrists. A keyboard tray to support your keyboard might be included in some model of gaming desks.
Standing desk is ergonomic. If you don't want to sit for too long while playing games, go for a standing model of gaming desk. The Eureka EGD-S62B 65 inch Electric Height Adjustable Standing Desk is a superb model for those who spend many hours sitting in front of the computer. With this model, you can stand up and move around to make sure your blood circulation is good and relieve stress and pain on your body.
The price of standing desks might be a bit more expensive but they are really worth to invest with the following benefits they offer: adjustable height, bigger work surface, storage drawers and keyboard tray.
Another recommendation of us is the Vari Curve Electric Standing desk. The ergonomic design this desk has can make up for some frills it lacks of when compared to other gaming desks.
How to Manage Your Gaming Space When There Isn't Much Room
Now we are going to talk about some ways to manage your gaming space when your room doesn't have much space left.
Keep Things in Vertical Direction
Rearrange things in your room and keep them in vertical direction. By doing that, you can save a lot of space, access everything you need at ease and you won't feel cramped in your own room anymore.
Get Rid of Unnecessary Things
Get rid of things you rarely need to use and other unnecessary objects to make room for your new gaming desk. You can keep them in another room which can be a storage room or room which no one uses.
Make Use of The Corners and The Walls
People tend to forget the corners when it comes to a place to put a gaming desk. You can totally make use of the corners left in your room and turn them into creative spots for a gaming desk. Customized designs of gaming desk will help you to do this if you want.
Another place for setting up your gaming desk is the walls. By using hooks and brackets, you can attach the desk, in other words, mount it to the walls. You can stash your equipment each one side by side and don't need to worry that you would knock over anything.
Come Up With Alternatives of Storing
The last way is trying to come up with other ways of storing things in your room. You can try hanging things from the ceiling instead of using shelves. It is a new way which is worth to try since it helps maximize your room's space.
To summary, we have shared with you some information of what to look for in a gaming desk. Hope this article will be helpful for you and you can take some tips we share to apply on selecting your gaming desk. Don't forget to explore more in the How-to section on our FittingChairs to get more great information.