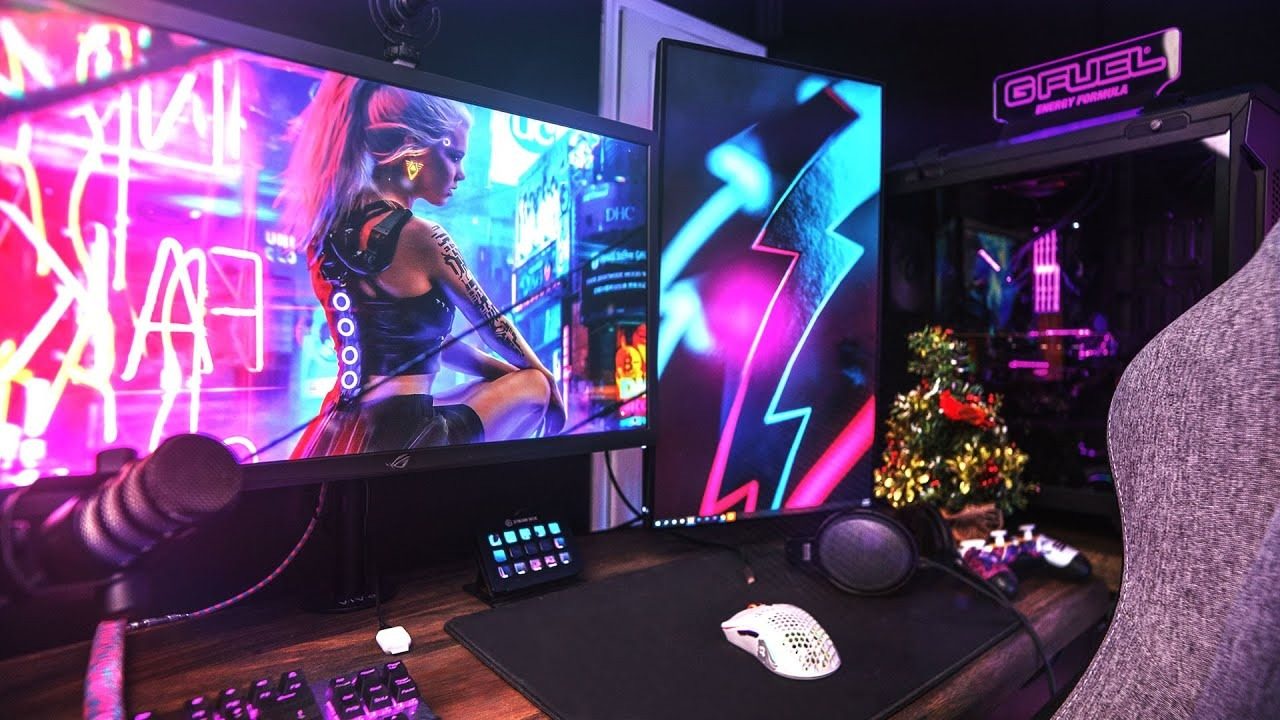 Some gaming desk accessories will make your gaming experience more enjoyable. Others will make your gaming setup look more appealing. If you're looking for something new to put on your desk, look no further. FittingChairs will show you!
What're Cool Desk Accessories For Gamers?
The best gaming desk accessories are those that improve your gaming experience and make you feel good in your gaming space. Sometimes just having something that looks cool is enough.
Not only does this include items such as headsets, keyboards, mice, and controllers. It is also one-of-a-kind items that you can add to your gaming setup to improve your overall gaming experience.
Let's start with the fundamental accessories that every gaming room requires.
1. Standing Desk
Why use a standard gaming desk when you can get a height-adjustable standing desk?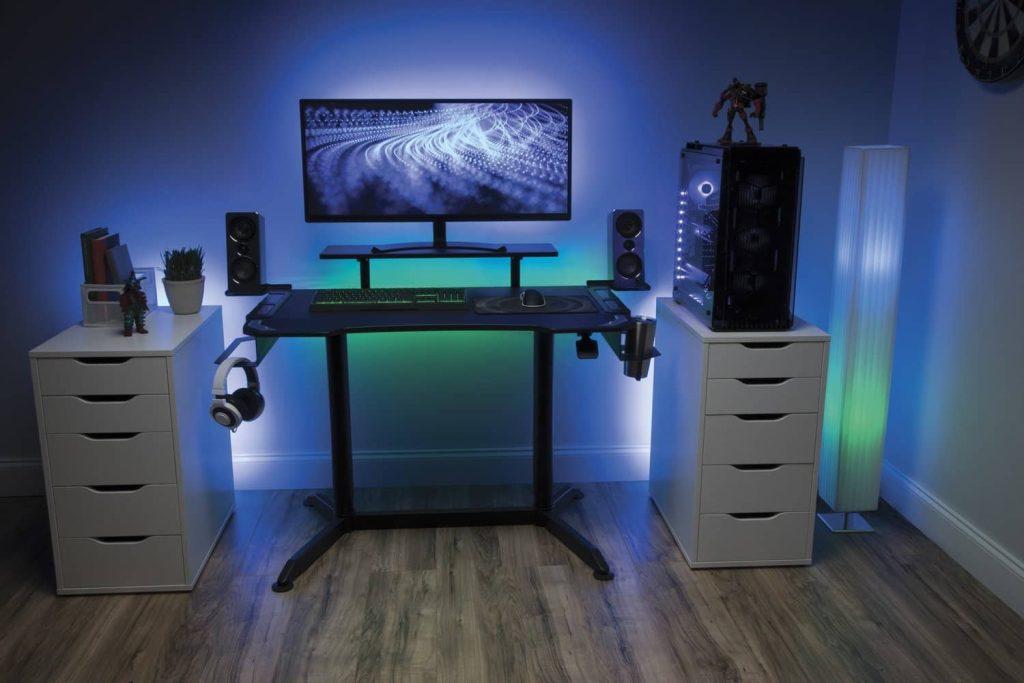 Depending on the type of games you play and how frequently you play them, choose the gaming desk is right for you! 
However, generally speaking, you'll need a desk that's at least 30 inches high. Whilst, some PC gamers prefer a shallow desk because it allows them to get closer to their gaming monitor.
With a standing desk, you can sit less and stand more. It relieves back pain, improves posture, and boosts energy levels. The best standing desks are adjustable in height, allowing you to position them precisely for your comfort.
Whatever you decide, an ergonomic gaming desk should be the focal point of your gaming room.
Refer our buying guide for choosing a standing gaming desk!
2. Ergonomic Office Chair
Besides gaming desk setup, consider your chair, especially the best ergonomic gaming chairs that are made to relieve stress on the back, neck, shoulders, and wrists.
They should also be adjustable to fit your height and posture. Some models also come with adjustable armrests, footrests, and lumbar supports.
Read our top list of the best ergonomic chairs for sitting long hours to find the best fantastic choice.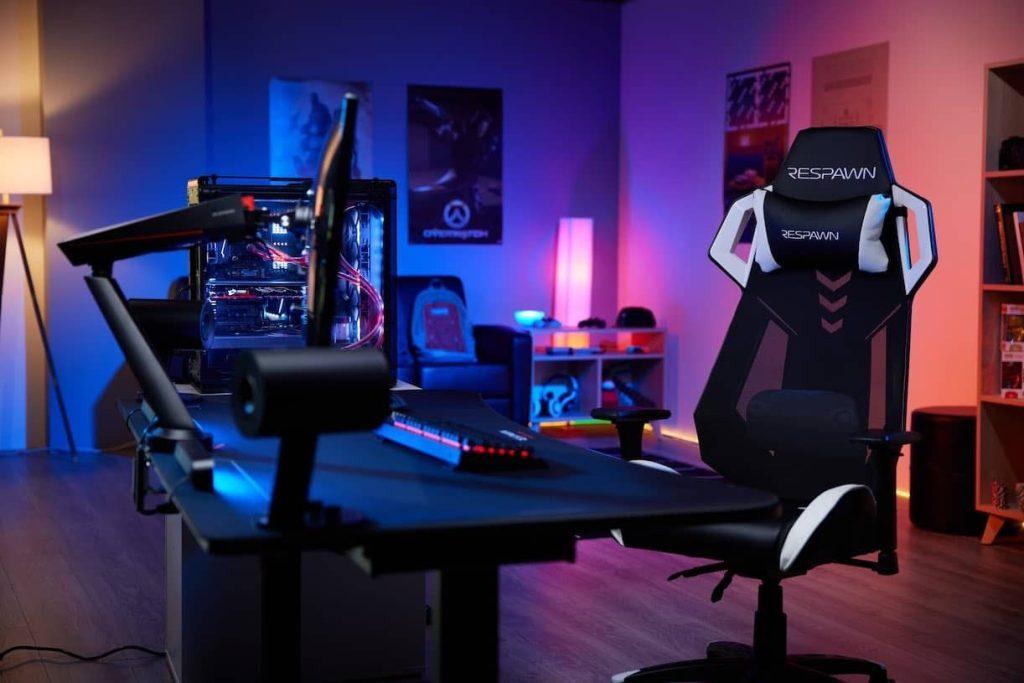 However, you can consider investing in a high-end gaming chair which can make gamers crazy to enjoy ideal features as much as possible.
In many cases, a high-quality office chair has the same features as a gaming chair, but without the flashy decorations that gaming chairs have.
Whatever you choose, make sure it's comfortable and will provide you with support and comfort during those long gaming sessions.
3. Monitor Stand
It is essential to position your gaming monitor correctly for maximum comfort and performance.
If you want to keep your monitor at eye level, you'll need a monitor stand. It prevents eye strain by keeping your head aligned with the center of the screen at all times.
4. Monitor Arm
Besides having a monitor mount is one thing, you should also buy a monitor arm. A monitor arm may appear to be too bulky for your desk, but there are some really nice ones available these days.
Most importantly, a monitor arm should be able to securely hold your monitor in place while allowing you to easily move it. It also allows you to adjust the height and angle of your screen without having to bend down.
It can also be used to elevate your screen away from your desktop if you want to play games like Fortnite, where you must crouch low to avoid being shot by snipers.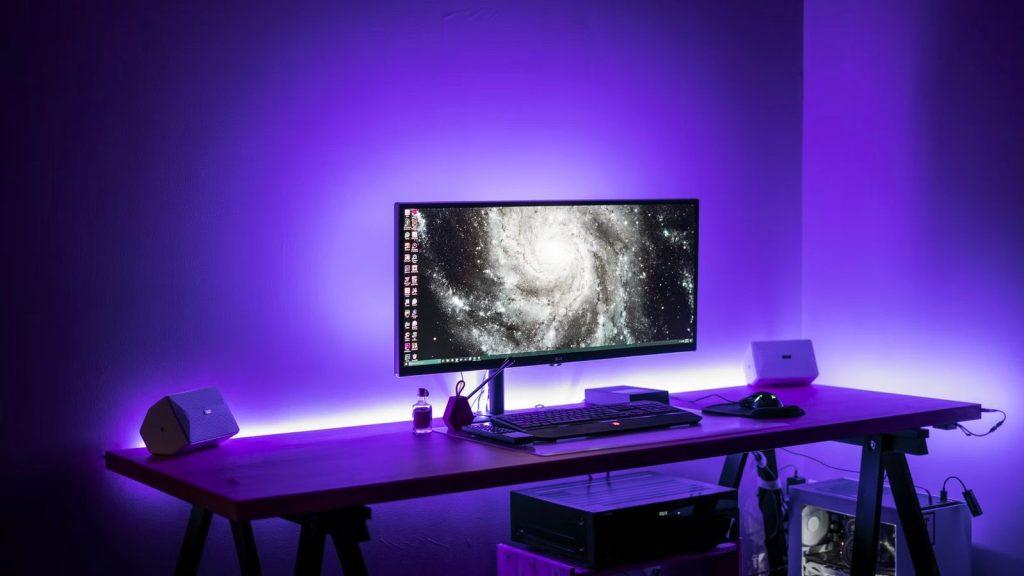 If you'd rather have a monitor arm than a stand, VESA mountable monitor stands are the way to go. They are available in a variety of sizes and shapes, allowing you to find one that is ideal for your space.
5. Charging Station for Your Phone
With so many different devices and chargers available, it can be difficult to find one that fits all of them.
Anyway, a charging station  is an excellent solution for charging your phone and tablets. You'll want one that works with everything from smartphones to earbuds to tablets.
6. Desk Lamp
A desk lamp is one of cool gaming desk accessories you don't think about until you notice how dark your desk is.
It's best to use a high-quality LED to illuminate your workspace. It could be exactly what you need whether your type of office is.
Indeed, LED desk lamps are intended to provide bright light while minimizing eye strain. They come in a variety of shapes and sizes, allowing you to select one that best suits your needs.
7. Noise-canceling Headphones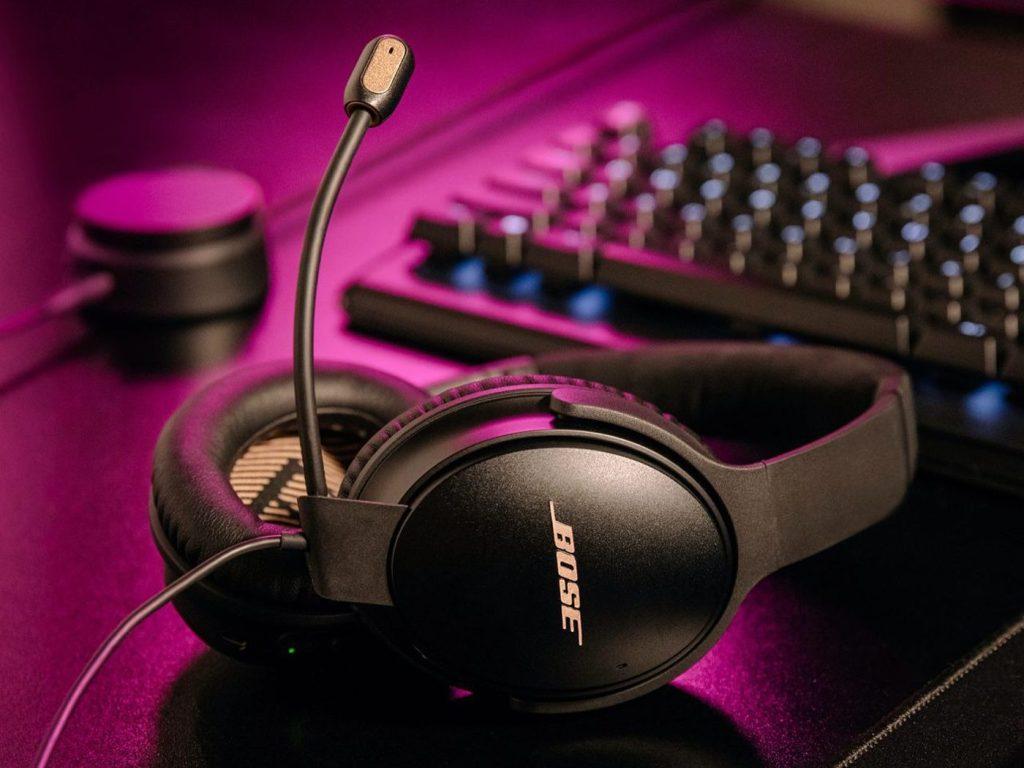 Noise canceling headphones are the way to go if you want serious sound quality. They'll block out all of the distracting sounds from outside so you can concentrate on what's going on in your game and inside your headset.
8. Desk Air Purifier
One of the cool stuff for gaming desk to keep your office clean and healthy is an air purifier. It reduces the risk of infection by removing dust particles from the air.
For anyone who spends a lot of time indoors, a mechanical air purifier is an excellent investment. It not only removes dust particles from the air, but it also eliminates odors and bacteria.
It's especially useful if you have a pet who frequents your gaming area.
9. Ergonomic Wrist Cushions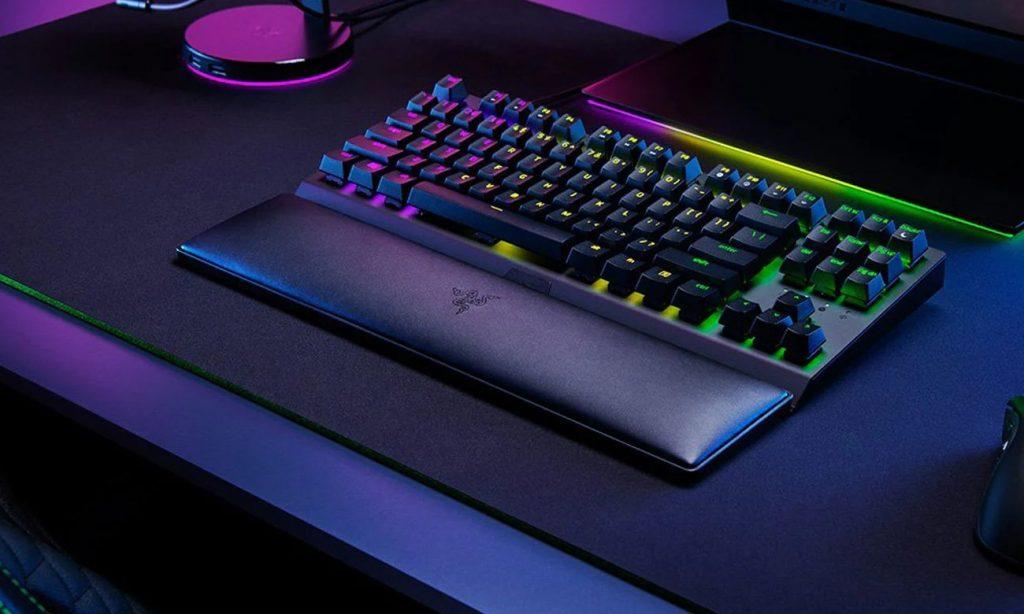 If you're not ready to upgrade your gaming chair, ergonomic wrist cushions are a great addition to any gaming setup.
Not only that, purchasing an ergonomic gel or memory foam wrist rest for your keyboard will help to reduce strain on your wrists and hands.
10. Ergonomic Mouse Pad
If you intend to spend a significant amount of time gaming on your computer, you should invest in a mouse pad. It should be comfortable enough that you don't have to adjust it all the time, but firm enough that it doesn't slip under your fingers.
Well, this kind of gaming desk accessory will give your wrists extra comfort and protection.
11. Under-the-desk Headphone Mount
Storage is essential in any gaming environment, so it should come as no surprise that you will need a headphone hook to store your headphones under your desk. This provides you with the ideal hiding spot. 
When not in use, remove your headset.
If your gaming desk does not already have a built-in headset, you can purchase a magnetized headset that you can attach to any magnetized metal surface on your desk.
12. Headphone Stand
If using a headphone hanger isn't your thing, you can also get a dedicated stand to store your headphones. This would look great as a typical gaming desk setup.
They come in a variety of materials, ranging from standard metal and plastic to more upscale leather and specialty wood versions, and they look fantastic.
13. Cable Management System
A cable management system organizes and conceals cables.
Organizing your cords and cables can help keep your desk space clutter-free and make it easier to use multiple devices at the same time. When done correctly, a good cable management system will allow you to organize your cables into neat bundles that look really cool.
It's especially useful if you're using multiple devices in your gaming setup.
14. LED Lighting
Are LED lights good for your home office? The best gaming rooms use LED lighting in extremely creative ways to create a cool atmosphere. 
Whether it's Philips Hue lights mounted behind your monitors or beneath your desk, or LED lighting strips illuminating your bookcases and shining colored light onto your walls, this is one of those gaming desk accessories that is a must if you want to create a cool vibe.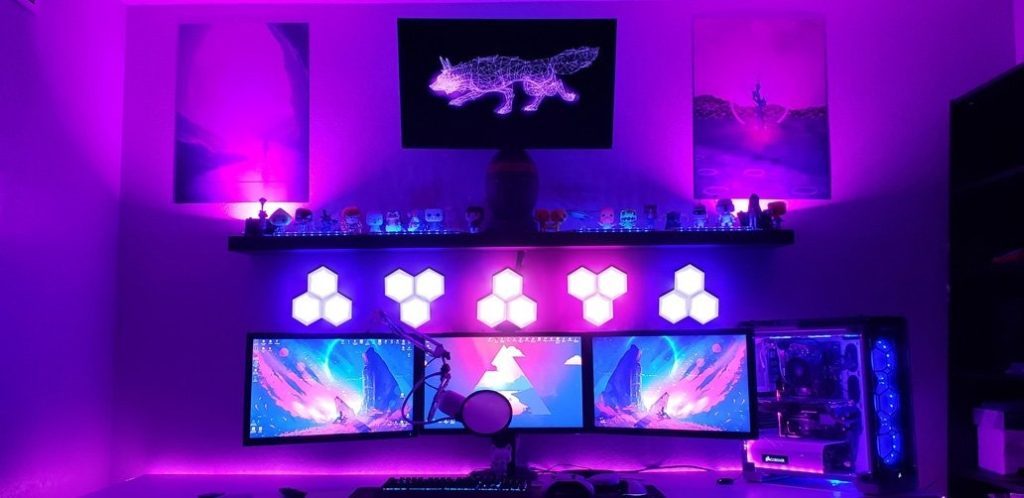 LED lights are frequently controlled by a remote, an app on your phone, or a gaming computer, allowing you to create an amazing look and easily adjust colors to whatever you want.
15. USB Hub
A USB hub becomes an essential cool desk gadgets for gamers for your gaming setup when you have multiple devices that need to be connected and powered up.
Not only will you be able to connect multiple USB cables and devices, but newer USB hubs are faster and provide more power than older models.
You can buy them separately or go all out and even buy a high quality USB 3.0 hub with a plethora of ports and LED lights to assist you in seeing the ports and connections in a dark room.
16. Desktop Vacuum Cleaner
Your desk will become dusty and dirty frequently! So, it's essential to own a USB-powered desktop vacuum cleaner.
They're great for picking up crumbs, pet hair, and other debris as well as cleaning up junk that accumulates in tight spaces, such as your mechanical keyboard keys.
There are numerous options available on Amazon, with prices ranging from $10 to $20 depending on the features desired.
17. Microphone with Stand
A good mic setup is essential if you do any podcasting or live streaming. It's an essential accessory for your gaming room if you want to make your live streaming sessions as high quality as possible.
Keep in mind that the sound of a wireless gaming headset mic just isn't the right fit for those who are serious about audio quality.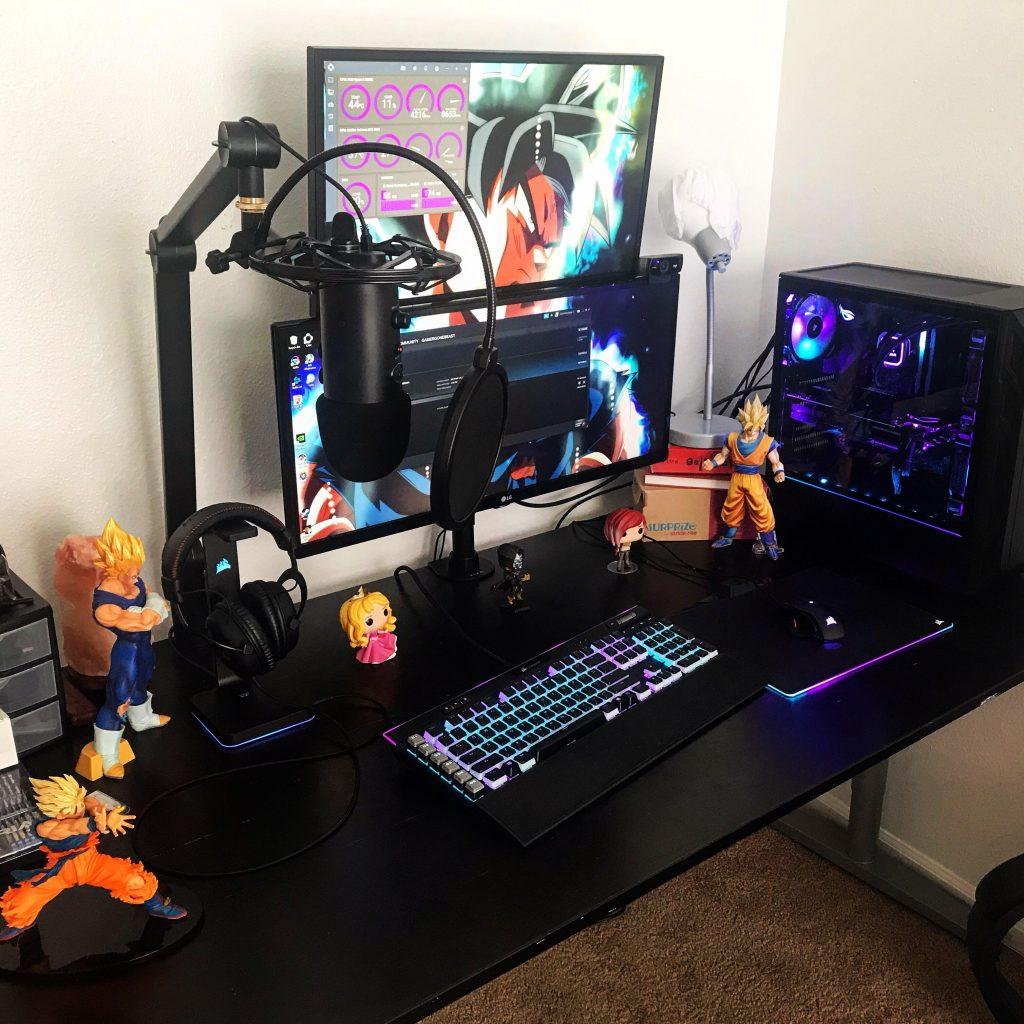 We highly recommend using a good mic stand when using a high-quality microphone. The best option is a desk-mounted boom stand.
18. Mechanical Keyboard
How does a mechanical keyboard work? What gaming accessory list would be complete without a mechanical keyboard?
A gaming keyboard is an essential component of any serious gamer's setup.
There are many reasons for using mechanical keyboards. If you want to get the most out of your gaming session, you'll add one to your gaming desk accessories.
19. Gaming Mouse
A good gaming mouse, like a mechanical keyboard, is essential for serious PC gamers.
A regular gaming mouse is sufficient to get started, but a gaming mouse is required for those who are serious about their video games. It's best to use ones specifically designed to provide the best feel and control while playing games.
The mouse pad shape also allows it to glide smoothly across the surface while providing optimal tracking.
20. Mouse Bungee
You may not have heard of it, but if your gaming mouse uses a USB cable and it ever gets in the way of your gameplay, you'll understand why these were created.
A mouse bungee allows you to better control your mouse cable. Also, it keeps your mouse cable off the floor and away from your computer case. This makes moving your mouse around the desk easier and prevents tangles.
21. Cup Holder
Cup holders are not standard on regular desks but it is critical to keep your desktop surface clear during gaming sessions.
Who wants their gaming session to be cut short because they hit their drink and spilled it all over the place due to a quick mouse movement? Well, you need this one of cool gaming desk accessories!
22. Tripod
When you're playing games at home, it's easy to overlook the importance of a tripod for keeping your camera steady. However, when playing online games and filming your session with multiple camera angles, you'll need something to hold your camera steady in order to capture the footage.
You can also use it to mount your smartphone for filming or as a teleprompter for your iPad or tablet.
23. Dedicated Gaming Monitor
Many professional gamers use monitors designed specifically for gaming. 
They're specifically designed to maximize performance and improve the overall gaming experience, with optimized refresh rates and minimal response times. Moreover, they come in a variety of sizes, but most professional gamers use a 24 inch gaming monitor.
24. Collectibles & Memorabilia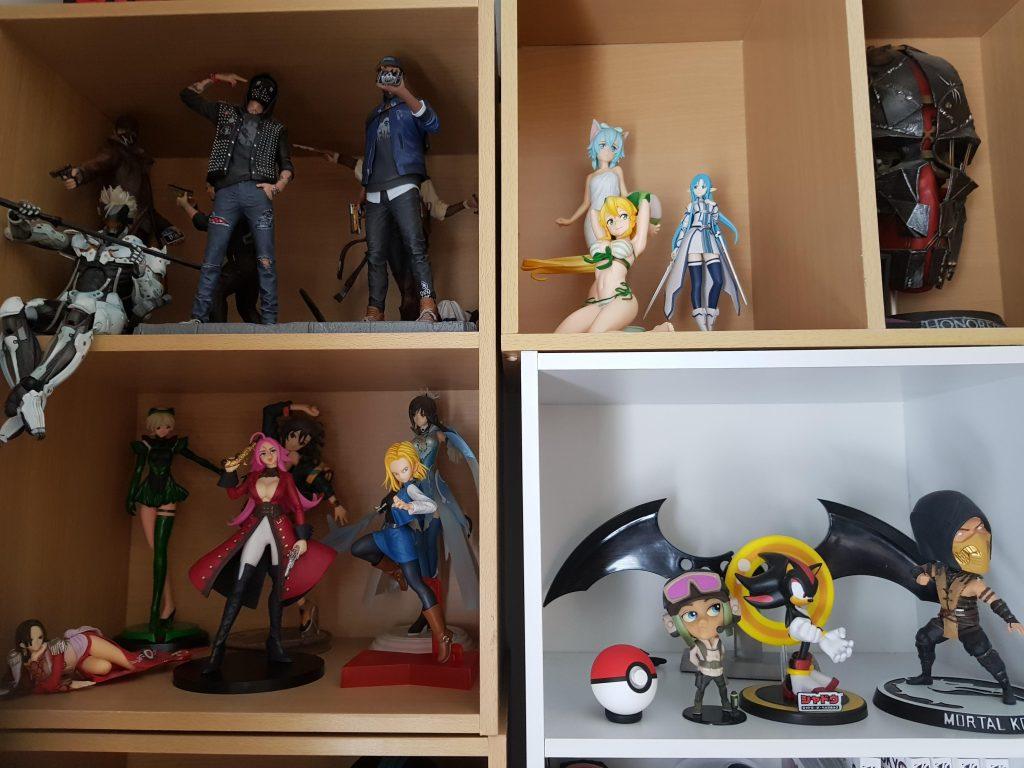 Adding collectibles and memorabilia to your gaming setup is probably the best way to personalize it. 
If you collect miniatures, replicas, action figures, trading cards, comic books, and so on, you should definitely make displays for them.
Perhaps it's a limited edition controller or an exclusive miniature. It can be Funko Pop! figures and collectibles.
Whatever it is, these items are excellent additions to your gaming room setup.
25. Plants
If you want to add some greenery to your office, you can get some easy-to-care-for indoor plants. It's really an ideal addition for purifying the air and adding oxygen to the environment.
This option of desk decor for gamers also makes any room appear more welcoming and relaxing.
If real plants aren't your thing, get some replica plants and decorations that look just like the real thing but don't require watering.
26. Wall Art & Posters
Posters are the best low-cost gaming desk accessories to brighten up your game room.
Posters are a great way to decorate your workspace without breaking the bank, whether you want to display motivational quotes, inspirational images, or a picture of your favorite team.
When it comes to options of this gamer desk decor, they can be canvas prints, framed prints, and even posters.
Movie posters are an excellent way to personalize your game room. If you're feeling particularly inventive, you could always make your own poster or exhibit your own artwork!
27. Power Strips & Surge Protectors
Although not the most glamorous of gaming desk accessories, they are required to keep your equipment safe.
A power strip allows you to power multiple devices from a single wall outlet and turn off and on multiple connected devices at the same time. Whilst, a surge protector is a type of power strip which is specifically designed to withstand a power surge and keep all of the electronic devices plugged into it safe.
28. Speakers
Your audio output is a critical component of your gaming hub, and good speakers are one of the most important audio devices in your gaming room.
You need to invest in a good set of speakers if you want to enjoy your gaming sessions.
There are numerous options, including wireless speakers, Bluetooth speakers, and wired speakers.
29. Gaming Controller Stand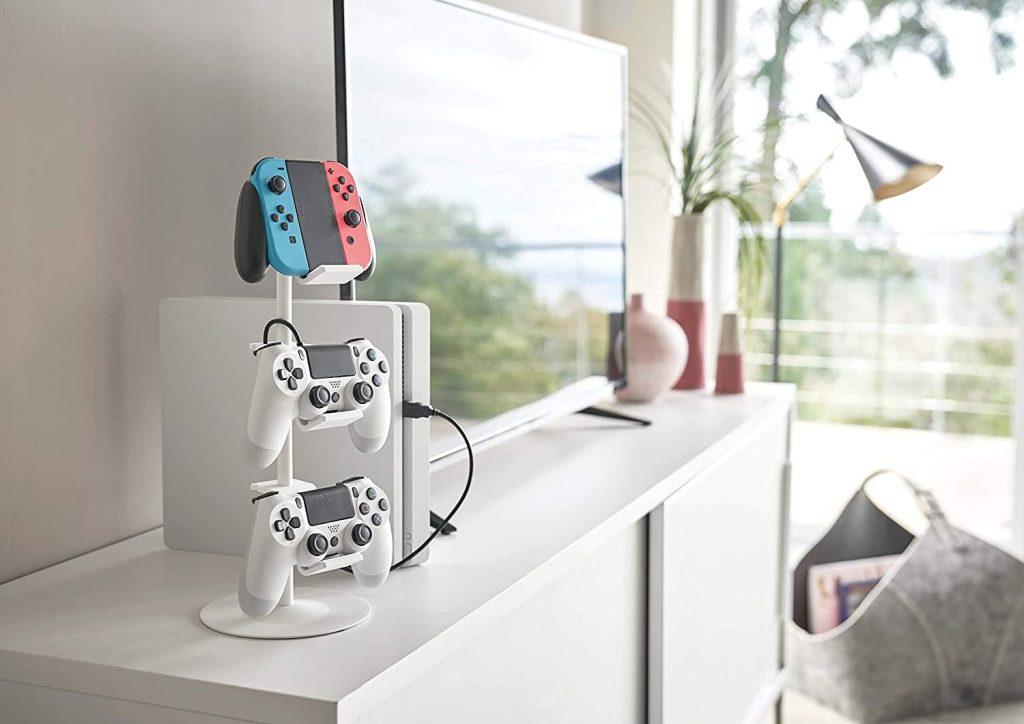 A stand for your gaming controllers is an absolute must-have item among our list of cool gaming desk accessories. 
Having them on your desk makes it difficult to get to them quickly, so having them on a stand allows you to easily access them. Not to mention, this item can be essential for the console gamer's gaming room setup, whether you have a Nintendo Switch, Xbox, or any other gaming console.
FittingChairs have put together a list of 29 gaming desk accessories that you should take a look at. Hope this article with suggestions for desk accessories for gamers can personalize your gaming setup.