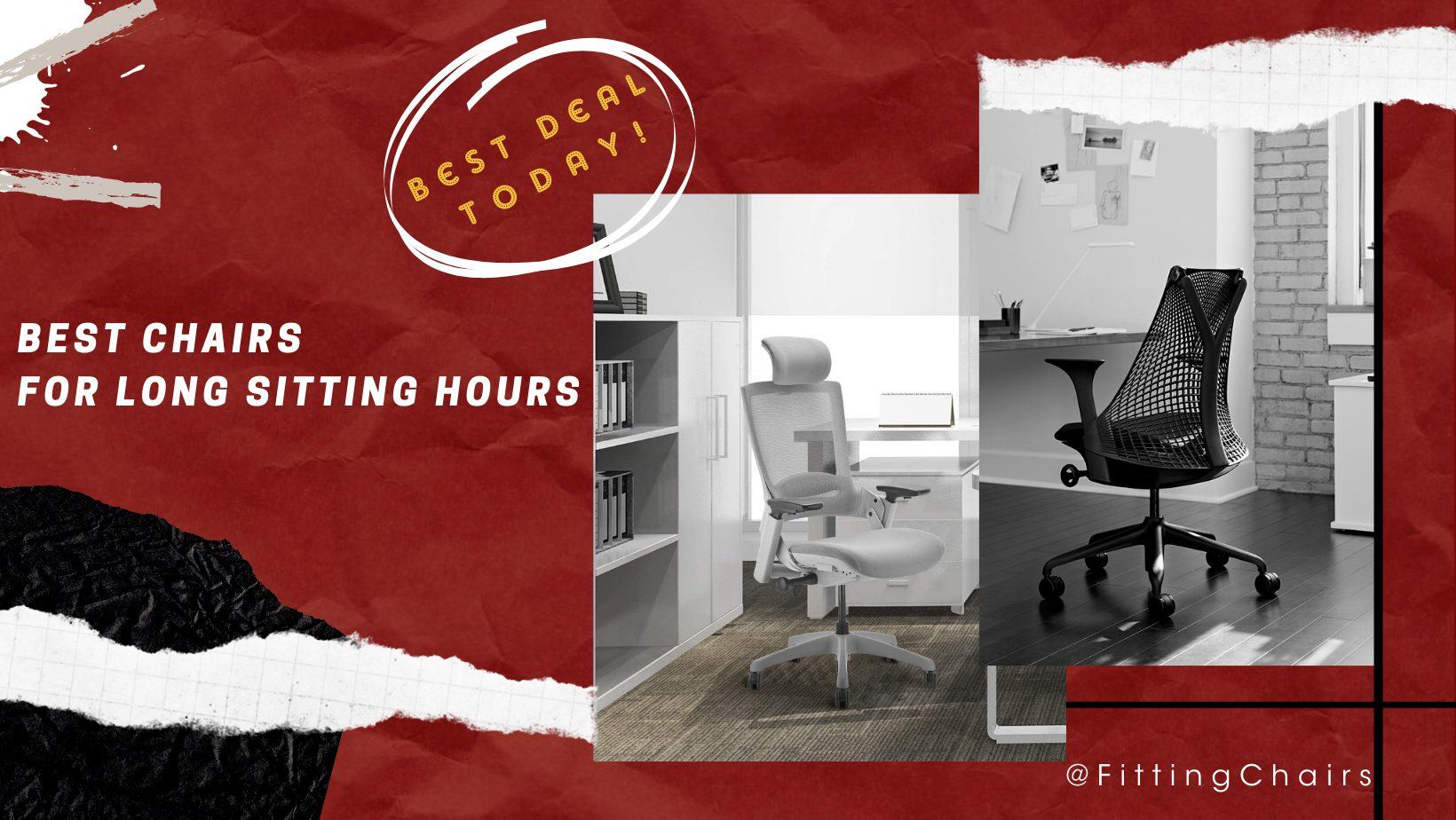 Sitting for long hours can lead to a lot of hidden health problems, which most office workers have to face. According to recent research, there are 67% adults in the United States currently suffering from low back pain. Thus, a chair that can provide you with fully ergonomic postures is totally worth investing. So, what is the best office chair for sitting long hours? Check out the following article of FittingChairs to find out the most proper one for yourself.
The dangers of sitting long hours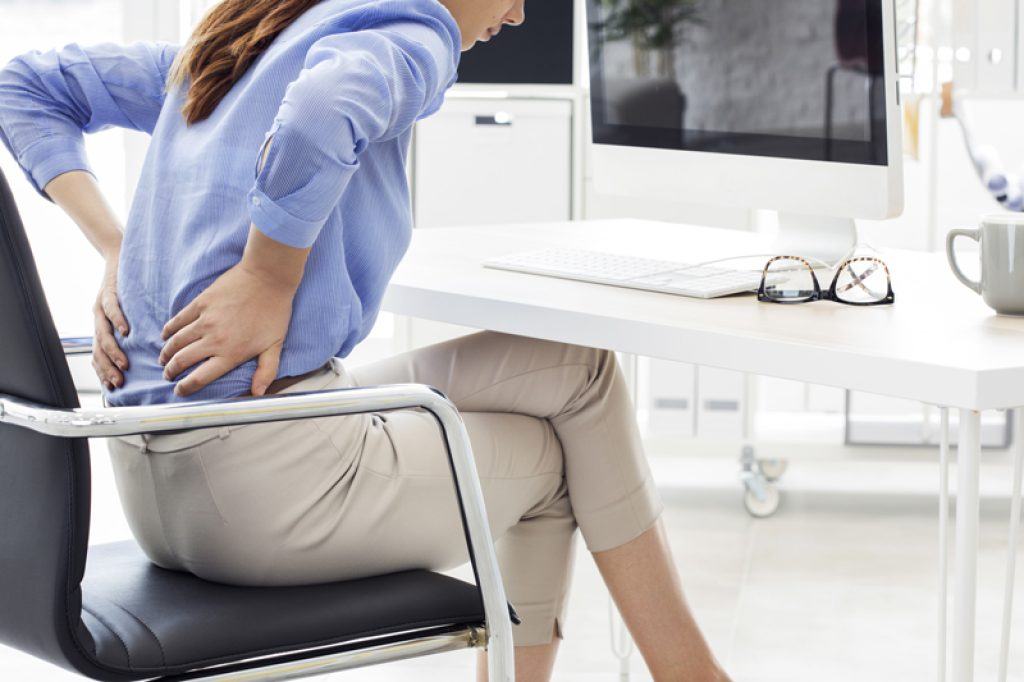 Even if you exercise regularly, sitting for long periods of time can kill you. Sitting is the new smoking, that's because the evidence is accumulating that the long durations of sitting can have significant detrimental impacts on your health. Here are some major effects which should be highly noted.
Blood flow decreases, allowing fatty acids to accumulate in blood vessels. This can result in coronary artery disease.
The capacity of your body to digest fats has deteriorated. Lipoprotein lipase is a vital enzyme that helps your body break down fat in your bloodstream. When you sit, your body's production of lipoprotein lipase declines by roughly 90%, making fat utilization extremely difficult.
Sitting can develop insulin resistance, which can lead to type 2 diabetes and obesity, two heart disease risk factors.
Negative effects on skeletal system and muscles
When you sit for long periods of time, your bones weaken and your entire skeletal system suffers negative consequences such as discomfort, bone spurs (osteophytes), inflammation, and other symptoms. Muscles also can lose strength and the capacity to support your body if they are not used.
It also has a lot of hidden danger to your brain. Exercise on a daily basic helps the brain to produce brain-derived neurotrophic factor (BDNF), which helps neurons flourish. It also aids in the reduction of cortisol's negative effects which is the stress hormone.
If BDNF levels decrease, cortisol levels will increase leading to the great stress levels. That is the reason why sedentary behavior causes blood flow to the brain to slow, reducing the quantity of oxygen delivered to the brain.
If you sit for long periods of time, your hips and back will suffer pains. Sitting in the long time shortens the hip flexor muscles, which can cause hip joint difficulties.
Sitting for lengthy periods of time can create back problems, especially if you have bad posture or don't utilize an ergonomically built chair or desk. Poor posture may lead to problems with your spine's health, such as disc compression and early degeneration, both of which can be highly uncomfortable.
What is the best office chair for sitting long hours?
These days, many people have to sit for more than 6 hours per day for work, leading to 67% of adults suffering from lower back pain and other diseases related to the spine composed of the lumbar vertebrae and the sacrum. For that reason, investing in a fully adjustable ergonomic functional chair that supports comfortable and ergonomic sitting posture will solve most of this problem.
Check out our top picks to find out your own answer to the question of what is the best office chair for sitting long hours.
FlexiSpot Ergonomic Executive Mesh Office Chair
The FlexiSpot OC3B Ergonomic Office Chair is one of the most worth-price chairs in our top picks. This chair not only has full ergonomic functions but also optimizes the adjustable lumbar support system, which is especially for people who have to sit for working long hours.
Pros
4D adjustable armrests
3D lumbar support
High-quality striped polyester mesh backrest
Reasonable price
Cons
The cushion seat is not really soft
The 3D lumbar support design embraces your back entirely, straightening your spine and eliminating compression and discomfort.
Moreover, this chair can provide you with the feature of a 135-degree angle to avoid back strain. You can totally relax with the backrest posture in your office. Besides the 4D armrests allows you to adjust comfortably based on your needs. The adjustable seat depth is also the plus point of this chair. You can adjust different sitting postures thanks to the seat's angle.
Herman Miller Aeron
This second chair catches your eyes with its luxurious and extremely modern design. The Herman Miller Aeron is known as the king of the ergonomic chair with fully and high-quality adjustable features. The most specific point of this chair is that all of the components fit together properly which can move naturally with you. That means you don't need to adjust the seat depth to find your most comfortable posture like most another ergonomic chair because the designer of this chair makes this for you.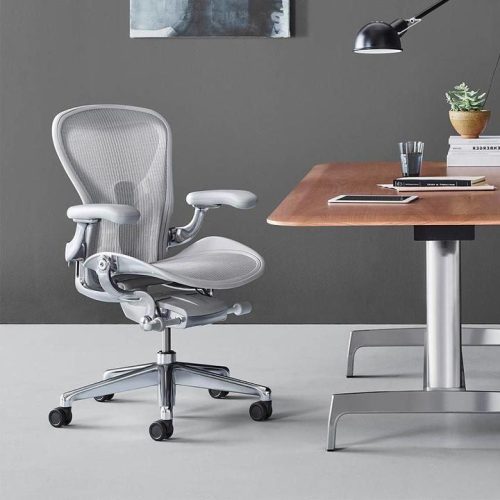 The adjustable PostureFit Sacral is designed to fit the curve of your spine. Pellicle mesh 8Z provides a lot of versatility to enhance your sitting experience and support you a lot, especially in the lower back area.
Pros
Posture and spine health tech
Three size options
8Z Pellicle soft mesh
Great lumbar back support
Cons
Limited users scope due to high price
Limited width adjustment for armrests
You can choose three various reclining postures on the Aeron chair, including straight up, halfway reclined, or fully reclined. Thus, you don't need to spend much time adjusting each part until you feel comfortable when you want to change your sitting postures in your office.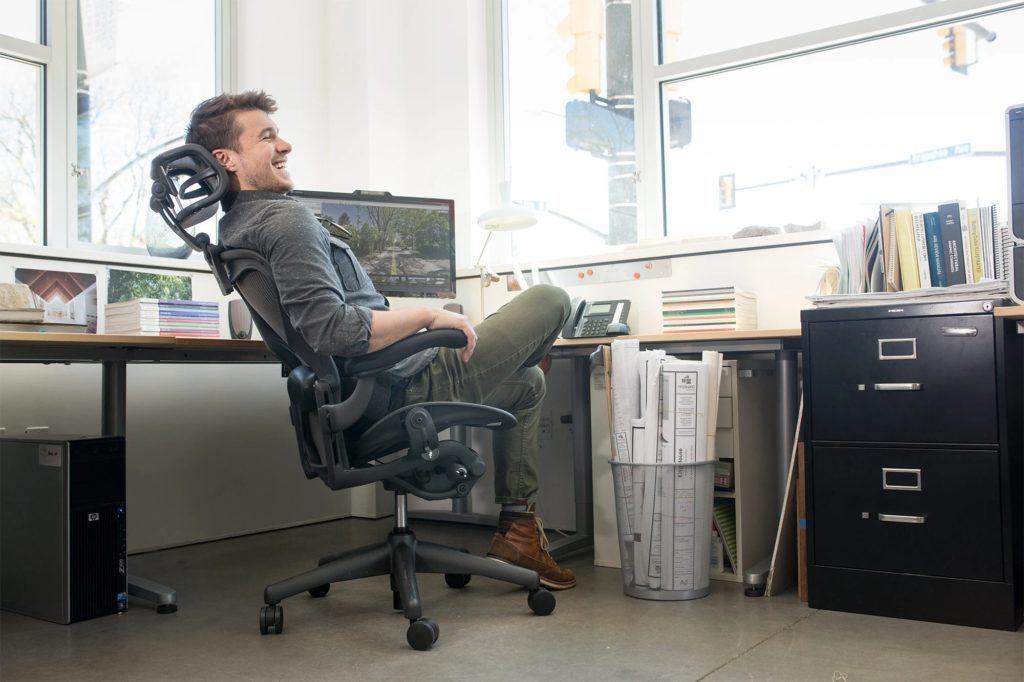 Moreover, this chair absolutely provides you with the headrest option. We highly recommend that you should include the headrest in your order because it will support you a lot for long-time sitting for work without the worrying of neck pain.
Steelcase Leap v2
What is the best office chair for sitting long hours? This is another ideal answer for you. Refer this article of comparison of Steelcase chairs and Herman Miller chairs to consider what difference is.
Being the closest competitor of Aeron chair, the Steelcase Leap v2 also has full ergonomic chair and adjustable features.
In contradistinction to the 3 fixed sitting posture options of Aeron chair designed in a scientific way, Steelcase Leap v2 allows users can adjust seat depth by their own. Moreover, the 4D armrests of this chair provide you more adjustability, meeting the various sitting postures.
The parallel slats on the backrest (for lumbar adjustment), sleek rectilinear armrests, and overall contemporary and straightforward design are all hallmark design features.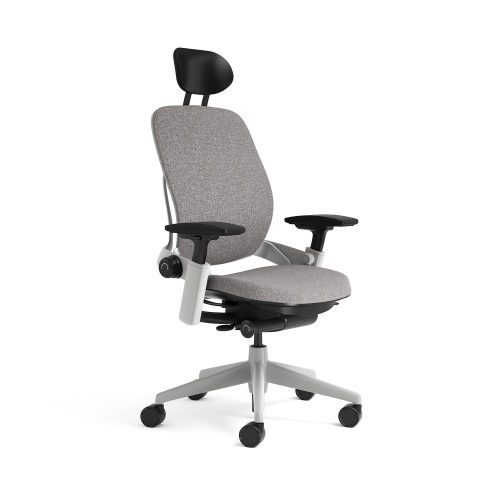 High price but also high quality. Fully of ergonomic features, especially in wide adjustable lumbar support. Besides, "the passive seat edge" can relieve strain on the bottom of your thighs. The full range of adjustability and customization options of this chair is absolutely designed to serve your long-time sitting for work.
Pros
5-position reclination
Various color options
12-year manufacturer warranty
4D armrests
Various colour options
Cons
The padded seat is quite thin
Limited users scope due to high price
This high-end product is totally worth-price because it can relieve most risks of spinal diseases for long-time sitting for work. Come up with seat height, seat depth, 4D armrests, lumbar support system and various color options, Steelcase Leap v2 is an ideal choice for your working corner.
If you are hesitating whether the Aeron chair or Steelcase Leap v2 is the best for you, you can totally visit our article "Steelcase Leap v2 vs Aeron" to get deep insights into these two famous chairs in the market.
Nouhaus Ergo3D
This fourth chair gives you an over looking which make you feel the same like the first one "The FlexiSpot OC3B Ergonomic Office Chair". It is clearly seen that the 3D lumbar support makes this chair become standing out.
However, while the seat of the first chair is padded which tends to fix the cold climate area, Nouhaus Ergo 3D's seat is made from breathable ElastoMesh material, which is highly suitable for the tropical area. The 3D lumbar support system also can align your spine and reduce compression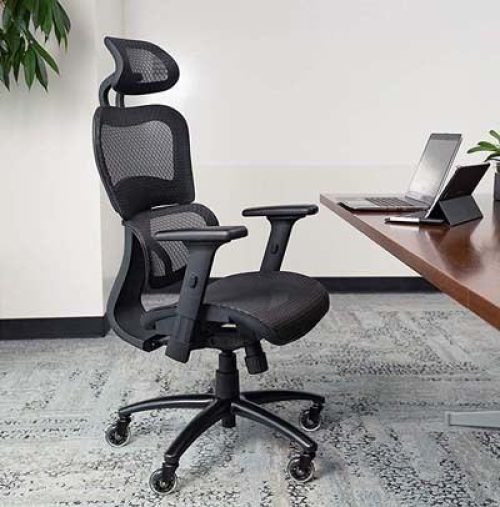 3D lumbar support, strong ergonomic features, breathable ElastoMesh seat and back, this chair is definitely beyond your expectation of a mid-range ergonomic chair. However, the brand recommends the Ergo3D Ergonomic Office Chair for people who are between 5'4" and 6'1".
Pros
Excellent lumbar support system
Breathable, flexible mesh material
Various color options
Budget-friendly
Cons
Unadjustable seat depth
Not suitable for those over 6'1″
No back height adjustability
The full ergonomic features of this chair allow you to tailor it to your body, your desk, and also your demands of various sitting positions.
Especially, the headrest is made from breathable and soft HD ElastoMesh and it is also the 2D adjust headrest that can move up and down easily and can be angled flexibility, with an 'ErgoTilt' design to support better neck placement.
Clatina Ergonomic High Swivel Executive Chair
With this chair, you may feel being attracted to its sleek looking. The modern design and neutralizing color of this chair are widely suited to many offices or home design concepts.
The most specific of this chair is that the lumbar support has a bit of foam inside, which brings you a comfortable feeling, especially for the relaxing posture.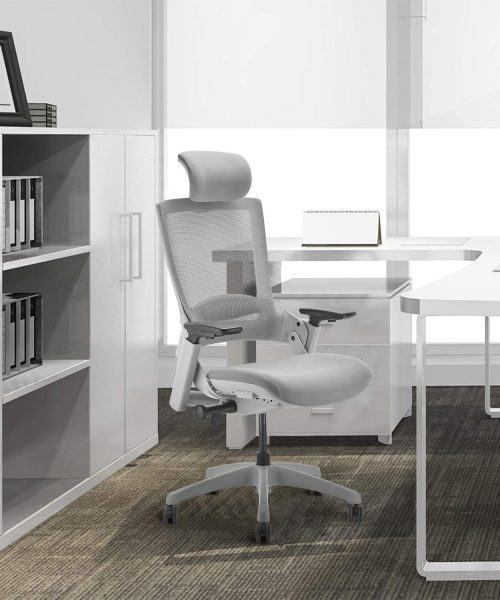 Clatina Ergonomic High Swivel Executive Chair
With adjustable seat depth and lumbar support, as well as the 5 levels tilt angle adjust, this chair is born to be the favorable supporter for those who are looking for an ergonomic chair serving all days working but have a limited budget. Besides this chair is highly recommended for those who are from 5'2'' up to 6'5''.
Pros
Sleek looking
Very reasonable price
Breathable and flexible mesh back
Adjustable depth seat, back height
Cons
Limited adjustable armrests
The adjust of armrests are not really smooth
Resemblance to other chairs of our top picks, this chair also provides you with full adjustable ergonomic features. However, with the softer price and various color options, the Clatina office chair should be highly considered if you just want a chair for overtime working at night in your home.
Autonomous ErgoChair Pro
The ErgoChair has a backrest's mechanical features, which makes it become the ideal chair for long-working day. Aside from that, the chair is available in enough color combinations to function as a basic office chair in all black, gray/white, or black/white, or as a statement piece with the more bright red, green, or blue seat cushions.
Available adjustments to tilt, depth, height back, lumbar support, armrest, and headrest, this chair can absolutely address health issues when you sit for long times. The strong weight capacity up to 350 lbs makes the user scopes of this chair wider.
Pros
Strong weight capacity (350 lbs)
Almost all parts are adjustable
Positive
Cons
Limited adjustable armrests
The padded seat is not really comfortable
This chair is a fantastic pick if you've been looking for a chair that can adjust to offer you a proper fit. If you're over 200 pounds, though, you'll need to add more cushions.
If the Autonomous ErgoChair had a little more cushion, it may have been a terrific office chair. Even though this chair provides nearly full ergonomic functions with the exception of wide adjustable armrests, most customers who have serious weight usually find it difficult to feel comfortable due to the thin cushion pad of this chair.
The solution to this issue is that you have to prepare to augment the cushions if you're over 200 pounds.
Gabrylly Ergonomic Mesh Office Chair
The mesh breathable back and seat of this chair will bring you the feeling of cool in hot weather and a long-time working day. This chair also allows you to adjust all the parts until you feel convenient with your posture.
The most specific of the Gabrylly ergonomic office chair is wide adjustable armrests that can fit all your positions during long hours sitting for work. You can even stretch your body like basic yoga postures or just take a yoga seated posture thanks to these armrests.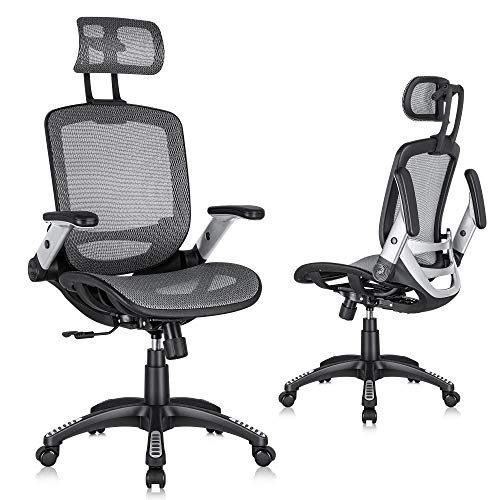 Gabrylly Ergonomic Mesh Office Chair
It has a side-stretching armrest that allows you to stretch sideways in a variety of positions. It has made our list of the finest ergonomic office chairs for individuals who wish to get the advantages of a full-body stretch while working at their desk at home.
Pros
Breathable mesh back and seat
Full ergonomic adjustable features
Flexible and adjustable armrests
Cons
Headrest isn't suitable for all heights
No many color options
May not adequately tilt
The flip-up arms, tilt function, lumbar support and PU wheels actually make this chair become one of the most ideal mid-range chairs for the idea of what is the best office chair for sitting long hours. The modern design is also a plus point of this chair. You should take it into careful consideration if you are a real yogi.
See more:
Now, what is the best office chair for sitting long hours is not a hard question anymore. We hope that our top picks can help you choose the proper chair for yourself. Hope this article of FittingChairs works for you.