In this article, FittingChairs will provide you with the Ikea Markus review in terms of many aspects. That's why this best Ikea office chair is still popular even though it was first released many years ago. Keep reading!
Ikea Markus Review Snapshot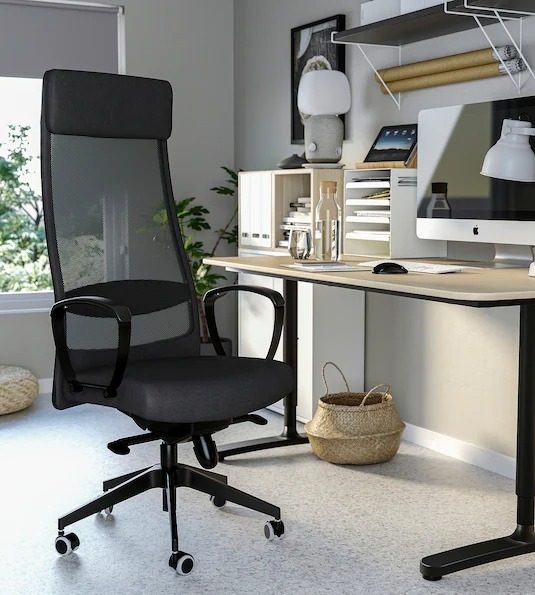 Ikea Markus Office Chair
The Ikea Markus is definitely a solid budget option for a new office chair. It has a surprising number of features, which is at the upper end of chairs from elsewhere with a similar price tag.
Good!
The Ikea Markus office chair more than meets the needs of users at a greatly reasonable price, with its basic aesthetics, premium materials and how it helps user's health.
Positive
Breathable mesh chair back.
Comfortable leather seat.
Awesome tilt recline adjustability.
Good-quality caster wheels.
Negatives
Relatively few adjustable features.
Ikea Markus Review: What's Special About Its Design?
When it comes to this Ikea chair, it's really unique. With its sleek and modern design, it is clearly one of the best Ikea office chair.
Materials
The first point related to design that FittingChairs would like to show in this Ikea Markus chair review is the positive materials used.
"We want to have a positive impact on the planet. That is why by 2030, we want all materials in our products to be recycled or renewable, and sourced in responsible ways."

— Ikea
The Ikea Markus office chair comes with both leather and mesh fabrics.
Hence, given how much you may sit in this chair for work, opt for its breathable textiles over leather. They are a great choice for keeping you cool and supported if you plan working for long hours.
Look at this chair! It has a distinct look which is not fully padded, not entirely mesh, but a wonderful blend of the two. This makes it more comfortable and breathable.
Especially, the 'Glose Back' version has a plush, padded leather seat that not only looks good, but is also durable and easy to clean thanks to its protective coating.
Apart from the aesthetics of these materials, you should examine whether or not it is suitable for 8 hours of sitting. And this Ikea Markus chair does it well.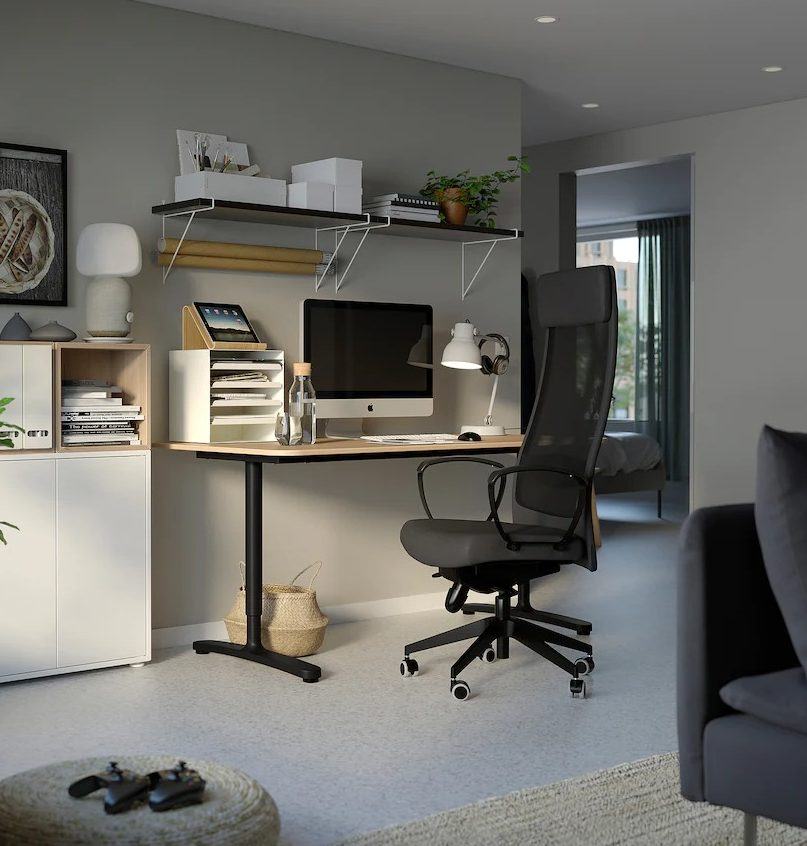 Wheel Casters
It's not random when this Ikea Markus review chooses wheel casters as one of the most outstanding points.
This Ikea Markus office chair has a decent 360-degree swivel feature with good-quality caster wheels.
The casters of this chair seem very premium built, and they are very silent and smooth when rotated.
Indeed, its safety casters are a wonderful feature, with a pressure-sensitive braking mechanism that keeps the chair in place when you stand up and immediately releases when you sit down.
This less noticeable innovation of the best Ikea office chair also can give you both stability and the freedom to move around while seated.
That sounds great!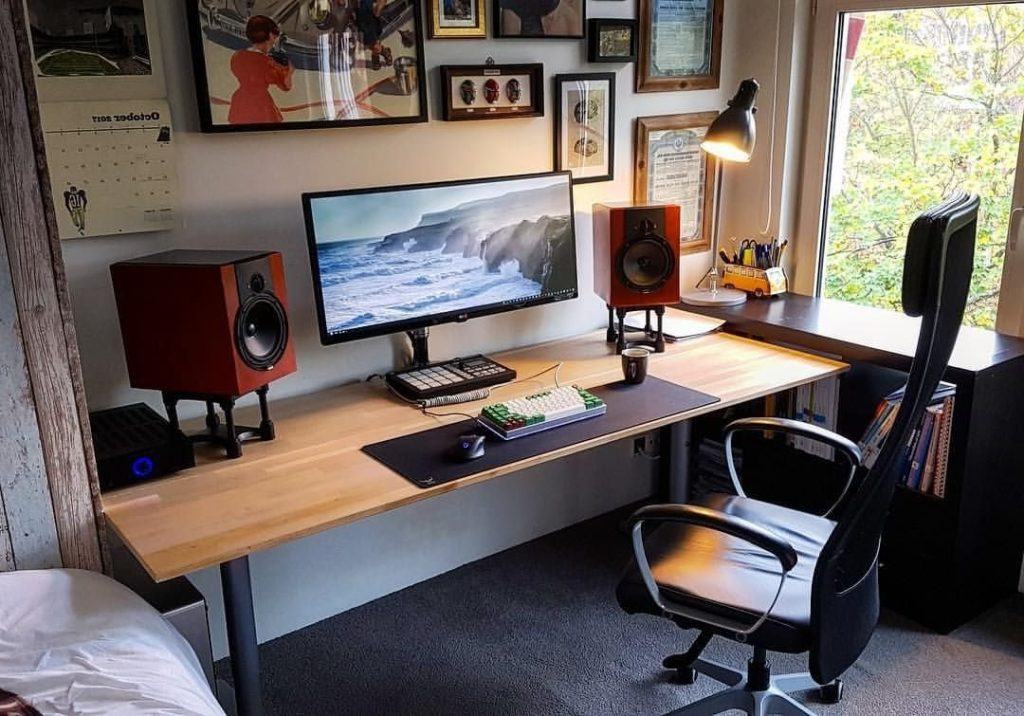 Weight Capacity
The IKEA Markus can hold up to 252.5 pounds of weight. For the most part, persons who weigh more than 250 pounds are fine.
However, aside from this Ikea Markus review, if you're more heavy, FittingChairs prepared guides and top picks for you in terms of the best big and tall office chair or the best office chair for heavy person.
Color Options
The Markus Ikea office chair comes in two colors including Glose black and Vissle Dark Gray version. Both options are both attractive. Just choose the one that appeals to you the most.
Objectively, in this Markus Ikea review, FittingChairs thinks that the gray variant will be more appealing. If you want a plush version, you might prefer the black version.
Ikea Markus Review: How Can It Help You Improve Your Health?
This point is debatable among reviewers who used this chair. There are something to do with the limited adjustability possibilities.
Besides what this Ikea office chair comes with its design, in this Ikea Markus review, we believe that you'll appreciate its height, lumbar support, and neck set.
Tilt Recline Adjustability
The backrest of this chair reclines to about 120 degrees. It's really awesome for those who want to stretch their bodies while taking a break from work.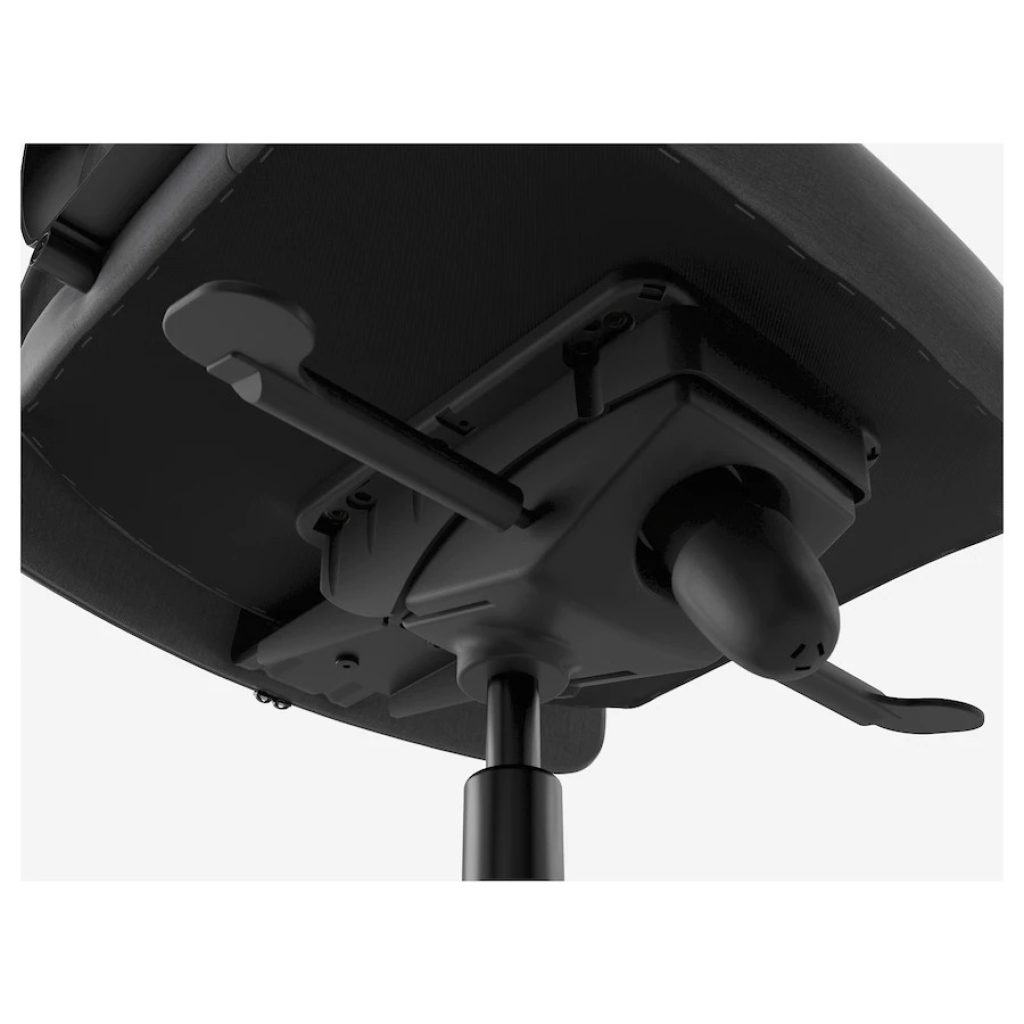 Indeed, no one can deny the chair's incredible ergonomic recline.
There's even a knob to alter the tilt recline tension. In the comparison of Ikea Markus vs Järvfjället, this feature isn't an advantage of the latter.
Moreover, its tilt can be readily adjusted, and the back may be locked in place to create a comfortable upright or relaxed seating position.
Fixed Armrests
The armrests are padded but not adjustable, which could be a problem for certain people. While these armrests are too low for some users, some think they're too high.
Or even many heavy persons prefer removing their armrests to provide more room for their legs.
This adjustability feature is really essential when it comes to the general versatility required in a modern office chair.
Anyway, the armrests are solid and long-lasting which helps more on your body, as evidenced by numerous buyers.
Lumbar Support
The Markus chair from Ikea has adequate lumbar support, which helps to prevent back pain and its consequences for the rest of your body.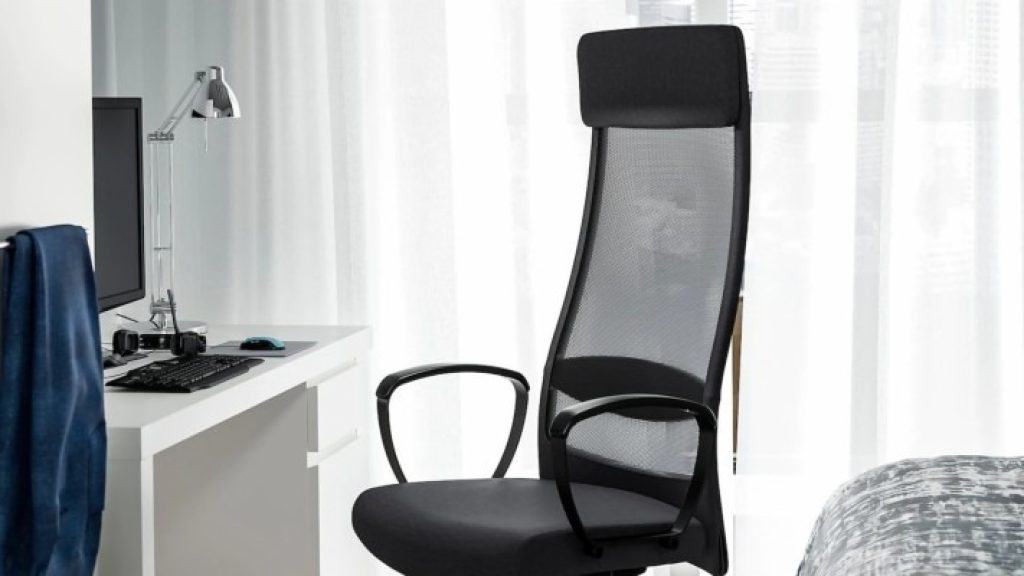 With it, you can have a correct posture which is believed to help relieve back tension, and effective lumbar support is considered necessary for optimal back health.
Fixed Headrest
This fixed headrest of the Markus chair can help you relax your neck and head from time to time.
However, the headrest is not adjustable, so it does not provide enough support for most people. Of course, if you don't use a headrest that much, maybe it won't be much of an issue for yourself.
Ikea Markus Review: Customer Reviews
Positive Review
Kindle Customer: "Ikea chair offers comfort and style"
"The chair is extremely comfortable and provides firm back and head support. I use it for home working and I have found that it is at the top end of the market in terms of comfort and style.
It offers adequate ergonomic support by way of the supporting armrests. Unfortunately these cannot be adjusted to tailor to the users needs which is my one criticism of the design.
One of the major advantages of the chair is that the user does not have to adjust the height of the chair everytime they sit on it. The chair maintains the same height and does not "sink" down when sat on multiple times.
Overall the chair is a good investment for home and office use albeit it is a little expensive for domestic use."
Show more +
Sam reviewed 5 stars "Good build quality and ergonomy for the price."
"For the price IKEA MARKUS is remarkably well built and has great egonomy.
Seat and neckrest is real leather (beware of faux imitation leather on chairs, as it tends to flake with some wear).
Foot/base of the chair is robust metal
Back provides proper support
10 year warranty, IKEA built these to last
The chair may not look comfortable, but it actually provides great back support and is really comfortable for long sessions. Most chairs in this price range that look like recliners or racing seats, are really bad for your back in the long run.
MARKUS does however not have adjustable arm-rest, but I would rather have a stationary solid arm-rest than a flimsy one that breaks. I highly recommend this chair for office and gaming use.
ProTip: If you lock the back into a stationary position, you might notice that there is still a little play. To minimize this you should also adjust the swivel to the stiffest possible, prior to locking it."
Show more +
Negative Review
David B: "Dreadful chair"
"Bought for my wife who hated it after a couple of days (she is 5ft 3 and found it hideously uncomfortable). So I ended up with it. I'm 5ft 8 and also find it hideously uncomfortable.
The seat base is too hard, too flat and can't be adjusted for angle. The back is positioned all wrong and there is no lumber support.
And worst of all, the arms are too high and also can't be adjusted and so the chair won't fit under a desk, forcing you to either remove the arms or sit too far away from the desk.
After a week of using this chair, I am in real pain (both thighs and back). It may be well-made, but if I was forced to use this for any length of time I would be crippled (seriously).
After the last Ikea chair disaster (the faux-leather disintegrated after 6 months) , I'll be avoiding anything from them in future."
Show more +
Lecso: "More of a garden lounger than an office chair"
"This chair is not a serious piece of office equipment. I'm sure it's fine for light usage, and for lounging in, leaning back and forward and doing impersonations of cat-stroking baddies from Bond films; but for sitting in all day while working at a computer, it's nothing short of a liability.
Since using it I have removed the non-adjustable armrests because a) they don't slide under my desk, and b) it's too tempting to rest my elbows on them, and they are at just the wrong height (for me), giving me painful tennis elbow from typing with my arms at the wrong angle.
I work intensively at a computer (typing continuously) for very long periods at a time, and began suffering from chronic neck problems after using this chair for less than a year.
This had never happened before in 15 years of working, even with cheaper office chairs that I bought in the past."
Show more +
Should You Buy The Ikea Markus Office Chair?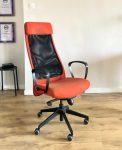 The Ikea Markus is definitely a solid budget option for a new office chair. It has a surprising number of features, which is at the upper end of chairs from elsewhere with a similar price tag.
Through our Markus office chair review, have you already had your choice whether buy this Ikea office chair?
If you're looking for a stylish chair to see you comfortably through the working day with a reasonable price, the Ikea Markus office chair could be the perfect choice for you.
Although it doesn't have the huge variety of adjustable features that some chairs have, but those it does have that work very well, especially tall users will love its comfort. Indeed, in this Ikea Markus review, we believe this best Ikea office chair is a good value for money.
Even when it comes to a budget of $200-300 dollars, it's difficult to think of a better, more sturdy, or more cheap office chair than the Ikea Markus.
See more:
Above is the Ikea Markus review of FittingChairs about its unique design and what awesome things this chair will bring to your health. Hope this article helps you partly in finding your right choice.