Mirra vs Mirra 2 – Which One Is Best?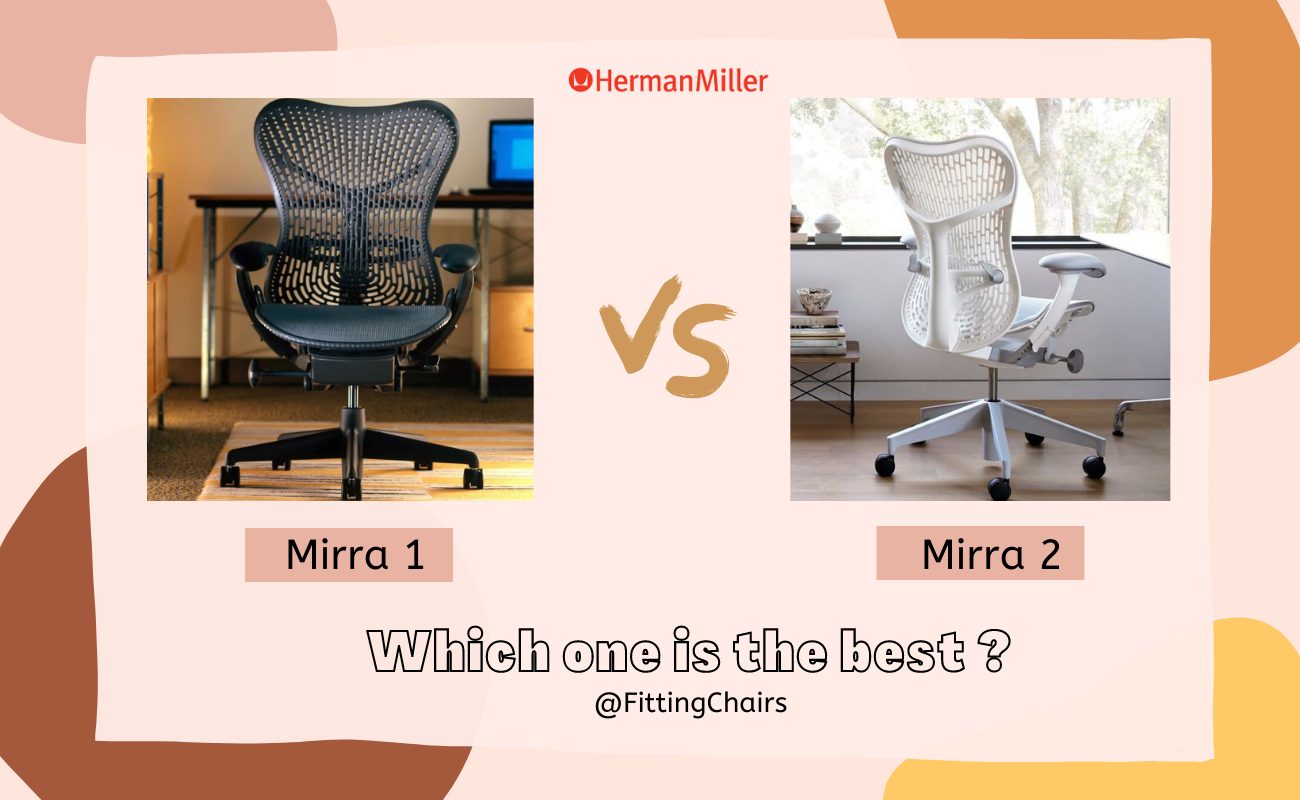 Do you want to know the difference between Mirra vs Mirra 2? Which one is better? In this article, FittingChairs will show you a detailed comparison between Mirra vs Mirra 2 chairs.
Mirra vs Mirra 2 – The story behind
Herman Miller has been in the furniture business for over 100 years and has risen to the top of the global rankings by delivering service and caring for the well-being of its customers and employees.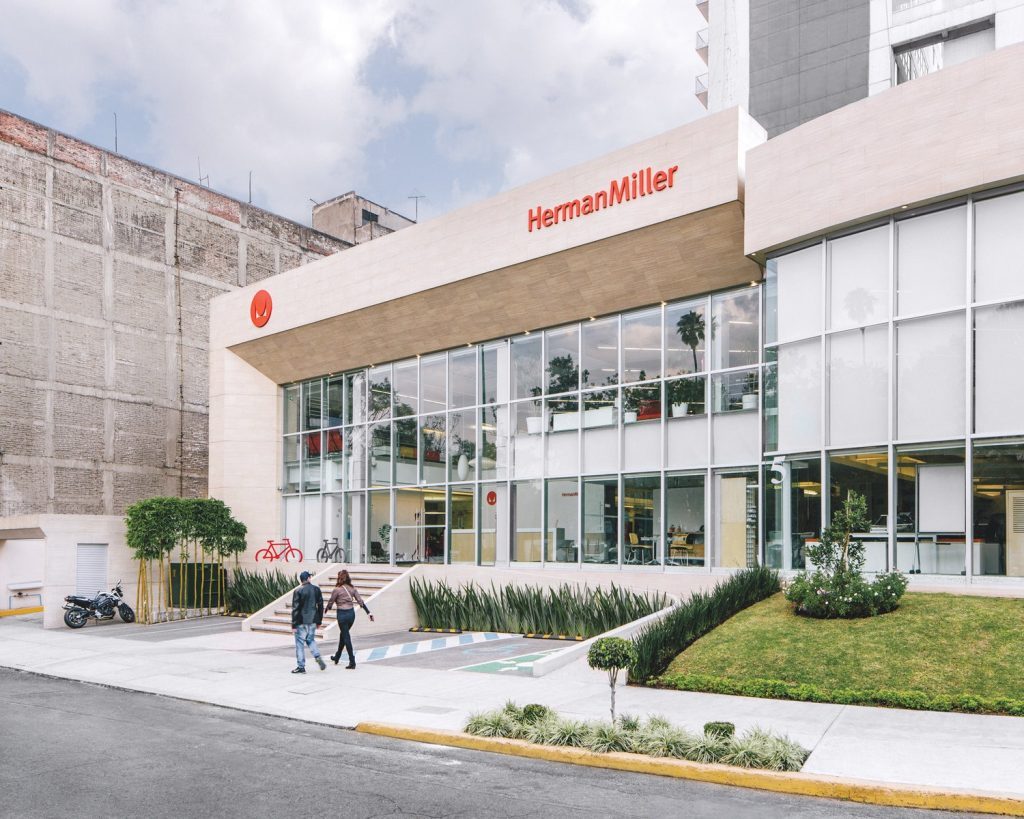 The original Mirra grew out of Studio. 7.5's vision of a chair that could respond to what people did. A chair that is simple, attractive, adaptable, extremely ergonomic, and ecologically friendly.
The designers blended ordinary materials in clever and novel ways to create a chair that naturally fits most body types with few adjustments and provides exceptional performance.
Mirra 2 is the result of Studio 7.5's rethinking of that concept a decade later.
Finding the concept of a highly personalized personal chair to be still viable, they removed material from and increased performance to practically every part of the chair.
Anyway, have you already known about difference of Herman Miller Mirra vs Mirra 2? Read on!
Mirra vs Mirra 2 – What's the same?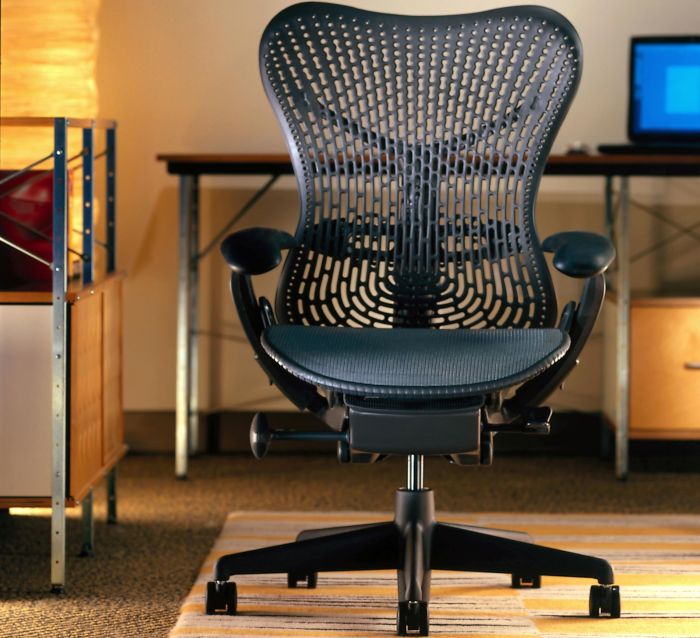 Herman Miller Mirra
The Herman Miller Mirra 1 chair, often known as the Mirra chair, is a standard-looking chair with a variety of adjustments. The Chair is less expensive than other Herman Miller chairs.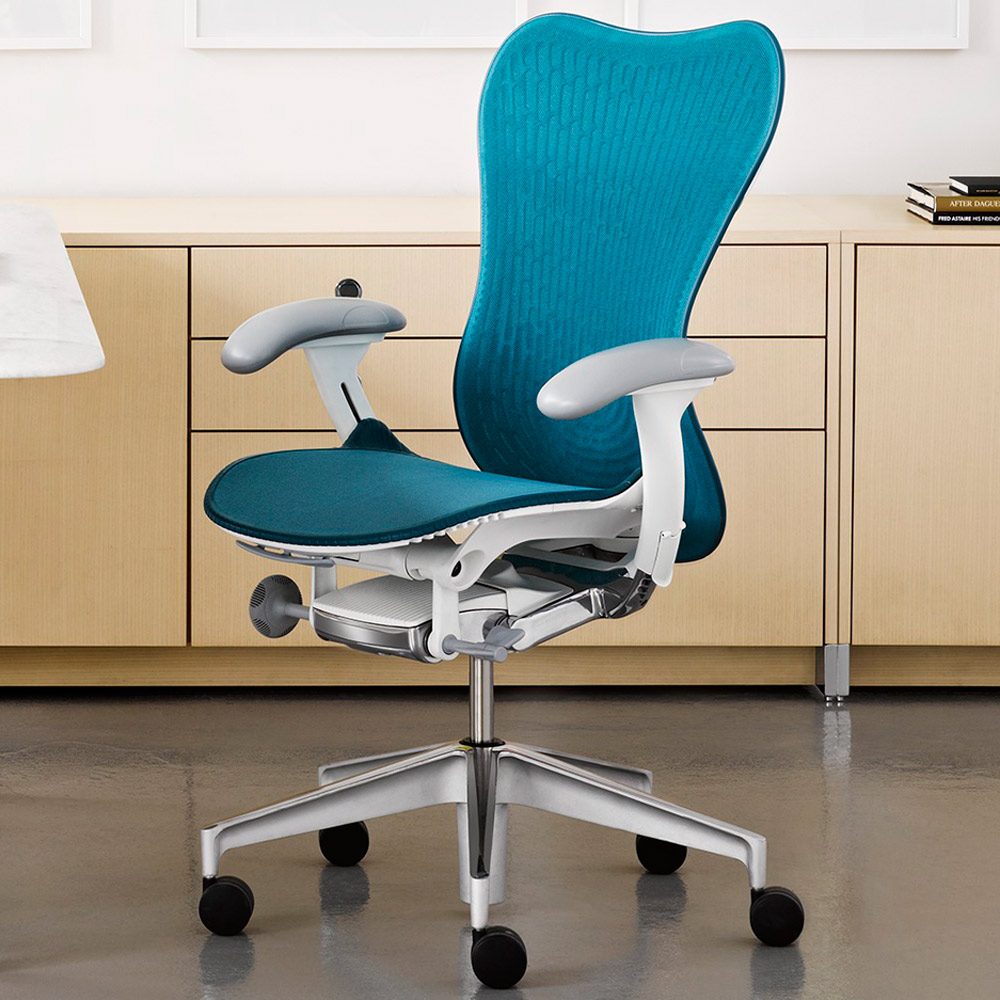 Herman Miller Mirra 2
The Mirra 2 office chair boasts dynamic surfaces that adapt to your tiniest movements. It balances between an immediate comfort and customized ergonomics.
The Mirra 1 and Mirra 2 office chairs, both created by Studio 7.5, feature an amazing design. The curved seat and backrest design make these chairs appear futuristic and beautiful. They are one of the most exquisitely crafted chairs we've ever seen.
When it comes to lumbar support, lumbar adjustments, reclining capability, and tilt lock choices, these chairs are nearly similar.
Herman Miller Mirra 1 vs Mirra 2 have mesh seats, and the mesh on Mirra 2 is AireWeave 2, a soft and durable mesh. Because of the harsher feel of the seat on both the Mirra 1 and the Mirra 2, these chairs may not be for you if you like a soft seat.
However, for those who appreciate the firm sensation and support that these chairs provide, they are an excellent choice.
Generally, Herman Miller Mirra 2 chairs might be out of stock on Amazon, so you can consider buy it from its brand's website – Herman Miller or a office furniture provider Office Designs.
Crazy about Herman Miller chairs? You can consider other ergonomic chairs from this big brand – Cosm vs Aeron.
Mirra vs Mirra 2 – What's the difference?
Now, let's find out a comparison of Mirra vs Mirra 2!
Size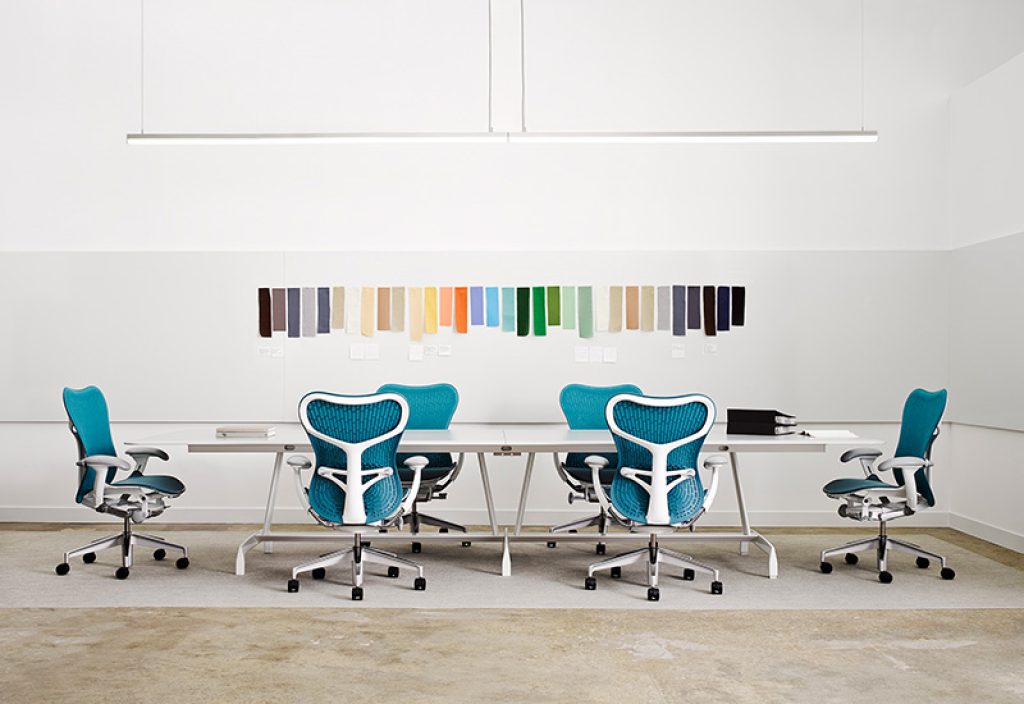 One of the most noticeable differences between Mirra 1 and 2 is the size. The Mirra 2 features a much smaller frame–open and airy, with more arm flexibility. Instead of a bulky control pod beneath your buttocks, you have a far more refined construction.
Adjustment Features
The older Mirra 1 includes a plethora of adjustment settings, including tilt tension, and lumbar tension, in addition to the regular seat height and depth adjustments.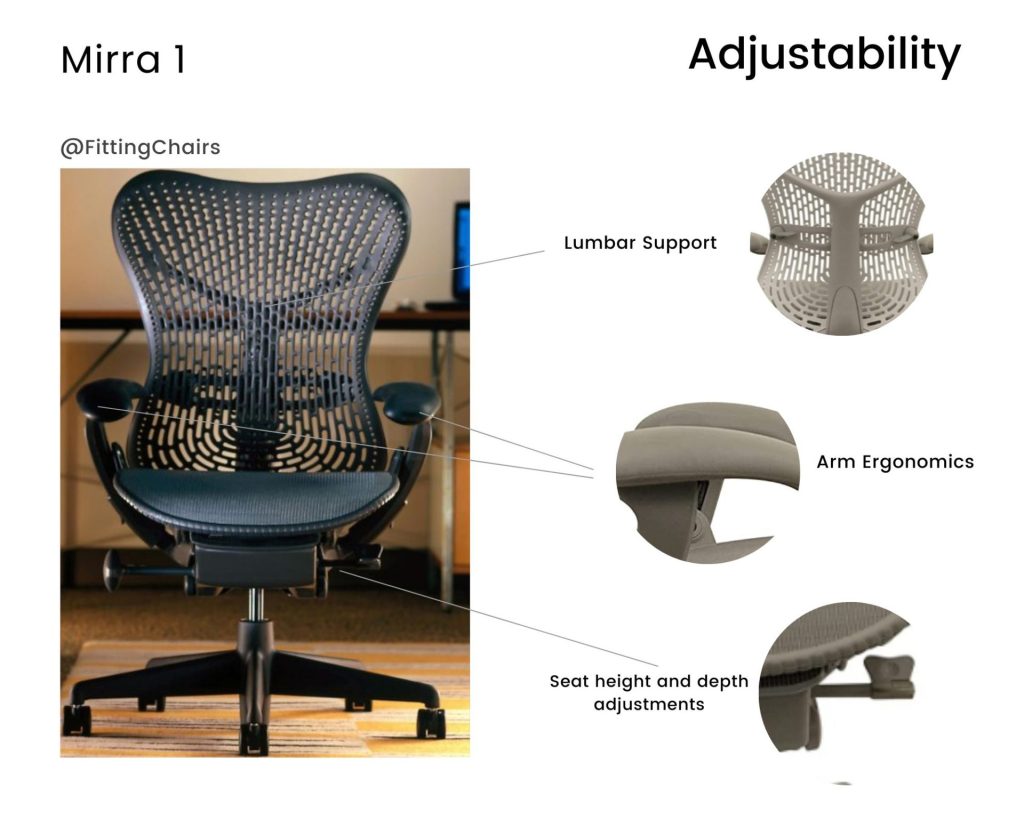 So, nearly 10 years passed, and the Mirra 2 is widely recognized as one of Herman Miller's most adaptable chairs.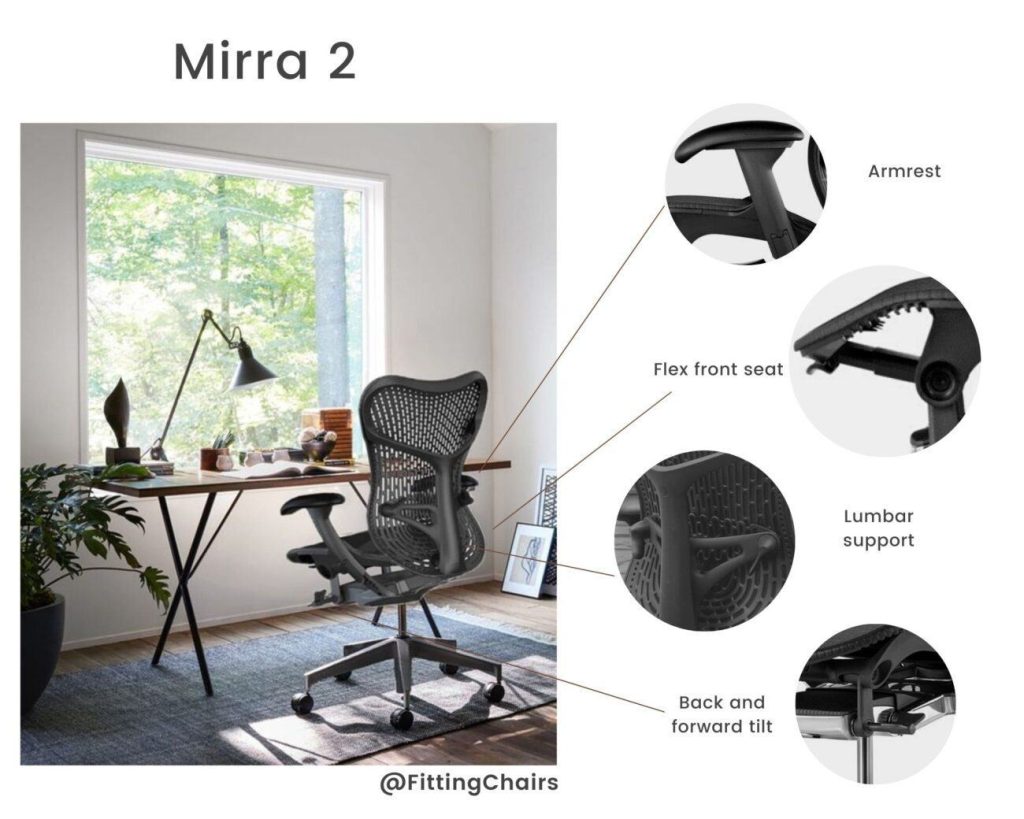 The seat depth adjustment is controlled by a lever located just below the front side of the seat and allows you to select the ideal position for your legs.
Aside from that, the typical seat height adjustment, adjustable lumbar support, and 4D adjustable arms are available.
There is also an option for forward seat tilt, but it comes at an additional fee, boosting the price of an already expensive chair even higher.
In terms of customization, do you want to know more ideal options from Herman Miller? Check this comparison of Herman Miller Aeron vs Embody to get your choice easily!
Ergonomic Features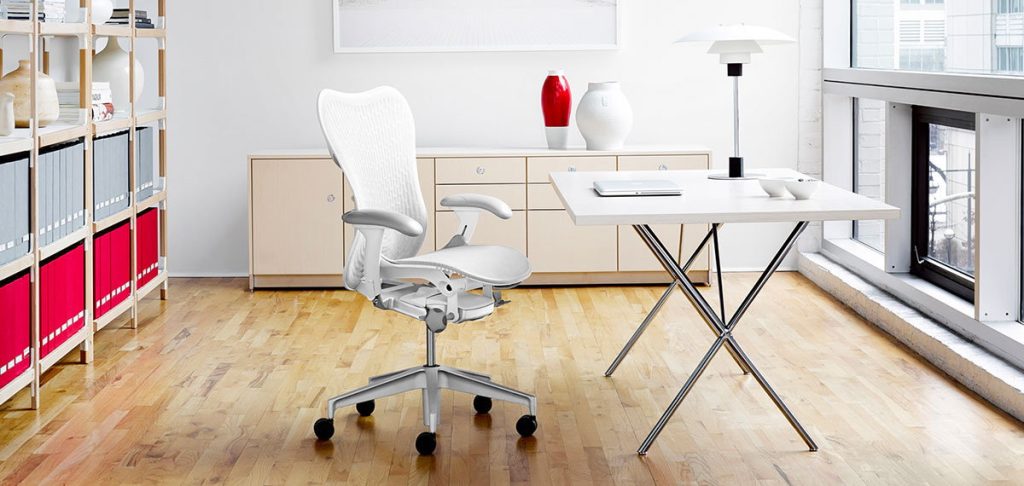 In terms of ergonomic features, both chairs offer nearly identical adjustability. However, the Mirra 2 chair is more comfortable as a result of the material improvements.
The Mirra 2 features a 4D armrest with more functionality than the Mirra 1. Mirra 2's seat is well-covered and padded, making it more comfortable than Mirra 1.
When comparing the two, these features make the Mirra 2 more advantageous in terms of providing more favorable options.
However, Mirra 1 is a good choice if you want a breathable chair with minimal cushioning and 3-way adjustable armrests. The larger and more roomy seat will undoubtedly be beneficial.
We have known most of Herman Miller office chairs comes with ergonomic features, Herman Miller Aeron vs Mirra 2 chairs are also made with adjustable lumbar support and buil-in armrests.
Mirra vs Mirra 2 – What's the customer say
Let's look through the reviews of Herman Miller Mirra 1 vs 2 from customers who purchased these items on Amazon!
Mirra reviews
Positive Review
Shannon K.: "Expensive but worth it, particularly for those with back pain."
I have used this chair at work for three years and as such am very familiar with it. It's the only chair that I can sit in for more than two hours without back pain. It's better than any of the many other office or gaming chairs I've used. It took me a long time to buy one for my house strictly due to the price, but after one too many days working from home I made the commitment and it was worth it!
This came to me preassembled and almost too well packaged. I probably spent 40 minutes getting it out if the box and popping all of the bags of air. However let it be known that there was no damage and it's been working perfectly since!
Show more +
Sydney: "Best adjustable chair"
Best chair if you're working from home and sitting all day. Very adjustable and comfortable in my opinion. I especially like it for the low lumbar support.
Show more +
Negative Review
Yiliang Shao: "It's a secondhand chair."
Well, honestly, I will give 2-3 stars for the chair itself at this price. But the seller was trying to fool us that this is just an "open box" chair. While after I received it, I couldn't help but notice it's a well-used second-hand chair. All of the adjustable nodes have rusty or wear; Same as basically all of the screws; Not to mention the dirty seating cushion. I guess It's at least used for 2 years or more.
By the way, some other comments mentioned the wet issue also happened. The chair is so damp when it arrives, with a strange smell. I don't know how this happened, maybe the seller rinsed it before selling it.
Show more +
K Simpson: "Old, used and smelly chair."
This is not an open box, it is an old chair that has been spray painted in attempt to look newer. The armrest rubber is literally disintegrating and smells like cat urine. I reached out to seller and got no response.
Show more +
Mirra 2 reviews
Positive Review
ingeniusone: "Worth every penny! Incredibly comfortable!!"
I've had lower back issues for the last 1.5 years and work on a computer most of the day. So I started researching and found that the wrong chair can hurt your posture, never would have thought that my chair (a Herman Miller Eames) was contributing to the issue..I used to have an Aeron at the offices I worked at but working from home more I needed to find a better solution..
After researching the multitudes of "ergonomic" chairs I went with this based on the reviews and I literally felt immediate relief in my lower back from sitting on this!! Really worth every penny!
Show more +
mix579: "Love this chair"
I've used many desk chairs — including other Herman Miller models — over the decades, this is by far my favorite one. When my son asked for a good desk chair I didn't hesitate to buy it for him. We are both tall but not heavy, and this chair fits like a glove. I am particularly sensitive to the seat depth, which is often not enough for tall people so their thighs don't get enough support. With the Mirra you can make adjustments that ensure your thighs don't tire.
Show more +
Positive Review
Mattevia: "Not worth the price"
Back plastic mesh broke in two spots about 2 inches in on both sides (4 broken areas) in lumber area after 4 years. The broken pieces poke the back when you sit. The comfort was alright before this.
Show more +
Chris: "Heavily flawed and overpriced"
This chair is initially comfortable when you sit it in for short periods. However, it does not stand up to extended sitting. It has multiple flaws that should not exist in an $800 chair.
While the mesh seat is comfortable towards the back of the seat, there is a support beam underneath it in the front that prevents it from flexing. This puts pressure on your hamstrings, which becomes very uncomfortable after a few hours.
The arm pads are as hard as a rock.
There is a plastic seam on the edge of the seat that scratches your legs when you turn.
The back is not very flexible.
There is no way to lock the arm pads in place.
Try sitting in one for a few hours before you buy one. Do not base your judgement on sitting in it for a few minutes.
Show more +
Mirra vs Mirra 2 – Pros and Cons

Mirra
Check Price on Amazon
Pros
A very top-notch design
TriFlex back with harmonic tilt.
Excellent back support.
Comfy and soft-sitting experience.
Cons
Made of plastic materials.
Tilts for a very short angle.

Mirra 2
Check Price on Amazon
Pros
High-end build quality.
Excellent adjustability.
Armrests that offer comfort.
Environmental focus.
Cons
Mesh does not fit everyone.
Slightly higher prices.
Final Thought
So, in this Mirra vs Mirra 2 comparison, which is better?
Depending on your preferences, you may make a different choice. If your budget is limited and you require a high-quality chair with numerous adjustments, you should consider Mirra 1.
On the other hand, if you have no budget limitations and want a high-quality chair that will care for your posture as well as your comfort, do not hesitate to get Mirra 2.
See more: Ergochair 2 Vs Aeron: Which Is the Winner?
FittingChairs hopes that you have a clear understanding of what is best for you based on the comparison of Mirra vs Mirra 2 that we gave in detail. I hope you've decided on the best solution for you!