Are gaming chairs bad for your back? There is nothing worse for your back than a chair that forces you into either a poor or fixed sitting position the way many office chairs do.
If you're a gamer that facing your lower back issue, don't miss this article of FittingChairs. We will share with you the list of the best gaming chair for lower back pain.
What to look for in the best gaming chair for lower back pain?
To find the best gaming chair for lower back pain, you need to have several key points in mind. Not all the gaming chairs offer matching comfort, back support, and armrest adjustment.
Here are the top features to look for in the best gaming chair for lower back pain:
Customizable armrest
Adjustable lumbar support
Customizable seat height level
Specifically designed lower back pillow
Headrest pillow with adjustable position
Ergonomic chair properties and shape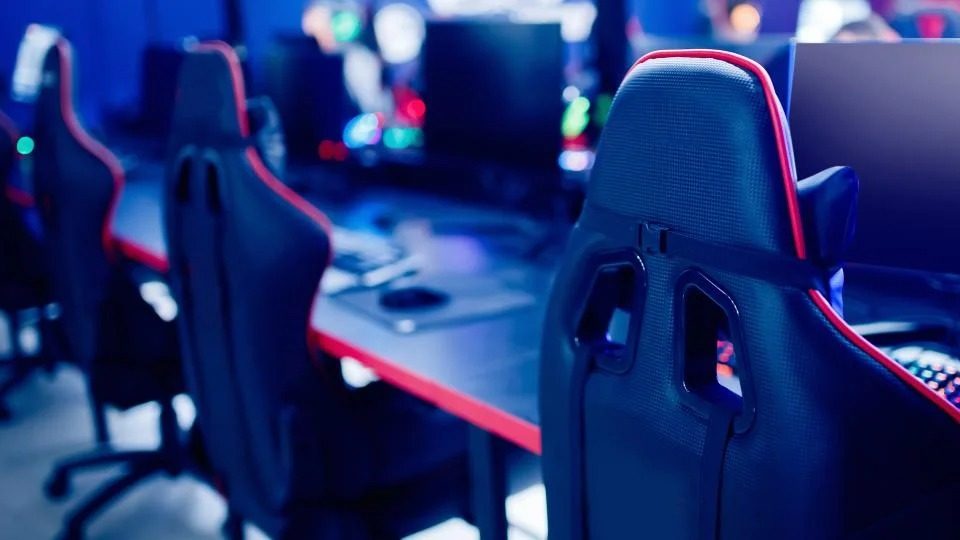 Having a decent gaming chair can greatly improve your gaming experience in the most unexpected ways.
It will also steer you on the right track concerning your health while gaming.
Best gaming chair for lower back pain
Having a good chair to support your back while sitting in is really important, especially if you're suffering from the lower back pain.
Here is our list of best gaming chair for lower back pain that you may need:
Secretlab Titan
The first best gaming chair for lower back pain is the Secretlab Titan.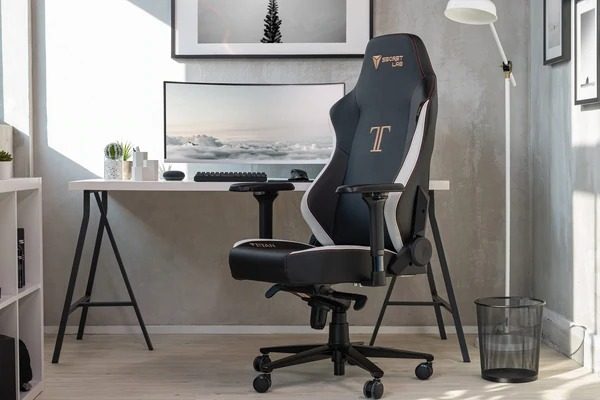 Secretlab Titan
What makes this chair awesome for people with back pain is its multi-tilt mechanism that mimics a zero gravity chair.
Pros
Outstanding build quality with at least a 5-year lifespan
Velvety, highly peel-resistant PU leather upholstery
Wide 4D arms with a rubbery exterior
Extra comfy gel-infused external neck pillow
Up to 5 years of warranty
165° backrest recline with seat tilt angle lock
Cons
Backrest doesn't rock when fully reclined
Seat cushion might be too firm for some
Maximum lumbar support depth might be inadequate for some
The new Secretlab Titan comes in 3 available size options, making it suitable for all users. The chair has the luxurious look, feel, and durability of high-end NAPA leather.
Also, the hybrid leatherette has a very supple and plush feeling for extra comfort.
The chair has all the adjustments users are looking for. When it comes to ergonomics and comfort, the chair has a medium level of firmness to strike the perfect balance between supportive and comforting.
Secretlab features a head pillow with cooling gel and new and improved built-in adjustable lumbar support that is leaps and bounds ahead of the rest of the gaming chair industry.
If you're having back pain looking for a racing-style gaming chair, then the Secretlab Titan is going to be your best bet.
GTRACING Gaming Chair
The GTRACING represents one of the best values in a gaming chair, providing a well-rounded set of features for well under $200. It also stands out as the best gaming chair for lower back pain.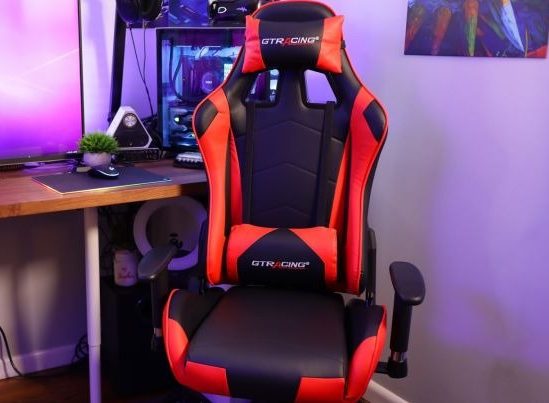 GTRACING Gaming Chair
The GTRACING gaming chair offers everything you would expect from a high-end racing style gaming chair at less than half the price of the other premier brands.
Pros
Affordable pricing
Contains a height-adjustable headrest and lumbar pillow
Includes a retractable footrest
Padding makes sitting for long periods comfortable
Cons
Squeaks a little
Armrests aren't padded
The key feature in the GTRACING chair that's conducive for back pain sufferers is the robust backrest. It can tilt and recline up to an almost horizontal 170° angle.
The external neck pillow that can be positioned exactly where your neck needs cradling. It can move up to 4″ vertically thanks to the cutout in the headrest that lets.
More retails:
Goplus Massage Gaming Chair
The third one in the list of best gaming chair for lower back pain is the Goplus Massage Gaming Chair.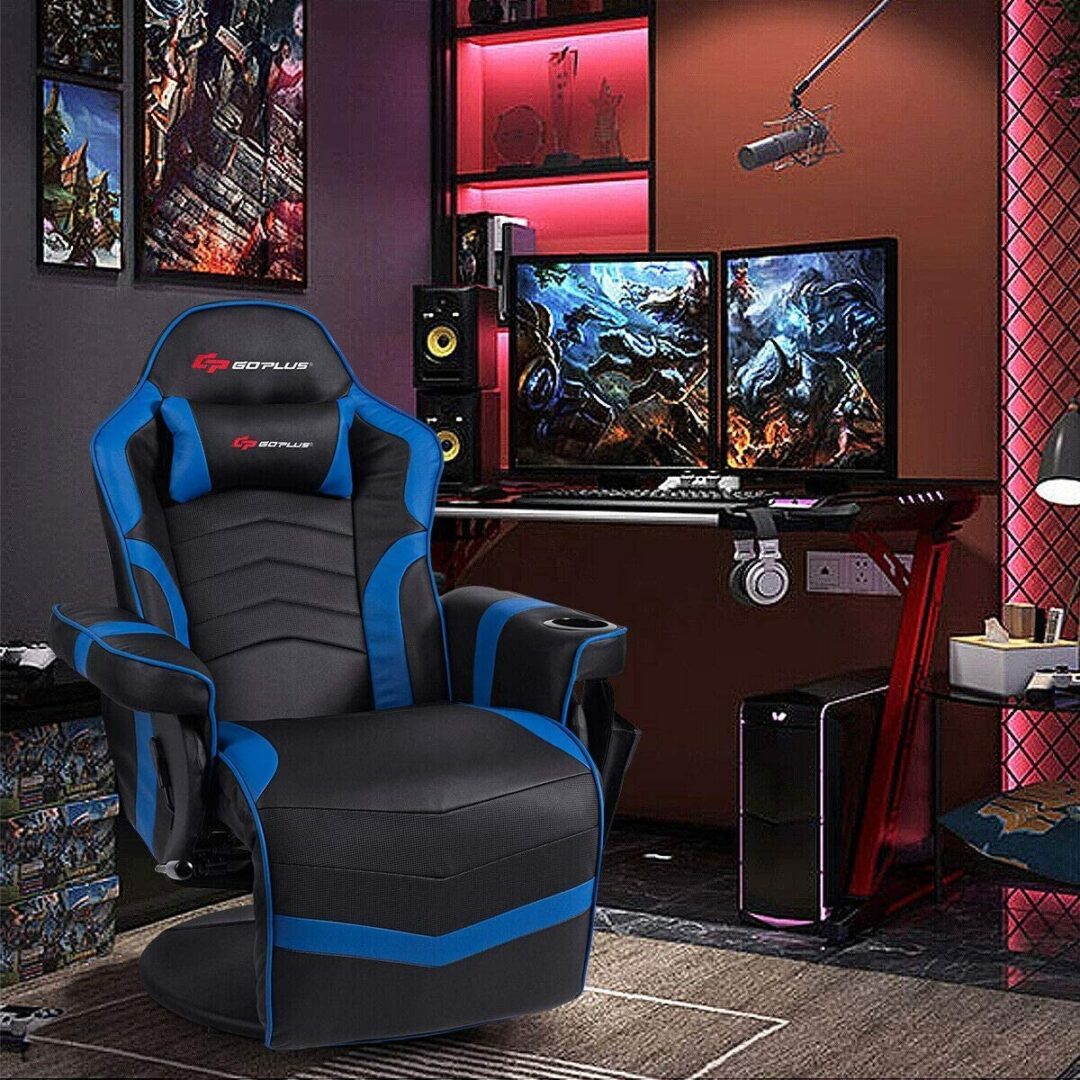 Goplus Massage Gaming Chair
The recliner is packed with all sorts of goodies like a soft reclining backrest, an adjustable footrest, a cup holder, and a side pouch.
Pros
Retractable footrest
Thick, high-density foam padding
Ultra large footrest to support your entire lower limbs
Convenient cup holder and side pouch
Decent 8 mode massage function
Cons
Fixed seat height not suitable to pair with a computer desk
The high backrest has a decent maximum recline angle of 140°. Embedded in it is a 4-point massage function which you can adjust in terms of mode, strength, position, and time.
The vibration helps with short-term back pain by loosening up your tense back muscles and promoting blood flow.
However, Goplus isn't height adjustable. If you intend to pair it with your computer desk, there's a chance it may be too low, unless you have an ergonomic desk with height adjustment.
Herman Miller x Logitech Embody
This one of the best gaming chairs for lower back pain is really worth buying if you want to treat your back well.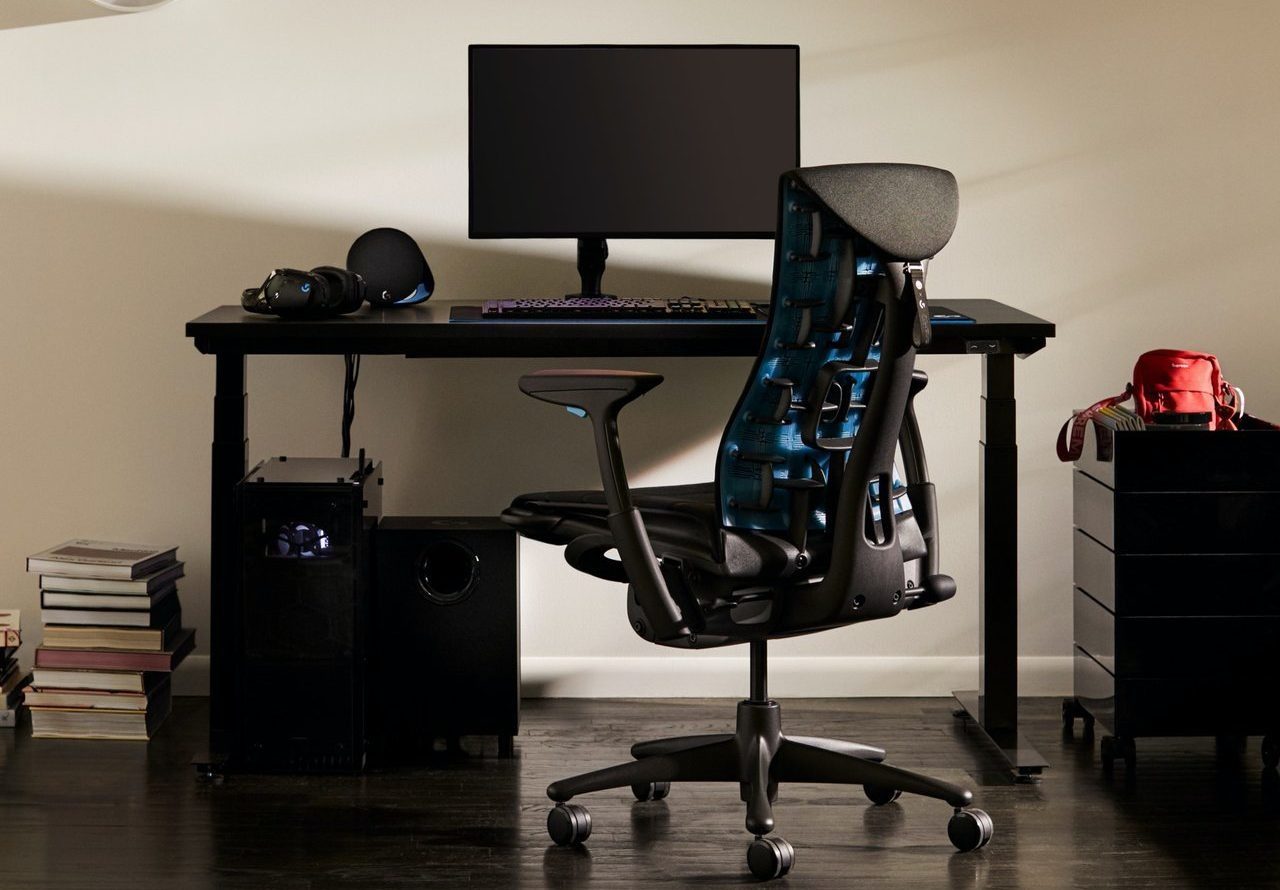 Herman Miller x Logitech Embody
If you are ready, the Herman Miller x Logitech G Embody Gaming Chair will advance your play. It's enhanced specifically for gamers, with a range of supported postures.
Pros
Offers 10 colors to choose from
Fits all body types
Ergonomic design supports healthy posture
The manufacturer offers a 12-year warranty
Pixelated support distributes pressure across the body and reacts to any movement
Cons
Quite expensive compared to other gaming chairs
The backrest is designed much slimmer than the other gaming chairs that have a wide backrest. It aligns with your entire spinal curve for a healthy sitting posture.
The Embody features a pixelated material for its seat cushion and backrest. This pixelated system is designed to distribute evenly the weight across different areas of the chair depending on your body and weight movements.
This chair is able to bend at the top, giving you more flexibility when in a locked upright position or a reclined position.
Plus, it has all the adjustable features that most chairs have such as fully adjustable arms, adjustable seat depth, height, and recliner.
Corsair T3 Rush
Another one in our list of best gaming chair for lower back pain is the Corsair T3 Rush.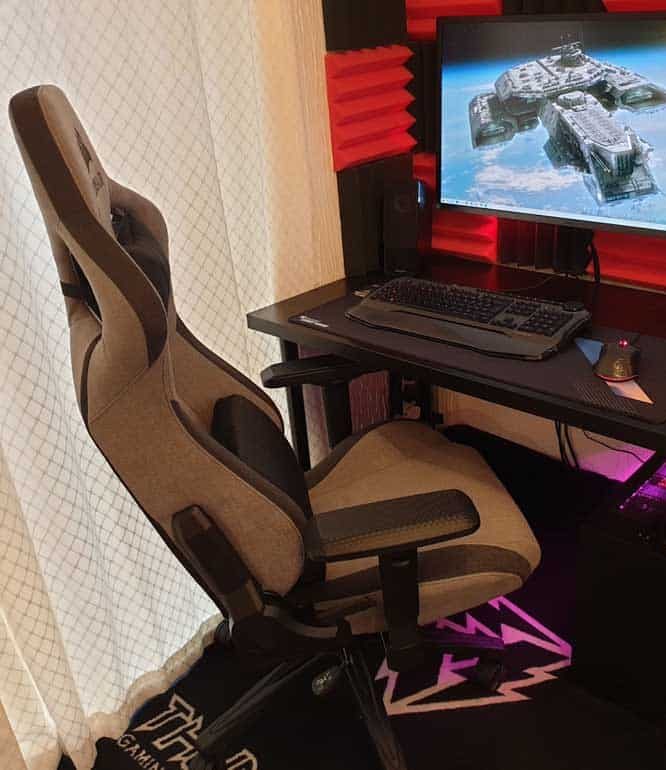 Corsair T3 Rush
This is the latest addition and it has a much-needed facelift.
Pros
Breathable soft fabric
4D armrests
Memory foam lumbar pillow
180-degree recline
Cons
Not for the tall or large-framed
The T3 Rush is a very comfy chair thanks to its memory foam lumbar pillow but, which uses a breathable soft fabric in place of faux leather.
It can also recline to 180 degree in case you wanted to lie back and take a comfy cat nap.
It only has one issue, it mostly fits for smaller framed users. Apart from that, it is an amazing gaming chair for lower back pain.
E-WIN Gaming Chair
E-WIN Gaming Chair is a worthy considering when you need the best gaming chair for your back.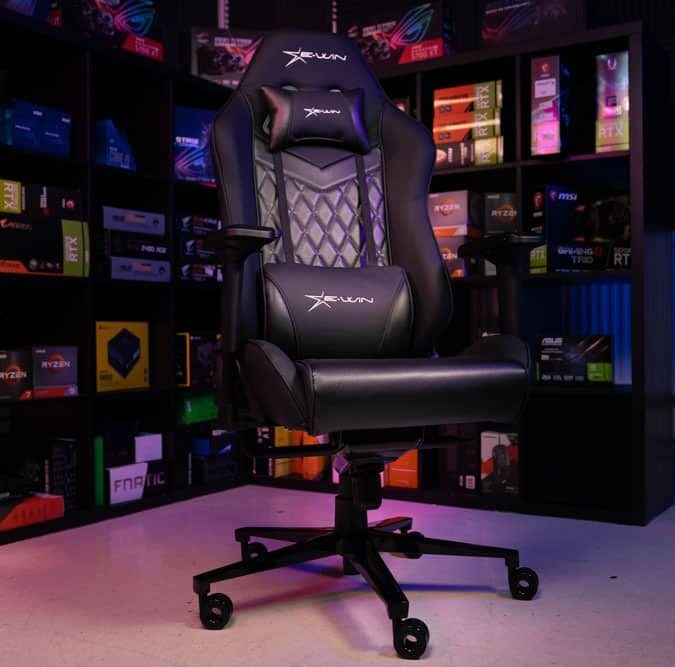 E-WIN Gaming Chair
This is all-around solid racing style gaming chair offering excellent build quality and comfort at an affordable price.
Pros
Pillow and lumbar pillows are detachable
The armrest is 3D adjustable
Ideal for big individuals with a wide seat width
Recline feature tilts up to 155 degrees
Cons
PU leather can cause heat to build up resulting in a sweaty back
The E-WIN gaming chair is an excellent choice for big and tall individuals. It has a wide seat width and high backrest, while also supporting up to 330 pounds. It also includes a steel frame for durability and easy to clean.
This chair allows the user to recline their seating angle from about 85 degrees to 155 degrees.
It comes with a height-adjustable headrest pillow and lumbar cushion, which is much wider to properly support your lower back.
AKRacing Core Series EX
If you're someone who tends to get warm while sitting at your desk, this chair could be a good option for you, as the fabric is more breathable than the typical PU leather found on most other gaming chairs.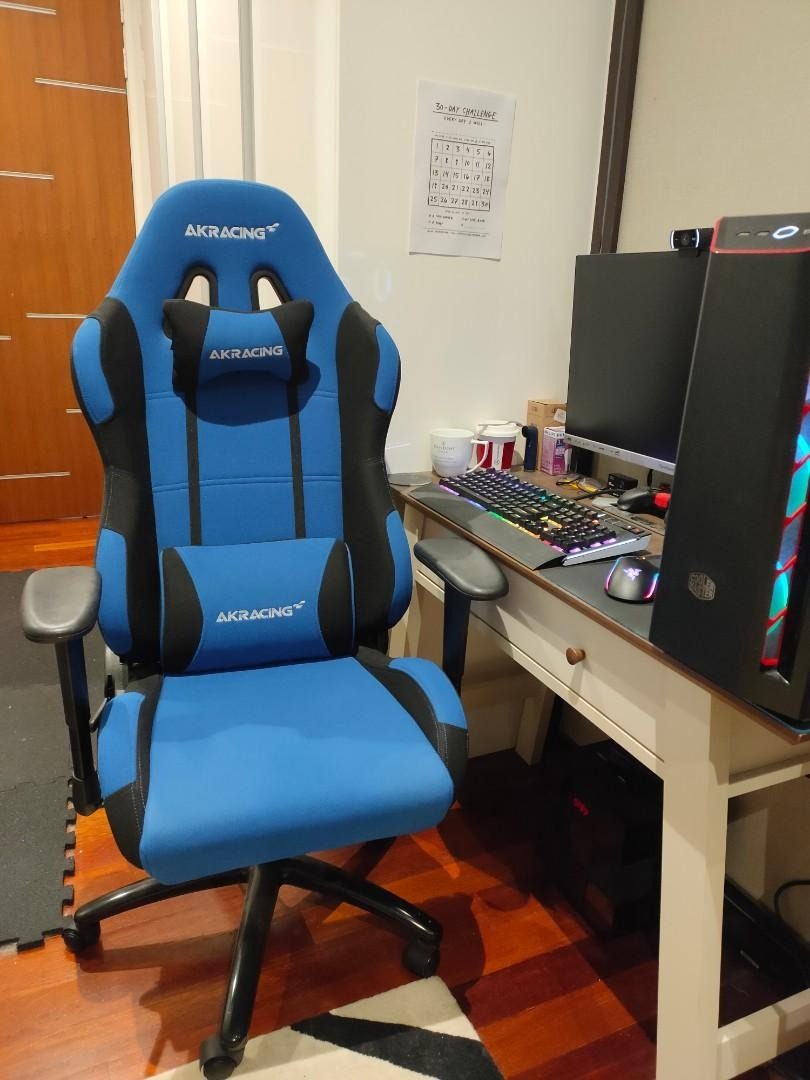 AKRacing Core Series EX
The AKRacing is one of the best fabric gaming chairs offering excellent comfort and premium materials, while still keeping the price relatively low.
Pros
Cold cure foam padding
Armrests are 3D adjustable
Has a weight capacity of 330 pounds
The fabric material is both soft and breathable
Backrest has the capability to recline to a horizontal position
Cons
A little more pricey to some of its competitors
The seat cushion is a bit on the harder side
The chair has a large metal frame underneath that is durable and supportive.
It features a pillow headrest and lumbar support. They are a bit on the firmer side; however, the firmness makes it more supportive if you're someone with back pain.
Overall, this is the best gaming chair for lower back pain if you're in need of.
X Rocker Pro Floor Gaming Chair
The X Rocker Pro Series H3 is one of the best floor rocker multi-media gaming chairs out there ideal for playing video games, watching movies and TV, listening to music or just lounging in your living room.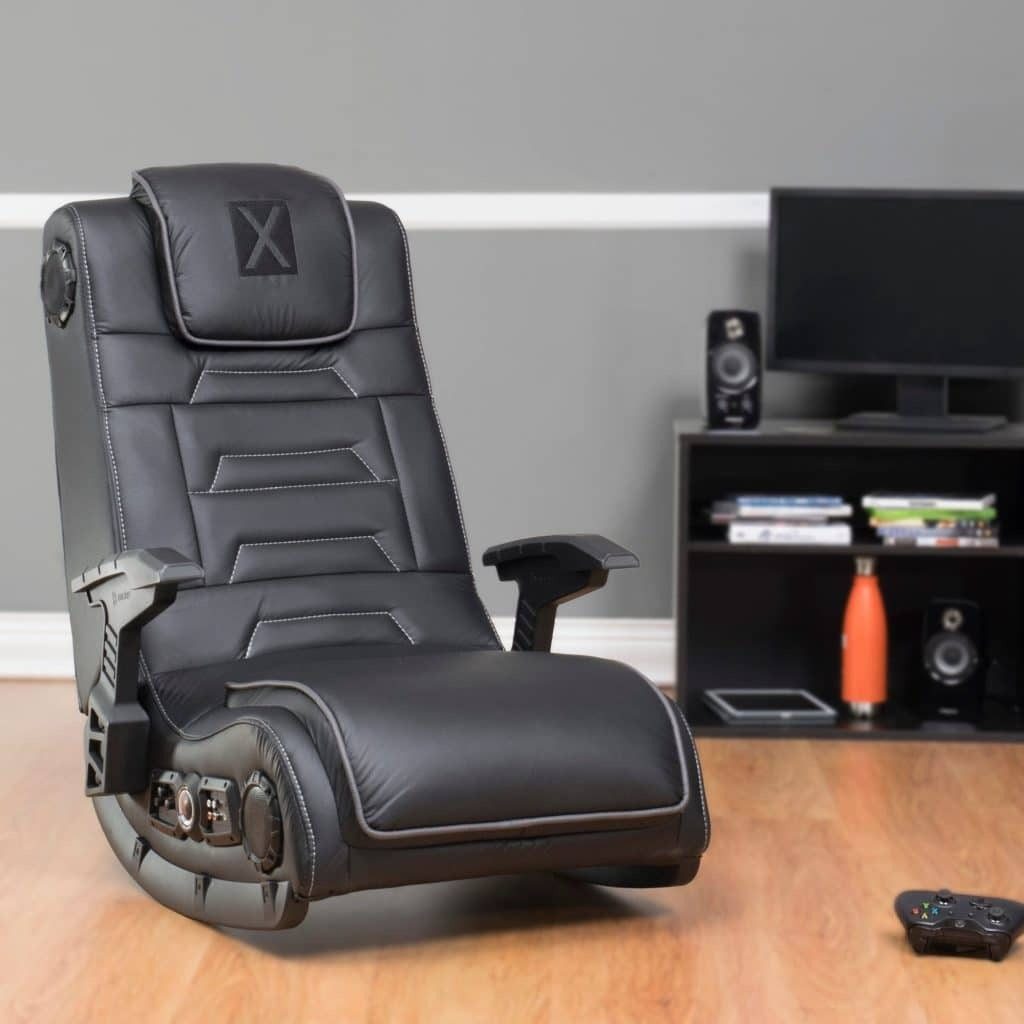 X Rocker Pro Floor Gaming Chair
The X Rocker Pro has a highly padded backrest with an integrated head pillow to support your entire back. Buy it now!
Pros
High backrest and armrests help lessen back stress
Ability to rock decompresses spinal pressure
Space-saving, folding design
Immersive and realistic audio and vibration system
Cons
Seat upholstery lacks durability
Chair is fixed in height
Audio to HDMI converter required for some gaming systems
The X Rocker provides a few features to enhance gameplay. It has four front-facing speakers with audio modulation technology and a powerful subwoofer.
Users can connect with other X Rocker chairs nearby to sync the audio and vibration motors together.
The chair features a durable wood for its base. It also uses a padded vinyl that won't easily stain or tear.
RESPAWN 110 Gaming Chair
RESPAWN 110 Gaming Chair is another best gaming chair for lower back pain.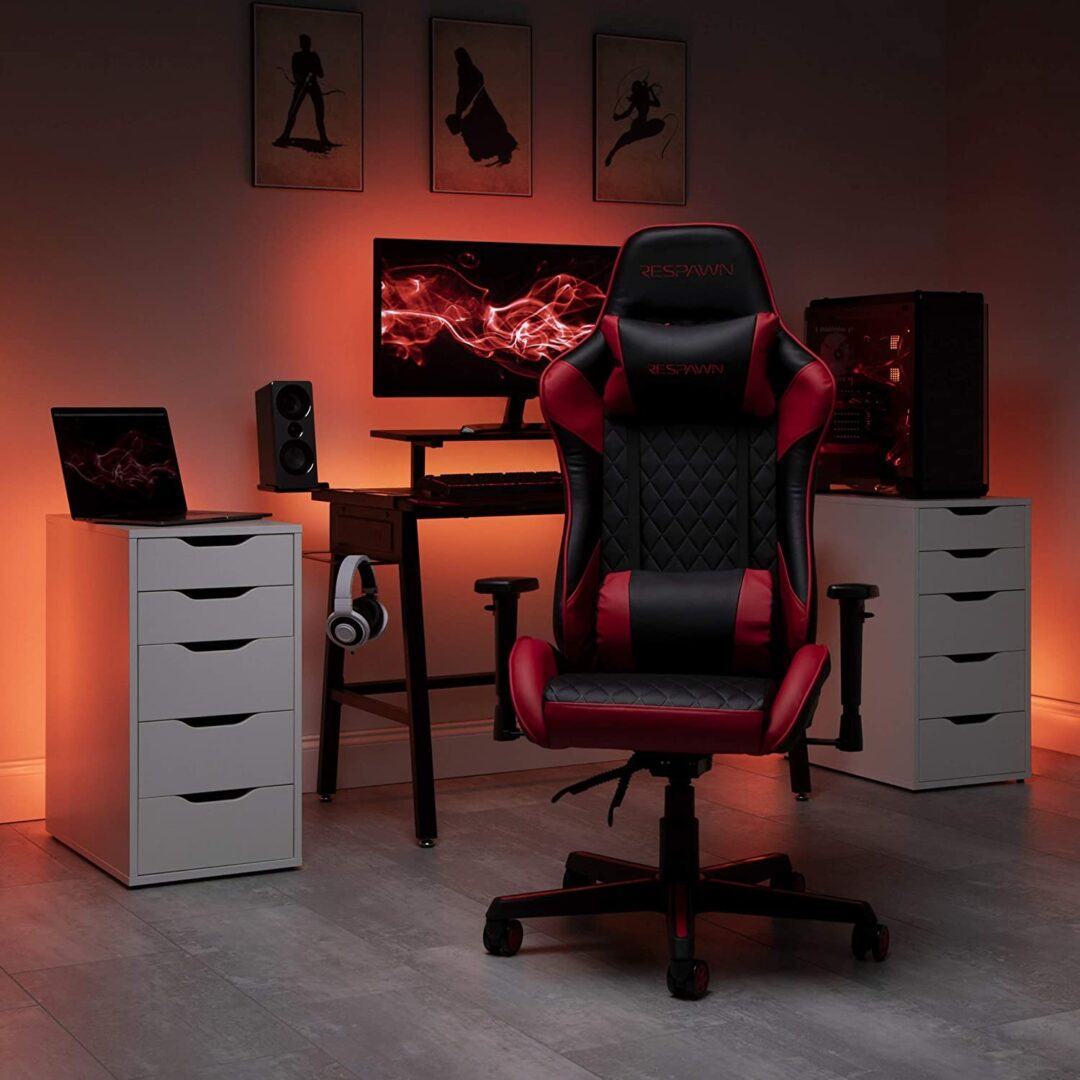 RESPAWN 110 Gaming Chair
The RESPAWN 110 is one of the best options for a racing style gaming chair with a footrest. Excellent quality at an affordable price.
Pros
Extremely soft padded footrest
Includes a padded armrest
Strong and sturdy base
Able to recline at a very deep angle
Has a 4D armrest adjustability
Cons
Strong plastic odor when opening box
A little deflation in cushion over time
This chair offers a retractable footrest that has thick padding to allow your legs and feet to relax.
Its backrest features segmented padding to provide contoured back support. There's also a thickly padded headrest and lumbar pillow. Both are height adjustable.
The Respawn RSP-110 features a back recline of up to 155 degrees. It also comes with a 4D armrests adjustability and padding on the armrests.
Dowinx Gaming Chair
And the last on in our list of best gaming chair for lower back pain is the Dowinx Ergonomic Gaming Chair.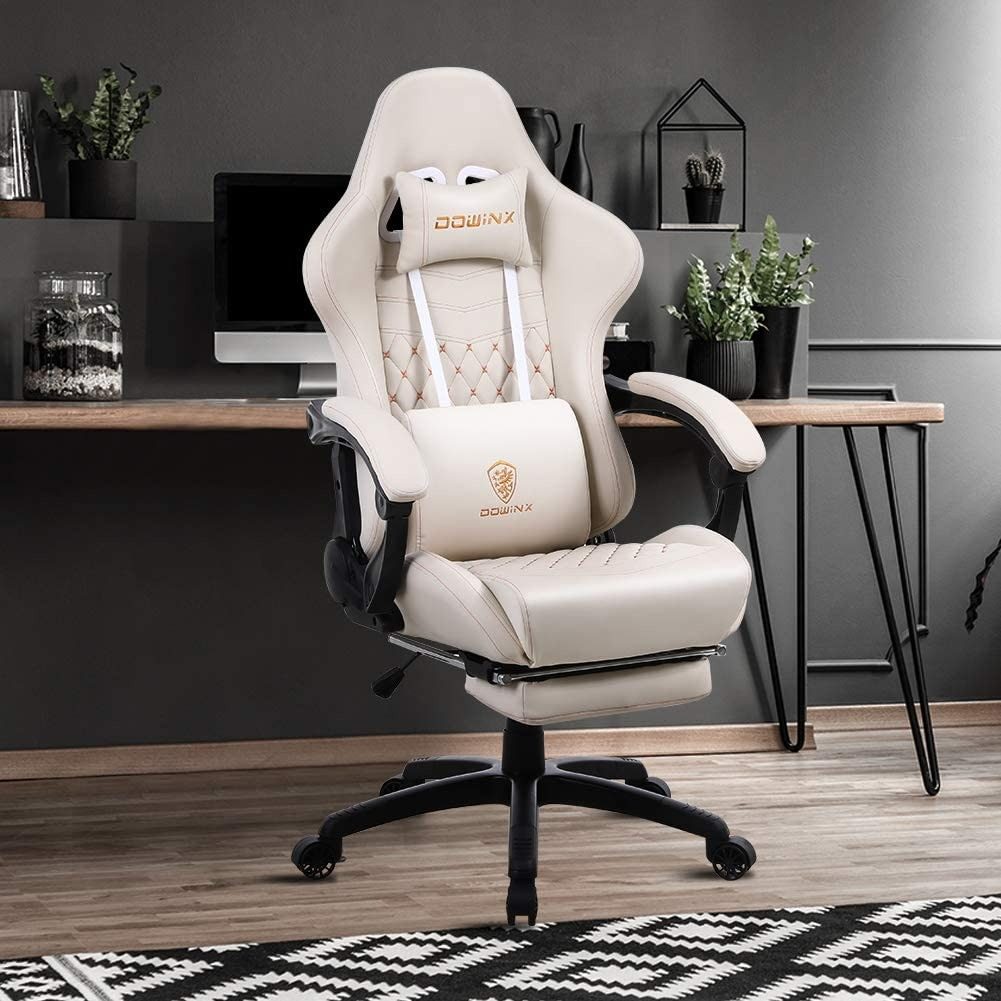 Dowinx Gaming Chair
The Dowinx Ergonomic Gaming Chair prides itself on being comfortable and providing support without worrying about too much.
Pros
Well built for its price
A good lower back support
Comfortable for long periods
The removable lumbar pillow of the chair isn't as counterproductive as some comparable models, and the chair is still firm and posture-friendly without it.
In short, Dowinx is the best gaming chair with lumbar support for back pain sufferers. It makes your spine align and improve your body posture.
In short, whether you watch TV, study, or play games, you need a good chair that can support your back as well as keep you comfortable for long sitting hours.
See more:
Hope that this article about best gaming chair for lower back pain can help you pick out the best one. Come back to FittingChairs for more helpful lists.