What are you looking for in a new ergonomic office chair? Good ergonomic adjustability and features? Unique design to light up your workspace? If this is the case, the Ergoal One might be the right one for you.
In this article, FittingChairs would like to share with you our Ergoal One chair review to help you learn more about this ergonomic office chair and see whether it meets your need.
Ergoal One chair review snapshot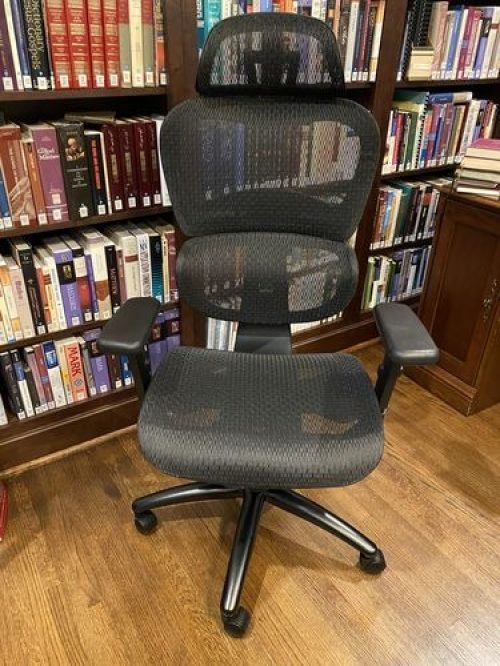 The chair will help keep the back pain and pressure to a minimum, and minimize fatigue, sore muscles, tired shoulders.
Great!
The S-shaped design of the backrest eases pain and pressure, making it a great choice if you struggle with back pain from sitting too long.
Pros
Ergonomic S-curved frame design
Self-adjusting lumbar support piece
Breathable mesh materials
Adjustable headrest
Good adjustability and locking recline mode
Cons
Lumbar support may be too low for some users
Ergoal One chair review: What's special about its design?
At first glance, the chair's slender appearance may not say very much about its level of durability.
However, that slim-line design belies a superior strength. The Ergoal One could more than hold its own when compared to much bulkier chairs.
The Ergoal One ergonomic chair is made using advanced mesh material to allow airflow that cools the user's entire body. The fabric seat feels supportive but not stiff. It feels like a hammock.
The elastomer mesh seat also adjusts to the way you sit, providing ample comfort and additional support.
The Ergoal One's design feature remains a big highlight – it's got a unique, S-shaped design. This chair features a gentle curve with flexible lumbar support that's designed to help hold your spine in a natural, feel-good S shape.
The way the backrest is designed to hold the back in its natural S-shape actually gives the Ergoal One a unique appearance.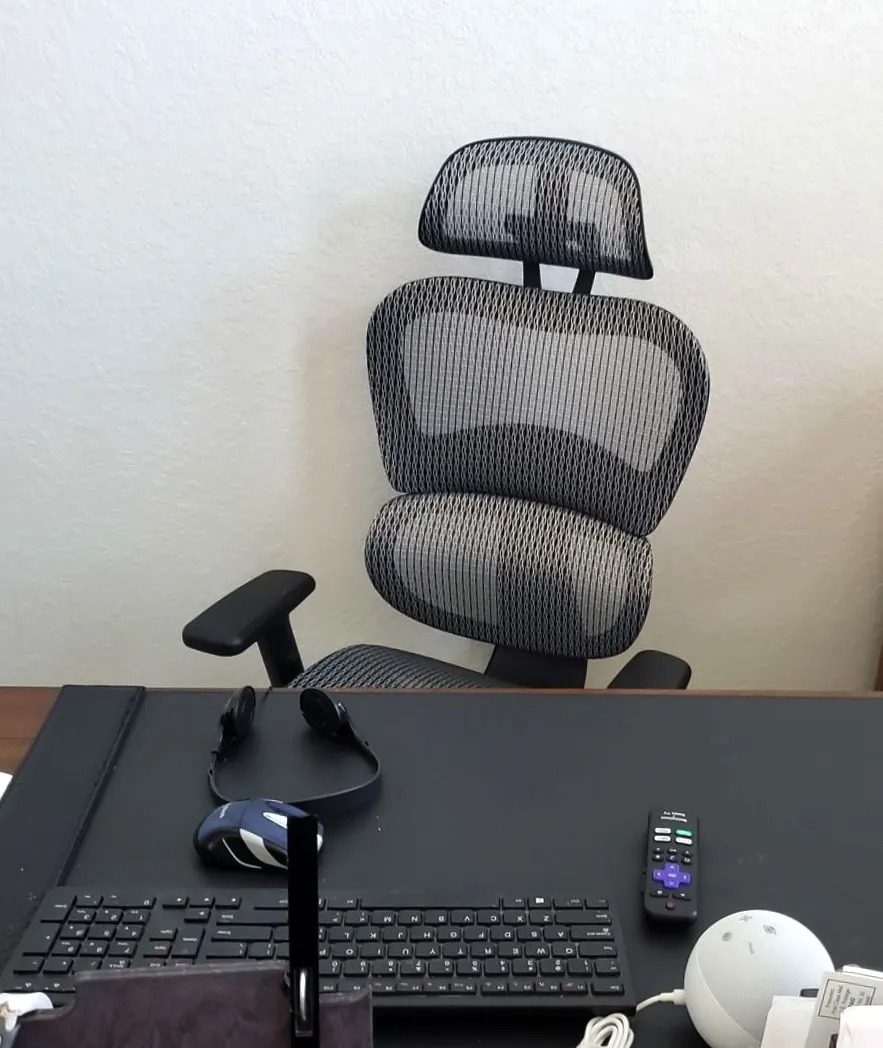 The seat features that waterfall design which saves your legs from pressing into the seat edge.
You can lean all the way back in this chair without pulling any levers or hitting any knobs.
The Ergoal One ergonomic chair has the weight capacity of 300 lbs.
The company offers seven different color combinations for you to choose.
Keep reading the Ergoal One chair review to learn more about its ergonomic features.
Ergoal One chair review: How can it help you improve your health?
Let's start the "Ergoal One chair review: How can it help you improve your health?" part with the chair comfort.
Seat comfort
As you can see, the Ergoal One ergonomic chair is big enough to provide plenty of space for some larger users. It also ensures that those of shorter stature can still find a suitable seating position.
The S-shaped design of the backrest eases pain and pressure, making it a great choice if you struggle with back pain from sitting too long.
Besides, the waterfall design saves your legs from pressing into the seat edge.
Seats without this kind of sloped edge tend to restrict your circulation, playing a big contributing factor in that tired, sluggish feeling that can come on strong the longer you spend in your chair.
Thus, this one might be a good choice to help you stay alert, awake, focused, and productive.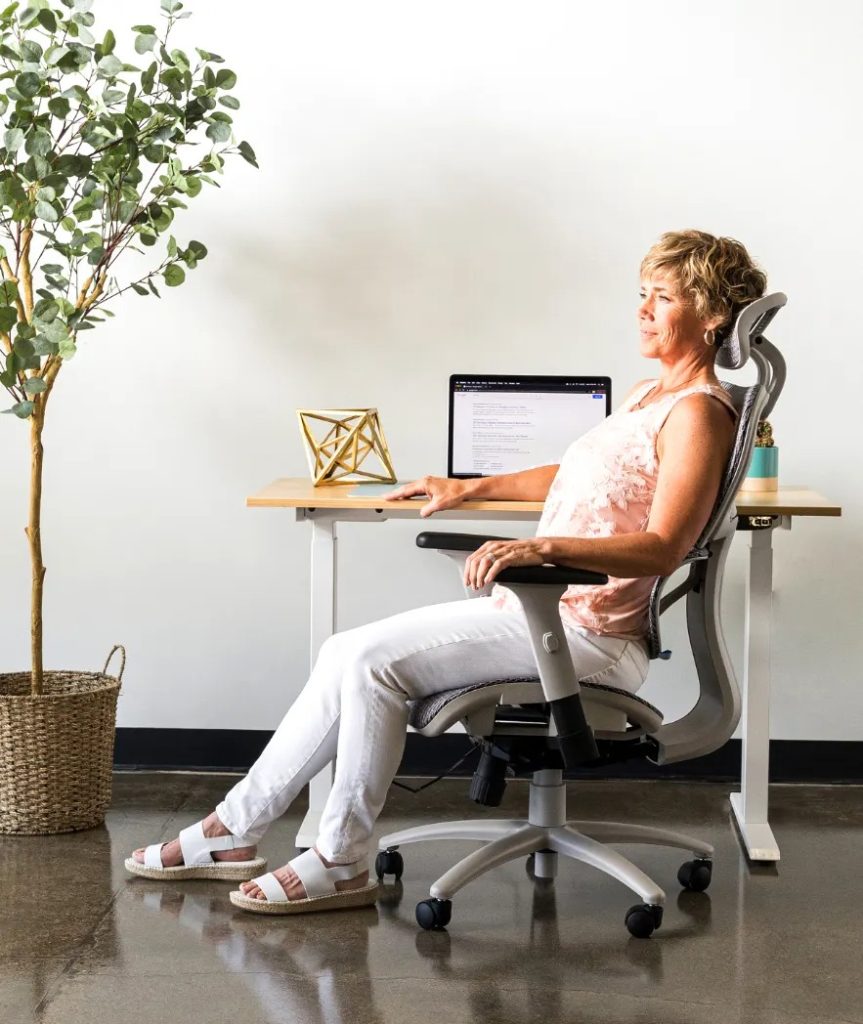 Ergonomic features and adjustments
The Ergoal One chair offers full adjustability and locking recline mode.
Self-adjusting lumbar support
The S-shaped backrest is not the only thing the Ergoal One chair has going for it in terms of ergonomics.
There is an innovative, auto-adjusting lumbar support feature that adapts itself to the shape of your back and responds to the way you sit.
So, you'll always maintain good posture no matter what tasks you have to take care of.
However, the lumbar support is too low for some people. In this is your case, you can always add a cushion for mid back support.
Aside from that, the breathable mesh backrest can recline up to 117 degrees to help you find the most suitable position for yourself.
Once you've found that position, a simple locking mechanism helps you to keep it in place.
Headrest
The adjustable headrest is another ergonomic feature that we would like to mention in this Ergoal One chair review.
It can be moved to several different positions which works wonder for alleviating tiredness and soreness from the neck and shoulders.
Adjustable armrests
The 3D adjustable armrests can be moved up and down, backward and forwards, and side to side. These arms does offer lots of freedom and flexibility.
Seat height
Finally, the seat height can be adjusted by several inches.
This can be managed easily from a seated position, so you don't have to waste time getting in and out of the chair just to find a spot that suits.
Just sit in the chair and utilize the handy controls to find your own perfect seating position in seconds.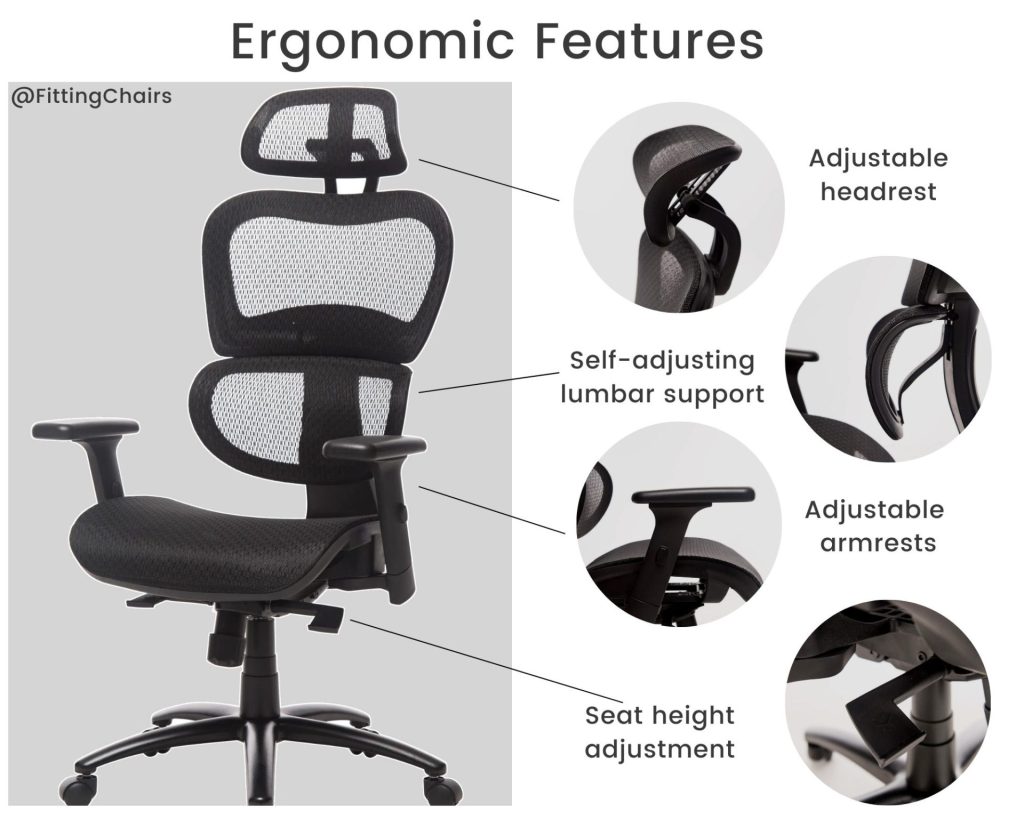 Ergoal One chair review: Customer reviews
After having a look at our Ergoal One chair review, let's see the reviews from customers on the Ergoal website.
Positive Ergoal One chair reviews
A review from Robert L
This is my favorite chair that I've ever bought. I tutor online for hours in a single stretch, so I needed a chair that was designed completely to support and encourage good posture. After several months using it, I can say that no matter how long I sit for appointments, I don't feel any stress or pain at all in my upper and lower back. I used to sit in a folding chair, for years, and when I look back, it seems like a torture device. I got my chair on sale, but I'd happily pay double for it. So glad that I made this choice
Show more +
RUSSELL C.
The chair is lovely – it fits my back well (I'm 6'2″) and the design keeps me thinking about my posture. After two weeks, I've felt my posture change and I've actually applied it to other seating options; it's like this chair taught me how to sit upright.
On the other hand, I have been trying to get through to customer service for 2 weeks, to no avail. It's ironic when they keep hitting me with emails to write reviews, yet they can't take the time to answer one of my requests. I would love to leave a more positive review, once I receive the warranted customer service.
Show more +
Negative Ergoal One chair reviews
Stein-Erling B.
This chair is very comfortable to sit in with great ergonomics – especially the lumbar support and headrest are adding great comfort. And this chair has good measurements for me – at 5'9" and normal to skinny build. The one thing that didn't work well for me, and I can't imagine I'm the only one, was the forward leaning position of the armrests. I have a desk with a center drawer, and at a correct height position, I simply could not roll the chair close enough for a comfortable position due to the armrests hitting the drawer. Unless of course I lowered the chair – but then I'd sit too low. My solution was, as the picture shows, to switch the right and left armrests…in addition to allowing the chair to get close to the desk, it also put the armrests where I most naturally need them. This is something I'd urge the designers to look into. I also wish there was a tilt function for the whole seat/back assembly – it would help create an even more straight upright position, especially useful for people with shorter legs fighting to reach the floor and at the same time be high enough for most desks. I tweaked this by inserting a couple of small wedges under the rear end of the seat assembly. Apart from the armrest issue, which I fixed for myself at least, I like the chair a lot, it is also awesome for feet on the table and a quick nap ;).
Show more +
Andrew R.
Pros:
o Nice size
o Pretty color
o Sturdy
o Various adjustments
Cons
o That ridge in the middle of the backrest is hard
o Not enough adjustments (can't move seat forward/back, can't lock seat and back and tilt the whole chair, only the back tilts back, lumbar part not adjustable)
o Spring for backrest isn't strong enough
Overall, a pretty good value for the price.
Show more +
Ergoal One chair review: Should you buy Ergoal One chair?
In general, the Ergoal One chair really is every bit as good as it's made out to be.
Today, back pain is a prevalent problem among office workers. By combining the backrest with self-adjusting lower-lumbar support, headrest, and seat height adjustability, the chair doesn't only keep back pain and pressure to a minimum, but can also minimize fatigue, sore muscles, and tired shoulders.
All this is packed in a mid range ergonomic office chair that has an affordable price. So what are you waiting for?
See more:
Hope that this Ergoal One chair review will provide you with the information that you need so that you can make the best purchase for your office chair. Follow FittingChairs for more information.