Choosing black desk chairs for your home space is not a big deal anymore. Check out FittingChairs's top pick of best black desk chairs to choose the best one for yourself.
Black chair for desk – Top pick in 2022
Here is our top pick for black desk chairs in 2022. There is no room for the discomfort when sitting on a chair that lacks ergonomic features. Our top pick today will offer you a lot of desk chairs with several ergonomic solutions.
Black Desk Chairs no wheels
Desk chair no wheels will protect your floor from being scratched. Here is our recommendation for black desk chairs no wheels with best deal on Amazon.
Art Leon Mid Century Modern Swivel Accent Chair
When it comes to the best black chair no wheels, we can not help mentioning the Mid Century Modern Swivel Accent chair from Art Leon.
This is the perfect choice not only for your desk but also for any space in your home thanks to its modern and sleek design.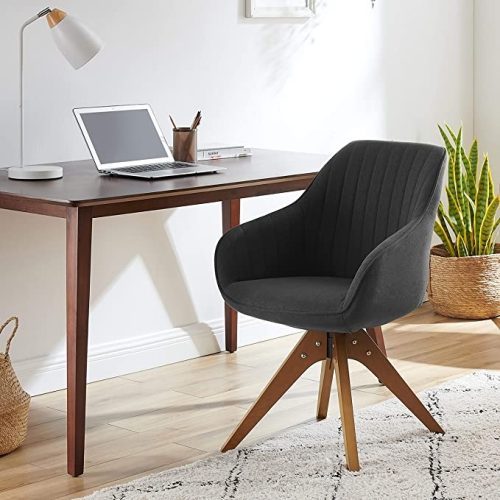 Pros
Full padding seat and back
Strong chair base
Rotating function
Vintage design
Cons
Don't support your lower back well
We highly recommend this chair for hardwood floors because you can totally throw away your fear of destroying the floor due to the rolling casters.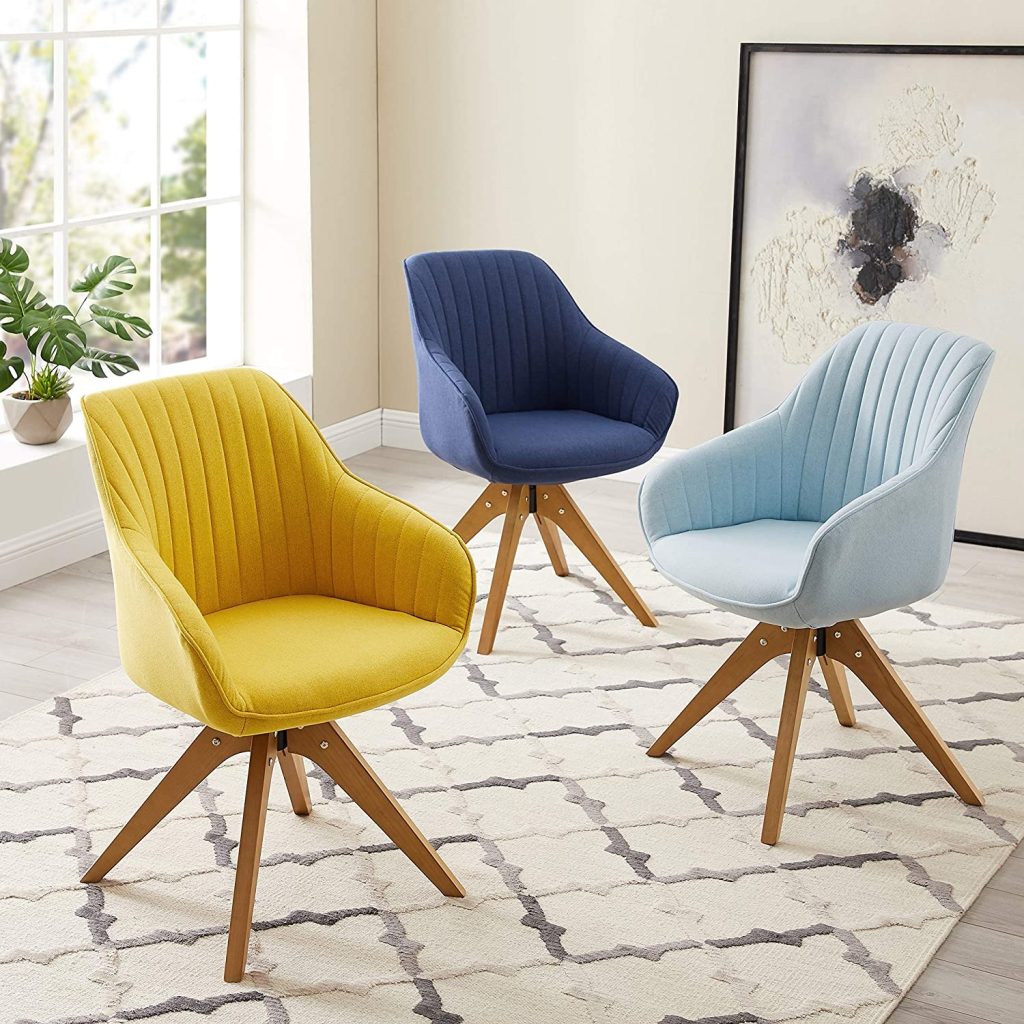 What's more, this is also the perfect chair for small space apartment. With max weight capacity up to 330lbs, you don't need to worry too much about whether this chair will fit your body or not. Just buy it and find out your comfortable feeling and enhance your sitting posture.
Cute black desk chair
For teenagers, cute black desk chairs will be one of the essential items for studying home space. Here are the two top-rating cute black desk chairs that can meet all your demands.
HNY Black chair for desk
With the unique and highly attractive cute design, this chair is not only the best choice for your home office corner but also the proper item for the dining room or living room.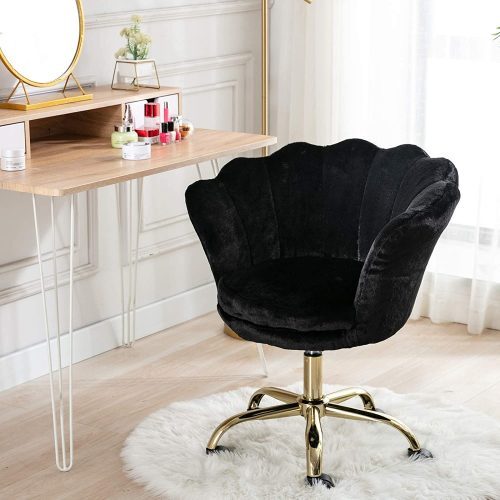 More than a desk chair, this HNY black chair will offer you better sitting on high-precision foam into the cushions and backrests. Being designed especially for teenagers with a seat width of 16.5" and weight capacity of up to 300lbs, this chair will be an ideal chair, regardless of some little overweight users.
Pros
Soft and comfortable upholstery 
The chrome chair base makes it become brighter
Lovely design is suitable for teenagers
Heavy-duty chair base
Swivel function
Cons
Armrests may not work well
The stylish design of this chair is highly suitable for your home environment. If you are expecting modern and cute looking for a chair, this product will meet your demands.
Armen Living Julian Office Chair
This Armen Living Julian Office Chair is not only for teenagers with eye-catching looking but also for wide scope of users.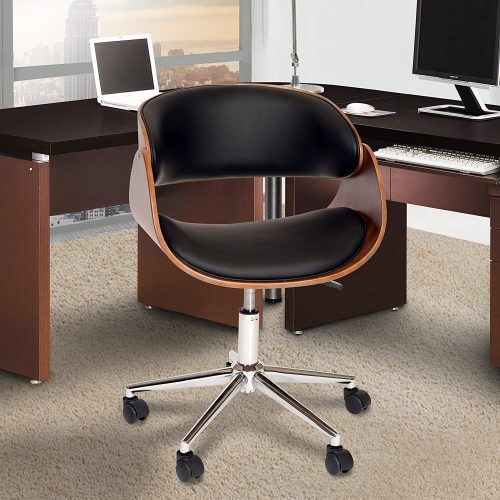 Armen Living Julian Office Chair
Being functional and fashion-forward, this chair will be perfect for people who are seeking a desk chair with cute design. The appearance of this chair is also suitable for wide scope of users.
Pros
Black chair for desk
Lovely and breathable design
Cons
Armrests may not work well
With breathable design as well as a padding seat and back, this chair will provide you with the fresh feeling when sitting for a long time.
Black desk chair with arms
Black desk chair with arms will provide better support for your arms. Armrests also help to prevent muscular tension and pain. So, owning a black desk chair with arms will encourage healthy postures for you.
Yaheetech Desk Chair
With the great deal, pretty easy to assemble, and sleek design, this chair will be suitable for various customer segments from teenagers to adults who are seeking a black desk chair with arms.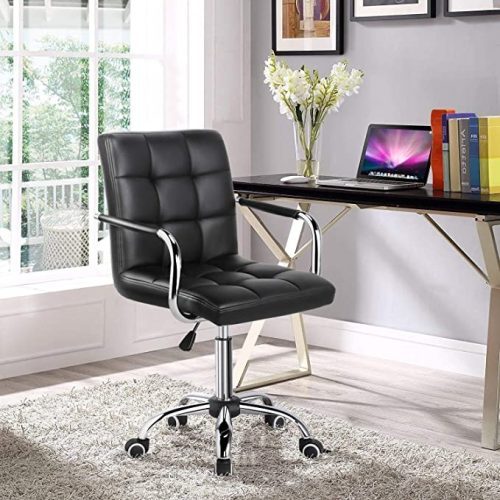 Yaheetech Desk Chair is the ideal choice for people who are looking for a black desk chair with arms. With the extra high-elastic sponge, this chair will enhance your sitting experience and help you to focus on your tasks.
Pros
High-quality raw materials
Perfect build quality
Waterproof material
Heavy-duty chair base
Separating armrests design
Cons
Not support upper back well
The unique feature of this chair is the design of the separating armrests allows you to leave the armrests even when you have already assembled the whole pieces of this chair.
This feature helps you use this chair for various purposes. Especially in case one of your family members doesn't like to use a chair with armrests, this feature will totally solve this problem immediately without considering purchasing another chair.
Flash Furniture High Back Desk Chair
Flash Furniture High Back Desk chair will brighten your working corner with a sleek and modern appearance.
The height of armrests is ranging from 25.25 to 29.5″H from the floor which fits the standard height of most desks in the market.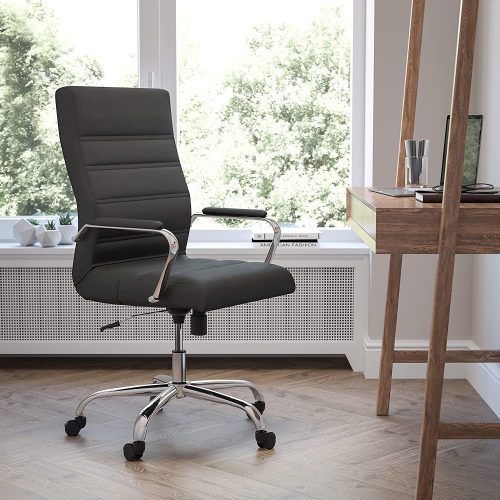 The LeatherSoft upholstery back and seat make this chair have stunning visual contrast. The perfect tilt lock tension will enhance your sitting posture by providing you with various adjustable functions that fit your demands.
Pros
Modern looking with PU leather upholstery
Supportive and padding armrests
Duty-heavy chair base
High-back design decrease upper back pain
Padding armrests
Elegant looking
Cons
Don't support neck and head
With this chair, we highly recommend you use a lumbar pillow to support your lower back.
The high back of this chair will provide you with the best support for your upper back, which helps to relieve back tension.
Black office chair IKEA
IKEA is the world's largest furniture shop with excellent items for your home space. With modern design and budget-friendly price range, IKEA is the first choice of most people when considering buying furniture for their home, including black desk chairs.
Our vision is to create a better everyday life for the many people. On this site you can discover exactly what this means and find out who we are, what we do and what we stand for.

IKEA
Check out the two top-ranking chairs from IKEA to see how amazing this brand will be.
Ikea Långfjäll Adjustable Office Chair
This chair from IKEA is highly rated in terms of modern and simple appearance. Featuring in high-quality foam padding and a heavy-duty chair base, this chair from IKEA will absolutely be worth your investment when seeking a black chair for desk.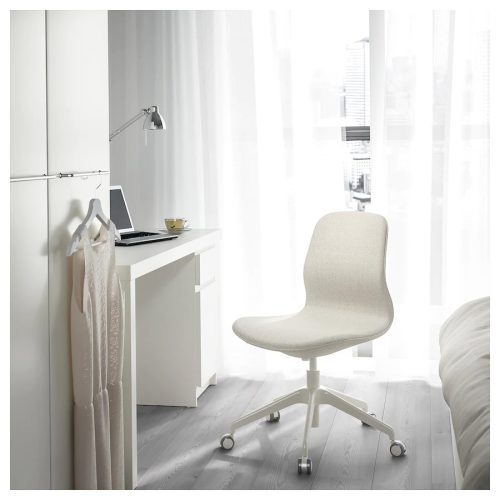 Not only a desk chair for your home office but also the best addition to your home decoration for the kitchen, living room, or even bedroom. We also highly recommend this chair for people who are chasing the minimalism concept because it will brighten your space with very simple design.
Pros
Cool scandi design
Brilliantly versatile
Sleek looking
Padding seat and back
Cons
The back design will not support the lower back well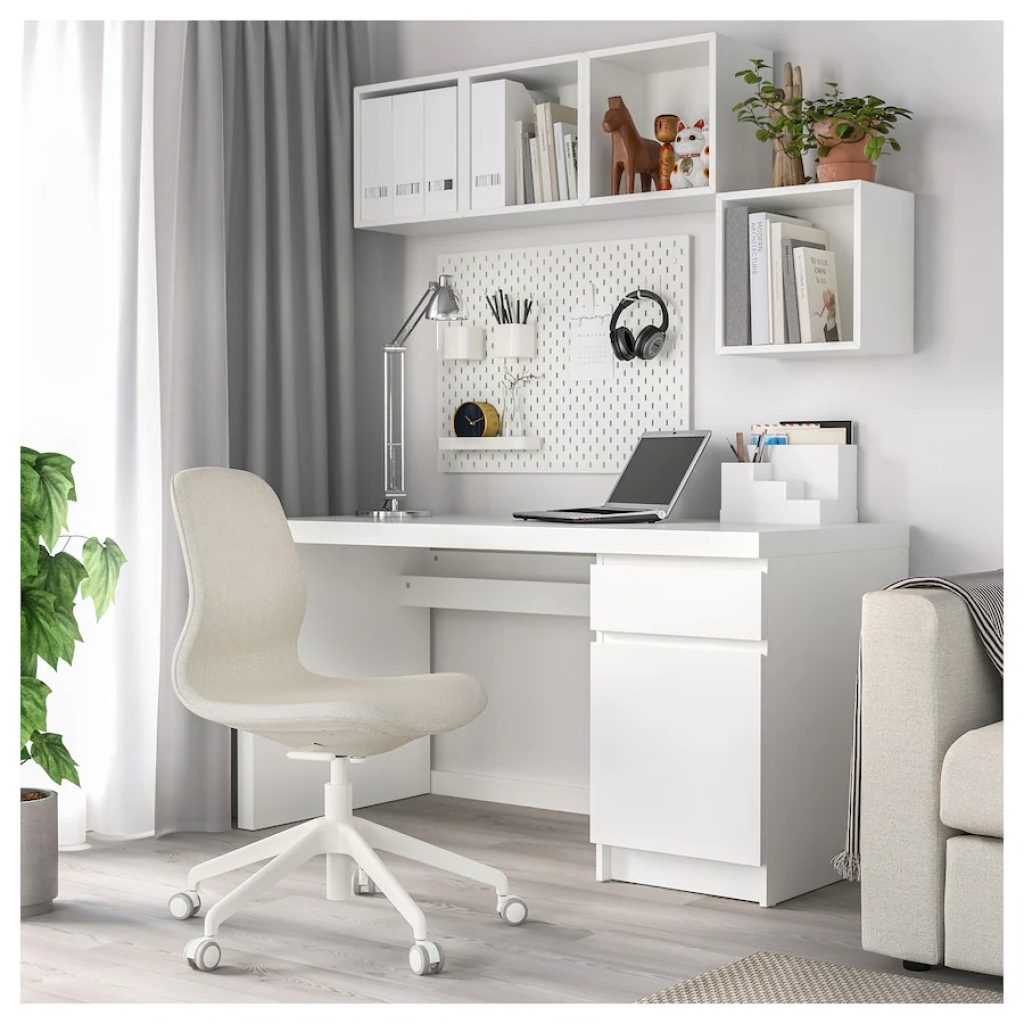 There will be no room for hesitating about which IKEA desk chair is the best choice for you. If you are searching for a desk chair with fully essential features and minimal design, this chair is born for you!
IKEA ELDBERGET / MALSKÄR Swivel Chair
The beautiful and light shape of this desk chair makes it easy to furnish any workspace at home for schoolwork, hobbies, or just paying the bills.
The amazing and light appearance of this desk chair will brighten your home.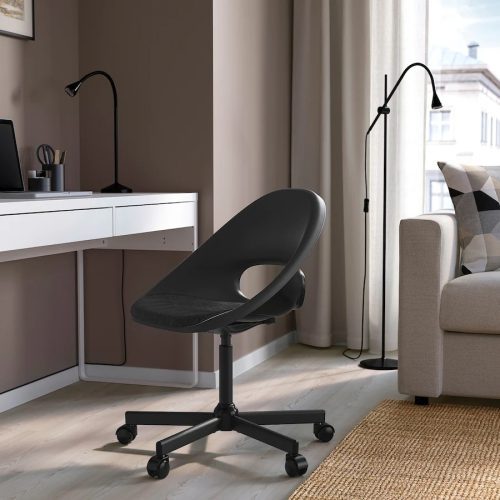 IKEA ELDBERGET / MALSKÄR Swivel Chair
Featuring lower back support, adjustable height, and sturdy casters, this chair will move with you around your house. The breathable design will enhance your sitting experience.
Pros
Padding cushion seat
High-quality fabric upholstery
The breathable design supports your lower back
Cons
Not suitable for big and tall people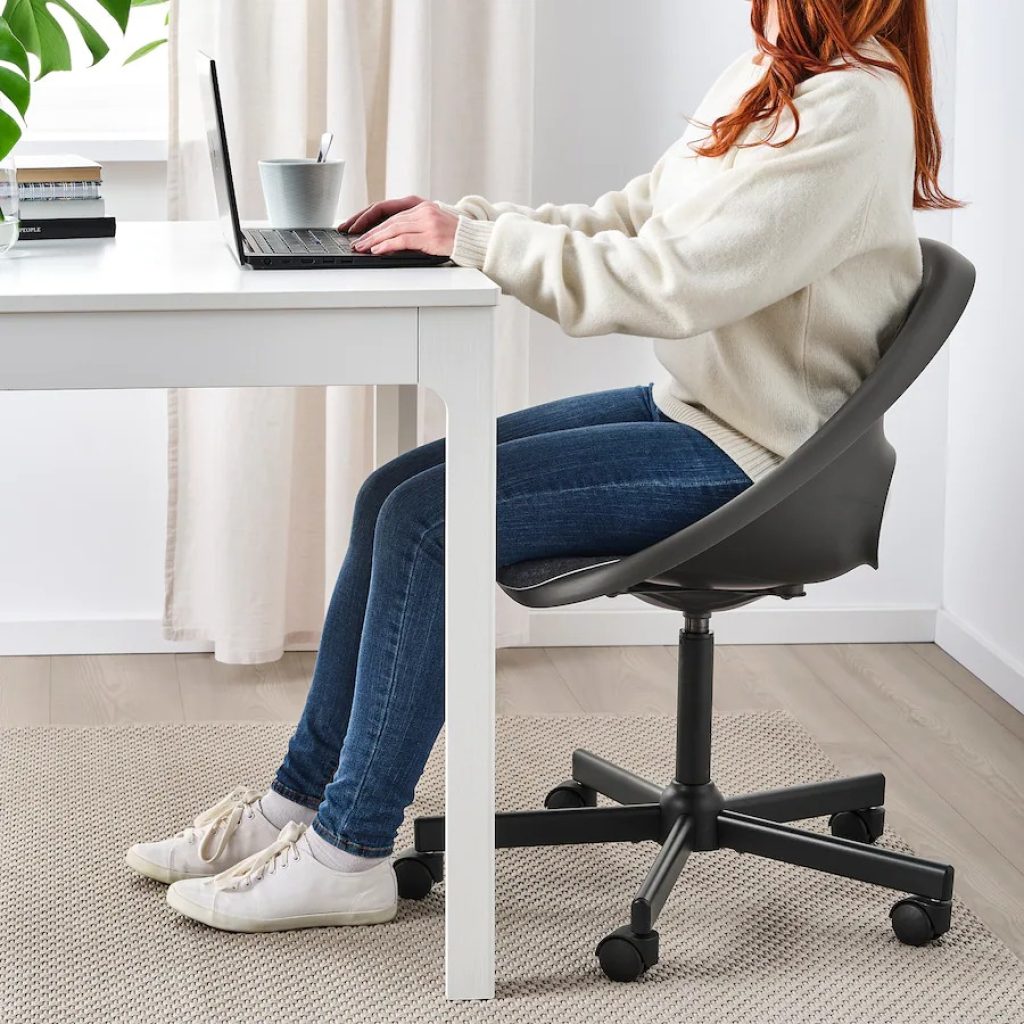 The high backrest and the curved shape of the chair will give good lower back support and prevent your back from being under pressure because of sitting for long hours. Good sitting posture will help you focus more on your tasks.
See more:
Hopefully, you can choose the best black desk chairs for yourself. Follow FittingChairs for more helpful information.