Have you considered purchasing the Herman Miller Aeron chair? Read our review to find out why it's well worth the money.
In this article, FittingChairs will share with you the Herman Miller Aeron review.
Herman Miller Aeron Review snapshot
Awesome
The Herman Miller Aeron chair is an expensive piece of furniture, but it will provide you with superior support and comfort while you work for years to come.
Pros
Less clunky material, more comfort
Ideal for working long hours
Excellent reclining function
Up to 350 lb weight capacity
Environmentally friendly
Cons
Exceptionally expensive
No seat depth adjustment
No back height adjustment
Let's move on to the next part of the Herman Miller Aeron review!
Herman Miller Aeron Review: About the brand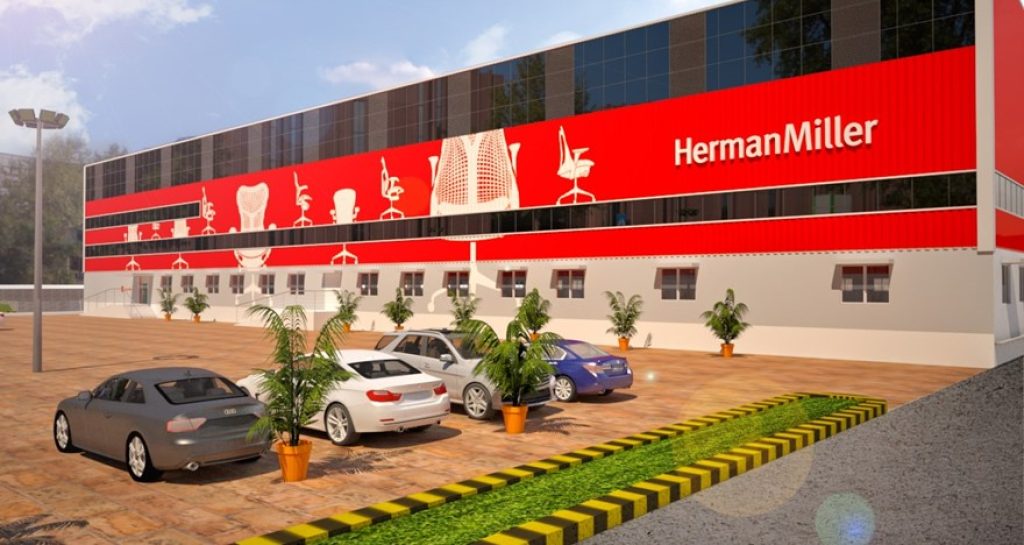 The Herman Miller Company has a good market reputation due to its long history of producing high-quality office furniture.
Since 1923, they have been leading designers and producers of office furniture.
Herman Miller gradually became a design icon on the market and they expanded furniture so that it not only looks great but also benefits our day-to-day health and posture.
They are recognized for their unique designs, combining years of experience and customer feedback to create amazing office chairs that allow you to move freely while remaining supported throughout the day.
You will find the right addition to your office today, with the extra bonus of configurable fabric selections and colors, as well as fully adjustable components to ensure maximum comfort.
Herman Miller Aeron Review: What's special about its design?
Herman Miller focuses on ergonomics rather than aesthetic appeal when it comes to design, though this is far from a bad-looking chair.
The Herman Miller Aeron chair puts ergonomics overlook while still creating a sleek and practical top-of-the-line office chair.
The ergonomic design is obvious in the supporting, curved backrest, and comfy armrests. The recline option, along with the 8Z Pellicle Suspension backrest, makes it one of the coziest mesh chairs available today.
The mesh seat and back are primarily intended for comfort, but they also give the chair a very modern appearance. These elements, when combined with the arched backrest and waterfall edge seat, create a one-of-a-kind look and feel.
The chair is also available in three different colors: white, graphite, and carbon. The former provides the chair with a light and contemporary feel, while the latter two emphasize the ergonomic design aspects to ensure it complements any modern workspace well.
The Aeron comes in three different sizes: small (size A), medium (size B), and large (size C) that fits everyone and provide the most comfort to the widest range of body types of any chair.
According to a representative of the brand, medium (size B) is the most popular item because it is a perfect choice for relieving lower back pain and more additional other benefits
Keep reading about Herman Miller Aeron review to find out a wide range of this chair's benefits.
Herman Miller Aeron Review: How can it help you improve your health?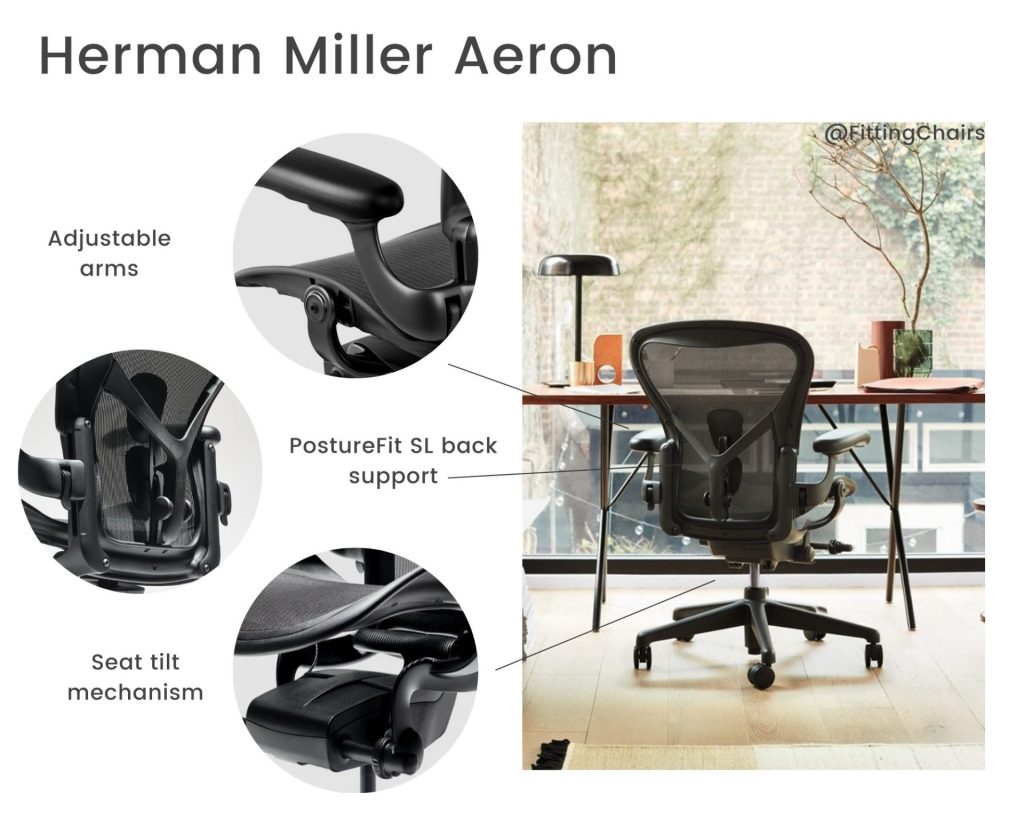 Comfort
As mentioned above, the mesh is made of the brand's patented 8Z Pellicle to provide adequate support to prevent back pain after extended periods of sitting.
The mesh design has a smooth, responsive feel that adjusts to your posture and gives full-body support while providing ample suspension. This not only enhances circulation but also contributes to overall comfort.
The seat also has a noticeable waterfall edge, which helps blood flow down to your legs.
If you've ever sat for hours on end with the backs of your knees squeezed against an uncomfortable chair, you'll appreciate how important a waterfall edge can be in keeping the circulation going and even averting the terrible afternoon slump.
Backrest and Lumbar support
The mesh padding of the Aeron chair provides both suspension and breathability, keeping you cool during lengthy work periods while also supporting good posture.
One of the primary selling factors of Herman Miller Aeron is its well-thought-out lumbar support mechanism. It was designed to alleviate the stress that comes with sitting for long periods of time.
The chair's notable feature is its special PostureFit SL feature which consists of two adjustable pads located at the back of the backrest. This offers enough support for both the sacrum and the lumbar spine.
If you're seeking the best chair to prevent back, neck, and sciatica problems, the Herman Miller Aeron office chair may be worth the price on its own.
Ergonomic Adjustments
Whether you recline back or sit straight, the Aeron is comfortable and supportive. The Aeron is a dynamic, flexible chair that moves with your body in a natural way.
The optional forward tilt with tilt lock is a significant enhancement. When you type for long periods of time, you tend to lean forward over your keyboard, causing your back to lose support.
This difficulty was overcome by the Aeron's forward tilt, which sets the backrest at an acute angle, which is better for your back than a 90-degree angle.
The forward tilt comes with a tilt lock that secures the backrest in completely upright, mid, and full recline positions.
Herman Miller Aeron Review: Customer reviews
After we've gone into the Herman Miller Aeron review, let's have a look at some customer reviews of this chair on Amazon.
Positive Herman Miller Aeron Review
Amazon Customer: "Totally fixed my back issue"
While a chair can't do such wonders, the truth is, sitting all day at home for work in these troubling times, and then all night with my hobbies, my backside and back were killing me. With my old chair, I had to move to a lounge chair and then I couldn't type or see my monitor very well. Once I bought this chair, immediately the pain points went away since it's bottom and back are carbon mesh. I just wish I had bought it years ago. I know they're great because when I had to go into work, we had them there for years. So worth the money!
Show more +
Adam: "Amazing Chair!"
Can't say anything bad about this chair. It came fully assembled in a box that would fit a washing machine, you just roll it out and you are set. Super comfortable and it looks fantastic. It comes with a 12 year warranty, so it is built to last. In summary you get what you pay for.
Show more +
Negative Herman Miller Aeron Review
Liz: "No instructions provided"
No instructions provided. Really important because the pieces fall apart very quickly if not assembled in the right order. It becomes a two person job so that you have enough hands to hold things in place. I love my chair at work, wanted the same one at home.
Show more +
Michael J Targowski: "Uncomfortable and painful will be trying to get rid"
Very disappointed over priced and a painful experience. Don't normally write reviews but find this chair to be extremely uncomfortable for my lower back. When I sit ergonomic, it's uncomfortable and if I slouch it's down right painful 🙁 wish I returned while I had the chance
Show more +
Should you buy Herman Miller Aeron Chair?
Through the Herman Miller Aeron review, is this chair worth on your budget?
The Herman Miller Aeron chair is obviously an expensive piece of furniture, but it will provide you with superior support and comfort while working for many years to come.
With amazing features such as the PostureFit SL, seat angle adjustments, and tilt limiter, the Herman Miller Aeron chair becomes a wonderful option that will help you keep healthy sitting habits.
If you're on a limited budget, another chair is perhaps a better option. You can choose other office chairs that offer comfort and lower-back support at a reduced cost.
Although the Herman Miller Aeron price is higher than other similar chairs, it is one of the best-made office chairs on the market, and it comes with one of the finest warranties available.
FAQs
Is the Herman Miller Aeron really worth it?
In this Herman Miller Aeron review, this chair is a costly option, yet it lives up to expectations. It is a very popular office chair, thanks to its completely adjustable design, which results in a chair that is very customizable, allowing you to reach the right level of comfort.
How long do Herman Miller Aeron chairs last?
Aeron is guaranteed to last 12 years, but customers frequently retain them for far longer. While used Aeron chairs are less expensive, they do not last as long as new seats, but they do last a long time.
Do Herman Miller chairs help posture?
Yes, it does. The Herman Miller Aeron chair is not only fashionable, but it also assists you in maintaining proper posture in a pleasant manner thanks to the PostureFit SL feature. You may customize the seat height, arm height, and backrest to your liking.
See more:
This is all about the Herman Miller Aeron review that we want to share with you so that you can consider it carefully before owing it. We hope that Herman Miller Aeron review of FittingChairs can help you in choosing the right ergonomic chair for yourself.
If you have any questions for us, don't hesitate to comment in the section below. We will be back as soon as posible.