X Chair and Herman Miller are the two market-leading ergonomic chair brands. In this article, FittingChairs will provide you with a comparison between X Chair vs Herman Miller. We also give you the review of top-rated ergonomic chairs from the two famous brands.
X chair vs Herman Miller – The Story behind
The story behind each brand reveals a unique message about its products.
X Chair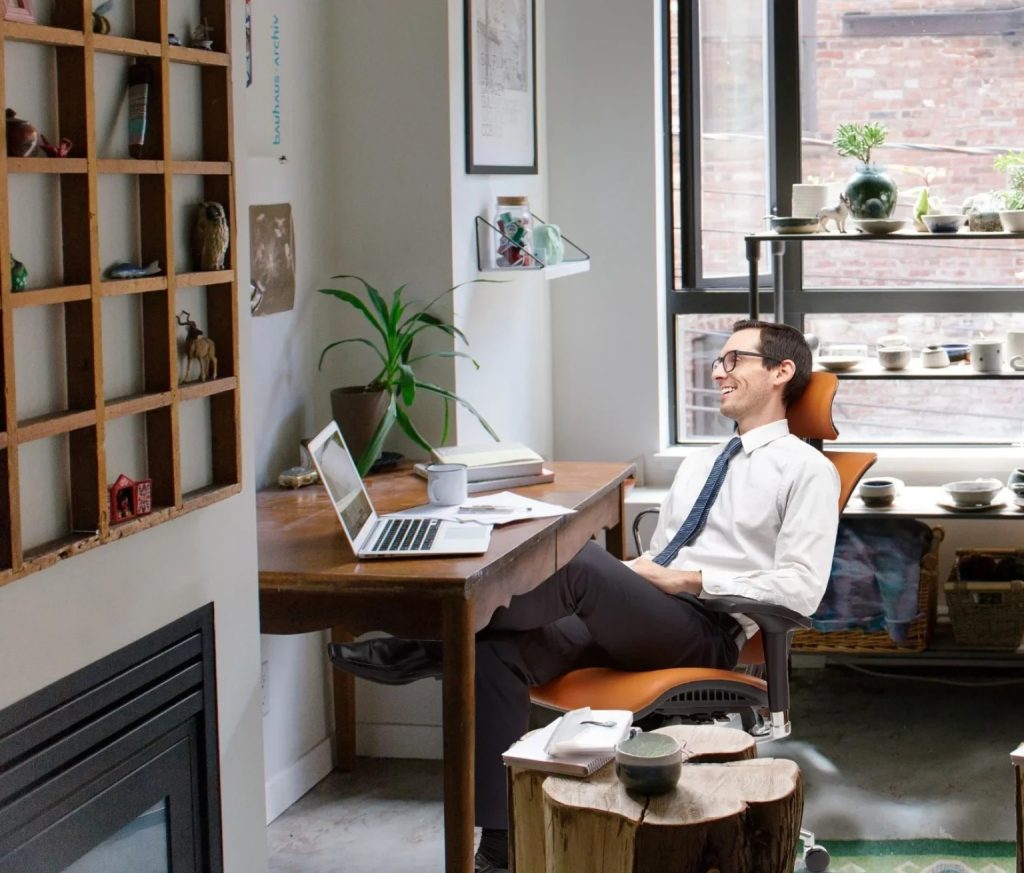 Since 1994, the company has been providing back-related products and has 19 retail locations in six different states.
When CEO Anthony Mazlish realized there were no stores that specialized in ergonomically engineered comfort products, he founded the company.
Now, as they prepare to launch their own line of office chairs, X-Chair, they wanted to construct a website that would help them successfully explain their brand and express what differentiates their office chairs from others.
Visiting the X-Chair website for more amazing information about this brand.
Herman Miller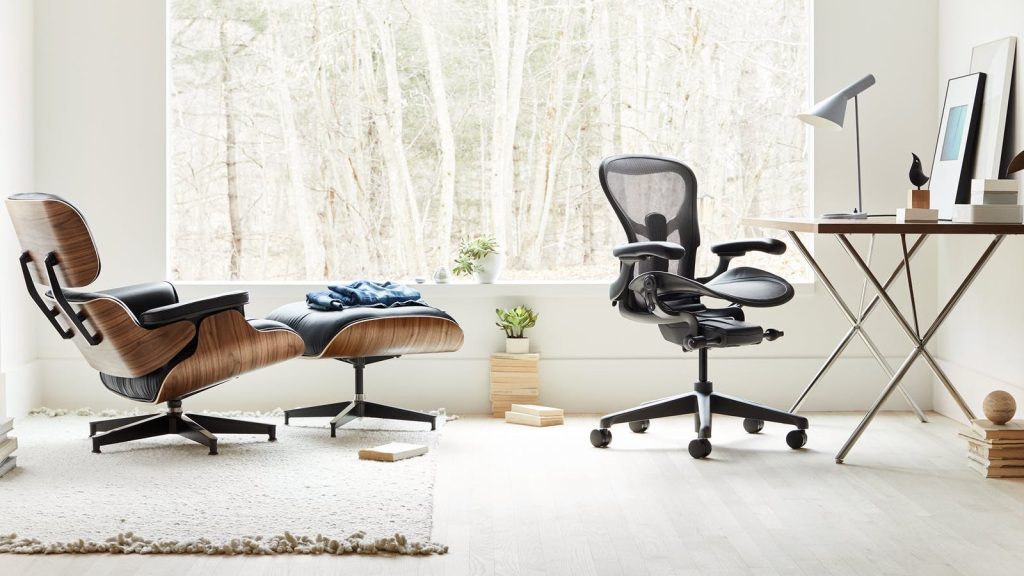 Herman Miller is a well-known designer of modern home furniture, healthcare solutions, and related technology and services.
Herman Miller is also a market leader in the field of ergonomic office chairs. The Aeron chair was an ergonomic innovation when it first debuted in 1994, and it quickly became a top option in workplace chairs all around the world.
Visiting the Herman Miller website to see how professional this brand is.
X Chair vs Herman Miller – What's the Same?
In terms of reputation, X Chair vs Herman Miller have high reliability in the ergonomic chair market thanks to their perfect quality and design.
The similar key feature between X Chair vs Herman Miller is the ergonomic solutions of their products. The two famous brands have been always directed towards sitting in healthy postures for people. So ergonomic chairs from the two brands will provide you with full adjustments which help you to do the multi-tasks smoothly.
More specially, these ergonomic features include the 4D adjustable armrests, headrest, backrest, seat height, seat depth,…So you can totally find the most comfortable sitting posture for yourself.
Wide range of options for each chair
Another same point between X Chair vs Herman Miller is their wide options for each product. With one item from the two chairs, you have many various options of colours, materials, sizes,…
The final similar point between X Chair vs Herman Miller is the high price range in the ergonomic chair market. To be more specific, ergonomic office chairs from the two brands start at $900.
So, the scope of users of the two brands towards people who are willing to invest to healthy products for their life, regardless of how much does it cost.
X chair vs Herman Miller – What's the difference?
Here are significant different points between X Chair vs Herma Miller.
The first unique point that makes X Chair become different from Herman Miller is the technological application of the heat and massage unit on their products which can help improve your blood flow, speed muscle recovery, and reduce stress and anxiety after a long time for work.
While X Chair tends to focus on applying the advance of technology to their products to solve spinal issues from wrong sitting postures, Herman Miller put their intention to improve the ergonomic solutions from the design aspect.
The second different point between X Chair vs Herman Miller is the product range of each brand.
While X Chair focuses on developing the ergonomic office chair through various X Chair collections, Herman Miller has a wider product range including furniture, ergonomic office chairs and other accessories.
An additional different point between X Chair vs Herman Miller is the design of ergonomic chairs.
More specially, X Chair has the synchronous alignment of their ergonomic chair in the design aspect. They focus on improve the technological application on its chair collections to enhance healthy sitting postures for human beings.
Meanwhile, Herman Miller has launched various different products lines. Moreover, all their ergonomic chairs have unique designs which are different from each other.
More specially, Herman Miller's scope of users is larger than that of X Chair because Herman Miller extends their ergonomic chair line to serve the gaming community with the Herman Miller x Logitech G Embody Gaming Chair.
But, how about differences from other brands? Read our comparation of Steelcase vs Herman Miller!
Top-rated chairs of X Chair vs Herman Miller
Check out our review of top-rated ergonomic chairs from X Chair and Herman Miller. Then, choosing the most comfortable one for your self.
Best chairs of X Chair
Here is the three top-ranted ergonomic chairs from X Chair.
X Chair x3
X Chair x3 is one of the best-seller items from X Chair. With fully ergonomic features that encourage healthy sitting postures and professional design, X Chair x3 is a perfect addition to your working space.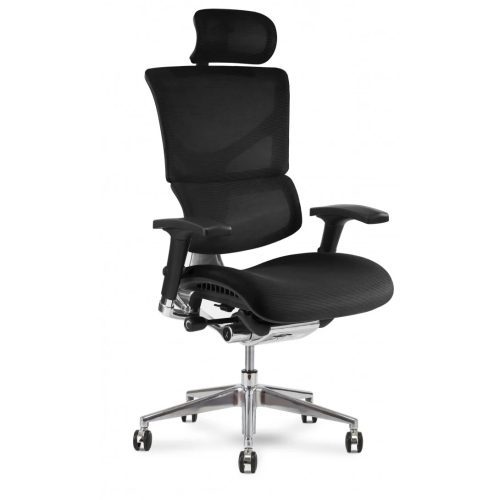 The X3 ATR Mgmt from X-Chair features a wide range of customization options to best suit your body and budget. The dynamic lumbar support and an optional heat and massage feature will assure your comfort and enhance your concentration on work. It's a worthwhile investment for your comfort and spine if you work and game from home.
Pros
Dynamic lumbar support
Heat & massage unit option
High resiliency molded foam seat with advanced tensile recovery
Fully adjustable ergonomic feature
Heavy-duty chair base
Cons
Short warranty times compared to ergonomic office chairs from Herman Miller
The special point of this chair is the adjustable back height. You can totally adjust the back height up or down until you find the most comfortable posture for yourself.
With the softer price compared to other ergonomic chairs from Herman Miller, this chair will be highly suitable for people who are seeking for the full ergonomic adjustable chair at a reasonable price.
X-Chair X4
The only unique feature of X-Chair X4 is the leather upholstery. This is also the key feature making this chair become different from the X Chair X3. So if you have a deep love for the leather office chair having fully ergonomic features, this chair is born for you.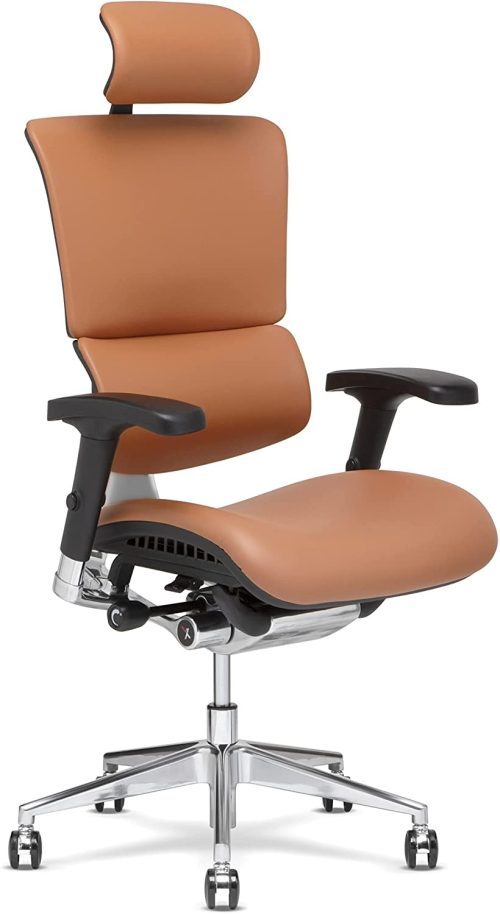 With fully ergonomic adjustable features as the X Chair x3, X-Chair X4 will also provide you with healthy sitting postures during a long time for work. More especially, the SciFloat Infinite Recline will help you to stay in motion throughout the day. The X-Chair X4 is actually born to improve your circulation, concentration, and energy levels. Leather upholstery is another plus point that makes this chair become more luxurious than the X Chair x3.
Pros
Various colour options
Highly responsive leather fabric materials
Easy to be tailored to meet your demands
Heat & massage unit option
Cons
Maybe not suitable for working space in the hot working environment
If you are seeking an office chair that has full adjustable ergonomic features with a sleek and luxurious looking, the X Chair x4 will be an ideal chair for your space.
There's no room the worry about spinal issues caused by wrong sitting postures. With the X Chair x4, your whole body is pampered from now.
If you are still curious about the price range of ergonomic chairs from X Chair, check out our article about how much is the X Chair right now.
Best chairs of Herman Miller
Check out our review of top-rated ergonomic office chairs from Herman Miller to gain deep insights into these amazing chairs.
Herman Miller Aeron
Herman Miller Aeron will keep your movements balanced throughout the whole range of motions. So, with Herman Miller Aeron chair, your spine will be definitely pampered with the PostureFit SL backrest lumbar support.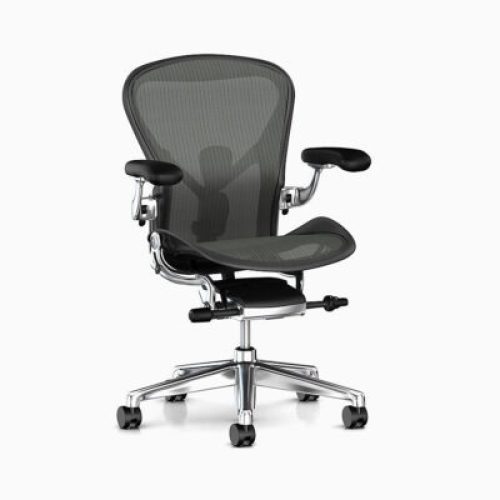 Perfect ergonomic chairs for all spaces, even for home working set up. Being built in human-centered design with never-before-seen technology to create a task chair, unlike any other chair.
Pros
Extreme comfortable with fully ergonomic adjustments
Three sizes option
Three colour options
8Z Pellicle suspension seat and back
PostureFit SL backrest supports
Optional headrest
Breathable materials
Cons
Limited adjustable armrests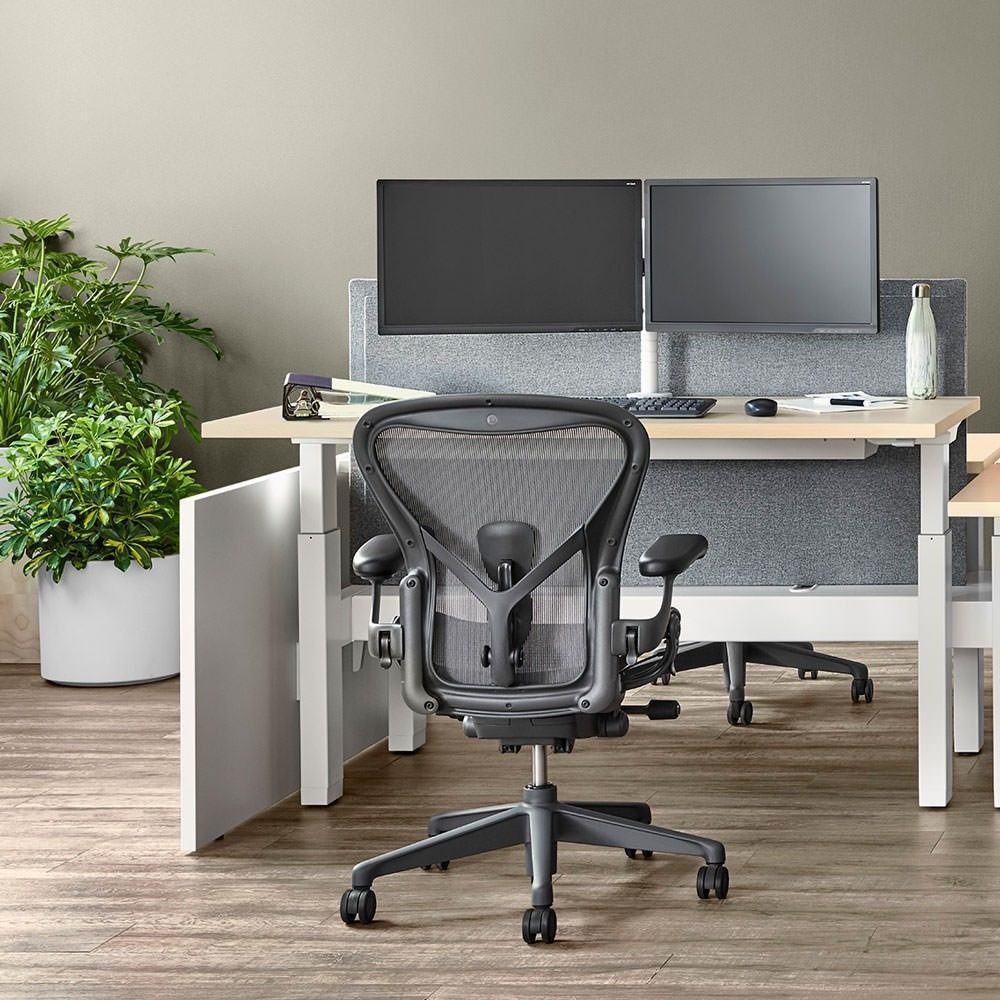 Herman Miller Aeron has a modern appearance that can fit all kinds of working spaces. With ergonomic solutions and breathable material, this chair will assure your healthy sitting posture during long time of working or studying.
Herman Miller Embody
The Herman Miller Embody is a premium office chair that performs remarkably well in our top pick of top-rated ergonomic chairs from Herman Miller.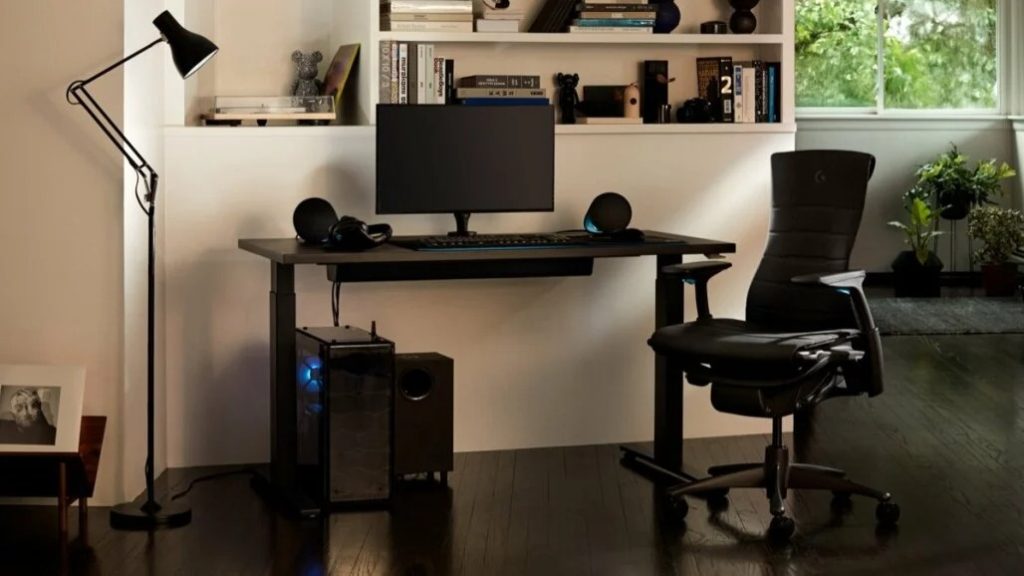 It's very comfy, and you could easily spend a whole day sitting in it. It has a great collection of adjustable features that allow it to be customized for a wide range of users.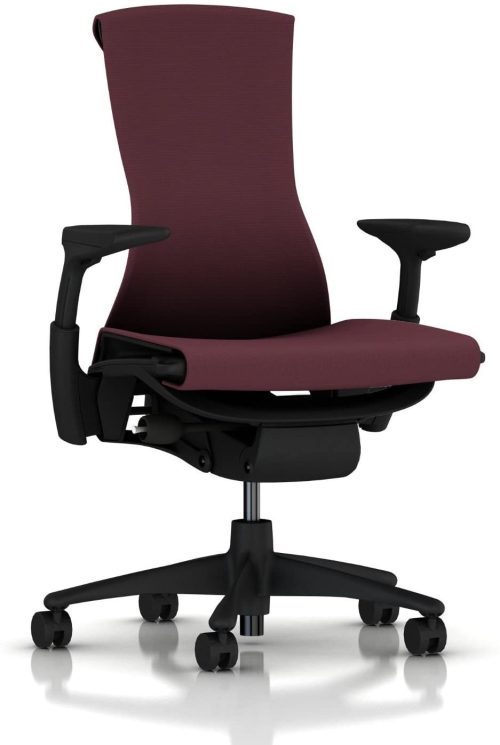 Herman Miller Embody is the answer to how can people improve their sitting postures for a long time. Being designed to pamper the human back, this chair features in central spine and flexible ribs.
Pros
Various colour options
Mesh padding seat and back
Fully adjustable features
Perfect build-quality
Supreme comfort with back design
Cons
Armrests adjustment may be firm for some people
If you sit at a desk on a daily basis and require a comfortable, high-quality chair, this chair is well worth the investment.
What's more, with sleek and highly sleek looking, currently, the Herman Miller Embody can be also used as a gaming chair. It has been gained in popularity in the gaming community thanks to its extreme comfort and fully ergonomic solutions for human beings.
Herman Miller Mirra 2
Fulfil your life with Herman Miller Mirra 2. Not just an office chair, Herman Miller Mirra 2 is also the best supporter helping you to increase your productivity with full ergonomic adjustments.
There's no room for worrying about the risk of having spinal issues due to sitting too long in the office, Herman Miller Mirra 2 will pamper your whole body and keep you balanced in meditating position.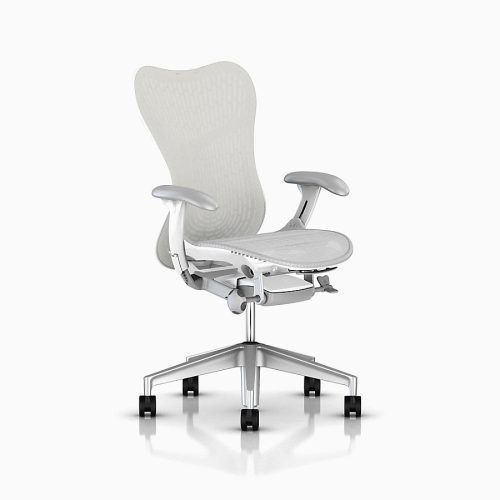 The Mirra Chair 2 is made out of the dynamic design that adapts to the smallest movements, balancing quick comfort and customizable ergonomics. For a lean design, careful inspection of every essential resulted in the usage of fewer materials.
Pros
Lightweight design
Fully ergonomic adjustments
Extreme comfort with butterfly back 
Various colour options
Cons
Mesh material may not fit the emand of some people
Herman Miller Mirra 2 features in the Butterfly Back seat, which provides ample support and features gradated cutouts that flex for improved movement and circulation, a lumbar brace for your lower back.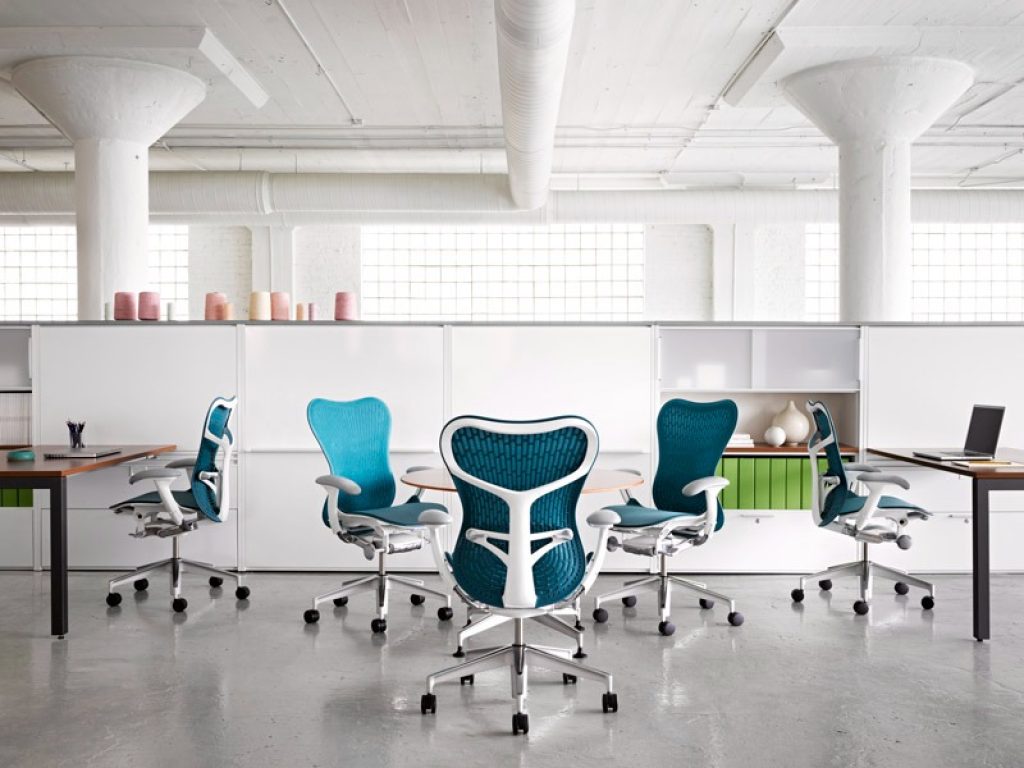 AireWeave 2 mesh can help distribute weight and keep you cool during the sitting time. The Mirra 2 also includes a passive harmonic tilt mechanism for natural reclining, a four-stage FlexFront for adjusting seat depth, and a tilt tension knob for adjusting seat give.
Owning this chair will shift your life into new era – the era of healthy sitting postures.
What's the customer say
Take a look at what's the customer say about the products from X Chair vs Herman Miller.
X chair
Positive Review
X Chair X4 Leather Executive Chair
Naomi Manygoats on Amazon: "A great desk chair that has very good lower back support."
This chair came in a big, heavy box, and in several pieces. However, the assemble was easy, and they give you extra screws as well as the tool to put the screws in. The base that the wheels attach to is the heaviest part, but all the weight means this chair is much sturdier than most. The height will adjust, as will the angle of tilt and the arm rests. One arm rest initially did not seem to want to stay put at a higher setting, but it seems to have settled in and now stays put. My husband uses this chair for his work at the computer all day, and has very bad back issues. He tends to hate any sort of change, even something simple like a better chair, so he stubbornly kept his old falling apart chair until I got this. He immediately realized his back was so much better off in this new chair than with the old one. So his dog can now finally have the old one, which has been a never ending battle for years! It rolls with ease on our wooden floor, and is comfortable as well. It also looks great!
Show more +
CanadianGirl: "Comfortable chair"
Not sure why all the negative reviews. It is an expensive chair but I find it comfortable the day I received it. It took a while to get the adjustment right. I find the quality of this chair is pretty solid. Mind you, the back rest arrived with a wrinkle but they are willing to replace it and is rectifying the situation as we speak. I'm able to sit in the chair for at least 12 hrs at a time without discomfort. It did take a little used to (1 day) the former seat but otherwise the chair is comfortable. I upgraded the wheels with rollerblade wheeu and have added a headset. I am pretty petite (5'2″) so would require a foot rest but unless you are blessed enough with a height adjustable desk, you would need a foot rest anyway of you are my size to ensure proper ergonomics. It's it with it to pay almost $2000cad (with tax) for this chair? It depends. I have the means to spend this much but was kind of wishing much better quality plastic used for head rest, arm rest and the back panel. I'd prefer an all metal chair with leather to be honest for almost $2000.
Show more +
Negative Review
CoffeeDaddy: "WAY overpriced, cheaply made"
I thought the X-Chair would be a great ergonomic chair. Was I wrong! I did purchase said chair for about $1,000. DONT WASTE YOUR MONEY…Better to buy something from Costco or other chair on amazon that's more affordable.
Basic design flaws: Backrest has a height adjustment ability, that "clicks to lock". So 4 clicks up, then if you pull the chair further upward, the whole thing drops. So when one leans backward in the chair, the locking will undo, and back down goes the backrest. A simple screw lock to prevent this would have done wonders. Same with the headrest.
Overall construction? Metal and plastic. NO INSTRUCTIONS provided in box as the company wishes to save the environment.
Show more +
Herman Miller reviews
Positive Review
kevin: "Awesome Chair! No con's at all."
The Aeron Chair is worth every penny. Like most people in office environments, work study, play WOW have issues with finding the right chair. Having a chair that is actually sized more for your height and weight makes a huge difference by itself as opposed to one size fits all, I'm 5'11 /155 lbs, ordered the Size B, building a chair on the Herman Miller site to assure proper fit for me. Convinced its directly related to health at the end of the day, so I won't say I wish it was cheaper because it probably wouldn't be the quality that it is and I would be wanting to swap it out right away. Plus it looks a lot better in person, noticed I don't lean forward, or twist and turn as much as I normally do.
The chair came in a box fully assembled as others mentioned, I did swap out the casters, not that the original ones were bad; honestly didn't use them but to move 5 feet and back, the carpet with roller blade type casters seem to move across 1/4″ carpet a little easier. I have never been 100% happy with any chair without finding flaws just after a few hours, being in IT and previous sales, have sat in my fair share of chairs as most of us have. I'm certain I will continue to buy this chair from now on for home use.
Show more +
Saint: "This chair is incredible but only until you give it time."
I have spent countless hours and months browsing for a new chair and have narrowed it down to what I see as the top in this market from the industry titans, Herman Miller and Steelcase. The Aeron, Embody, and Leap are what I and I'm sure many others see as the best of the best. However I eventually came to the conclusion that I wanted the Aeron over the others.
Why? It is the most utilitarian of any other chair. It brings a sleek, modern, industrial design while seamlessly blending both form and function. It also has the best and accessible third party additions such as the Atlas headrest (which I STRONGLY suggest you purchase as well as it is easily the best headrest on the market and incredibly made.) This chair does away with features that are, in my honest opinion not needed on a chair that yourself will use at home such as seat depth and arm width. These are ergonomic features that are great but with the three sizes you can find the perfect sized chair for your height and weight. Think of it like buying a great pair of leather shoes. If they are the correct size, they are the best fitting and most comfortable thing you own. But because of this I once again STRONGLY suggest you find a nearby seller that carries this chair and specifically the remastered edition as the chair has some size differences from its previous model. This will allow you, just like you would try on clothes, to find the right size for you in person. You could always buy this chair directly from HM or a dealer as well but purchasing through amazon is by far the best option as the delivery is so fast. I had the chair withing a few days after ordering. If I ordered through HM themselves, I would potentially have to wait weeks or even a month. You should absolutely be getting all the features on this chair regardless and since the fully kitted model is all they sell on amazon its the best way to go. At this price range you want every possible feature and adjustment they offer.
Now what should you expect if you do go through with this purchase? I will be sincere and brutally honest. It will be uncomfortable. You will most likely experience pain for the first week or two owning this chair. Now I know what you're thinking. Pain? Isn't that what you don't want? Of course but here's the deal. I would easily say 99% of people working from home or have any sort of office space in the homes at all have been sitting in fairly inexpensive chairs without the absolute best knowledge in ergonomics. Most chairs we sit in have regular padded seats or we seek comfort with big cozy armchairs or the classic large executive chair. Yea they are comfortable but they actually lack the right support for our bodies in the long run. For example, it is better we sat in firmer seats that can in turn properly support our pelvis and base of the spine. The classic padded arm chair, executive chair, or basic office chair causes us to sink more into the chair. This doesn't provide the support we need which can lead to back issues. Yes it's comfortable in the moment to veg out but it isn't great for our bodies. We aren't built to sit for extremely long periods of time so we need to have the most support we can get. When I first sat in this chair my butt hurt, it wasn't used to the firmer sit. But gradually over time it went away as my body adjusted and now it is extremely comfortable. I should add that one of the main reasons I was looking for a new chair was to fix the circulation of my legs being cut off from sitting in previous chairs. This fixed that right away.
The back support was also uncomfortable at first and took a bit longer for my body to adjust to but it has gotten much better and fixed issues I wasn't even aware of. I thought my posture wasn't terrible for the most part. I consciously sat up straight and looked for proper support where I needed it. But I was actually doing it wrong. Lumbar support is supposed to be right around or above the belt line, not below it. I , for as long as I can remember was putting the lumbar in the small of my back which of course felt more comfortable but, instead it was pushing my lower spine further inward along with causing more tilt in my pelvis. This is called anterior pelvic tilt and actually it is extremely common in people without them actually knowing it. This chair corrected this issue. Now it wasn't an extreme condition of it, but none the less I can easily see that my posture and pelvic alignment has adjusted to a more neutral position within a few weeks of using it. It corrected an ongoing and potential growing issue that I was doing to myself over years of poor seating in just a couple weeks. I attribute this to the PostureFit SL system that provides both support to the mid-back/actual proper lumbar position as well as support to the sacrum providing proper natural tilt to the pelvis. This is something I truly didn't notice or understand till after I figured out what it was doing.
The only chair I can honestly say that may do the same thing in some way is the Embody as it does provide that full on back support. But I don't thing it necessarily provides it as strongly which I think is what people actually need. The Leap doesn't have any sort of pelvic support as there is a gap between the back of the chair and the seat pan. There really is only the classic height adjustable lumbar support along with depth tension (which the PostureFit does provide). However as I finally figured out, if you don't know how to properly align your lumbar support and only put it where it "feels good", it could do more harm than good over time.
Some things to note, I love the arms on this chair and find them to be the best arms ever made. Yes they are better than the Leap's and by far and away better than the Embody's. I actually think the Embody arms are the worst designed arms of any chair, especially for a chair of that caliber. The seat recline is also something to be experienced as it is unique to Herman Miller chairs and I believe even the Aeron's is even more special.
I can honestly go on about this chair for more but the main take away is that, yes this chair is 100% worth the price just for the build quality and ergonomic prowess this thing brings let alone the massive 12 year warranty that covers everything on the chair. Herman Miller provides some of, if not the best customer service for their chairs in the business.
Show more +
Negative Review
Aaron Reed: "The chair will feel ok for a month"
My work bought this chair for us when we transitioned buildings. It felt so much better on my tail bone due to the mesh fabric that I bought this one (the one I am reviewing) for my home office brand new. I alternate between this chair and standing at my desk periodically. What I found is it is causing mid-to-lower back issues for me. My back aaaaaaaches now due to the chair not having lower back support. The mesh fabric allows your lower back to roll to the back of the chair. The controls that should provide support to your lower back are very poorly built and actually put a little pressure above the lower back. It's in the wrong spot. Don't buy this chair. It's way too expensive for this much back pain. Find a chair with lower lumbar support if you have a desk job.
Show more +
Herman Miller Vs Steelcase – Final Thought
In short, X Chair vs Herman Miller is still a hot topic for people who have a deep love for ergonomic trends and healthy office products.
Each brand has its own mission but both of them have been aiming to bring the perfect build quality ergonomic chairs to solve harmful issues caused by sitting too long.
If you are seeking an ergonomic chair with great technological advances, choose the products from X Chair. But if you are really keen on a chair that has a great ergonomic design with modern-looking, chairs from Herman Miller are born for you.
See more:
Steelcase Gesture vs Herman Miller Aeron
FittingChairs hope that you clearly understand what is ideal for you based on the difference between X Chair vs Herman Miller Aeron that we presented in detail. Hope you know which option is best for you!