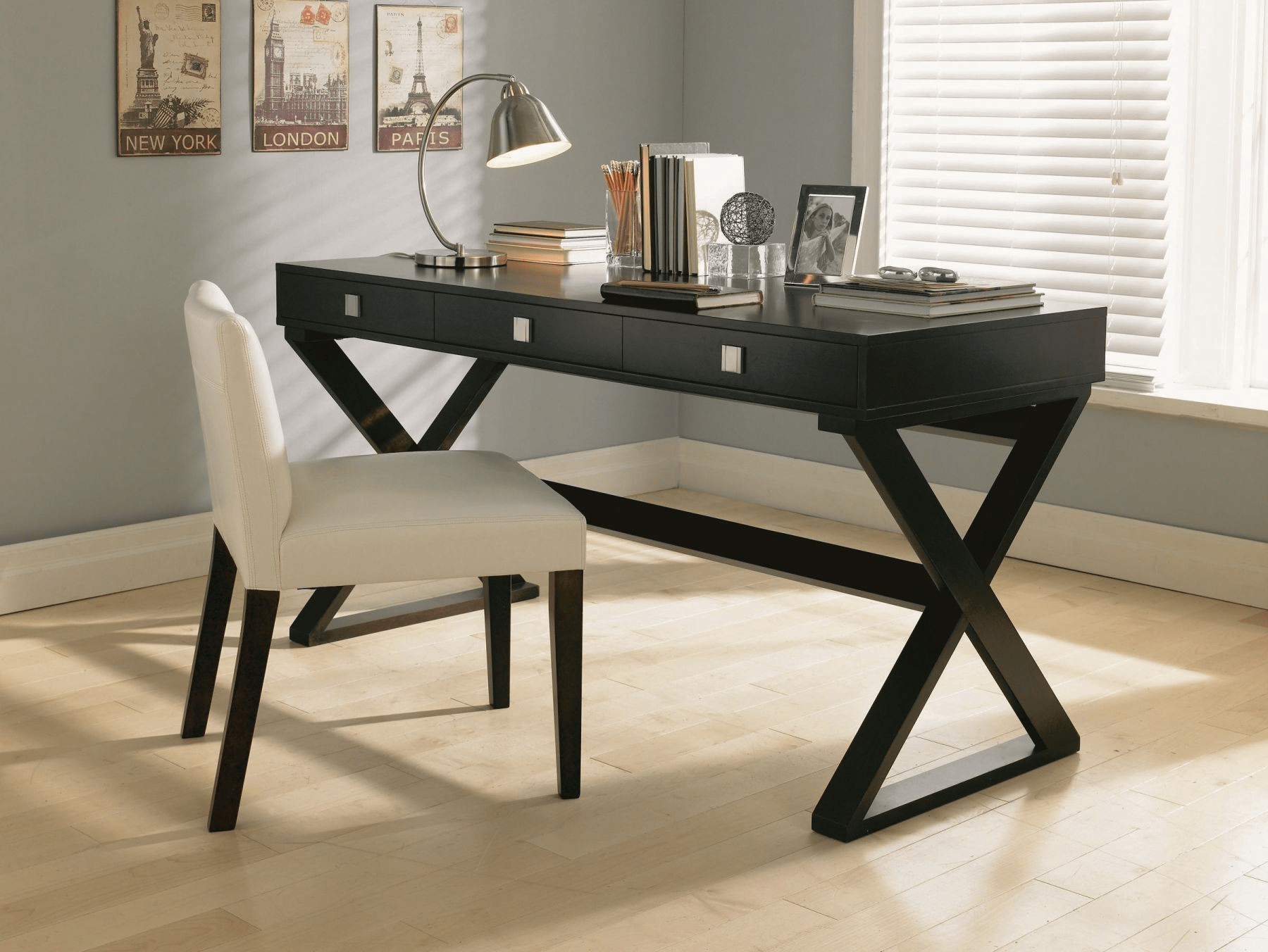 To create an amazing home office, desk design is what you should not skip on. Having great desk design can bring inspiration and creativity for your work. This article from FittingChairs will show you some home office desk design ideas as well as what you should pay attention to when choosing desks for your home office.
Office Desk Materials
There are a lot of materials used to produce desks. Below are some of the most popular ones. When choosing desk materials, you need to consider its durability and how suitable it is for your home office design.
Wood Desks
Wood is considered to be the most popular material for making desks. Desks made from wood can actually fit well in any design of office or home office from the conventional to contemporary.
Based on the type of wood, the wooden desks can be heavy or light.
Desks made from wood can bring a sense of groundedness in a space. They can be stained or painted.
There are many types of wood such as maple, oak, elm, walnut, pine, teak, bamboo, cedar and mahogany. Each one has its own advantages and disadvantages.
Glass Desks
Glass desks can fit in will office designs of minimalist and contemporary style. They have a sleek and elegant look.
Compared to solid wooden desks, glass ones are often lighter and easier to move. However, if the manufacturers cut the glass thick, these desks can also be heavy.
Desks made of glass are often see-through. This can help improve the design of the room. They can also reflect light and brighten your space.
Its demerits are the durability and hardship to keep clean.
They are also likely to be cracked or broken when being moved. Fingerprint and streak are what can be left on the surface or glass desks, which do not look good.
Metal Desks
Another type of desks is the metal ones. These desks are not so popular compared to the two above ones.
The majority of metal desks are made of steel which is suitable with offices of industrial style. Desks of steel are durable but they are heavy.
A desk of metal can have a rough finish surface depending on how it is manufactured. The rough finishing might damage your office flooring or you might feel not so comfortable when using it on a daily basis.
Plastic Laminate / Acrylic
One more type of desk materials is the plastic laminate or acrylic. Plastic desks are cheap and portable so they are really common. What's more, they also come in many different sizes and shapes. Plastics like PVC are also quite durable.
However, their durability can not be as high as the wooden desks. They do not have an elegant look like the wooden or glass desks either.
Various Desk Designs and Styles
These days, a desk does not simply have a surface and four legs. You can take a look at some diverse designs and styles of desks as below.
Traditional Desks
Traditional desks usually have well-established designs. Desks in this style can fit really well in vintage libraries.
Normally, traditional desks come in brown or dark colors, large size and wood or wood-like materials. MDF or medium-density fiberboard is one of the common wood-like materials used to make desks.
You can have some recommendation as followings:
The Signature Design Traditional Home Office Desk with Storage and Pull Out Tray, Medium Brown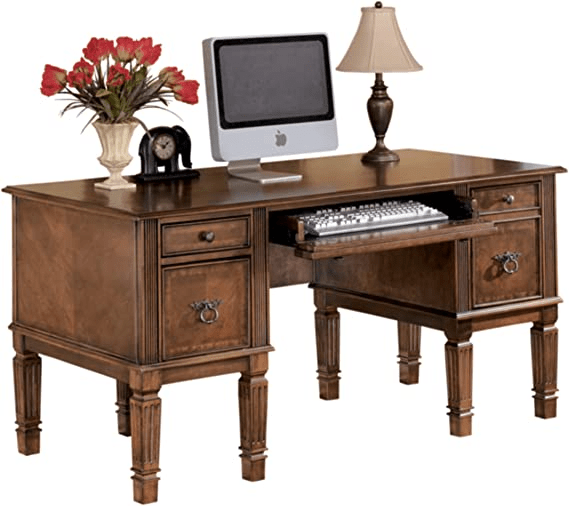 The Sauder Palladia L-Shaped Desk, Vintage Oak finish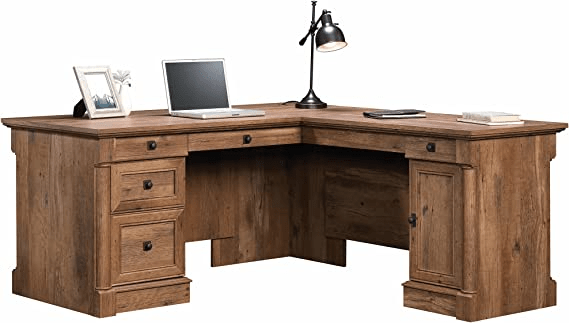 The Martin Furniture Executve L-Desk & Return with Solid Wood Plank Tops, Fully Assembled, Brown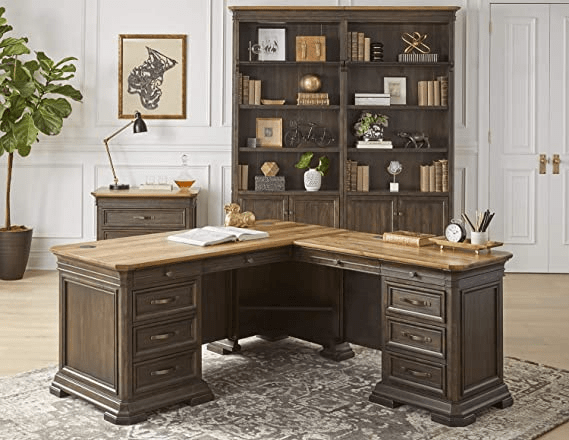 Modern / Contemporary Desks
A modern or contemporary desk will have a sleek and light appeal. Desks in this style are more minimalist and they come with straight lines.
With straight angular lines, these desks look smaller. We have some options for you to consider as below.
Techni Mobili Expandable Modern Storage Writing Desk, Mahogany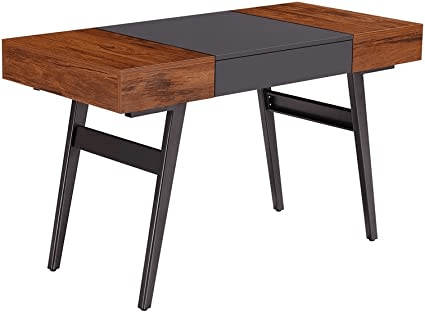 Modway Adjacent Contemporary Modern Office Desk With Metallic Legs in White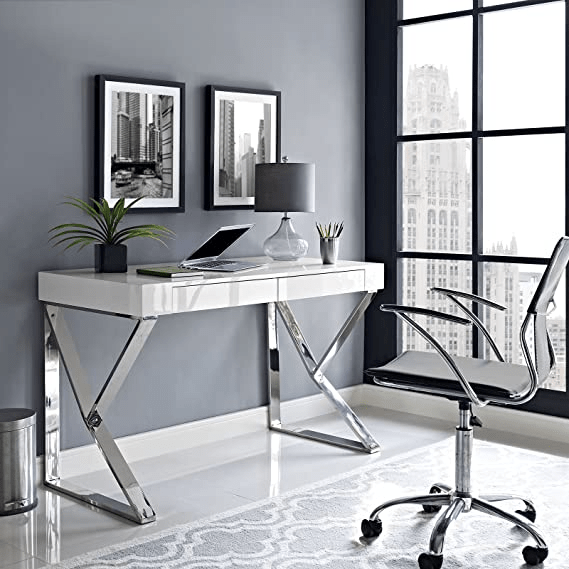 bonVIVO Small Glass Desk – for Home Office & Bedroom – White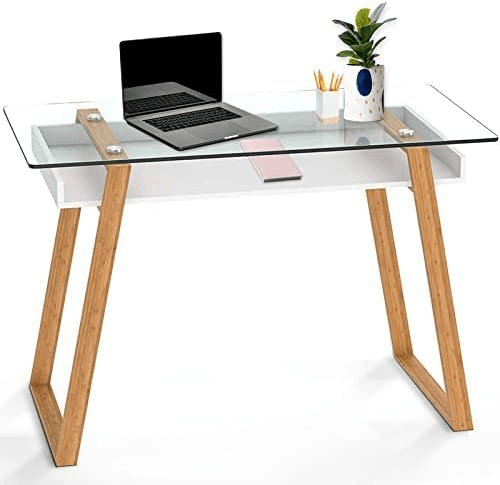 Different Desk Shapes
Choosing shapes of desks is also important. Each shape is suited for a style or design of a particular room.
L-Shaped Desks
L-shaped desks have a shape of the letter L.
One surface you can use for your main work and one surface you can use for storage or secondary work.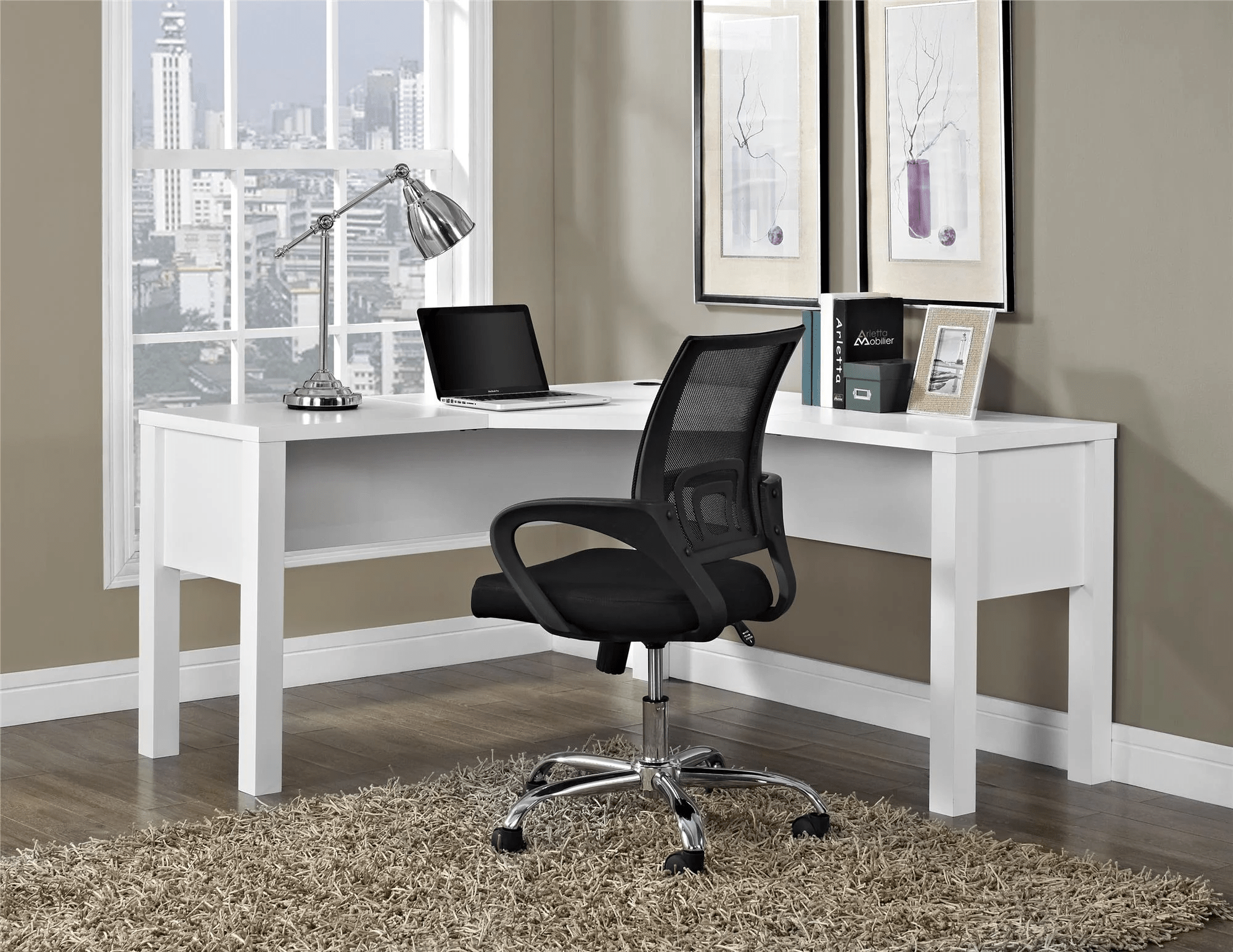 U-Shaped Desks
U-shaped desks have a shape of the letter U.
Desks of U shape might look really like ones of L shape but they provide more surface. You will have 3 sides of workspace surrounding you when you use U-shaped desks. These desks are suitable for larger spaces.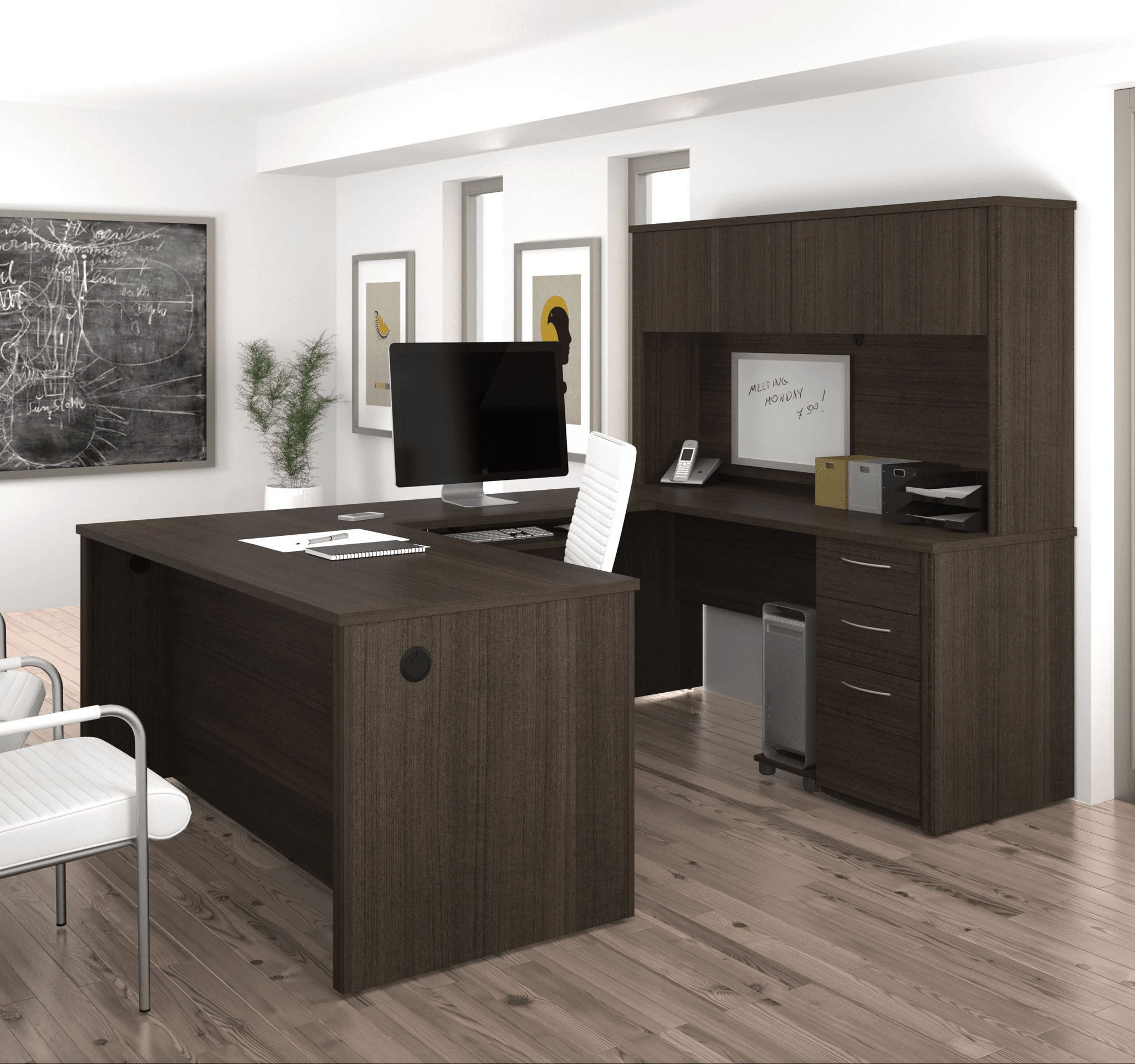 Corner Desks
If you have smaller spaces, opt for corner desks.
A corner desk is able to fit into the smallest spaces and does not take up so much room. You just need to make sure you have enough space left for moving your chair in and out.
Some corner desks also offer built-in storage to save you even more space and improve their design utility.
ODK CornerDesk Triangle Computer Desk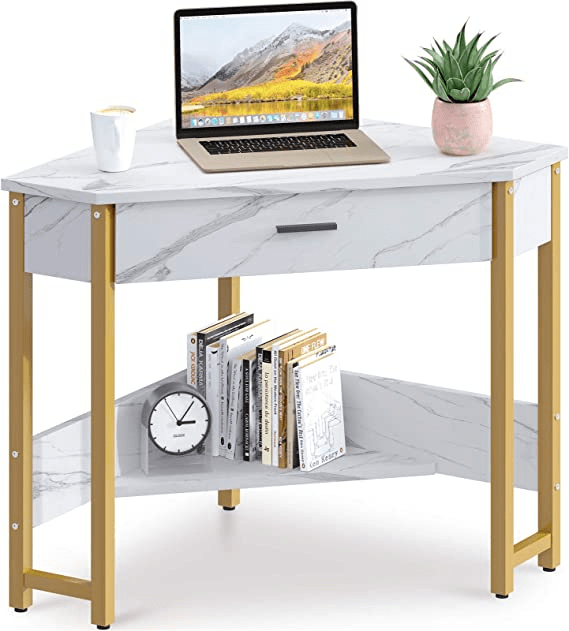 VECELO Desk with Keyboard Corner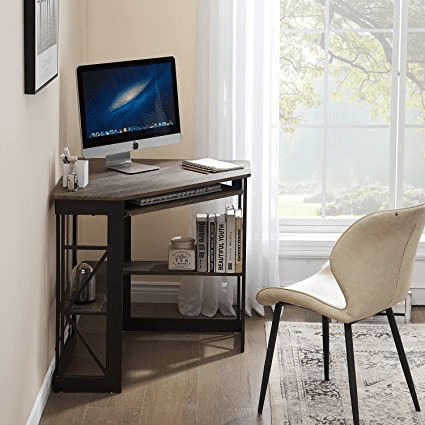 Leick Home Chisel & Forge Corner Computer Desk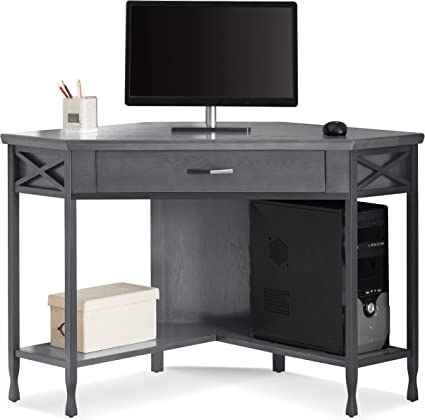 Floating Desks (Wall-Mounted)
If you wish to save space in your room, floating desk is another great choice. You can mount it to the wall.
You can pull up a chair when you need to use the desk and when you finish your work, you can fold your desk away.
Pmnianhua Multifunctional Fold Down Wooden Wall-Mounted Laptop Computer Desk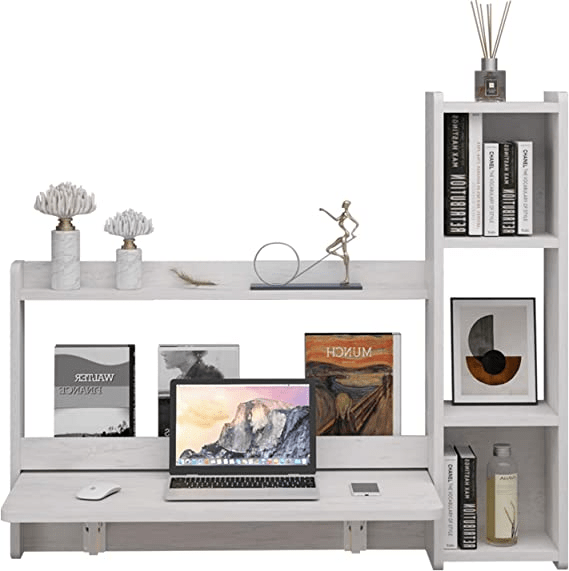 9 Plus Wall-Mounted Floating Folding Table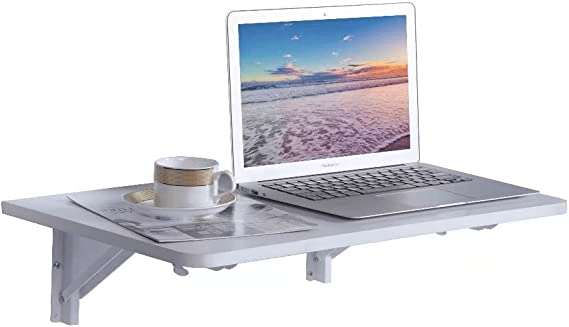 YUSING Wall-Mounted Fold-Out Convertible Desk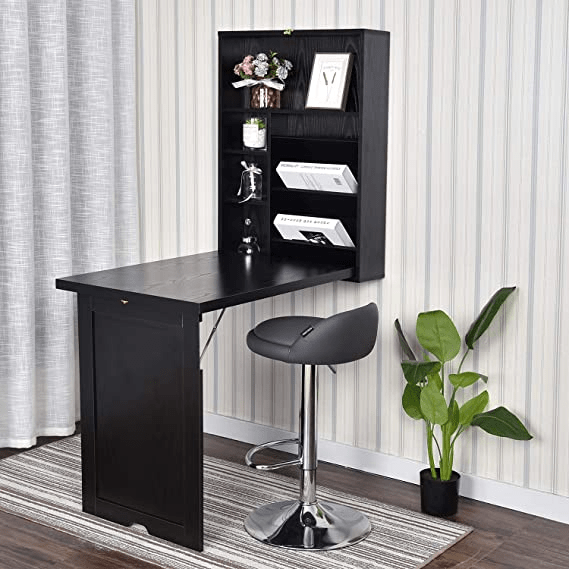 Desks Designed for Different Needs
Desks can be designed for various demand of people. And when you select one desk, you need to consider if it is really suitable for your requirements.
Desks for Dual Monitors
Dual monitors might be the equipment you will need when working from home.
Having a desk designed for using dual monitors will be crucial in this situation.
Cubiker Modern L-Shaped Computer Office Desk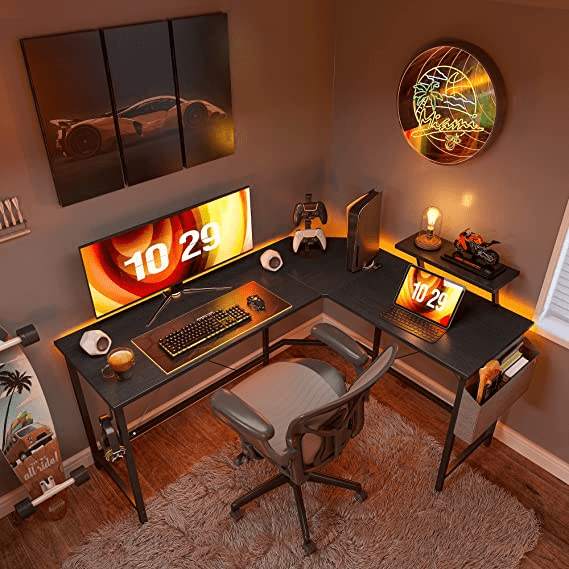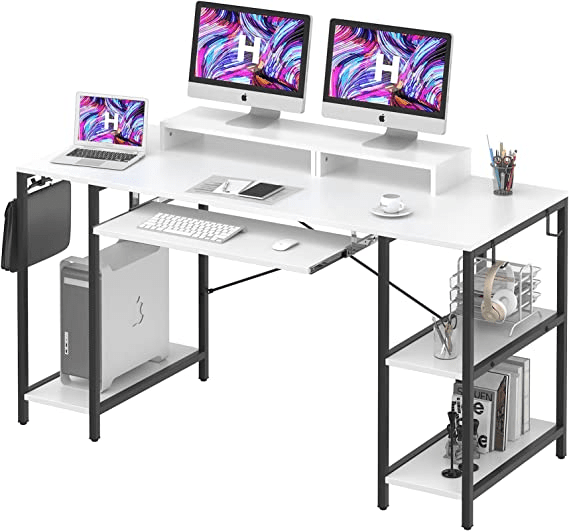 Desks for Multiple People
Desks designed for multiple people will be suitable when you want to create a home office for many people to work together.
Extra long desks for computers can fit easily two workstations.
It is essential to pay attention to how you arrange things in the room.
If you have a full room to turn it into a home office, you can take the desk off the wall land put it in the middle of the room.
One way you can consider to try is using a big desk or pushing two desks against one another in the middle of the room. By doing this, you can set up many workstations in the same area.
Desk Designs for Small Spaces
A desk with compact design will be what you need when your working space is limited.
A corner desk or a mountable one can be great choices which let you work in small areas.
You can put your laptop on a console table. A storage ottoman can be used for stowing office supplies and also used as a seat. You can also try a mobile desk which you can move around the room.
Desk Designs for Optimum Storage
If you have so many things to store in your working space, let's search for desks which are designed for optimum storage.
Small Desk White Computer Desk with Storage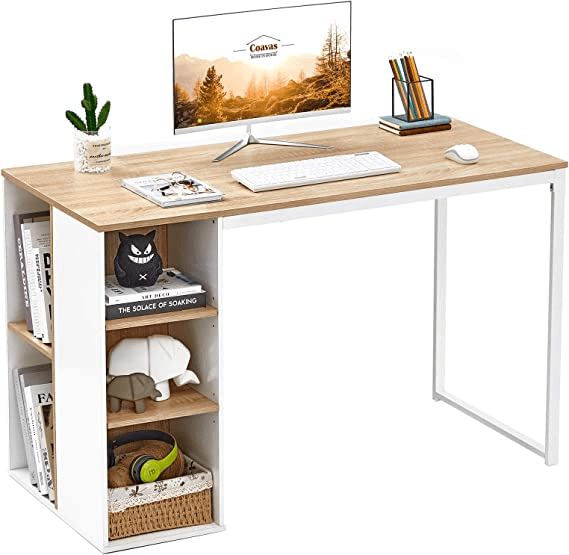 Tribesigns Reversible L Shaped Computer Desk with Storage Shelf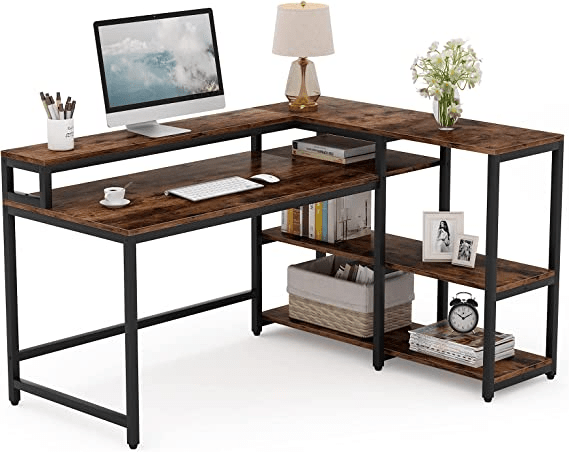 Sauder Harbor View Computer Desk with Hutch, Salt Oak finish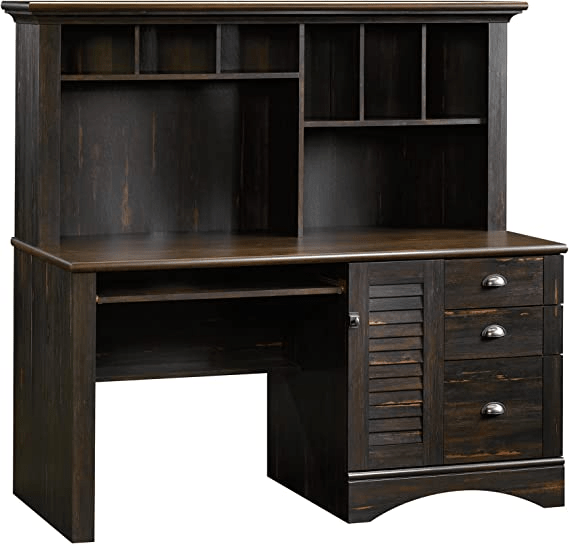 Multifunctional Desk Spaces
Having a separate space only for home office is always the best. But in case you have to share your working space with other areas or rooms in your house, try to make the most out of a piece of your furniture by applying multifunctional design. Workspaces can be the kitchen, living room, dining room and so on.
Designs for a Desktop
You have searched for desk designs, now you need to plan how you will design your desktop space.
Space Saving
If you want to look for a desk design for saving space, select the items fitting into a small space and not taking up too much surface of your desk.
A monitor stand can raise your computer's monitor off your desktop and provide a small space for storing.
A clip-on desk lamp to be attached to the side of your desk will save more space.
An organizer under desk can help you keep documents and things instead of having them piled up on the desk's surface.
Cord Management
It is easy for cord clutter to eat up your space so you should have a desk design which keeps your cord in control.
A cable management box can keep cords and power strips well on desktops. You can try this Artwork Craft Bamboo Cable Management Box.
Or if you want alternatives for a cable management box, you can use a cable management tray or use wireless charger power strip.
Hope with all the information of office desk design for home we have shared, you will be able to create the most effective desk design for your working space at home. FittingChairs will be back with more useful tips of working from home so don't forget to follow us to not miss them.