Today, in this Herman Miller Embody review, FittingChairs will take a closer look at another popular chair from Herman Miller, the Embody.
Although different people in our office have different tastes, it will be interesting to see what this chair ends up being your favorite. Find out this Herman Miller Embody review now.
Herman Miller Embody Review Snapshot
This Herman Miller Embody review will take a snapshot of a chair manufactured by one of the the largest furniture brands in the world.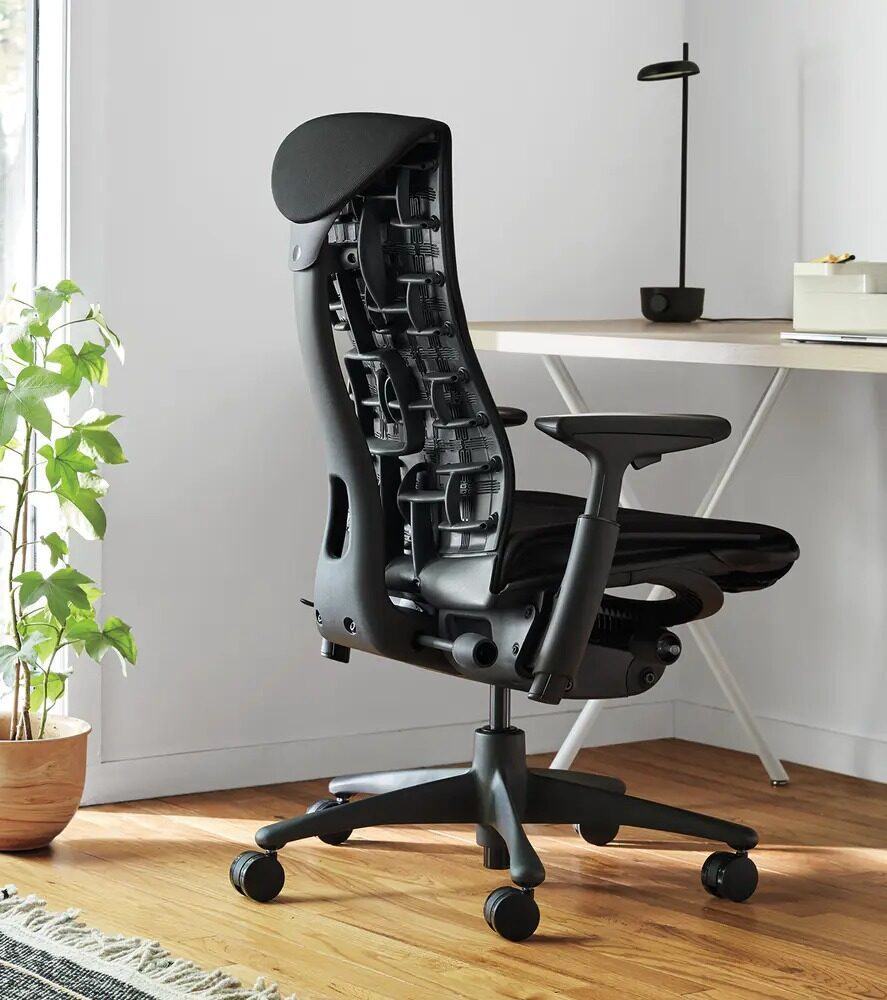 Herman Miller Embody
This chair promotes good posture and makes you feel like you're floating, providing ergonomic support while allowing you to move.
Awesome
It's incredibly comfortable and you can easily sit in it for a full day. It boasts many excellent adjustable features, which allows it the capability to be customizable for many properly.
Positive
Fits wide range of people
High-end quality
Strong warranty
Pixelated support conforms to your body type
Flexible seat and back allow for movement
Back angle adjustment
Ships fully assembled
Negatives
High price tag
No lumbar adjustment
No arm pad adjustment
Limited upholstery options
Herman Miller Embody Review: What's special about its design?
When it comes to outlook of the Embody, this is a chair whose ergonomically designed by premium Herman Miller.
When viewed as a whole, the chair is stunning, but when you zoom in to examine each individual edge, joint, and connector, it becomes greater.
Design Story
About the design story of Herman Miller Embody, it's called a new benchmark.
Over 20 physicians and PhDs in the fields of biomechanics, vision, physical therapy, and ergonomics contributed their expertise to help guide its design and development of this chair.
Hence, it's not a surprise when Embody has set a new benchmark for pressure distribution, natural alignment, and support for healthy movement in ergonomic seating.
This chair is based on the radical idea that Jeff Weber and the late Bill Stumpf had in their design studio. It's a chair more than just minimizing the negative effects of sitting?
They really designed a chair that actually had positive effects on the body. "You can't design without empathy," said Weber, who also designed our Caper chair.
"Since design has become more technology based, we've had to sit in our chairs in front of computers for longer periods, just like everyone else. We identify with the problems people have as a result of sitting."
Especially, Embody chair was honored by the Alliance for Plastics Processors (APP), a division of the Society of the Plastics Industry, with the organization's first International Plastics Design Competition award.
"Design is the connective tissue between people and the world."

— Bill Stumpf and Jeff Weber
In this Herman Miller x Logitech G Embody gaming chair review, let's dive into what's special in features involving in the design of this chair:
Materials
Take an overview of materials, Embody is constructed of non-toxic and environmentally friendly materials. Detaily, its recyclable ability is up to 95 percent.
The seat itself is made up of four layers of support that work together to keep you cool and comfy. It's really top of the line.
Frame
Related to its design, in this Herman Miller Embody chair review, we also mention more about its frame and how it imitates a human back.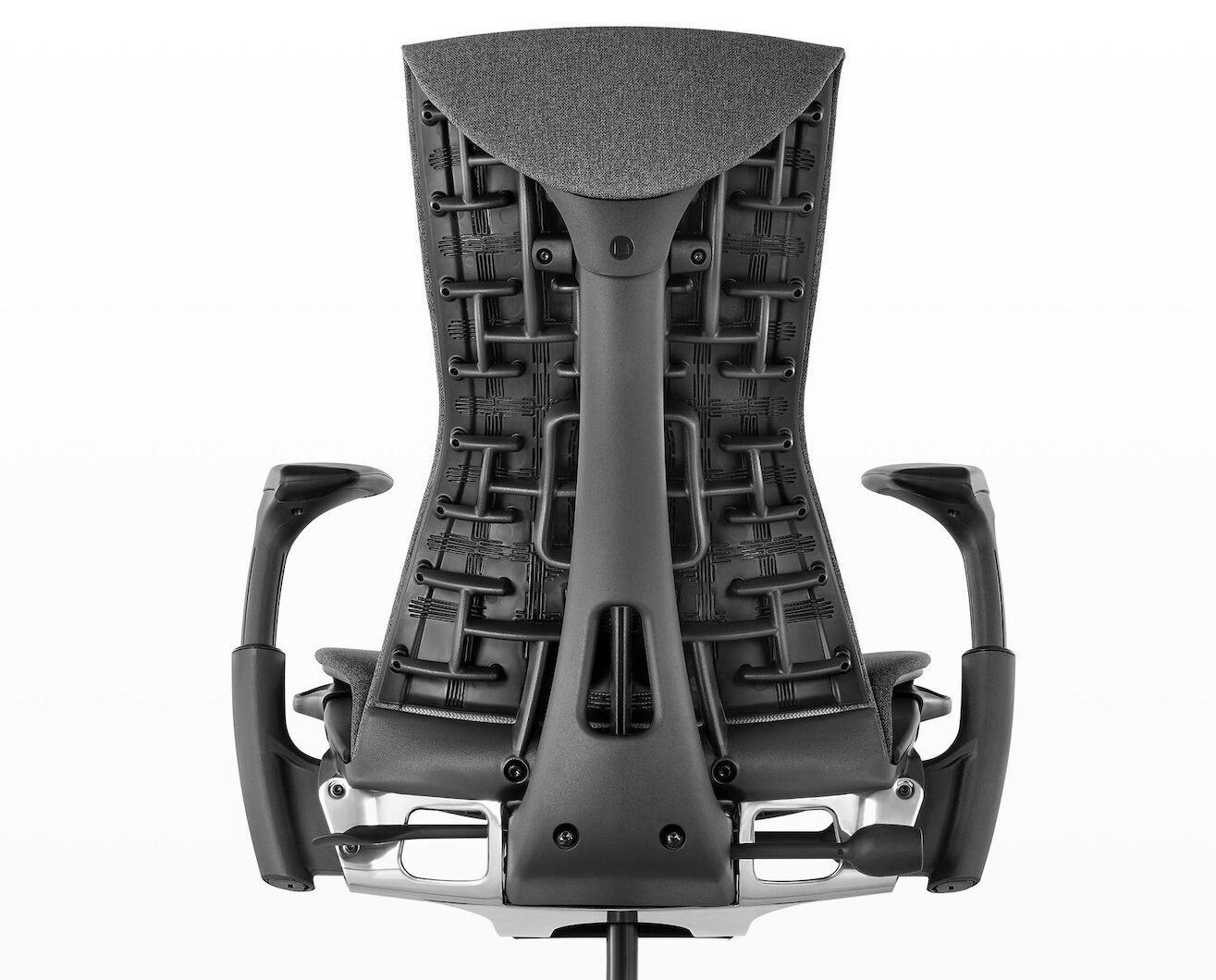 A Spine Like Yours
It has a magnificent core spine for support with a central spine and flexible ribs.
The Embody uses a suspended rubber canvas supported by the frame imitating the skeleton, rather than the foam padding seen on other chairs' backrests.
Turning the BackFit Dial lowers or raises the curve near the thoracic region of the spine, providing you with less or more support as needed.
This kind of frame conforms to your movement and continues to support your back muscles as you move, twist, and bend. Not only that, this also changes the support in the lumbar region, although to a lesser degree.
Layers of Intelligence
For its design of the Embody seat, it is composed of four different support layers each with its own set of material properties.
All working together. Some call it as layers of intelligence. These layers were designed for airflow, keeping you cool and comfortable as you sit.
Pixelated Support
Thanks to a dynamic matrix of pixels, Embody's seat and back surfaces automatically conform to your body's micro-movements, distributing your weight evenly as you sit.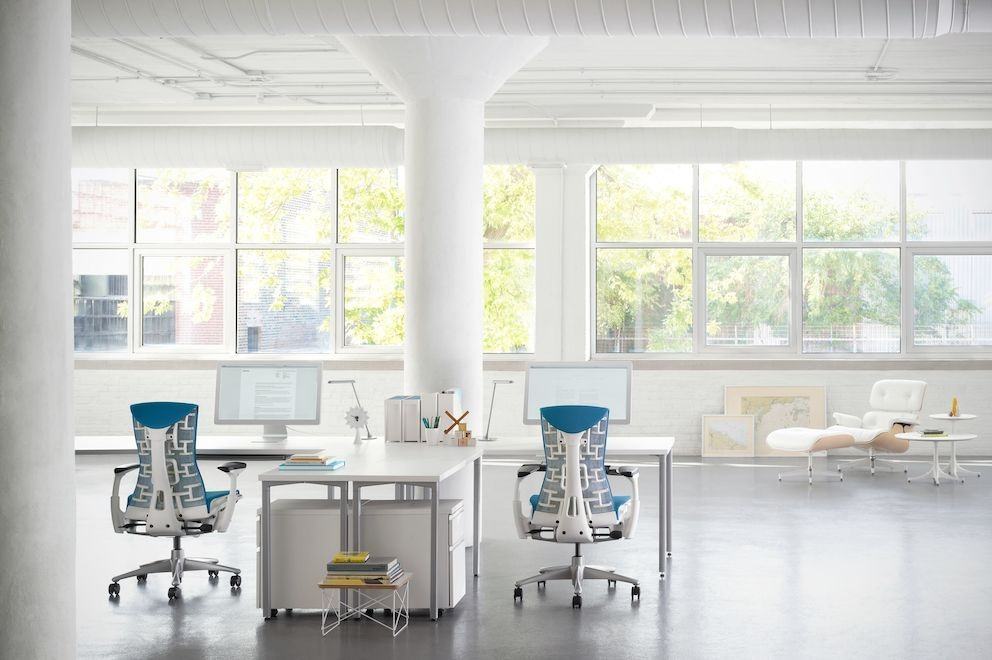 Dimension
If you want to find the best office chair for large person with proper design, this chair is really for you.
The 23.5-inch high-back design comfortably accommodates 95 percent of adults, despite the fact that the backrest height is not adjustable.
Not to mention, larger people or users with longer legs can add three inches to the depth of the seat pan, which is already spacious at 21.25 inches wide and 15 inches deep.
Also, this Embody comes with a suspended coil spring technology instead of a traditional foam cushion, which adapts to your body's micro-movements, which plays a vital role in relieving your pain.
One of the non outstanding features is related to using a non-adjustable lumbar curve instead of a standard adjustable lumbar support or pillow. This might be uncomfortable for some at first and may take time getting used to.
Ease of Assembly
In terms of its design, you can dismiss the durability. Of course, in this Herman Miller Embody review, FittingChairs will also evaluate based on how difficult it was to unpack and assemble.
Even though the Embody comes mostly constructed, it might take you quite some time to finish it. Anyway, for such a high-priced item, we expected a higher level of quality control.
Durability
Overall, this chair is fairly durable, and you might have no problems with it during your usage.
Herman Miller Embody Review: How can it help you improve your health?
In this Herman Miller Embody review, we also mention how this chair can improve your health. Of course, its ability for health will make your purchasing easier.
Herman Miller Embody review will point out including comfort and its adjustability.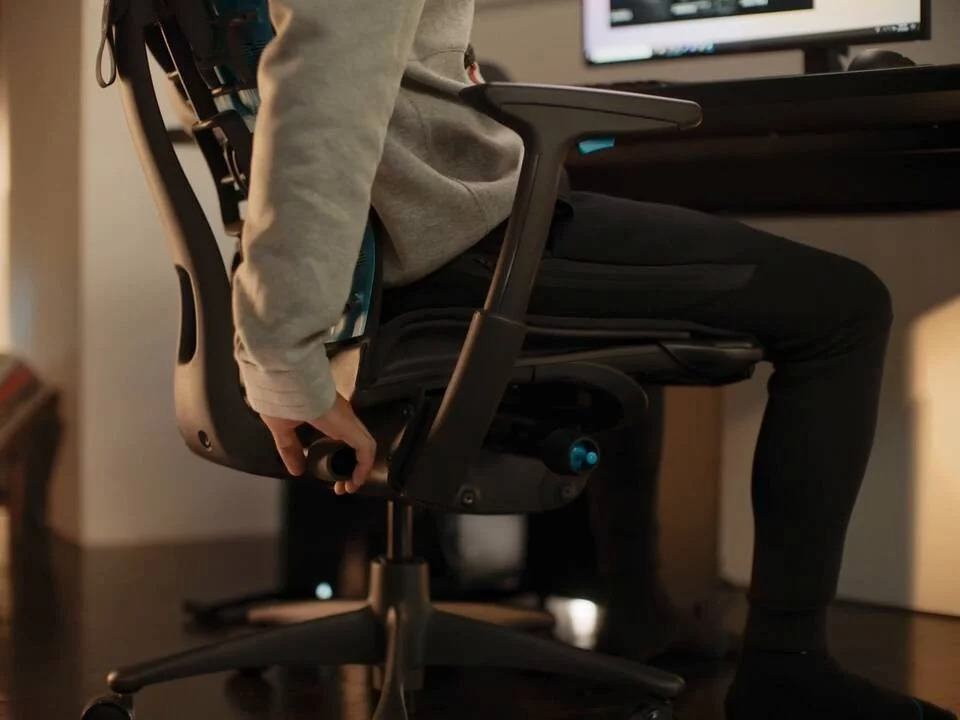 The vast majority of reviewers agree that this chair provides exceptional comfort. It features a very comfy seat and backrest. While some didn't love the armrests, they were still really comfy.
Overall, almost everyone was delighted to spend the entire day in the Embody.
When it comes to deciding how long you could comfortably sit on the Embody, many factors can affect your own answer.
However, many agree that it's still the best office chair for sitting long hours, with comfortably maintaining a high level of comfort for up to 9-10 hours.
Related to adjustability, the backrest, seat, and armrests of each chair are the factors to evaluate.
In fact, besides its design, in this Herman Miller Embody review, FittingChairs would like to mention that this chair also performed admirably once more.
Although this chair has lumbar support, we were unhappy that you can only change the amount of curvature, not the height. This chair's backrest is rather high, and it includes four separate stop positions that can be used as tilt limiters when reclining.
When reclining, the seat and backrest function together via the synchro-tilt mechanism. When the backrest is in the reclining position, the feature adjusts the angle of the seat pan to maintain your body posture aligned and supported.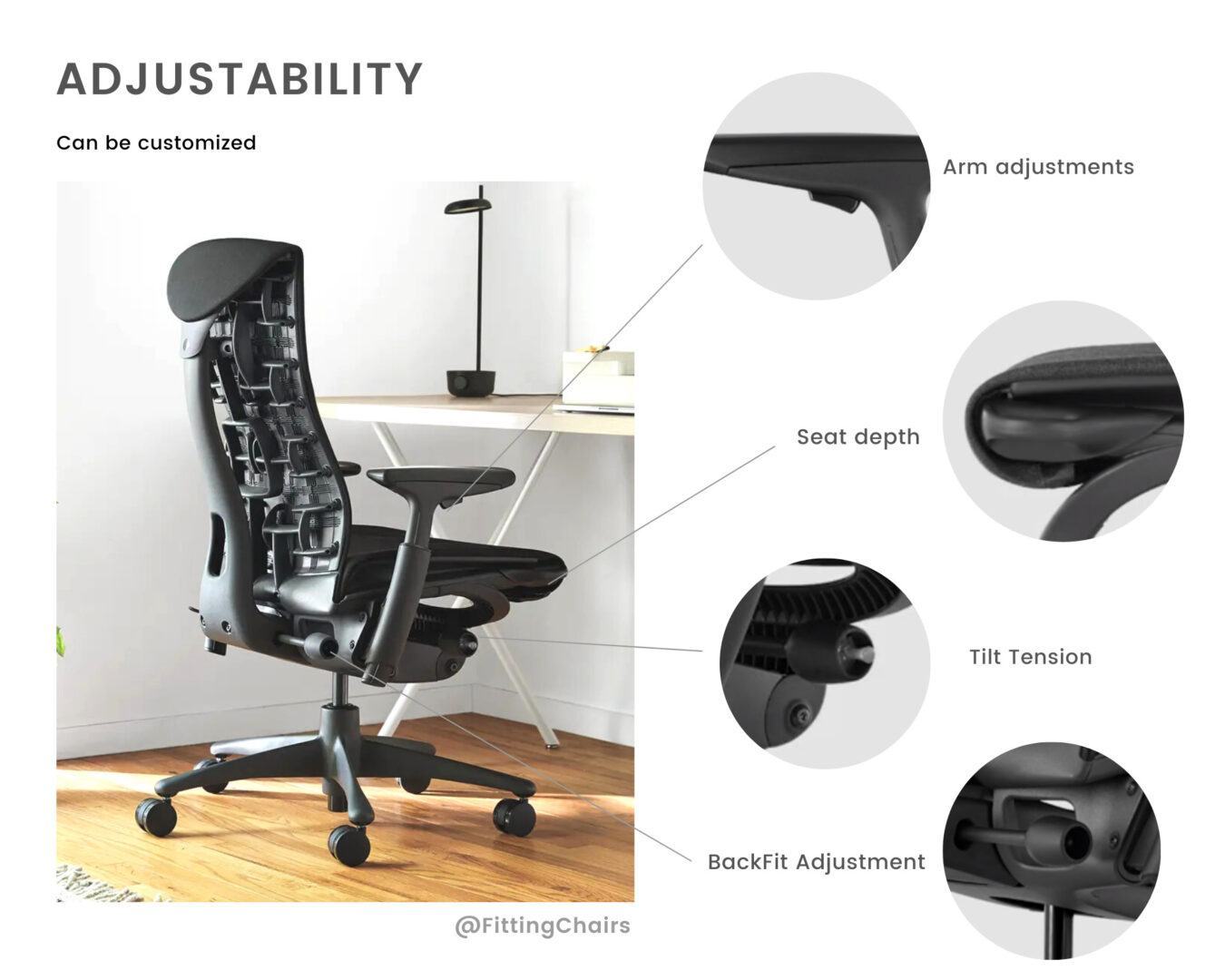 Armrest
The armrests on this chair are pleasantly padded and have an enormous surface area for your arms to rest on. They also have a wide range of height and breadth adjustability. How?
Although the armrests aren't the most modifiable in adjustability, they're incredibly comfy.
Indeed, the armrests are somewhat adjustable, allowing you to move them up and down, as well as closer and further away from you.
Nevertheless, the limitation is that they cannot be moved forward or backward, nor can they be swiveled.
Seat
The Embody's seat is one of the most distinctive and adaptable in the business thanks to its adjustability. It also has a flexible front edge and seat depth adjustability, making it a comfortable seat for most people.
The seat, on the other hand, has a full range of adjustment, allowing you to slide the seat pan forward or backward. When it comes to moving the chair up and down, it also offers a wide range of motion.
The Embody uses a suspended coil spring technology instead of a traditional foam cushion, which adapts to your body's micro-movements, appropriately distributes your weight, and relieves pressure and pain.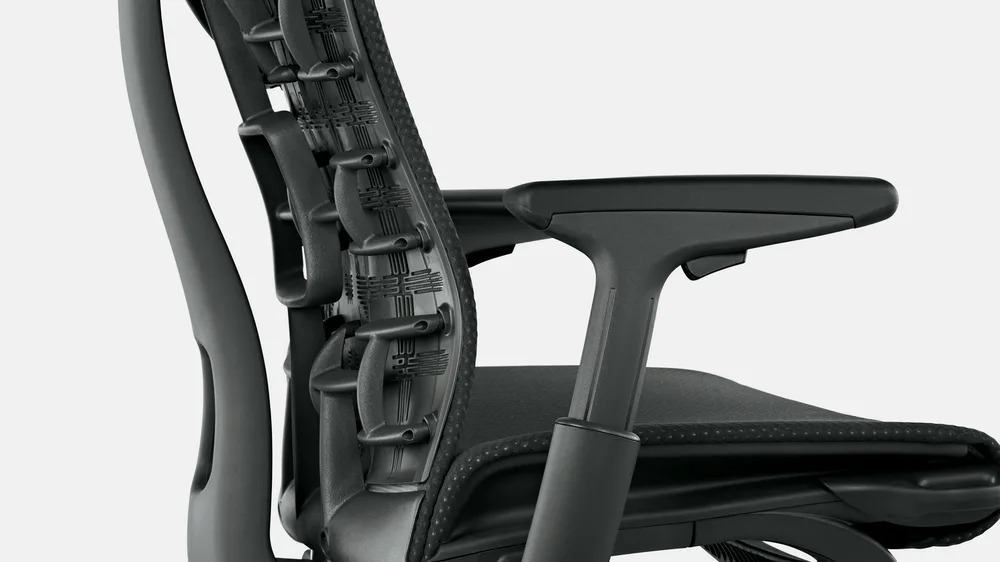 Backrest
In the Herman Miller Embody review, FittingChairs will show that this chair also performed admirably in terms of back support.
While it lacks an independent lumbar support system, it does include back angle adjustment, allowing you to fine-tune the backrest to fit your back perfectly.
The backrest of Embody boasts one of the most flexible backrests with a wonderful natural curvature in the lower lumbar area. Of course, it will help you more in relieving pain as well as supporting your health.
Herman Miller claims that the backrest of Embody will reduce stress, enhance circulation, lower heart rate, and improve posture, as well as making you a better worker.
Recline functions
The Embody, like the Aeron, features one of the smoothest recline functions available. It's ideal for people who prefer to rock back and forth in their chairs frequently or just kick back and relax.
Overall, this is one of the most relaxing recline functions we've come across.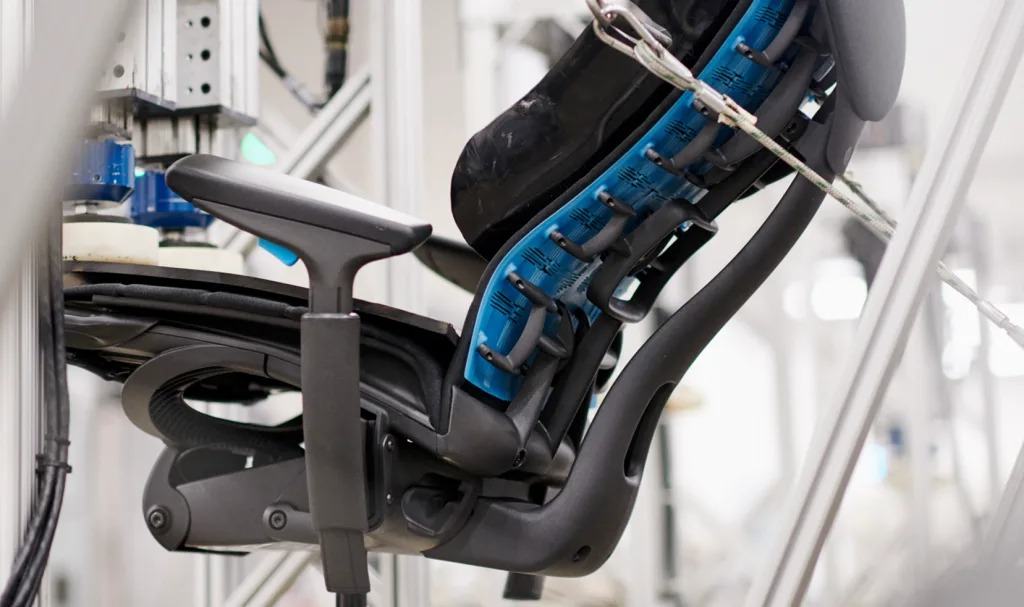 Pixelated Support
This Herman Miller Embody Logitech review refers to the Pixelated support in both design and supporting for your health.
Based on the dynamic matrix of pixels, Embody's seat and back surfaces automatically conform to your body's micro-movements.
This reduces pressure and encourages movement, both of which are key to maintaining healthy circulation and focus.
Herman Miller Embody Review: Customer review
Here are some Herman Miller Embody reviews from customers on Amazon:
Positive Reviews
According to customer Orion on Amazon, "Unexpectedly great chair – easily adjusting it to suit changing day-to-day needs makes it incredible"
"The bottom line on this chair is that it is unexpectedly miraculous. After just 3 days, I've found it is unconventionally comfortable and the thing that makes it unique is that it renders adjusting it a normal part of its usage. I was originally like most folks, I presume – set the chair and then see how it does – but this chair demands that you use its intuitive controls to change things around as your needs change during the day. It is so easy to do, and that is where the magic is.
I graduated from an excellent budget chair, the Alera Elusion high-back that is very adjustable. After over 5 years of pretty heavy usage, though, it was showing its wear, and I was really starting to feel the cushion every time I sat on it. I also started to experience some neck, shoulder, and lower back discomfort, and decided it was time to graduate to a better solution.
I did not consider the Embody chair initially. At first glance, it looked a bit weird, and it was also on the expensive side, so I blew right past it. My initial starting point was the Aeron. I had used one at work years ago, and I recalled its adjustability. My body was much younger when I had used it, so I didn't experience its ergonomic benefits as well as I should have. I also looked at Steelcase models as they had some good reviews. Steelcase didn't fit my requirements as well as the Herman Miller solutions, so I gravitated strongly to the Aeron and was about to push the trigger on the order. A last second search on YouTube led me to the Embody and I was intrigued because of a couple of factors: the intuitiveness of the controls and the emphasis on the flexibility of the back and seat. The people that loved it REALLY loved it, and that, compounded with the Herman Miller return policy interested me enough to try it.
So, here are some findings from the past 3 days:
First, the seat is incredibly comfortable. The pixellated solution flexes with the weight that is applied to it, and it makes you feel as though you are suspended with no uncomfortable pressure points – this completely resolved the issue I was facing with the old Alera. It breathes well, is cool, and just invites you to sit down. The seat length adjustment required a little strength, but works well – you are not stuck with just the default length that might be either too small or too large. I had to adjust a couple of times to get just the right length. Once set, I don't foresee having to adjust it often.
Second, I have found that I change the recline setting on the chair frequently. When I am typing, I set it so that it is relatively rigid, and when I am mostly reading, I set it so that it flexes more. There are several aspects to this – for typing, I set the tilt limiter to the position that allows the least possible movement or the next step down. I tighten the recline knob to keep me more upright, and adjust the back to a comfortable setting. It is all really easy, and the chair gives immediate feedback to ensure a good setting. When I am reading, I set the recline to setting 2 or 3 (more recline) and relax the recline a bit. That gives me the opportunity to lean back as needed and move around, with full support. If I am watching YouTube, I go to the most relaxed recline setting, and adjust the back to a less aggressive setting, and it is very comfortable. Setting/resetting all of the controls is responsive, easy, and intuitive. I never thought that this would be so required in a good seating experience.
Third, I fiddled with the height of the chair to find the most comfortable setting. I use an iMovR standing desk and a Kinesis Advantage keyboard. I initially set the chair/desk combination so that my feet were flat on the ground and so that my forearms were angled downward slightly – supposedly more ergonomic. I ended up with some discomfort in my right wrist. Through experimentation, I found that raising my table or lowering the chair so that my forearms are angled a bit upwards got me in the correct wrist position for the keyboard, since it has wells. I am more upright with these settings, and am finding that my back is much more in contact with the chair, providing great and flexible support. This may not work well for folks using normal keyboards, but it is great with the Advantage. I also adjusted the height of the monitor so that it is a little higher than most ergonomic folks would recommend. I had found that by keeping the top of the monitor strictly at eye level as recommended, I was moving my head down to read the lower part of the screen, and this was causing some neck discomfort. My current setting is very comfortable.
I have spent long hours in this chair over the past few days, and I am very impressed. My experience with the Alera and Aeron, both excellent chairs, is that they unwittingly promote the initial set and don't adjust paradigm, simply because adjustments, though technically possible, are not as integrated into the seating experience – you have to bend, get up, or twist unnaturally to do the adjustment. The Embody chair, on the other hand, encourages adjustments while you are in the seated position because the controls are few and easy to reach. This allows adjustments that correlate to the changing needs of our bodies throughout the day with immediate feedback because all of the controls are so well placed and simple to use. Flexibility and consistent support are inherently part of the design.
No doubt that this chair is expensive, but with the generous 12 year warranty, this chair is about as good an investment you can make for your back and your general health if you spend significant time in a chair."
Show more +
Written by Trent, "If you are on the fence, just get it, you wont be sorry!"
"I am so impressed with this chair and I am glad I spent a few weeks reading all the reviews from all the manufactures. As a large 280 pound 6'5″ man I find it hard to fit into most chairs. There are so many options for me to get the chair setup just right that I feel it has already allowed my back to recover after only a few short days."
Show more +
Negative Reviews
Michelle Tonge ranked 1 star for this product "Very difficult to put together"
"I wanted an ergonomic chair, and after reading articles and reviews, I decided on this chair. I just got off the phone with customer service because this chair came unassembled. I would have gladly paid for assembly, but that is not offered with this chair. I have spent the last 2 hours trying to get this thing put together. Directions are very difficult to understand. I am not able to get the back properly installed.
According to customer service, this chair is supposed to come fully assembled, but one of the answered questions says it doesn't come fully assembled. I have asked for a replacement, but if it is not fully assembled, back it will go. I am not holding my breath."
Show more +
A anonymous customer with nickname Inverse Square Law wrote "Feeling like I threw away $1300"
"As others have mentioned, the seat is not comfortable. The cheap looking arms can't be removed without taking it apart, and the some of the plastic is starting to come apart. The back has a lot of unnecessary adjustments.
I've had this chair For a year now, and I like it less and less every day. I wanted to like it, and it looks nice, but the controls for raising and lowering are not convenient and for over $1,300 it is not worth it. My estimate of what it should cost is <$130. I'm sorry I kept this chair, I thought it would feel better over time. I'm looking to buy a replacement. I expect more on a $1,300 chair."
Show more +
Should you buy the Herman Miller Embody?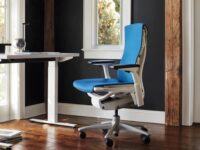 The Embody work chair is the modern benchmark for pressure distribution, natural alignment, and healthy movement.
Is the Herman Miller Embody worth it? The Embody, following the direction of this Herman Miller Embody review, is excellent for lengthy periods of time spent at a desk. The backrest nearly molds to your body after a while.
Even consumers who gave the Embody a low grade remarked it was the most comfortable chair on the market they had ever sat in.
Also, you have to take time for adjustment, but the return is well worth it when you realize you are absolutely comfortable and pain-free after a hard day at work.
And that is something for which you should be willing to pay a bit more for the Herman Miller Embody.
See more:
The Embody is not going to be the best ergonomic chair for everyone. Hopefully, this Herman Miller Embody review will help you to decide if the Embody is a good fit for your needs.