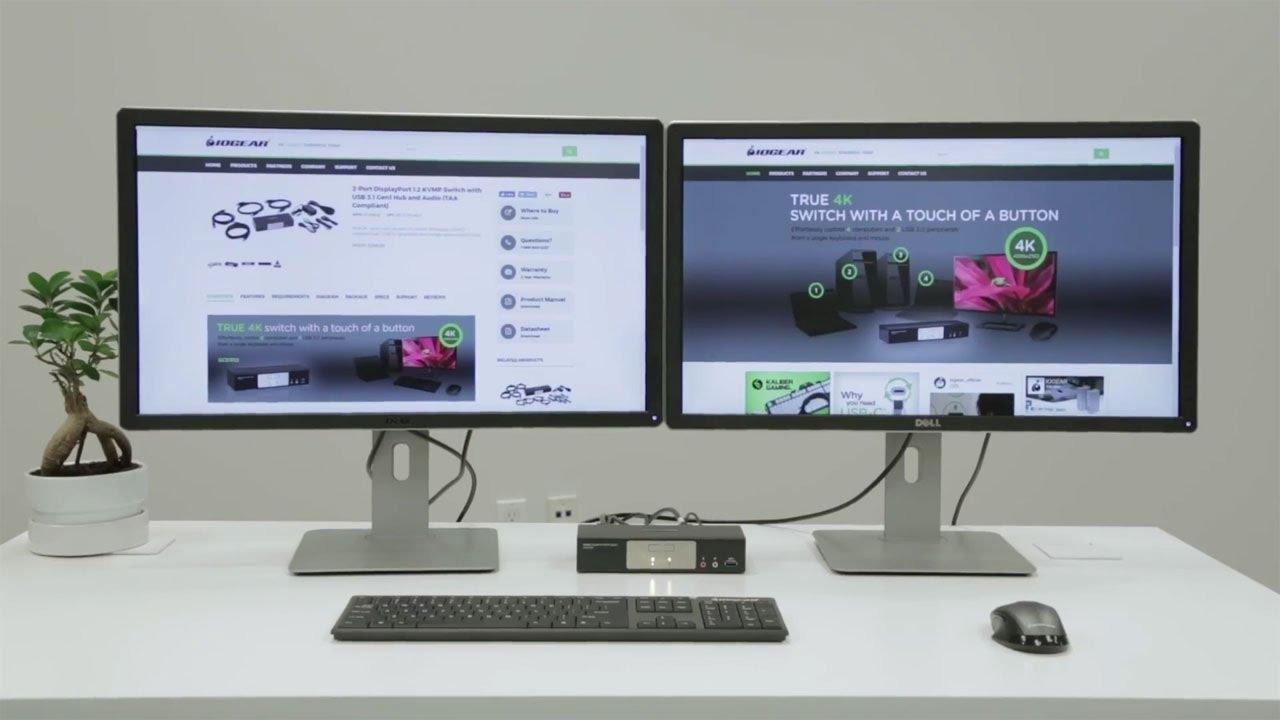 What is KVM switch? A KVM switch may make working from home on multiple connected computers more convenient. FittingChairs will show you everything you need to know!
What Is a KVM Switch?
KVM stands for keyboard, video monitor, and mouse, and it connects computers from a single control station.
A KVM switch connects two or more computers by allowing them to share peripherals. As a result, a user has complete control over each computer without having to switch between multiple keyboards and mice.
Depending on the type of KVM switch, it can connect two or more computers. KVM switches can also operate from a single display or a group of screen display monitors.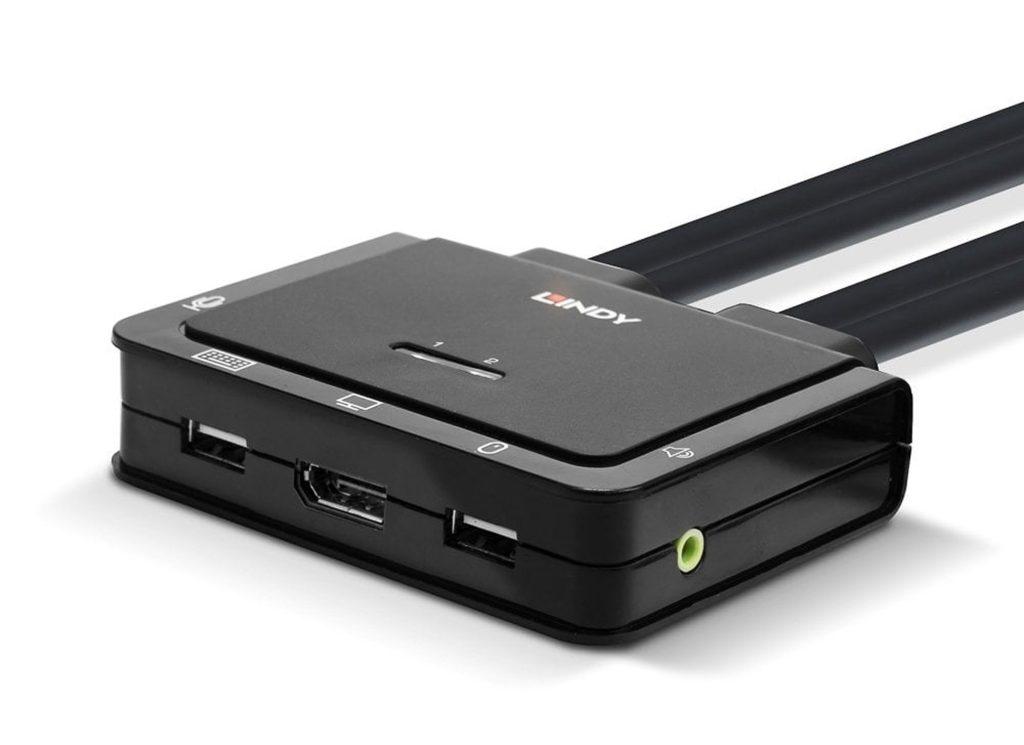 A DisplayPort KVM switch connects DisplayPort computers via USB port connections. However, this is not the only type of KVM switch available.
KVM switches increase productivity by eliminating the need to move keyboards and mice around a desk or workstation. Their hubs provide several advantages to anyone managing a busy workspace:
Increase productivity
Capabilities for saving space
Saving money
With this kind of product, you can create your ideal office space. For any given job, there's no need to overspend on multiple mice or keyboards.
Does a KVM Switch Work with DisplayPort?
Yes, the DisplayPort interface is a popular way for users to connect two DisplayPort computers and share them by using a single USB keyboard and mouse.
What Are the Advantages of a DisplayPort KVM Switch?
Because there are so many different kinds of KVM switches, it's easy to get confused about which one is the best.
A DisplayPort KVM switch is a more modern version of a KVM switch that makes use of the DisplayPort port on a computer. DisplayPort is frequently more convenient and more attractive.
Higher Definition Video Display
DisplayPort versions support a variety of resolutions. How does a KVM switch work?
A DisplayPort connection could potentially support video resolutions of up to 16K depending on the monitor and PC connections you have. However, in most cases, your DisplayPort will provide ultra-high-definition 4K resolution, which is excellent for any display.
More Flexible Control
You can control your workstation and system from a central hub with a desktop KVM switch that connects multiple computers via their DisplayPorts.
Whether you work at home and require a smaller KVM switch or in a large office that requires larger KVM switches, you can be confident that flexible control is within your grasp.
Boost to Productivity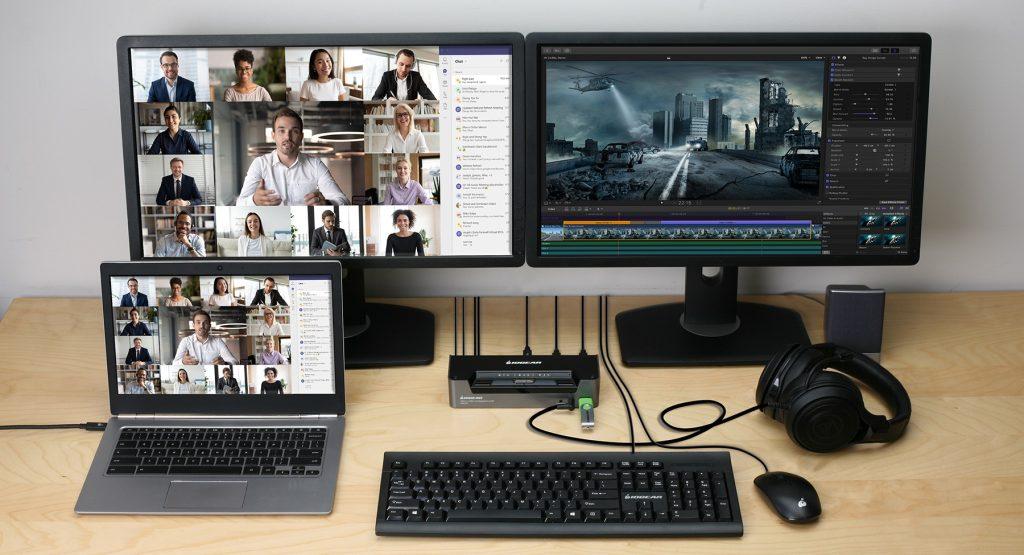 DisplayPort KVM switches increase output. This KVM switch video source is frequently used by those who work with CAD and video post-production software.
These computer programs are large and necessitate a great deal of back-and-forth. With a good KVM switch, you can concentrate on the complex work at hand and less on the logistics of working between multiple computers.
Why Should I Invest in a DisplayPort KVM Switch?
If you're looking for a workstation that can do it all, a good DisplayPort KVM switch is the way to go. If your PC and monitor both have DisplayPort connections, you should be able to get everything you need and more.
Fast Data Transfer
Individual computers can share and transfer data at breakneck speed using a DisplayPort KVM switch. Because DisplayPort is faster than other connections, including USB, you won't be stuck waiting for long USB peripheral transfers.
Multi-Tasking
Not everyone uses multiple computers at the same time. Multiple monitor configurations are far more common than multiple computer configurations.
On the other hand, multiple computers are standard in video and audio production, architecture and design, and other highly complex jobs. Multiple computers performing different tasks all work together to complete necessary functions.
DisplayPort KVM switches provide users with seamless KVM control while working on large projects.
Gaming
The DisplayPort connection offers the best visual display for gaming. Gamers expect incredible high-definition resolutions to complement the impressive graphics released by game developers each year.
You can ensure the highest resolution for the latest generation of display standards by using a DisplayPort KVM switch.
Best DisplayPort KVM Switches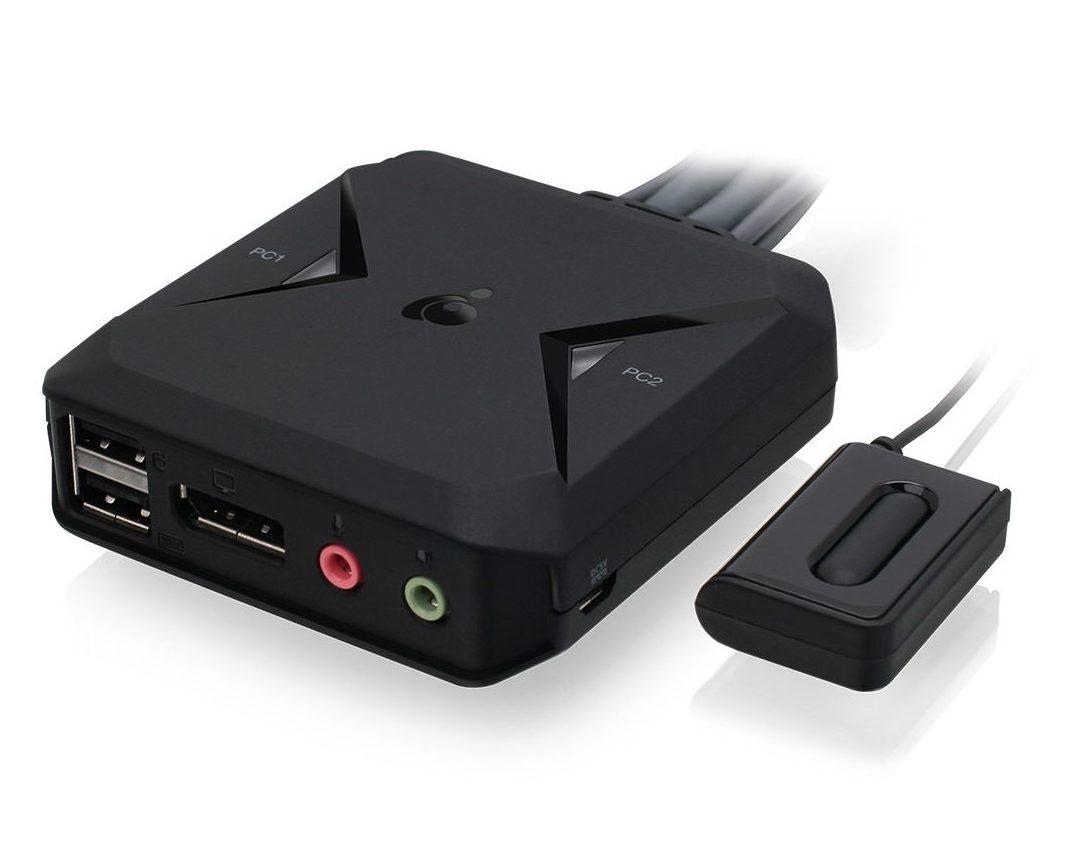 IOGEAR 2-Port USB DisplayPort Cable KVM Switch
This KVM switch is small and lightweight, taking up little space on a desktop. Because of its simple design, installation is simple and quick. It doesn't require the installation of any drivers or additional software.
The IOGEAR 2-Port USB DisplayPort Cable KVM Switch is one of the most popular and highly rated DisplayPort KVM switches available today. This switch is also available in a 4-port setup.
Features of the IOGEAR include:
Two or four ports
Cinema 30hz 4K ultra-high definition resolution
Remote switch button for computer switching
Support for 2.1 HD audio
Ability to expand with USB hub port
Bus-powered in many cases
Required built-in cables
Simple and fast setup
While the KVM switch is hidden away, users can switch between computer peripherals using an attached push-button remote. This switch is bus-powered, which means it can be charged by plugging it into a USB port.
However, in some cases, an external power supply may be required.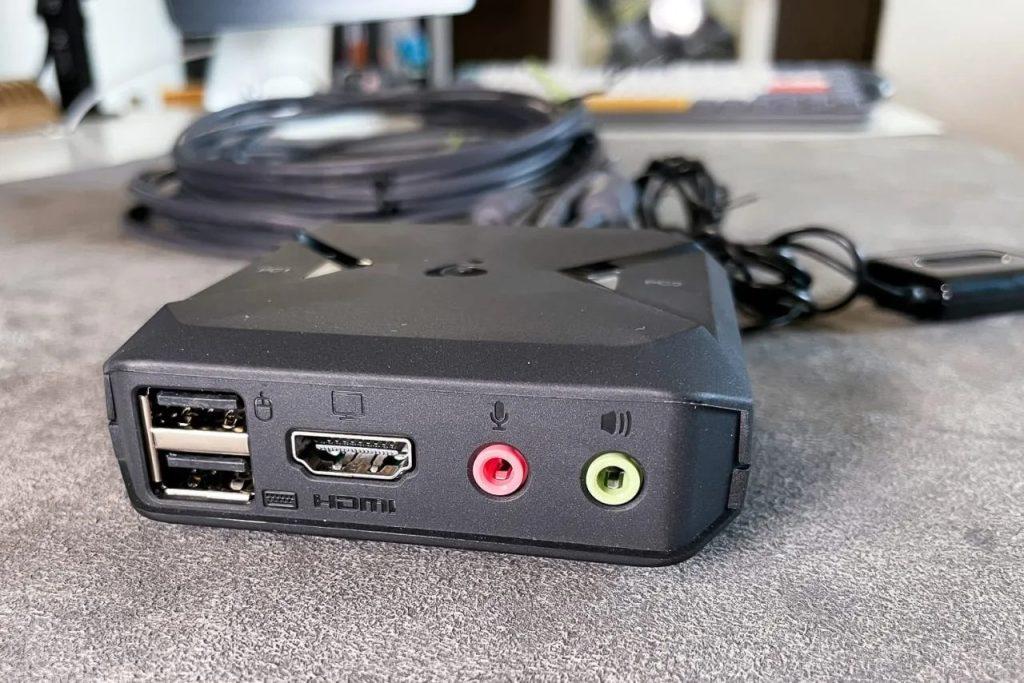 Because of the 2.1 audio support, users can connect headphones to the switch or a headset with a microphone for online meetings and conference calls.
How to Use a KVM Switch
To use a KVM switch, simply plug your devices including display, keyboard, and mouse into the console ports. After that, connect the cables to each computer that you want to use with the KVM switch.
If you're using a DisplayPort KVM switch, make sure it's connected to a DisplayPort on each computer.
Switching Between Two Computers
The primary function of KVM switches is to switch between computers. The most convenient and user-friendly KVM switches have a push-button switch on the hardware or an attached remote control.
Multiple Computers and Multiple Monitors
Details, DisplayPort KVM switches make working on multiple DisplayPort monitors simple and convenient.
If you work in an office, whether at home or elsewhere, you are aware that a multiple monitor setup is more productive than a single monitor setup. Even when using a dual-monitor workstation, a KVM switch allows you to switch between computers.
If you're looking to upgrade your current KVM switch or set up a new dual-monitor workstation but don't have a lot of room, consider mounting your monitors to save space.
DisplayPort vs. HDMI
The majority of modern desktop computers will have both DisplayPort and HDMI ports. Older models may only have HDMI ports, necessitating the use of an adapter to transmit between HDMI and DisplayPort.
But, what's the difference? It all boils down to the resolution, refresh rate, and features you require in a USB type display.
If you have the option of connecting your monitor via DisplayPort or HDMI, decide which type of connection will work best for you.
HDMI 1.4, HDMI 2.0, and HDMI 2.1 are the most common HDMI versions. These versions support various resolutions and features.
DisplayPort 1.2, DisplayPort 1.3, DisplayPort 1.4, and DisplayPort 2.0 are the various DisplayPort versions. Each of these, like HDMI, can support a variety of resolutions.
The following are some of the advantages of using DisplayPort connections over HDMI:
DisplayPort visuals are superior for gaming, regardless of graphics or video card.
Multiple monitors can be powered without clogging up multiple ports.
DisplayPort cables frequently include useful features such as clips that keep them attached to your monitor.
Because there are so many different HDMI and DisplayPort versions, it's critical to choose your resolution. A low-end DisplayPort, for example, will not look as good as a high-end HDMI.
Are There Any Disadvantages of a DisplayPort KVM Switch?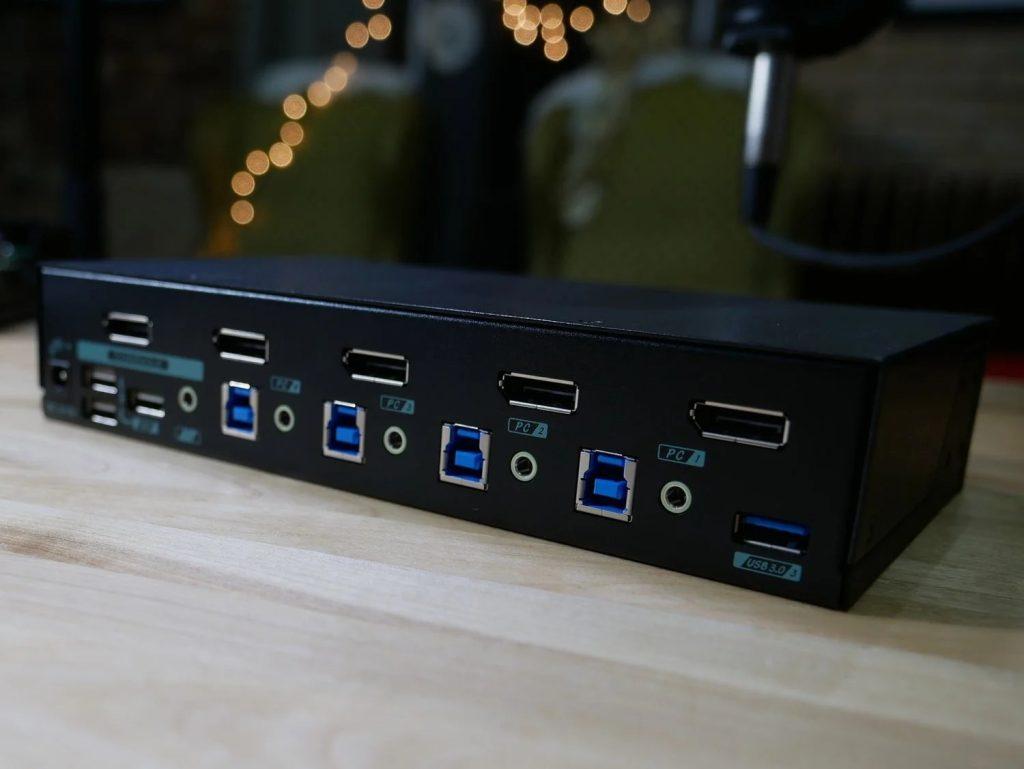 Unfortunately, there is no perfect holy grail that will meet everyone's expectations. This could be because different people value different special features and functionality.
While there aren't always disadvantages to using a DisplayPort KVM switch when your equipment requires it, be aware of known issues when designing your workstation.
Is There Any KVM Switch Input Lag?
Unfortunately, there is no perfect holy grail that will meet everyone's expectations. This is due to the fact that different people value different special features and functionality.
While there aren't always disadvantages to using a DisplayPort KVM switch when your equipment requires it, be aware of known issues when designing your workstation.
Read our guides on whether will KVM switch cause lag in games to know more about this problem of input lag for KVM users.
Are KVM Switches Obsolete?
KVM switches are by no means obsolete! They are still the best tools for switching between multiple displays and devices.
However, there are other options available today, such as KVM software. If you don't want to invest in hardware to clutter up a small workstation, for example, KVM software may be more your speed.
What Are the Alternatives to Using a DisplayPort KVM Switch?
If you don't want to pay top dollar for a high-end KVM switch or take a chance on a super cheap option, you can look into other options for switching between multiple computers.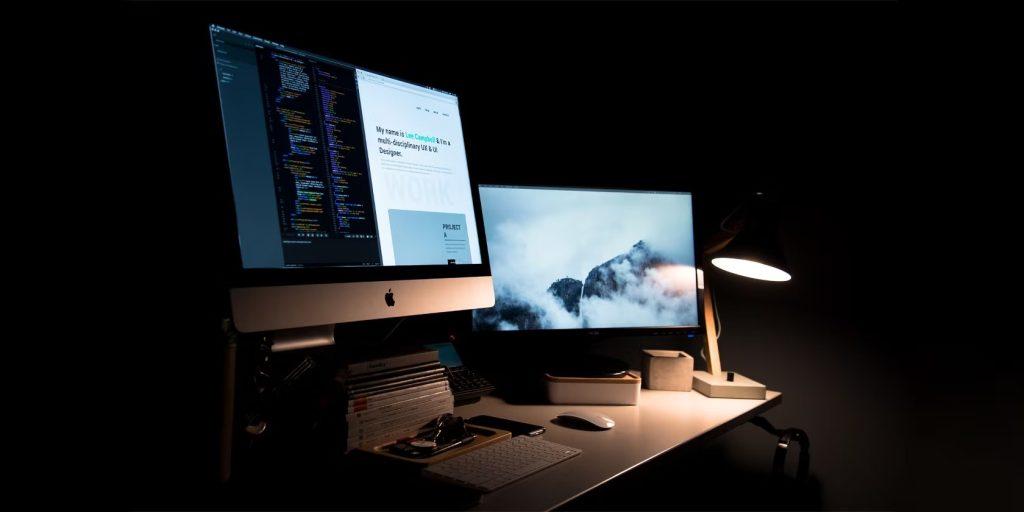 There is software available that emulates KVM hardware.
Input Director: It is a server/client system.
ShareMouse: Simple to set up and use. Multiple computers are automatically detected. Keyboard and mouse are shared.
LiteManager: Better for multi-system installations in multiple rooms.
Other ports can sometimes be used in place of a KVM switch. If you need to connect multiple computers to one display, you can use multiple display ports to connect them.
However, a disadvantage of this method is that display resolutions will differ between ports.
After knowing what is KVM switch or why you should invest in a KVM switch in your home office, you should try to improve on cost efficiency and space-saving. FittingChairs hope this article helps you a lot!